Affiliate Disclosure
As an Amazon affiliate, I earn from qualifying purchases.
In this post, I'll review some of the best smart outdoor lights you buy today.
They include some awesome lighting ideas for your porch, landscape, patio, pool, garden, and other outdoor living spaces. I'll also give you the scoop on a few options to help increase your home security too.
Without further ado, here are my picks for the seven best smart outdoor lights this year:
---
Smart Lights Rule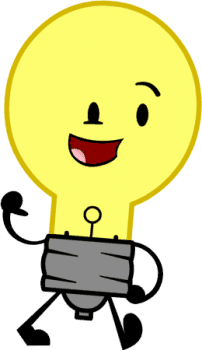 Smart lights rule. I was an early adopter of Philips Hue and nearly every bulb in my apartment is now a smart bulb. It's great being able to control my lights using Alexa and my phone.
And apparently, I am in good company.  According to market research firm Statistica, the smart lighting market worldwide is expected to grow to a whopping $105 billion by 2023.
But did you know that there are some great options for smart lights for outdoors?
Whether you are looking to install a lantern on your front porch or light up your entire yard, there are a lot of great options to brighten up your outside spaces. Oh, and you can even add some color too.
Here are some neat statistics about smart outdoor lighting according to Volt.org.
There are over 750 million outdoor lighting fixtures worldwide [wow, but makes sense].
There are 160 million fixtures in the U.S. alone.
Total wasted energy from outdoor lighting is about 60-70% [from unwarranted lighting, over-lighting, lack of dimming, etc.]
The energy wasted from outdoor lighting each year could power 7, 750,000 homes at cost of $110 billion each year.
Crazy! So not only do the best smart outdoor lights help to save energy, they are good for the environment [and your wallet] to boot!
I will go into each of my picks for the best smart outdoor lights in more detail below. Or, if you just want to see what I recommend, you can just down to my dynamically updated table of product recommendations.
📚 Related: 11 Wicked Smart Home Yard Ideas for Outside 
---
Best Smart Outdoor Lights: Comparison Table
The following are my recommendations for the best smart outdoor lights you can buy today along with pricing.  The table is updated nightly with the latest pricing from Amazon.
Image
Title
Price
Buy

Top

Top

Top

Philips Hue Inara White Outdoor Lantern, Wall Fixture & 1 Hue White A19 LED Smart Bulb, Use with Alexa, Homekit & Google Assistant (Hue Hub required)
Buy Now

Top

Top

Top

Philips Hue White & Color Ambiance Econic Outdoor Smart Pathway light Extension(Hue Hub & Base Kit required), 1 light + mounting kit, works with Alexa
Buy Now

Top

Top

Top

Ring Floodlight Camera Motion-Activated HD Security Cam Two-Way Talk and Siren Alarm, White
Buy Now

Top

Top

Top

Philips Hue Calla White & Color Ambiance Outdoor Smart Pathway light extension (Hue Hub & Base Kit), 1 Hue White & Color Pathway light + mounting kit, Works with Alexa, HomeKit & Google Assistant
Buy Now

Top

Top

Top

Philips Hue Lily White & Color Outdoor Smart Spot light Extension (Hue Hub & Power Source required), 1 Hue White & Color Smart Spot light + mount kit, Works with Alexa, HomeKit & Google Assistant
Buy Now

Top

Top

Top

Philips Hue Smart Outdoor Lightstrip, 5m/16ft, (Voice Compatible with Amazon Alexa, Apple Homekit, and Google Home, Hue Hub Sold Separately),White
Buy Now

Top

Top

Top

Kasa Smart Light Switch HS200, Single Pole, Needs Neutral Wire, 2.4GHz Wi-Fi Light Switch Works with Alexa and Google Home, UL Certified, No Hub Required , White
Buy Now
Product prices and availability are accurate as of the date/time indicated and are subject to change. Any price and availability information displayed on [relevant Amazon Site(s), as applicable] at the time of purchase will apply to the purchase of this product.
Prices pulled from the Amazon Product Advertising API on:
Click the button to get the up-to-the-minute price on Amazon.
---
Smart Porch Lights
This is probably the most common question I receive when it comes to the best smart outdoor lights. What are the best smart outdoor lights for my porch?
Well, the answer is it depends.
If you have an enclosed front porch with a light already installed, any good smart bulb will do.
While I like and recommend Philips Hue products for smart lighting in general, other options such as LIFX smart bulbs also work great and do not require a hub.
Philips Hue Inara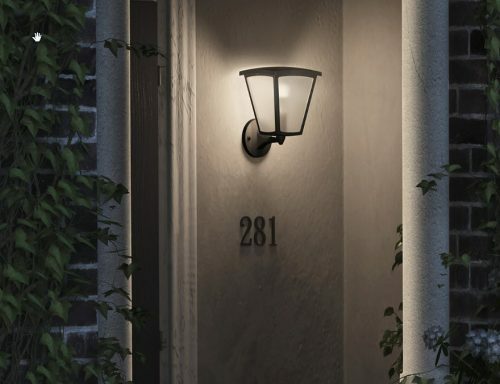 If you want a great lantern for outside, check out the Philips Hue Inara.
I recently installed this outside my apartment, and it just works great. I have it on a schedule so I just set it and forget it.
Nice and easy, which is what smart home outdoor lighting should be all about.
Oh, and it comes with a Hue bulb too (requires Hue Hub).
The only complaint that I have is that it can't get super bright. It maxes out at 800-lumens. This is enough for my driveway but I wouldn't mind being able to up the brightness a bit more.
Hue Econic
For a step up that is even brighter and includes color, check out the Philips Hue Econic Down Wall Lantern. You can install this on your wall or ceiling as well.
Hue's Econic line also includes a really nice little lantern as well that is ideal for walks and pathways:
---
Smart Floodlights
Next on my list of the best smart outdoor lights is a smart floodlight that will crank up your home security.
A floodlight does exactly what it sounds like. It floods a certain area with light. These are great theft deterrent as you can have them kick on when they detect motion.
Perfect for the front, back, and side yards, these cast a wide beam of light – usually around 45 degrees.
Some of the smart floodlights even come with cameras making it a great anti-theft tool.
Ring Floodlight Camera
The Smart Flood Light cam from Ring is probably the most popular floodlight out there. It features not just a motion detection flood light but also a built-in security camera, two-way talk, and a siren alarm.  It also works with Amazon Alexa so you can turn the light on and launch real-time video with your voice.
The Ring Smart Flood Light also lets you see, hear and speak to visitors from your phone, tablet, and PC, so it makes a great security monitor and intercom.
It will send alerts to your phone and start recording with the camera as soon as motion is detected.
You can check the latest price over at Amazon here.
Philips Hue Discover
Another great option for security lighting is the Philips Hue Discover. This similar to the Ring Flood but it is a less expensive way to just install basic floodlighting.
It also lets you change the color of the bulb so it makes for great outdoor ambient lighting too [16million shades of colored light].
This is more of a security light and does not contain the camera or alarm that Ring features. But it is a really popular option for basic flood lighting with motion detection that you can install around the perimeter of your home.
Like most Hue products, this requires a Hue Hub in order to get it to work.
Oh, and it looks really cool too.
---
Smart Path and Landscape Lighting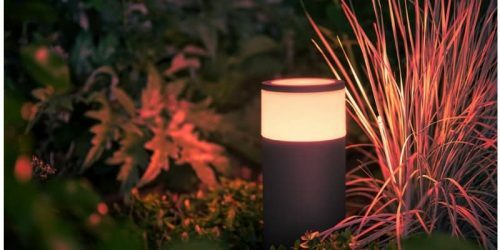 Outdoor path lighting is not just for show but it can also be practical.
For example, you can have a string of lights that illuminate your front and rear walkways. If you're a klutz like me, this can help you tripping over yourself in the dark.
These can make great accent lights for all of your outdoor living spaces actually.
Hue Calla
In fact, Philips Hue Calla lights make for great accents in your landscape, patio, pool or more.
They do require the Philips Hue hub in order to work, but this is a solid investment as you can use Hue bulbs for other outdoor lighting too.
Oh, and you can even make them synch up to the beat of your favorite music using an app.
If you are interested in learning more about Calla lights, check out this post I wrote comparing Philips Hue Calla vs Lily [with more video reviews].
These are the two best smart outdoor lights you can buy in my humble option.
Thanks to Shelly from Best Buy Canada Product Videos for the helpful video review:
---
Smart Outdoor Spotlights
Spotlights can add an extra touch of class and are ideal for helping to beautify your landscape.
You can also use them to showcase a certain part of your yard or to cast colorful light on an outside area of your home.
My buddy has an American flag tapestry on the side of his house. He recently put a spot on and it just looks awesome at night.
Hue Lily
He is using the Philips Hue Lily Spot Light which is probably the most popular smart outdoor spotlight out there.
Philips really does make the best all-around smart lights. While the hub requirement is a bit of a bummer, Hue lights just work consistently. The lights are super easy to install and configure, and the app lets you adjust brightness, colors, and more.
Again if you are interested in Philips Hue Calla path lights or Lily spotlights, check out this detailed post I wrote comparing Hue Calla vs Hue Lily.
---
Smart Outdoor LED Strip Lights
Hue LEDs
Erin Lawrence crushes it as usual in her review of Philips Hue's flexible LED light strips that are specially designed for the outdoors.
Like with many Hue lights, you will need a Philips Hue Bridge to run them.
You can see both models [and also purchase a Hue bridge if needed] over at Amazon here. 
They currently come in two sizes: a 2m, 7ft strip and a 5m, 16FT strip.
---
Smart Switches
Last on my list of categories for the best smart outdoor lights
is the smart switch.
It is surprising to me that smart switches haven't caught on more. Instead of relying on having to replace your old bulbs with smart bulbs, you can control your existing lights using a switch.
While I would recommend that you hire an electrician to replace your dumb switches with smart ones, this may be appropriate for you DIY-ers who take the necessary safety precautions.
TP-Link Kasa
One of the top-recommended switches is the TP-link Kasa smart wi-fi light switch. These are super reliable, work with Alexa, and they don't require a hub [like Philips Hue].
This would work like the regular wall switch you are using to control your outdoor lighting, except now you can automate your outdoor lights with schedules or control them using Alexa and Google.
Here's a nice video from the manufacturer that shows you how to install and set up a TP-Link switch.
Customers who own these switches have said they will not install anything else, because of their super reliability.
You can see the TP-Link Kasa switch over on Amazon here.
It is important to note that this is a straight setting switch (no dimmer).
If you want a switch with a dimmer, check out the Kasa Smart Light Switch [also by TP-Link).
---
Want Even More Ideas?
Jeff Cook Real Estate has a comprehensive outdoor lighting tips and tricks guide that you can check out. It's super thorough.
Or check out my comparison of Philps Hue Calla vs Lily. These are my two favorite outdoor lights this year. Although I am going to pick up a LED strip for my patio for sure.
---
Conclusion
If you are looking to choose the best smart outdoor lights for your home, it's nice to know that options abound. There are some great products, but there is also a lot of junk out there too.
Generally speaking, if you go with any of the major brands listed here you should be good.
The bottom line – the answer to the question "What are the best outdoor smart lights?" is it depends on what you want to use them for.
While I've been using Hue bulbs for a few years in my own home, I've tried skimping lately in setting up lights for friends and the results have been mixed, to say the least.
As the old adage implies, you get what you pay for. The good news is that the more options have driven down pricing for the good stuff, like Philips Hue bulbs and fixtures. This is a trend that I am also now seeing for outside lighting.
I will continue to watch for the best of the best smart outdoor lights and will update this post as things change.
---
Best Smart Outdoor Lights – What Do You Think?
So what do you think about my top picks for the best smart outdoor lights?
Are you thinking about increasing your home security with a floodlight?  Or do you like what a spot or path like could do your garden or walkway?
Is there another product you have used that you love that I have not listed here?
Please leave us a comment below and let us know.
Oh, and if you liked this article, would you mind giving a quick share using any of the social media buttons at the top of this page?  Thanks for your support!
---
You Might Also Like
If you enjoyed reading this comparison of the best smart outdoor lights, you might also like some of my other articles on smart lighting:
---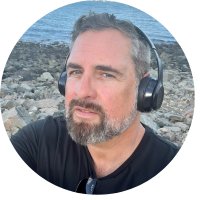 Tim Brennan, a tech blogger and host of the @TecTimmy YouTube channel, writes about smart homes at oneSmartcrib, home theaters at UniversalRemoteReviews, and AI in writing at Writeinteractive. He holds a Journalism degree from Northeastern University and has covered technology for three decades. He lives on the ocean in Nahant, Massachusetts.