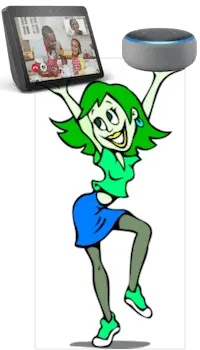 Were you one of the fortunate few to score an Amazon Echo Show or Echo Spot for Christmas before they sold out [source Bloomberg]? Or perhaps you received a shiny new Echo Dot or another Echo device?
Hooray! Well, then it's time to celebrate! How? By checking out 15 cool accessories and add-ons that make the world's best smart speakers even better.
Amazon Echo Show Stands and Mounts
---
---
Our thanks to Cindy Xiao for this video "showing" the stand in action.
---
---
Quick Comparison Table: Echo Show Stands & Mounts
Stands and Wall Mounts for the Echo Spot

Our thanks to GadgetPrime for the epic stand video.
---
---
Quick Comparison Table: Stands and Wall Mounts for Echo Spot
Echo Dot Stands and Wall Mounts
---
---
---
Quick Comparison Table: Wall Mounts /Hangers for Echo Dot
Echo Dot Carrying and Battery Cases
---
---
---
Thanks to Brandon Hicks for the thoughtful video review.
Another one of our favorite wrapper cases for the 2nd-Gen Dot is the
AWINNER Silicone Case
. It comes in a multitude [10] of vibrant colors to fit just about any preference or mood.
---
---
---
QUICK COMPARISON TABLE: ECHO DOT CASES AND STANDS
---
2 Bonuses! Amazon Echo Stands, Mounts, and Cases
---
17

Chandelier Echo Speaker Stand with Crystals
---
Amazon Echo Cases, Mounts, Stands, Racks & Skins – What Do You Think?
Our staff worked really hard on this review. We hope you enjoyed it.
So what do you think of these Amazon Echo cases, mounts, stands, cases, and skins? Do you plan to purchase any of these add-on accessories for your Alexa device now or sometime in 2019?
Please leave a comment below and let us know. We would love to hear from you.
Enjoy your Echo devices. Happy New Year!
---
You Might Also Like
If you liked this article, would you mind sharing it using the social media buttons on this page? If you enjoyed reading this, you might also like some of our other articles on Echo and Alexa. We'll list a few of them below. Thanks for stopping by!
11 Best Echo Show Stands to Elevate Alexa on Your Counter
Amazon Echo Dot Kids Edition vs Echo Dot
Echo Show 2nd Generation vs 1st Gen: Review & Comparison Guide
What Are the Best Echo Show Compatible Cameras? Cloud Cam vs Stickup Cam vs Circle 2