Affiliate Disclosure: As an Amazon Associate, I earn from qualifying purchases. Learn more.
Synopsis: In this article, I review the 11 best smart kitchen appliances, gadgets, and WiFi tech for a smarter home in 2020. I've got a blender that displays nutritional data on your smartphone, a smart kitchen scale that works with your iPad, and a trashcan that opens on command. Pretty cool, right? Read on.
They all make great gifts that you can give at the holidays, weddings, showers or as birthday gifts at any time of year.
I'll go into more detail about each of the products below.
---
Smart Kitchen Appliances Make Cooking Easier
Ah yes, those little smart kitchen technology appliances—toasters, coffee makers, blenders, cookers, mixers, fryers, and—
BAM!
[Remember Emeril Lagasse's cooking show on
Food Network
? I used to love when he did that whole BAM thing. He also has a killer
turkey-sausage chili recipe
.]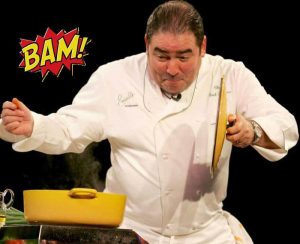 The best smart kitchen appliances can help make your life easier in the kitchen—and more fun.
Like Emeril, they can also help you to "kick it up a notch."
The future of cooking looks bright. So bright in fact, that the global smart kitchen technology market is expected to exceed $7 billion in the U.S. alone by 2020, according to market analyst Technavio.
You saw them in our table, so now we'll dive a little deeper into the smart kitchen technology gadgets for 2020 and beyond.
They're great to give as gifts, especially to yourself. 😉
---
#1 → Behmor Connected Coffee Maker 
Awesomeness Meter
With the Behmore Connected Coffee Mak, you can brew the perfect cup of coffee from the comfort of your cozy bed—or anywhere else on the planet. This smart coffee maker lets you customize and brew coffee right from your smartphone. Features include an intuitive companion app for iOS or Android devices, plus voice control with Alexa and Google Assistant. You personalize your coffee strength, number of cups, and grind settings using the smartphone app. Optionally, you can control the settings manually using the digital LCD screen on the coffee maker. Best of all, you can brew your coffee using Amazon Alexa and Google Assistant-enabled devices. Just say: "Alexa, brew me a coffee." Neat. Coffee's on!
Our thanks to our friends at Gourmia Coffee Channel for this helpful video overview.
---
#2 → Amazon Smart Oven
Awesomeness Meter
Amazon followed up last year's introduction of its new Amazon Basics Microwave by announcing a more sophisticated version at it hardware event in September. Like the AmazonBasics micro, the Amazon Smart Oven works with Alexa for voice control.  For example: "Alexa, Microwave for two minutes" or "Alexa, Stop the Microwave." But the Smart Oven's scan-to-cook technology just blows me away. Hungry for a frozen dinner? Simply scan the barcode, and the Smart Oven automatically adjusts power levels, cook times and more, according to package instructions. This makes it a super-smart choice for anyone who does a lot of microwaving. Unfortunately, you won't be able to get your hands on this before Christmas this year. Amazon plans to begin shipping it in January.
---
#3 → Ninja Auto-IQ Multi Slow Cooker
Awesomeness Meter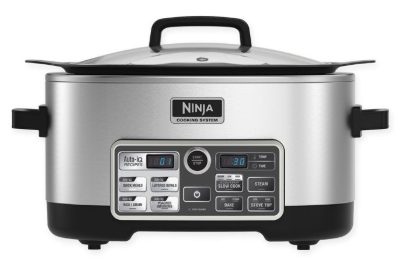 At least until Crock-Pot releases its new Crock-Pot 6 Quart Slow Cooker with Amazon Alexa later this year, I like the Ninja Auto-iQ Multi Slow Cooker. Why? It includes 80-pre-programmed recipes for searing, slow cooking, baking and steaming inside its six-quart nonstick pot. Ninja's Auto-iQ technology allows you to select a recipe, add your ingredients, and then it gets to some good old-fashioned, down-home slow cooking! The Ninja Auto-IQ features over 80 pre-programmed, chef-developed recipes, so you'll never grow hungry for something new. Editor's Tip: One upside of the Alexa microwave over the Ninja is that it will let you control the time and temperature of your slow cooker using your voice or your phone. This can be useful if you are unsure of your schedule for the day. I am eagerly awaiting the release and will update this post when it becomes available.
---
#4 → Breville Die-Cast 4-Slice Smart Toaster
Awesomeness Meter
When we initially started searching for the perfect smart toaster, we went looking for one that was compatible with our smartphones and Alexa. Then we thought for a minute. Why on earth would we want to control a toaster with our smartphone? LOL. I mean, you've got to stick some bread in the darn thing anyways right? The Breville Die-Cast 4-Slice Smart Toaster has some pretty smart technology even without your phone, Alexa, or Siri. For example, one really cool thing about it is that it's motorized. Your bread/toast falls and rises like an elevator scene from your favorite movie. The one-button toaster lets you preview your toast during the baking, er toasting, cycle. Moreover, it is safe to touch on the outside even after heating. This is good news for "someone" who "may" have burnt his hands putting away an old school toaster in the past. But we won't name any names here.
You can also get the Die-Cast Two-Slice Model with pretty much the same feature set.
---
#5 → Drop Connected Kitchen Scale
Awesomeness Meter
If you like to try new recipes AND you have an iPad, the Drop Connected Kitchen Scale can give you a productivity boost in the kitchen. For around $100 depending on where you shop, the Drop connects to your iPad and gives you step-by-step instructions for cooking a variety of delectable delights. The app weighs ingredients as you go and tells you when you've added enough. Oh, and if you want to use it as a scale to weigh out your breakfast granola or gym meals, it does that as well.
Check out this video from Ben Harris, CEO of Drop explaining how the scale works. Great accent dude!  And the scones look yummy too.
Editor's Tip: This product is designed to work with an iPad. Customers have complained about trying to get it to work with their smartphones. Also, you'll need a current version of the iPad, so be sure to check requirements carefully before you buy one.
---
#6 → Anova Culinary Sous Vide Precision Cooker
Awesomeness Meter
Next on our list of best smart kitchen technology appliances and gadgets is the Anova Culinary Sous Vide Precision Cooker. I have to admit, I was a bit lukewarm to the idea of "precision cooking" before I started researching this article. How does it differ from cooking on the stovetop or grill, I wondered? Bill Clark from Anova's own Culinary Sous Vide Precision Cooker offers a great explanation. [You can see a video interview with him on Amazon's product page.] "Grilling leaves hot spots and cold spots and everything in between…with precision cooking you get your desired doneness all way through," Clark said. Cooking with the Sous Vide is simple. You just fill a pot with water, clip the cooker, sync it to the app, put your food in a plastic bag, and clamp the bag into the water. If you're interested in learning more about Sous Vide cooking, check out this great video guide for beginners from Martha Stewart's Everyday Food.
Again, the benefit is that it allows you to cook your food to the desired temperature with precision. This not only ensures the food is cooked the right temperature for taste but it address health concerns about under-cooked food as well.
---
#7 → simplehuman Touch-Free Kitchen Trash Can
Awesomeness Meter
Germ-a-phobes rejoice! The simplehuman Touch Free Trash Can / Recycler makes having to touch any part of your trashcan on a regular basis a thing of the past. In fact, the only time you'll need to put your hands on this puppy is when it comes time to change the bag. With super-sensitive voice recognition, you just say "Open Can" and the cover raises for you auto-magically. What? Now, how cool is that. Don't feel like talking? No worries…just wave your hand over the top and infrared fields sense the motion and open the can automatically.
You can check the latest pricing and read the customer reviews on this bad boy over at Amazon here.
Thanks to CNET for this "handy" video review.  [I'm not sure why your hands would ever be "full of chicken guts" though. Gross!]
Depending on the model you buy, the simplehuman trash can has either one or two compartments The two-compartment can has one for trash and one for recycling. Simple Human makes also makes both extra strong trash bags and recyclable trash bags. They're not required, but they designed to be a perfect fit for the Touch-Free, so you may as well stock up. Nice work on the up-sell guys. If you can't already tell, this is one of my favorites on the list of best smart kitchen technology devices this year.
---
#8 → iDevices Smart Kitchen Thermometer
Awesomeness Meter
The iDevices Smart Kitchen Thermometer is another one of our favorite best small kitchen appliances for your smart home kitchen. This little tech gadget simply does what it was designed to do and it does it well. That is, it monitors the cooking temperature of whatever you are stewing, roasting, broiling, or baking and notifies on your smartphone when it's done. The thermometer automatically syncs up with the iDevices app on your iOS connected device. It then displays the real-time temperature of what you are cooking and notifies you when dinner is ready. Two probes allow you to select two different zones to ensure the desired done-ness. The app also includes a variety of recipes if you're looking for new ideas. This is one of our most essential smart kitchen technology appliances and gadgets on our list for any aspiring cook.
---
#9 → Nutribullet Balance Smart Blender
Awesomeness Meter
Know a smoothie nut? Then the Bluetooth-enabled Balance Smart Blender from Nutribullet with the "world's first nutrient extractor" would make a perfect gift. Through the Nutribullet Balance app, it connects to your smartphone and sends nutritional information as real-time as you add it to the blender bottle. This device is freakishly accurate in our testing and probably one of the smartest devices we've come across. Add spinach to the cup, and it automatically displays how much you've added as well as nutritional data on your connected device. Now you'll know how many calories, fat, carbs, and proteins you're consuming in every drink. Now you can go ahead and make that guilt-free green smoothie. Yum. Just go easy on the yogurt. 😉
---
#10 → 2nd-Generation Amazon Echo Show
Awesomeness Meter
Despite Amazon releasing two smaller versions of the Echo Show this year, the 2nd-Generation Amazon Echo Show remains one of my favorite smart kitchen technology devices. The Show not only helps you with timers and alarms, but you can use it to display your favorite recipes on-screen step by step. You can also use it to call mom hands free or watch your favorite music videos or YouTube memes while whipping up a little something-something. Oh, and pair it with a highly affordable Wyze cam, and you have the ability to monitor your front door, a baby's room, or any room in the house. You can learn more about how the 2nd-Gen Show measures up against the Echo Show 8 and 5 in this article I wrote.
Or if you are convinced the Echo Show is for you, check it out at Amazon here.
---
#11 → Bonus Idea [BAM!]: Philips Hue Ambiance LightStrip
Awesomeness Meter
Last on our list of smart kitchen appliances is a bright idea for your smart home kitchen. What is it?  An idea I LOVE ♥—smart LED lighting in the kitchen. Why? It just looks cool. LED light strips to help create a perfect ambiance whether you are dining, cooking, or entertaining. Stick them under countertops, around kitchen islands, under cabinets, or where the wall meets the ceiling. They give off a perfect splash of colorful light to help lift your mood. Oh, and they also go great with a full-bodied Cote de Nuits. I like the Philips Hue White and Color Ambiance Lightstrip for its reliability, smart device compatibility, and ability to bend and install easily. There are also less expensive options available. By the way, these look great behind your living room TV, too.
---
Best Smart Kitchen Appliances – Your Turn
Without question, the Internet of Things [IoT] is alive and well in the kitchen.  And the future of cooking sure looks bright [source: Epicurious.com].
So what do you think about our picks for smart kitchen appliances for 2020?
Do you plan to purchase any of this tech? Perhaps you have a favorite essential kitchen device you feel I missed?
If so, I would love to hear about it. Please leave a comment below and let me know.
Also, if you enjoyed this article would you mind giving us a social share using the buttons at the top or bottom of this page?  Thanks for your support!
You may also be interested in some of our other blog posts.  I'll include some links to similar posts below.
But most importantly, bon appétit!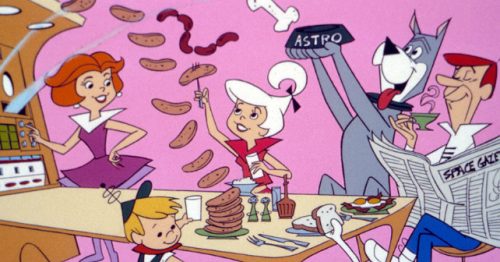 ---
You Might Also Like
If you enjoyed this article, you might also like:
Roborock s5 vs Braava m6 vs 360: Let's Get Robot Moppin!
Echo Show 2nd Generation vs 1st Gen: Review & Comparison Guide
Echo Show 2 vs Facebook Portal Plus vs Nest Hub Max:
Smart Home Ideas 2020 [17 Tech Gadget Gifts They Will Love]
A+ Alexa! 19 Awesome Amazon Echo Device Gifts for 2020
---
About the Author
Tim Brennan, Technical Writer & Blogger
Tim Brennan [a.k.a. "Tec Timmy"] is a senior technical writer with over 20 years of experience writing for companies and organizations in and around Greater Boston, including GE and MIT. In addition to actively writing for this smart home blog, Tim is also a regular contributor over at UniversalRemoteReviews.com. Tim holds a BA in Journalism from Northeastern University. Brennan is a father to two sons, an active blogger, a Star Wars nut, and loves a good taco🌮. There is a strong chance he is developing a crush on Amazon Alexa. You can learn more about Tim here.