As an Amazon affiliate, I earn from qualifying purchases. Learn more
In this article, I am proud to provide you with a thorough review of the three best robot lawn mowers for hills and slopes you can buy right now.
All three choices are from the top manufacturers of these cool robotic landscapers from around the world:
My top three picks for the best robot lawn mowers for hills and slopes are:
You can click on any of the links above to jump down to my specific review for that product. Or read on for a brief intro and side-by-side comparison table.
A Robot Mower Obsession?
R
obot lawnmowers are my new obsession in smart home tech.
Why?
They are not just futuristic and cool-looking, but they help with the tedious and tiresome chore of cutting the lawn.
This gives you time back that you could spend doing something more productive, like writing a blog post about robot lawn mowers, for example?.
The technology isn't perfect yet, but it has certainly come a long way. In general, how much babysitting your robot mower will need will depend on the type of terrain in your yard. But hey, watching them really is part of the fun!
---
But Can Robot Mowers Tackle Hills and Slopes?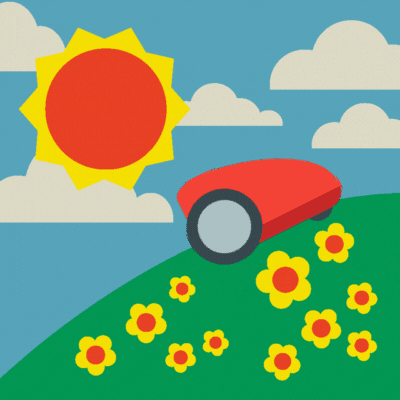 While there are many articles out there on how well these mowers can handle various types of grasses and yard sizes, you may be more concerned about whether these little droids can handle the hills and slopes in your yard.
Related: 5 Best Robot Mowers for Small Lawns
So can robot mowers really tackle the hills and slopes in your yard?
The short answer is: it depends on your yard and the mower. You will need to determine the height of your slopes and gauge whether a mower is rated for your slope height by reading the manufactures specifications carefully.
But as you will see in some of the videos I will embed below, some of these mowers can tackle even sizable hills and slopes in your yard like a champ.
But which one should you buy?
To make things easier for you, I have done some serious research to find the three best robot lawn mowers for hills and slopes based on various features, customer satisfaction, and performance criteria. All three picks are rated for moderate-sized hills and slopes ranging from 35% to 45%. You will find all of these easily available at Amazon.
---
Robot Mower Market Statistics
According to Allied Market Research, the robotic lawn mower market is expected to soar to $1.4 billion by 2025, starkly up from $538 million in 2017. Apparently, robots are really poised to take over when it comes to yard work!
Several studies, such as this one published over at ScienceDirect.com, have also been undertaken to discover the efficiency of robot lawn mowers. The study points out that robot lawn mowers are quite effective at" minimizing human drudgery." And who doesn't love that?
Related: Husqvarna vs Robomow vs Worx
In the remainder of this guide, I will present you with three of the best robot lawn mowers for hills and slopes. I'll provide a side-by-side comparison table and will also cover the key features, advantages, and shortcomings of each product.
Later on, I will also provide a short buyer's guide that includes the major factors to consider while buying a robot lawn mower. I will also include a section devoted to answering some common questions about our little green robotic friends.
Let's start with a comparison table.
---
Robot Mowers for Hills & Slopes Comparison Chart
Here is a comparison table of the best robot mowers for hills and slopes that you buy right now.
Husqvarna Automower® 430X Robotic Lawn Mower10
Robomow RX20 Battery Powered Mower-7-Inch Mowing Width-Smart Robot Lawn Mower for Small Yards, Green10
Worx Landroid L 20V 6.0Ah Robotic Lawn Mower 1/2 Acre / 21,780 Sq Ft. Power Share - WR155 (Battery & Charger Included)10
Up to 100 minutes Running Time
50 minutes - Charging Time
Up to 110 minutes - Charging Time
90 minutes - Charging Time
Theft Protection Active - Yes
Theft Protection Active - Yes
Theft Protection Active - Yes
Sound output 57 (decibels)
Sound output 64 (decibels)
Sound output 63 (decibels)
Husqvarna Automower® 430X Robotic Lawn Mower10
50 minutes - Charging Time
Theft Protection Active - Yes
Sound output 57 (decibels)
Robomow RX20 Battery Powered Mower-7-Inch Mowing Width-Smart Robot Lawn Mower for Small Yards, Green10
Up to 100 minutes Running Time
Up to 110 minutes - Charging Time
Theft Protection Active - Yes
Sound output 64 (decibels)
Worx Landroid L 20V 6.0Ah Robotic Lawn Mower 1/2 Acre / 21,780 Sq Ft. Power Share - WR155 (Battery & Charger Included)10
90 minutes - Charging Time
Theft Protection Active - Yes
Sound output 63 (decibels)
Last update on 12/06/2022 / Affiliate links / Images from Amazon Product Advertising API
---
#1 – Best Slope Capacity: Husqvarna Automower 430XH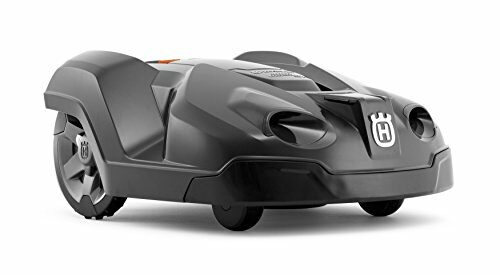 The Husqvarna 430X Automower has the best slope capacity out of my three pics of the best robot lawn mowers for hills at slopes.
The company describes the mower as being ideal for "highly complex medium to large lawns" with slopes up to 24°. This is a decent-sized hill similar to one in the featured image on this post.
This is the most advanced mower in the Husqvarna line, and it includes GPS navigation and tracking as well as pin code security protection.
Moreover, it can cover ¾ of an acre, making it a good choice if you have a moderate-sized lawn. This model also includes special features like LED headlights, rubber bumper, and orange X-Line wheel caps.
The bottom line: This is the best choice here if you have steeper hills and slopes in your yard.
Pros:
The 45% inclination coverage makes this an excellent option for steep hills and slopes in your yard
An added advantage of this lawn mower is that it has one of the longest runtimes of robot mowers on the market. It can mow for up to 145 minutes on a single charge.
It only takes 50 minutes to recharge, which is the shortest charging period of any device here.
Three sharp blades make cutting high grass more efficient on slopes as well. By cutting a width of 9.45" and a height of 2.4", this lawn mower can handle tough spots easily.
In addition to tracking a stolen mower via GPS feature, you can set a PIN code on this device that can enable or disable it in the event of theft.
It is also the quietest device here with a total volume of just 57 decibels.
Cons:
It is more expensive than the other two models here.
If areas of your yard have grass longer than 2.4", you might need to run it again over the area.
---
Video Review
DIYDanielle does a nice job reviewing this mower in laypersons terms over on YouTube. I will embed her review below for your convenience.
Where To Buy It
---
#2 – Best Coverage: Robomow RX20 Robotic Lawn Mower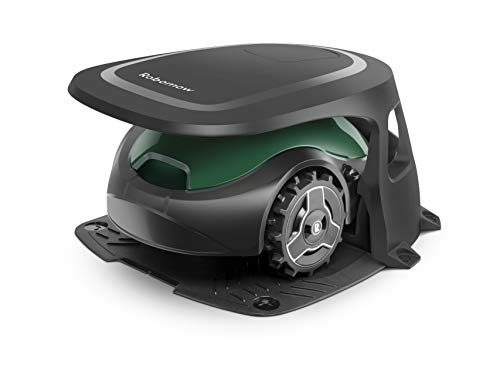 Like the Husqvarna 430X, the Robomow RS630 Robotic Lawn Mower can also cover ¾ of an acre on your lawn. Yet, as compared to the 430X, you can expect an even better coverage in this case because of the steeper cutting width of 22 inches.
This makes it the best choice on this list regarding the area and grass it can cover. Further, with an inclination capacity of 36% or around 20 degrees, this can work well on a slope.
In addition, this robot lawnmower has a solid battery capacity of 6 Ah. This allows it to run for up to 100 minutes before running out of power. You can also allot zones for mowing at particular times, which provides more control of what gets mowed and when.
There are also sensors that protect this device against harsh weather conditions and theft.
Pros:
It can cover a good area on your lawn through its ¾ acre capacity in combination with powerful cutting blades and larger width coverage.
It only weighs around 20 pounds, making it the lightest option here.
Multiple connectivity options, including Bluetooth and Wi-Fi, make this compatible with your mobile devices as well as your home network.
By dividing the lawn into zones, your device will be able to detect and navigate around obstacles accordingly, making sloped are easier to navigate.
At 64 decibels it is relatively quiet compared to similar mowers in its class.
Cons:
The charge time is the longest here at 110 minutes to charge fully, but a 100-minute run time should be enough to tend to most yards.
A few customers have complained about grass and dirt collecting under the chassis. However, this is typical for many robot mowers, especially on wet grass.
Depending on the size of your yard and terrain the boundary wire can be a time-consuming to install.
A few customers experienced a slowdown in harsh weather conditions, such as when it is raining heavily. Again, this is typical for many robot mowers. I would monitor mine carefully, even in light rain.
---
Video Review
Tilted Tripod Media provides an in-depth review of this mower over on YouTube. You can watch their review right here below.
Where To Buy It
---
#3 – Best Cost: WORX WR155 Landroid L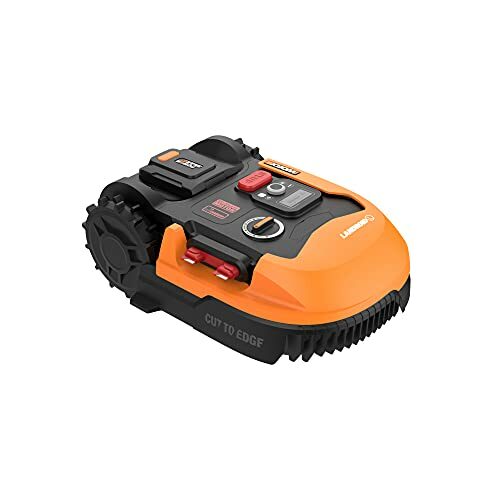 The WORX WR155 Robotic Mower is the most budget-friendly option on this list. Even with its lower cost, you can still expect it to cover yard sizes of up to ½ an acre with a slope inclination of 35%, which is just slightly less than the more expensive Robomow RS630.
This smart lawnmower lets you control it via a smartphone app or voice commands via Amazon Alexa or Google Home devices.
The Landroid also features a noise-reducing motor design, LED headlights, and rubber bumpers. The bumpers are combined with the included boundary wire to keep your mower contained and avoid collisions with kids and pets.
Pros:
Solid battery life of up to 100 minutes per mow.
Uses same battery as other Worx tools so they are hot swappable.
Affordable with advanced features found on more expensive mowers
Anti-collision sensor prevents this mower from crashing into obstacles.
It includes antigravity sensors to prevent it from sliding down slopes as well.
Boundary wire-based DIY installation.
3-year warranty is a full-year longer than many similar mowers in this class
Cons:
A few customers have reported that the app crashes occasionally.
Limited to yards under ½ an acre.
---
Best Robot Lawnmowers for Hills Video Review
Hanging Out with Mike has a great YouTube video demo and testimonial to the Landriod's effectiveness. This is super informative. I am a big fan too, Mike.
You can also check out this video from LinusGillander of how well the Landroid performs on steep slopes:
Where To Buy It
You can buy it online at Amazon here .
---
Factors to Consider about Best Robot Lawnmowers for Hills
There are several factors to remember while looking for a good robot lawn mower for hills and slopes. Let's take a look at some of these considerations.
Slope Inclination Capacity
Since you are looking at mowers for hills and slopes, in particular, you will certainly need to consider how much of an inclination your mower can handle and manage. Ideally, this kind of capacity should be at least 35% or 20 degrees for your mower.
This will then ensure that your mower does not stop in the middle of a steeper slope. Out of my three picks here, the best capacity is 45%, which belongs to the Husqvarna 430X. However, all three options here were designed to mow decent-sized hills and slopes.
Size of Your Yard
Another important factor you must consider is how many acres your lawnmower can cover. This, of course, depends on the size of your own lawn. My picks here are ideal for ½ to ¾ acre lawns.1/2 acre mowers will also handle smaller lawns nicely. If your lawn extends beyond 1 acre, you may want to consider other options for larger-sized yards.
Battery Life
How long your mower's battery can run, and its capacity also has quite a bit of an influence on the efficiency of your lawnmower. Generally, it might be a good idea to go for newer models as these usually perform better.
A similar consideration here is how long the battery will take to recharge. In the case of robotic mowers, they automatically go to their charging stations once they sense that they are running out of battery. Once they are there, they might take a certain amount of time to charge, which could be anywhere between an hour to two hours.
Blades
Different robotic lawnmowers use different types of blades. Some blades are ideal for some types of grass than others. Consult the manufacturer specifications for the types of blades that are ideal for your lawn.
A standard number of blades that mowers generally tend to have are two to three. Typically, they have individual motors to control and power each blade. They must also be sharp enough to cut through all kinds of lengths and widths of grass while also dealing with weeds and other dirt.
Consult your user manual for the mower to determine how long you need to change, repair, and clean them. Some blades are hot-swappable, extending their life.
Connectivity
Your robotic lawnmowers will come with several other features that will allow you to control their functioning. For instance, connectivity features such as smartphone apps, Wi-Fi or cellular connections, Bluetooth connectivity, voice controls, and more can enable you to monitor and customize the settings of your mower remotely.
Weather Protection
Additionally, most mowers now come equipped with weather protection that can allow them to survive in harsh weather conditions as well or to detect changes in weather so that they can make their way to their stands. GPS tracking and security features keep your mowers safe from theft as well.
Warranty
The warranty period of your robotic mower will help you out when it comes to repairs, replacements, and refunds. Ideally, the warranty period should be over two years so that you can easily replace necessary parts at no cost in that period.
All the mowers mentioned here have this minimum warranty period, with the WR155 having a period of three years.
---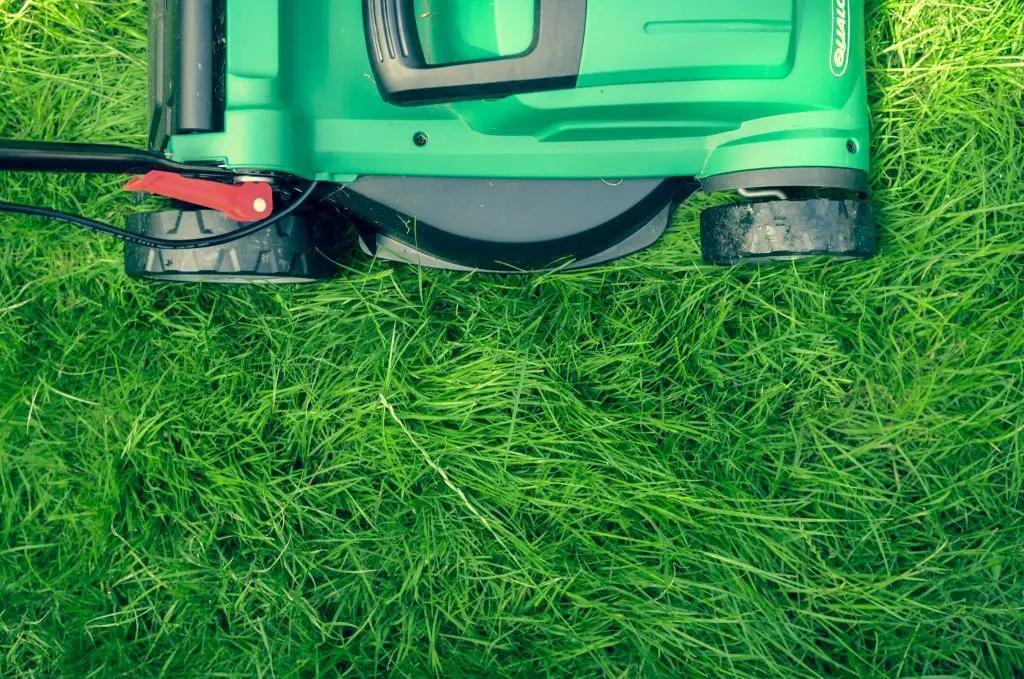 FAQs
In this section, I will try to answer some frequently asked questions about robotic lawn mowers for hills and slopes.
Are the Best Robot Lawn Mowers for Hills and Slopes Safe?
One of the most common questions about these machines is whether or not they are safe for pets and small children. While some brands do have safety features, like built-in child sensors, it's always best to supervise your kids and any pets while using one of these machines so they stay out of the mower's way.
Are There Separate Accessories That I Will Need?
Yes and no. Most mowers come with everything you will need to get started, including a battery, boundary wires, covers, some extra blades, screws, wires, plugs, adapters, and other tools.
However, the specific accessories robot mowers ship with vary from manufacturer to manufacturer. If you haven't thought about where you will be storing your mower, you might want to purchase a separate "shelter" to house the vehicle in between mows.
How Often Should I Replace and Clean the Parts Of My Robotic Mower?
You will find all the maintenance information specific to your mower in your product manual.
However, a good thing to remember is that you should regularly clean blades and wheels whenever you see them full of dirt and grass. In particular, if you notice your mower moving sluggishly or stopping, this is likely a sign that it is time for cleaning.
The same applies to replacing parts, especially if you notice damage to a specific part of your mower.
What Is a Boundary Wire?
A boundary wire, as the name suggests, is a long wire that you must install along the edges of your lawn so that your robotic mower knows when to turn back or move on to another area. This can be a good way of keeping your mower inside the confines of your lawn.
This can be particularly helpful if you have a sloped or hilly lawn, as it can be easy for you to lose sight of the mower. By fixing a wire in place, you can prevent the mower from moving beyond a certain point. This can prevent the loss of the device as well.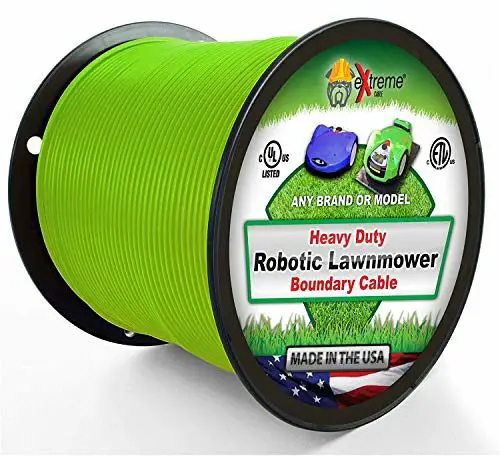 Related: 5 Best Robot Lawn Mowers for 1/2 to 1 Acre Yards
---
Final Remarks
So what do you think about my review of the three best robot lawn mowers for hills and slopes?
Are you ready to step into the future and save weekly time with a robot mower? My three choices are among the top mowers you can buy for hills and slopes.
How large is your yard, and how steep are the hills? Does your yard have hard rough terrain? Please leave me a comment below and let me know. I look forward to hearing from you.
By the way, if your yard has rough terrain, check out this post I wrote on the best robot mowers for rough terrain and uneven yards.