Affiliate Disclosure
As an Amazon affiliate, I earn from qualifying purchases.
Dang-you, Amazon Prime Day! I now own an Echo Show 15, 10, 8, and 5, and I have been thinking about adding at least two Echo Show compatible cameras to my Amazon smart home ecosystem. In my typical O.C.D. fashion, I have been researching cameras like crazy, and here is what I found out about indoor and outdoor cams.
Here are my picks for the best Echo Show compatible cameras this year:
You can click any of the links above to jump down to my mini-review for that particular camera. I will compare and contrast all nine and weigh the pros and cons of each camera below. I will also include an infographic to compare key features of my favorites side-by-side.
---
Echo Show as a Camera Monitor
A
ccording to the
latest numbers
by Mordor Intelligence, the global smart display market is poised to reach a compound annual growth rate (CAGR) of 18% year-over-year from 2021-2025.
Wow, that is some pretty serious growth.
With the release of the Echo Show 1st and 2nd Generations a few years back Amazon has been capitalizing on this trend for a while.
Clearly, the Echo Show continues to be a major part of Amazon's Alexa strategy. Last year, the company released the Echo Show 8 & 5 — then the Echo Show 10, and last year, the company unveiled a new Echo Show 15 wall-mountable model.
But did you know that the Echo Show also makes a great monitor when paired with a compatible camera? You can use it to monitor your baby, check up on your kids, spy on your nanny, monitor an elderly parent, check your front door, keep an eye on your pooch, catch a package thief, and more.
To quickly summarize your Amazon Echo smart display options that work with Echo Show compatible cameras, we now have:
Echo Show 15
Echo Show 10
Echo Show 8
Echo Show 5
Echo Show 2nd Generation
Echo Show 1st Generation
Echo Spot, if you can still find one
In addition, most Echo show compatible cameras will also work with Facebook's larger Portal Plus and some will work with Google Nest Hub Max, but that is a story for another day.
📚Related: Echo Show vs Facebook Portal vs Nest Hub
You can also broadcast camera footage on your Smart TV via compatible Fire TV cameras. (Ring, Arlo, Nest, EZVIZ, Vivint Smart Home, Amcrest, Logitech, and August are some options.) AND the latest Fire Tablets will support the display of camera footage as well. Cool.
In addition to all of these smart display options, there are also many options out there now for cameras. However, it can be overwhelming to choose the best camera for your needs. That's where I come in. I put more than 50 hours of research into this post to develop 11 solid recommendations.
To help make your decision easier, I created a handy (colorful!) infographic comparing key features of my top 11 picks. I'll include that below next. Then, I'll dive into the details of all 11 best Amazon Echo Show compatible cameras in more detail below.
---
Best Echo Show Cameras: Full Features Comparison Chart/ PDF
The handy infographic below illustrates key features of my favorite Echo Show compatible cameras side by side.
Click on the thumbnail image to download the full-sized (11×17) Echo Show Compatible Cameras Feature Comparison in high-resolution PDF format.
As you can see, many Echo Show compatible cameras have similar features but there are definitely some key differences. The standouts are in the areas of Google/Apple Hoomekit support, video resolution, field of view (FoV), and free vs paid Cloud storage.
I'll go into more detail on the similarities and differences and the pros and cons of each in my mini-review of each camera below. I'll also cover three additional options.
Like my colorful infographic?  Feel free to use it, socially share it,  and even distribute it—I ask that you include a link back to this page.
---
Price Comparison Table: Best Echo Show Compatible Cameras
Next, look at a handy price comparison table of my top seven picks for Echo Show compatible cameras in a single table.
Prices are pulled in nightly from the Amazon API. However, this may not reflect the latest Prime deal price. Click to Amazon to see the live price you will pay at checkout.
Image
Title
Buy

Top

Top

Top

Top

Top

Top

Wyze Cam v3 with Color Night Vision, Wired 1080p HD Indoor/Outdoor Video Camera, 2-Way Audio, Works with Alexa, Google Assistant, and IFTTT
CHECK PRICE
WYZE Cam Pan v3 Indoor/Outdoor IP65-Rated 1080p Pan/Tilt/Zoom Wi-Fi Smart Home Security Camera with Motion Tracking for Baby & Pet, Color Night Vision, 2-Way Audio, Works with Alexa & Google Assistant
CHECK PRICE

Top

Top

Top

Top

Top

Blink Mini – Compact indoor plug-in smart security camera, 1080p HD video, night vision, motion detection, two-way audio, easy set up, Works with Alexa – 1 camera (White)
CHECK PRICE

Top

Top

Top

Top

Top

SwitchBot Security Indoor Camera, Motion Detection for Baby Monitor 1080P Smart Surveillance WiFi(2.4Ghz) Pet Camera for Home Security with Night Vision, Two-Way Audio, Works with Alexa
CHECK PRICE
Ring Indoor Cam (1st Gen), Compact Plug-In HD security camera with two-way talk, Works with Alexa - Black
CHECK PRICE

Top

Top

Top

Top

Top

Ring Stick Up Cam Battery HD security camera with custom privacy controls, Simple setup, Works with Alexa - White
CHECK PRICE

Top

Top

Top

Top

Top

wansview Wireless Security Camera, IP Camera 1080P HD, WiFi Home Indoor Camera for Baby/Pet/Nanny, Motion Detection, 2 Way Audio Night Vision, Works with Alexa, with TF Card Slot and Cloud
CHECK PRICE

Top

Top

Arlo Pro 4 Spotlight Camera - 3 Pack - Wireless Security, 2K Video & HDR, Color Night Vision, 2 Way Audio, Wire-Free, Direct to WiFi No Hub Needed, White - VMC4350P
CHECK PRICE

Top

Top

Top

Top

Top

Blink Indoor – wireless, HD security camera with two-year battery life, motion detection, and two-way audio – 2 camera kit
CHECK PRICE
Next, I'll weigh the pros and cons of all 11 of my picks below. I'll also include some helpful video demos for some of the models.
---
#1 – Best Budget Cam: Wyze Cam v3
I'm not technical at all and this took me less than 10 minutes to set up.Kara from Massachusetts
Next on my list of best Echo Show compatible cameras is the Wyze Cam V3. The Wyze Cam gets you the most bang for the buck out of any camera I have researched, reviewed, or tested. It provides many of the features that the premium cameras provide for a fraction of the price. It also works great as a video feed for both the Echo Show and Echo Spot. In fact, the price is so low that some have speculated that the company must be selling customer footage to the government. LOL.
All paranoia aside, this is a great value. Other cameras can't touch the new color night vision in this class. I bought the previous version of this camera for my non-techie sister last year for Christmas and it took her 10 minutes to set it up. She uses to keep an eye on (and scold via two-way talk!) her carpet-chewing dog while she is working in a lab 30 miles away.
Pros:
It's super cheap!
Full-color Night vision
IP65-rated for both indoor and outdoor use
Zone detection
Camera sharing with multiple family members
Free Cloud storage
Mobile push notifications
Ability to record continuously to a MicroSD card (sold separately)
Cons:
Compatible with 2. 4GHz WiFi networks only (does not support 5GHz Wi-Fi)
Must have an Apple (iOS) or Android mobile device for set up.
Requires a wired connection (no battery option)
---
Video Review: Wyze Cam
Reed from Smart Home Solver has been reviewing Wyze Cam for years and is probably one of the foremost experts on Wyze. Love the retro gaming shirt, dude!
Wyze Cam Alexa Commands
To see your live Wyze Cam feed, you can say:
"Alexa, show me the baby room."
"Alexa, show my bedroom."
"Alexa, show the back yard."
"Alexa, show me doggie cam."
To stop your Wyze Cam live stream you can say:
"Alexa, stop."
"Alexa, go home."
Pro Tip:
Alexa commands are similar for many of the cameras here but some cameras are more limited in how they interact with the Echo Show. If this is a concern, make sure you review the manufacturer's documentation before you choose a camera.
Dimensions
2.2 x 2 x 2 inches
3.53 ounces
What's In the Box
Wyze camera
6-foot USB power cable
Power adapter
Wall Plate
Mounting Tape
Quick Start Guide
---
#2 – Budget Plus: Wyze Cam Pan v3
For a little more money, the Wyze Cam Pan V3 is an equally affordable security camera with all of the same features as the Wyze Cam, plus a few extras.  And the additional cost is trivial – at least at the time of this writing.
The Wyze Cam Pan is best when you want the visibility of an entire room or the versatility of an indoor-outdoor camera. It lets you pan and tilt the lens to give you a 360° horizontal and 93° vertical viewing range (using the Wyze app). Wyze Cam Pan also has better quality night vision, thanks to six IR LEDs instead of the four that come with a regular Wyze Cam. Oh, and it works with Alexa and Google Assistant too.
Pros:
IP65 rated for indoor/outdoor use
Pan, tilt, and zoom the camera remotely using the Wyze app
Motion tracking tracks motion at 110° per second and provides all-directional coverage (horizontal 360°, vertical 93°)
"Pan Scan" mode auto rotates the camera to get a full view of a room
Enhanced night vision distinguishes 18 shades of gray and provides clear images up to 30 feet away
Can be mounted to a standard camera tripod or mount
Cons:
Requires subscription to Cam Plus if you want to capture full motion and store in the Cloud
Cannot be reliably used for daisy-chaining
---
Video Review
Here's a video from my boy Brian over at Automate Your Life that shows how easy it is to set up the Wyze Cam Pan:
Dimensions
Size: 2.36 x 2.36 x 5.02 inches
Item Weight 8.8 ounces
What's In the Box
Wyze Cam Pan
USB cable
3 months of Cam Plus service
Mounting kit
Quick Start Guide
---
#3 – Wyze Alternative: Blink Mini
New on the scene this year is the Blink Indoor Mini. In case you didn't know, Amazon owns Blink, which is essentially Amazon's answer to the Wyze Cam. I think the thing that encourages me the most about this little camera is that it has scored so many positive reviews since being released such a short time ago.
Also, since this is an Amazon product, chances are they will have some great bundle deals with this camera and the Echo Show for events like Prime Day, Black Friday, Cyber Monday, etc.
Update! I actually scored one of these on Prime Day this year in a bundle with my new Echo Show 8 for $5!
Here's a pic of my latest Amazon purchase still in the box (sigh):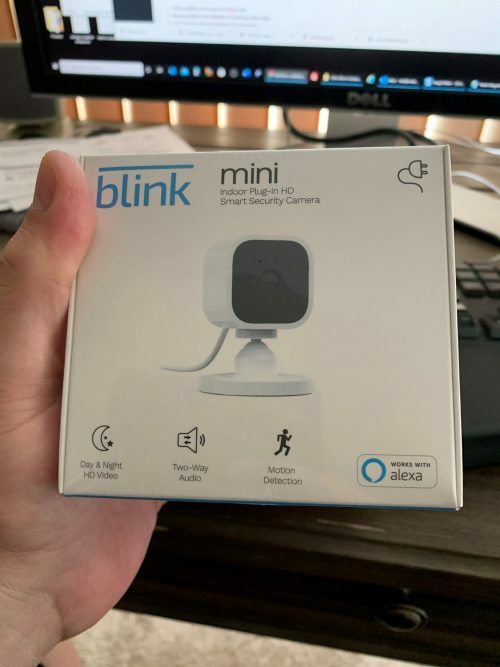 I haven't had a chance to take this out of the box yet, but I plan on creating a setup video over at my new YouTube channel very soon.
Update! I finally got this out of the box. You can check out my review comparing Blink Mini vs Wyze Cam and Wyze Cam Pan. YouTube video to come!
Pros:
Most affordable Blink camera
1080p HD video quality at an affordable price
Motion detection and two-way audio
Night vision
Smartphone alerts
Speaker Output
Alexa/Echo Show commands to stream live, play recorded clips, and arm/disarm the camera
Cons:
Video quality not as good as Wyze Cam
Requires Blink Sync Module 2 to backup video clips
Can't record without fee-based Cloud service
---
Dimensions
2 in. x 1.9 in. x 1.4 in. (50 mm x 49 mm x 36 mm)
1.7 ounces (48 grams)
What's in the Box
Blink Mini camera (depends on the quantity selected)
1 stand (attached)
2 mounting screws (per camera)
1 USB cable
1 power adapter
---
#4 – Budget Alternative: SwitchBot
New on the scene this year is this gem from Switchbot. You know that company that makes that little robotic finger that will switch your lights on and off, well they just released a killer video camera made for the Echo Show. I am more excited about this camera than others I have tested for a few reasons.
First, it's got a generous 130-degree field of view and matches the industry-standard 1080p resolution.
Second, it has an automatic feed so that when it detects motion, it will automatically display the video on your Echo Show. This is an industry-first and the only camera that does this that I am aware of.
Third, you are able to use two-way talk directly through the Echo Show. You speak directly to the other party using the Show, no separate devices is needed, just the camera and your trusty Echo.
I like the bundle that they have with the door sensor's ambient light sensor so that you can also trigger the video when a door in your home is open or in certain light conditions. Very cool.
If you want to broadcast motion events to your Echo Show and 24/7 footage is not an issue, I highly recommend this camera.
Pros:
Priced to sell
130-degree field of view and 1080p resolution
Record to an SD card
Cloud storage option
Two-way talk
Solid IR night vision
Human detection
Motion detection and alerts
Custom scenes via the app
Cons:
Requires the SwitchBot hub (sold separately)
Separate fee for Cloud service (I recommend using a SIM card)
No 24/7 footage, just records motion events
---
Video Review: SwitchBot Security Camera
Don't take my word for it; here's what smart home guru (and my hero!) Paul Hibbert had to say:
Dimensions
5.79 x 5.28 x 1.77 inches; 7.02 Ounces
What's in the Box
Security Camera
Power Supply Cable
Bracker, screws, and wall anchors
User Manual
---
#5 – Feature Packed: Ring Indoor
Up next on my list of the best Echo Show compatible cameras is the Ring Indoor Cam. Why is this my #2 choice?  For starters, it's a plug-in camera, which means you never have to worry about battery life, and you get a better overall picture and reliability. Second, unlike some other cameras featured here, it includes a live view, which lets you check on your home anytime through the Ring app.
(Some cameras only record when motion is detected so they won't work as a baby monitor or as a constant feed.
Another plus is that it includes an easy-to-install wall bracket for DIYers. It also includes some security stickers, which I think add a nice touch as a potential theft deterrent: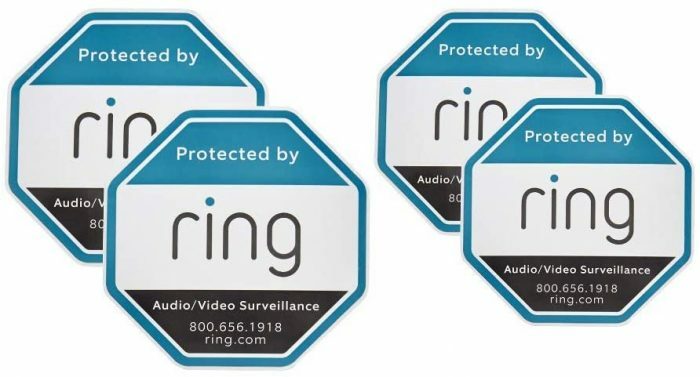 Pros:
Always-on recording
Easy setup
1080 HD
Two-way talk
Alexa can notify you when motion is detected
Using the Echo Show you can also chat with anyone captured on camera
The wide-angle view covers even large rooms
Inexpensive
Ring support is excellent
Can watch multiple rooms by connecting multiple devices using the Ring app
Includes mounting bracket
Cons:
In order to have saved footage for up to 60 days, you have to pay a fee. At the time of this writing it is $3 a month but a little lower if you get the annual subscription.
Does not integrate with Ring Alarm
It is wired so it requires an available outlet
---
Dimensions
1.81 in. x 1.81 in. x 2.95 in. (46 mm x 46 mm x 75 mm)
What's in the Box
Indoor Cam
Power Supply Cable (6.5 ft.)
Bracker, screws, and wall anchors
User Manual
Security Sticker
---
#6 – Most Versatile: Ring Stickup Cam
Next on my list of Echo Show compatible cameras is the Ring Stickup Cam. This is an outstanding camera from the leading video doorbell maker Ring that works with Alexa to launch crystal clear 1080 HD video using your voice. Like the Wyze Cam, it has night vision. Unlike Wyze, it has Cloud recording for all of the motion detected on the camera for a very low monthly fee.
Also like the Wyze Cam, the Stick Up Cam will alert you on your mobile when motion is detected. The best thing about this camera is its versatility. You have three options: wired, battery-powered, and solar-powered. The camera can also be used both inside and out. If you opt to mount it outside, you can get a solar panel that will keep it charged for you 24×7. You can price out the various options including solar at the Amazon product page (see button above). The solar panel looks like this:
You can use the Ring Spotlight Cam to see, hear, and even speak to outside visitors from your phone, tablet, or PC. When motion is detected outside your home, the Spotlight Cam springs into action. It will send alerts to your iOS, Android, Mac, or Windows 10 devices. Unlike other products featured here, it also includes LED light strips and a siren.
You can also control the siren remotely—i.e., set it off if you see a shady-looking character in your video feed! Set up is easy. The camera and the solar panel contain all of the required hardware that you need to mount the camera on the inside or outside of your home. This is a good place for a stickup!
Pro Tip: Make sure you fully charge the Ring and connect it to Wi-Fi before you mount it.
Pros:
It is the only camera here that offers three power options: Wired, Wireless, and Solar.
You can use it inside as well as outside.
You can place it on a flat surface or mount it to a wall or ceiling.
The 80-degree viewing area will let you get a full view of most large rooms and good sized yards.
Live view via intuitive Ring app
Add a Ring Protect Basic Plan for $3/month and record all your videos, review up to 60 days of footage
Share videos with friends, family, neighbors and more.
Cons:
As Erin points out, the camera will not work in temps below 5 degrees Fahrenheit (-20 Celsius).
There is no free Cloud storage plan, so you'll need to commit to at least a few dollars a month if you want to playback video.
---
Video Review: Ring Stickup Cam
Here's an excellent review of the Stickup Cam features and installation from our friends at TechGadgetsCanada.com:
Erin, are you single? Call me! ? LOL.
Ring Stickup Cam Amazon Alexa Commands
To see your Ring feed, you can say:
"Alexa, show the living room."
To stop your Ring feed, you can say:
"Alexa, hide the living room."
"Alexa, stop."
"Alexa, go home."
To see your most recent video clip on Ring, you can say:
"Alexa, show me the last activity from the living room."
"Alexa, show the most recent event from the garage."
"Alexa, pause."
"Alexa, stop."
Dimensions
3.82 in x 2.36 in x 2.36 in
What's In the Box
Stick Up Cam Wired
Base Cover
Base Pad
Installation Tools and Hardware
Indoor Micro USB Power Supply and Cable
Outdoor Micro USB Power Supply with Integral Cable
User Manual
Security Sticker
---
#8 – Budget Nightvision: Wansview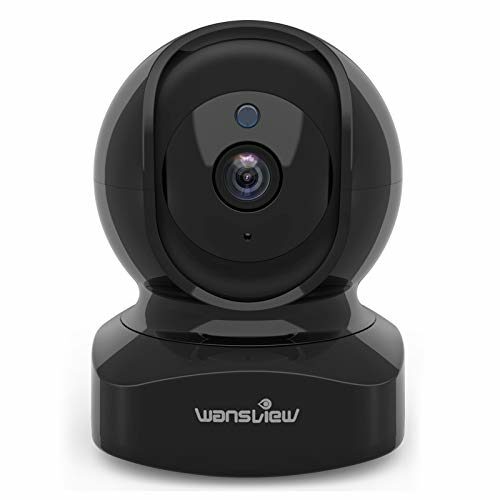 Coming in at number 9 on my list of best Echo Show compatible cameras is another budget option, the Wansview camera. I wanted to make sure I included at least one product that was a little less mainstream than the others. I arrived at this camera from Wansview as it enjoys some of the highest ratings and deepest praise that I have come across for both a pet camera as well as a baby monitor.
Full disclosure: while I don't own this camera (yet), my research has shown that parents (of both babies and pets) consistently give this little guy high praise both for its consistency and reliability as well as its crisp night vision images.
Like others on my list of best Echo Show compatible cameras, it includes 1050 P HD video, as well as two-way audio, and smart motion alerts. Unlike some of the budget models, it also adds Smart Pan/Tilt/Zoom as well as "Crystal Night Vision" technology. If you are looking to try out a camera as a baby /pet monitor and don't want to break this bank, this camera seems an excellent option.
Pros:
Inexpensive 1080 P option
Ideal for budget baby cam or pet cam
Crystal Night vision technology appears to work great
 350° pan, 90° tilt, 110° field of view
Supports both Cloud storage and local Micro SD right on the camera [card sold separately]
Cons:
5G Wi-Fi networks not supported [true of most cameras here]
---
Dimensions
What's in the Box
Packing List
1 pc Wansview WiFi Camera
1 pc UL Power Adapter
1 pc 5 foot Micro USB Cable(Required to be plugged in while working)
1 pc Quick Installation Guide
Mounting Accessories (Bracket, Screws)
---
#8 – Best Outdoor Security: Arlo Pro 4
If video quality is your primary concern, then Arlo Pro is worthwhile. It is more expensive than the other Echo Show compatible cameras listed here, and the quality output you get on the Show or Spot itself will be negligible. However, if you want to hook this up to your TV, HD smartphone, or video monitor, the quality will be AWESOME.
By awesome, I mean it is twice as sharp as the feed from the other cameras here. This really is the main selling point of this camera. Other special features include enhanced color night vision and a built-in siren and spotlight. The premium storage plans after the one year are up are around $10 bucks a month at the time of this writing, but if you are already paying for a home security system, this can save you money over time.
Pros:
2K UHD video quality (yes that is 1/2 ultra high def folks, just like on Netflix).
Works indoors and out.
Review up to 30 days of Cloud footage.
Works great as part of a multi-camera home security setup.
The 180-degree diagonal field of view reduces the "fish-eye" effect.
Enhanced night vision in color.
Two-way audio.
Include siren and spotlight.
Includes 1 Year of Arlo smart Premier service with rolling 3-day cloud recordings (for 1 camera).
Cons:
It's expensive.
A few customers have reported problems with getting 4K video quality.
At least one customer complained that the siren isn't loud enough.
---
Video Review: Arlo Pro
onourshelf nails it with this informative Arlo Pro review and set up overview:
Dimensions
14.57 x 9.45 x 9.57 inches (Full system)
What's in the Box
2 Arlo Pro 4 Cameras
2 Rechargeable Batteries
1 Magnetic Charging Cable
2 Wall Mount & Screw Kits
1 SmartHub
1 Ethernet Cable
1 Power Adapter
1 Quick Start Guide<
---
#9 – Budget Two-Pack: Blink Indoor
Last – but not least! – on my list of the best Echo Show compatible cameras is the Blink Indoor Cam. Fully wireless, this superior little plug-in camera lets you keep tabs on any room in your home, and you can easily add additional cameras to cover additional rooms as well.
Like all of the Echo Show compatible cameras in this post, it will work with Amazon Alexa for voice control, and it also has two-way talk so you can communicate with your kids, pets, nanny, or whomever else you like. As the product name says, this camera was designed for indoor use, so I wouldn't suggest using it outside. Perhaps its best feature is its whopping two-year battery life so you can feel secure for a long time after it is installed.
Pros:
Alexa commands let you stream live video, play recorded clips, let you arm/disarm the cam and more
Two-year battery life
Simple set up
Custom motion detection and privacy zones
Two-way talk
1080p video resolution
Cons:
Requires either synch module or Cloud storage plan (after free trial) to store videos
Does not provide a continuous live feed
Dimensions
71 x 71 x 31 mm
48 grams
---
Dimensions
What's In the Box
1-x Blink Indoor cameras (depending on the quantity selected)
Sync Module 2
2 1.5V non-rechargeable AA lithium metal batteries (per camera)
Mounting kit (per camera)
USB cable
Power adapter
---
What Is the Best Echo Show Camera?
Despite some minor shortcomings, all of the Echo Show compatible cameras I tested provide great video quality and convenience features you would expect from a smart video camera. Also, the advertised integration with the Echo Show works pretty flawlessly.
All in all, I like the SwitchBot cameras for their ability to automatically stream to the Echo Show when motion is detected. Plus, the fact that you can talk from the camera to the Echo Show and vice versa is mind-blowing.
I also like the Logitech Circle 2 best for its innovative features like the wider field of view and daily time-lapse briefing. Plus, it also looks really cool on my bookshelf! However, the price is a bit more, so you'll need to weigh that against the additional features.
For a budget option, you can't go wrong with either Wyze Cam model here or the Blink camera for that matter.
Finally, the Arlo Pro footage will look stunning on your big screen TV as well as your Echo Show.
---
Do You Really Need a Security Camera?
To be honest, I was super skeptical about these before I bought one of these Echo Show compatible cameras. Why would I want to peer inside my own empty apartment, I thought.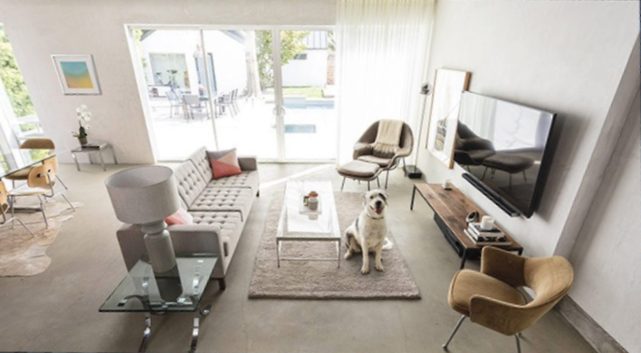 But then I started reading some of the reviews on Amazon. One guy tells an amazing story about how his Echo Show compatible camera saved his dog's life while he was at the office. He received a notification showing that his house had caught fire! So, he called a neighbor and the neighbor was able to get the dog out of the house just in time.
One guy tells an amazing story about how his Echo Show compatible camera saved his dog's life.
There are also several posts among Amazon's ratings of video footage showing actual robbers getting caught on tape inside customers' homes and apartments. According to statistics published by Safewise, property crime occurs every 3.9 seconds in the US.
Pretty crazy.
Still not convinced? Check out these 9 Surprising Stats About Home Security.
---
Echo Show Compatible Cameras – Your Turn
I hope you enjoyed reading this review of the best Echo Show compatible cameras.
Do you already own an Echo Show? If so, which model do you own? Do you plan on pairing it with a security camera?
Which of the home security cameras featured here do you like best? Is there a camera not featured here that has caught your eye?
Please leave a comment below and let me know. I would love to hear from you.
---
You Might Also Like
If you enjoyed this post about the best Echo Show Show compatible cameras, would you mind giving us a share on social media?  You can use the colorful social media buttons along the top and bottom of this post.
Here are some related links you may also like:
---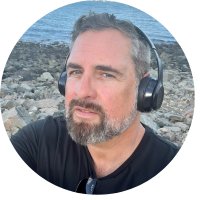 Tim Brennan, a tech blogger and host of the @TecTimmy YouTube channel, writes about smart homes at oneSmartcrib, home theaters at UniversalRemoteReviews, and AI in writing at Writeinteractive. He holds a Journalism degree from Northeastern University and has covered technology for three decades. He lives on the ocean in Nahant, Massachusetts.