Affiliate Disclosure
As an Amazon affiliate, I earn from qualifying purchases.
In this article, I examine five of the best remotes that work with Alexa right now. A few of them also work with Google Assistant.
If you are looking for a remote that lets you control your devices using your voice, you have come to the right place.
So as not to keep you in suspense, here are my top picks:
You can click on any remote in the list above to read my mini-review and the pros and cons. Or read on for some interesting stats about smart remotes.
Couch Potatoes Delight
I
f you are an occasional
couch potato
like me, you like to do your
binge-watching
on large Smart TVs with a few peanut butter pretzels, a good soundbar, a Blu-ray player, and maybe even a little bias lighting.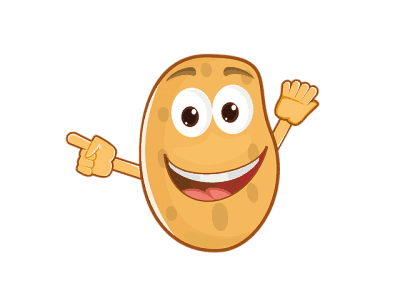 One way you can control the entertainment experience in your living room is with a smart TV remote.
I've reviewed dozens of remotes over the past two years for this site and over at UniversalRemoteReviews.com. One of the coolest new trends in remotes is the ability to integrate your smart home tech with your entertainment experience.
Some gadgets will let you control the whole thing with your voice and streamline those extra remotes cluttering up your coffee table.
But how do you orchestrate the whole thing intelligently so it won't break the bank?
With all the benefits of these devices, it's no wonder this sector continues to see solid growth.
A recent study by market research firm Statistica found that the revenue in the smart remote devices sector is expected to grow by 6.22% from the current US$ 246 million in 2022.
📚 Related: How To Connect Alexa to Samsung TV
My Recommendations: Best Alexa Remotes
The following table shows my picks for the best Alexa remotes, along with pricing over at Amazon. Click on Check Price to see the up-to-the-minute price on Amazon.
Rank
Image
Title
Price
Buy

Top

1
SofaBaton X1 Universal Remote, Compatible with Alexa
Check Price
2
BroadLink RM4 pro IR and RF Universal Remote
Check Price
3
Fire TV Cube, Hands-free streaming device with Alexa, Wi-Fi 6E, 4K Ultra HD
Check Price
4
Fire TV Stick 4K Max streaming device, Wi-Fi 6, Alexa Voice Remote (includes TV controls)
Check Price
5
Logitech Harmony Elite Remote Control, Hub and App, Compatible with Alexa (Renewed)
Check Price
Product prices and availability are accurate as of the date/time indicated and are subject to change. Any price and availability information displayed on [relevant Amazon Site(s), as applicable] at the time of purchase will apply to the purchase of this product.
Prices pulled from the Amazon Product Advertising API on:
Each of the remotes is covered in more detail below. In addition, I'll provide links to detailed product reviews where available. But first, I'll see if I can't help you decide if you want a smart remote.
A Universal Remote that Works with Amazon Alexa?
An Alexa-enabled remote can give you more control over your smart home devices and the devices in your entertainment center. They can offer some unique benefits for controlling Wi-Fi, Infrared, and even Bluetooth devices.
Benefits include:
Ability to consolidate several remotes down to one
Control home theater devices, streaming devices, sound systems, set-top boxes, Fire TV devices, Roku devices, Amazon Fire TV stick, Apple TV, game consoles, DVD player
Wirelessly control your home theater AND smart devices with a single remote
Unique "scenes" or "recipes" like "Watch a Movie" can be created to automatically fire up all required home theater components (TV, audio receiver, soundbar, streaming media player, or DVR), dim smart lights, and even lower smart blinds and change the room temperature.
Many have companion apps that let you control your devices using your smartphone or tablet.
Voice Control Your Entire Home
So do you need an Alexa remote? The answer is it depends. While you can certainly get by without one, the best universal remotes with Alexa give you added convenience in controlling your home theater and smart devices using your voice. As a bonus, you can also use these to control smart locks, smart plugs, and more.
Plus, if you pair a smart remote with Alexa or Google Assistant, you get cool hands-free control over your TV and more.
Let's grab my picks for the five best remotes with Alexa voice commands!
---
#1 – Best Overall: Sofabaton X1
Awesomeness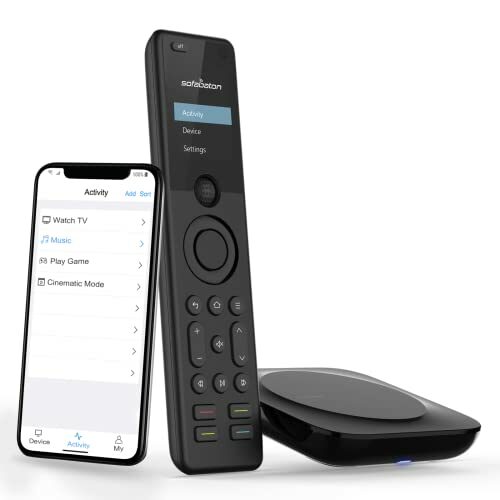 Controls Home Theater:

Controls Smart Home:

Number of Devices: 60
Voice Commands: Alexa, Google
First on my list of the best remotes that work with Alexa is this versatile new remote that continues to impress the masses after a few kinks were worked out earlier this year.
The Sofabaton X1 is my top pick for the best smart remote control that works with Alexa because it will let you control the devices you own today and the Alexa commands work natively with the product.
Compatible with over 500,000 different home devices like TVs, Blu-ray, DVDs, and gaming consoles, X1 is the ultimate all-in-one solution. I will let you consolidate remotes for up to 60 devices, which is the most out of any remote I have ever tested. This includes the pricier Harmony Elite, which limits you to 15.
The two-inch LCD and macro buttons of Sofabaton allow you to conveniently use the remote, while its scroll wheel can help you switch seamlessly between different devices and activities.
With an intelligent app and a wireless hub, X1 lets you control your TV from anywhere in your home, even out of sight.
Finally, Activities like "Watch TV," "Date Night," or "Good Morning" can be just plain magical. For example, you could set a "Good Morning" activity to Slowly dim the lights, open smart blinds, and tune your TV and AV receiver to your favorite morning news.
Pros
Supports over 500,000 devices from 5,000 brands.
Can control up to 60 devices.
Battery life is amazing at 60 days on a single charge.
Fairly easy to setup using the Sofabaton app
Works with both Alexa and Google Assistant for voice control
Cons
It take a while to set up using the Sofabaton app.
LCD screen is display only not a touchscreen.
---
Video Review
Video Credit: Tec Timmy
Verdict
Sofabaton X1 is the best Alexa-enabled universal remote you can purchase today
---
#2 – Best Hub & App: Broadlink RM4 Pro
Awesomeness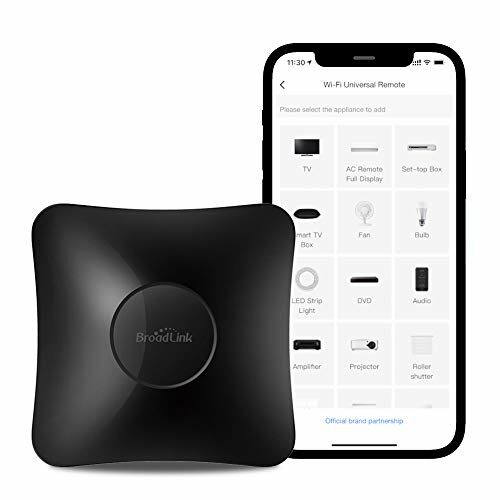 Controls Home Theater:

Controls Smart Home:

Number of Devices: N/A
Voice Commands: Alexa, Google
Next on my list of the best remotes that work with Alexa is another fan favorite, the Broadlink RM4 Pro hub, and app combo.
Like the X1, Broadlink can also control a vast number of devices. From controlling fans, garage doors, and lights to speakers and TVs, this app is as universal as possible.
However, the department where Broadlink Pro truly excels is innovative features and smart technology. For example, the RM4 comes with integrated temperature and humidity sensors, allowing you to create automation, such as setting up a threshold to let your device know when to turn the fans or heaters on/off.
Smart does not always have to mean complicated, and Broadlink understands the importance of this. Broadlink is pretty simple to use and set up despite its advanced technology. Its LED status light facilitates setup, while the device can easily detect or connect to other gadgets. This allows efficient, hassle-free operation of your appliances.
📚 Related: Best Universal Remote Apps for iPhone
Pros
Can automate older analog devices.
Cheaper compared to other options.
Controls smart home as well as home theatre equipment.
Hub is lightweight and easy to transfer to another room.
Cons
App and hub only (no physical remote)
Takes some time to setup
Needs to be in the line of sight to control other devices
---
Video Review
Video Credit: Paul Hibbert
Verdict
This low-cost option comes close to optimum functionality and can benefit you from efficiently running all your gadgets.
---
#3 – Hands-Free Voice Control: Fire TV Cube
Awesomeness
Controls Home Theater:

Controls Smart Home:

Number of Devices: N/A
Voice Commands: Alexa
With its cool cubed design and numerous benefits, Amazon Fire TV Cube is probably my favorite option for controlling my TV with my voice. The Fire TV Cube lets you switch channels, change the volume, and stream and control your favorite shows and movies using your voice with Alexa.
With some nice upgrades of the 3rd-Gen Fire TV Cube vs the 2nd Gen, the Cube is responsive in executing voice commands. Not only does it offer voice control over your entertainment setup, but it also gives you the other benefits of an Alexa device.
This includes getting the weather, listening to music, getting sports scores, and more.
Thanks to its Hexa-core processor, Amazon Cube possesses a 4K Ultra HD picture quality and fast response time, which you will appreciate when it comes to finding an app or pausing or fast-forwarding the shows you are watching.
Amazon Fire TV Cube is a fun and easy way to control your TV hands-free using Alexa..
Pros
Controls your TV with built-in Alexa.
Comes with an Alexa voice remote control.
Supports Dolby Vision for high-definition picture quality.
Extremely responsive to voice commands.
Amazon Fire TV supports most major streaming services natively, including Netflix, Disney+, HBO Max, and of course, Prime Video.
Cons
Cube does not come with an HDMI cable
Background noise can sometimes interfere with Alexa
---
Verdict
This Fire TV Cube is perfect for anyone ready to limit the use of their remote or wants to control their entertainment experience using their voice with Alexa. You can read my full review on Fire TV Cube 3rd Gen vs 2nd Gen here.
---
#4 – Budget Pick: Fire TV Stick 4K Max
Awesomeness
Controls Home Theater:

Controls Smart Home:

Number of Devices: N/A
Voice Commands: Alexa
Coming at number four on my list of best Alexa remotes is the Fire TV Stick by Amazon. This little wand stars Amazon's powerful Fire TV platform that offers 4K HDR support along with a new Alexa Voice Remote.
Even though the Alexa Remote included with Amazon Fire Stick keeps the same winning, flat black design as Fire Cube, it is a notch higher in functionality. Once your Fire TV Stick is connected to your TV, you can turn it on or off, mute it, or adjust the volume through its controls or by simply asking Alexa to do so.
However, the controls are limited to these choices, and therefore, this remote does not let you completely navigate through the menu and other settings, restricting its use.
Pros
Fast performance
Great connectivity
Lies on the cheaper end
Arrives with an improved voice remote
User-friendly and easy to navigate
Cons
Limited control over TV settings
Not compatible with some major streaming services
Annoying ads
Prime Video content gets more focus
---
Verdict
If you are comfortable using a remote with basic functions to get the job done, then the Fire TV stick is worth a look.
---
#5 – Premium Pick: Logitech Harmony Elite
Awesomeness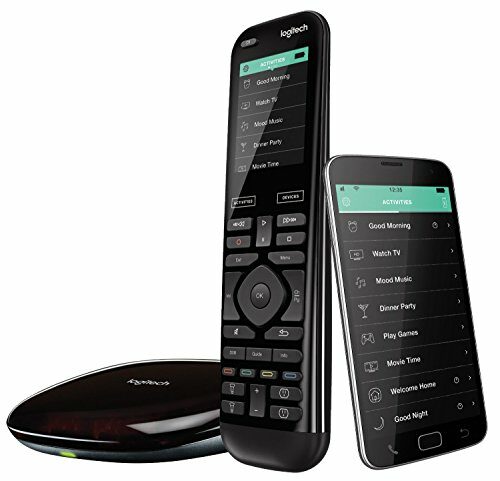 Controls Home Theater:

Controls Smart Home:

Number of Devices: 15
Voice Commands: Alexa, Google, Siri
Last, I have Logitech Harmony Elite on my list of best remotes that work with Alexa.
While Logitech recently announced it will no longer make new Harmony remotes, the Elite is on my list for three reasons.
First, with its cool swipe-and-tap color LCD touchscreen, sleek design, and customizable buttons for most functions, the remote is as functional as it is good-looking.
Second, with Logitech's database of over 270,000 supported devices that include your cable box, smart home, and home theater equipment..chances are if you own it, the Elite can control it.
Third, support for Alexa, Google Assistant, AND Apple Homekit provides the broadest support for smart speakers from any remote I have tested.
Harmony also lets you create custom Activities using the Harmony app and Harmony hub like: "Watch a Movie" or "Play a Game," similar to X1
Check out my all-time-favorite Harmony review of the Elite from TeQreation here:
Pros
WAY cool design with color LCD touch screen
Native support for Amazon Echo
Broad device compatibility
Broad smart speaker support
Activities automatically automate tasks
Can control devices in closed cabinets with included IR blaster
Cons
It's expensive, even more so now that Harmony has set it will no longer be making these remotes.
Customers complain that setup could be simpler, especially with the app
Techies complain about the lack of an API to make changes programmatically (e.g., interfaces to add additional RF devices to program).
---
Verdict
If you want to stream media content or control your TV without fuss, this remote is for you. You can read my full review of the Logitech Harmony Elite here.
---
Best Alexa Remotes: What Do You Think?
I hope you enjoyed my review of the best smart home remotes – five of which even work with Alexa [and a few with Google Home].
So what do YOU think about these sweet, smart remote controls? Do you agree with my picks?  Perhaps there is a product you like better than didn't make our list?
Something tells me it doesn't look anything like this: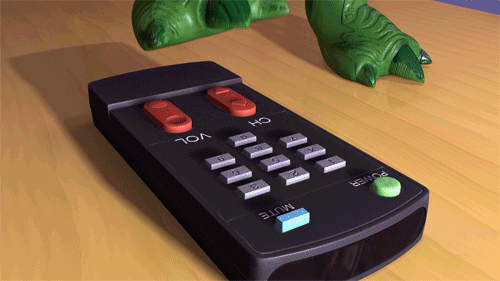 Do you plan on buying an Alexa remote to control your home entertainment? How about a voice assistant remote for your smart home devices?
Would you leave us a comment below and let me know? It would be great to hear from you.
Also, if you liked this review, would you mind sharing it using any social media buttons on this page? It helps us out a lot. Thank you.
---
You Might Also Like
If you enjoyed reading this article about the best remotes that work with Alexa, you might also like some of my other articles.  I'll list a few of them here.
---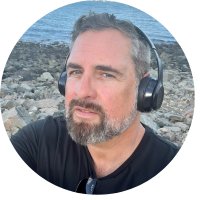 Tim Brennan, a tech blogger and host of the @TecTimmy YouTube channel, writes about smart homes at oneSmartcrib, home theaters at UniversalRemoteReviews, and AI in writing at Writeinteractive. He holds a Journalism degree from Northeastern University and has covered technology for three decades. He lives on the ocean in Nahant, Massachusetts.