As an Amazon affiliate, I earn from qualifying purchases. Learn more
In this post, I review nine of the very best wall mounts for Echo Show 5, 8, 10, 15, and 2nd Gen. Why? To help you make a better-informed purchase decision.
Give Your Echo Show A Lift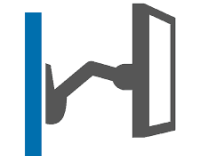 A
re you looking for a way to get your new Amazon Echo Show off your counter or table? Perhaps you can't get your screened Alexa device high enough for your liking? Or maybe you want to free up some valuable space on your kitchen countertop?
Here are the nine best wall mounts for Echo Show, organized by model:
---
Best Wall Mount for Echo Show 15
#1 – Sanus Under-Cabinet Mount (Show 15)
The Sanus Under-Cabinet Mount for the Amazon Echo Show 15 is an accessory specially designed to work with the Echo Show 15. The mount allows you to securely attach your device under a cabinet, where it can be easily rotated between portrait and landscape orientations.
This mount features both tilt and rotation as well as forward and stowed positions. All mounting hardware is included along with an instruction manual that makes installation easy.
---
Best Wall Mount for Echo Show 10
#2 – N/C Wall Mount (Echo Show 10)
Currently, this is the only option I could find in a stand that will support Echo Show 10.
And I like it.
The N/C Wall Mount (don't ask me what N/C stands for) Metal Stand is suitable for Echo Show 5/8/10, Echo Studio, Echo Sub and Google Nest Hub Max. It's also applicable to cylindrical and non-cylindrical products less than 21.5cm in diameter.
Made of metal and sturdy, the stand comes with M6 expansion screws. The tray can extend from 5.1 inches (13cm) to 8.66 inches (22cm) and comes with four anti-slip carabiners to hold the device tightly. This effectively prevents your devices from falling off and will not affect sound quality.
Pros
Perfect for Echo Show 10 and other devices also
Sturdy design.
Strong wall mount plates and fasteners
Aluminum and nickle finish gives it an air of ellegance
Cons
Not designed exclusively for Echo Show 10 so care is needed not to bang into this shelf.
---
---
Best Wall Mounts for Echo Show 8
#3 – ATOPHK Swivel Stand (Echo Show 8)
Up next on my list of the best wall mounts for Echo Show is this beauty from ATOPHK. Strange name but cool stand. Unfortunately, there aren't a lot of options for the Amazon Echo Show 8 just yet. Even this mount was only really just updated to also include the Show 8. Have no fear, however; this mount is a very solid option. In fact, it is the same mount as the one I reviewed for Show 5 —and it would be my top choice for Show 8 as well—at least for now.
Pros
Connects to the Echo Show with strong magnets
Can rotate 270  degrees
Can tilt vertically
Made of Aluminum
Cons
A bit more expensive than some options listed for other models
---
---
#4 – ECHOGEAR AV Shelf (Echo Show 8)
While this is certainly less of a traditional mount than anything else on this list, it's a very good option if you're looking for a shelf for the Show 8. Since Show 8 is significantly bigger than the 5, it won't fit on any of the smaller, more compact shelves. While this shelf might be a bit too big for some (it is designed for cable boxes and game consoles) it's a very sleek and durable shelf. It will also fit great if you have a black interior design motif (like me).
Pros
Very durable – up to 15 lbs
Sleek black modern design
Well designed and easy to follow installation manual
Extra space to angle or position the Echo Show
Cons
Can't rotate or position the shelf.
It will leave a lot of extra space on the shelf.
---
---
Best Wall Mounts for Echo Show 5
#5 – ATOPHK Swivel Stand (Echo Show 5)
Simple, sleek, and effective, if you're looking for a solid classic wall mount – then this is probably the best option for you. It's sturdy, can rotate, can tilt up and down, and will definitely stay in place. Unfortunately, it's a bit more expensive than the rest of the options, but it's still my choice for a mount. As a bonus, it looks like one of those sci-fi computers that slides out of the wall, if you're into that jazz. (I certainly am.)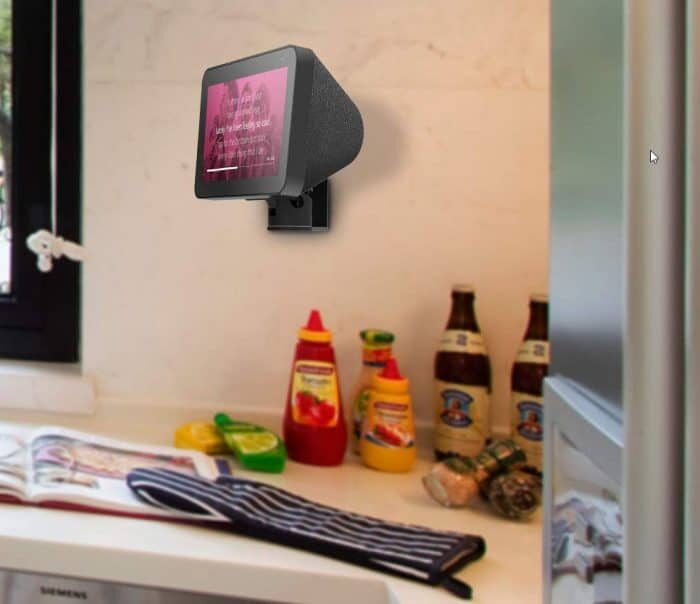 Pros
Connects to the Show with strong magnets
Can rotate 270 degrees
Can tilt vertically
Made of quality die-cast aluminum
Cons
More expensive than some of the other options
Requires installation into the wall
---
---
#6 – Mount Genie (Echo Show 5)
To be completely honest, I was drawn to this mount simply from the name itself. Like that 90s song by Christina Aguilera, adding "Genie" to the title of anything just makes it seem more interesting.
Like Christina, this option is certainly interesting! Totally unique in its style, this wall mount is actually installed directly into your wall. It looks very chic on the wall—especially near light switches, thermostats, or wall phones. This is an ideal pick for the DIYers of you out there!
Pros
Sits flush with the wall
Designed for easy access to buttons
Doesn't muffle sound quality at all
Cons
Can't rotate (not that you would really need it to)
Requires some assembly and wiring configuration
---
Mount Genie has a simple video that shows the installation process:
Here's another helpful review from Tech with Brett:
📚 Related: Echo Show 5 2021 vs 2019
---
#7 – Socket Shelf Wall Outlet (Show 5)
Next on my list of the best wall mounts for Echo Show is the Socket Shelf. While this wasn't designed for the Echo Show specifically, it is certainly a nice option for it! This little buddy plugs into your wall outlet and doubles as both a surge protector with six outlet spots as well as a little shelf. If you have a good outlet spot to put it on, the shelf is a cute option and is a good fit for the Show 5, so it'll sit nicely on it, although you won't really be able to angle the Echo Show as much as with some of the other options here.
Pros
Doubles as a surge protector with 6 outlets!
No installation or screws at all
Takes up very little space
Size is a good fit for the Echo Show 5
Cons
Can't position the show much on the shelf
More expensive than other options
Need to have a convenient outlet spot for your shelf
---
---
#8 – Easy Outlet Shelf (Echo Show 5)
One of the most annoying parts of technology for me (and a lot of other people, I'm told) are the wires. It's just bothersome to have wires going every which way, so these outlet shelves with wire management are definitely a coup! This Easy Outlet Shelf specifically is designed to completely hide the wire as it wraps inside the shelf itself – plus it looks like a little side table for your Show. This option is "Amazon's Choice" for a mount for the Show 5, although there have been a couple of complaints from customers about the shelf's durability. It's also really cheap; making it one of the best wall mounts for Echo Show on a budget.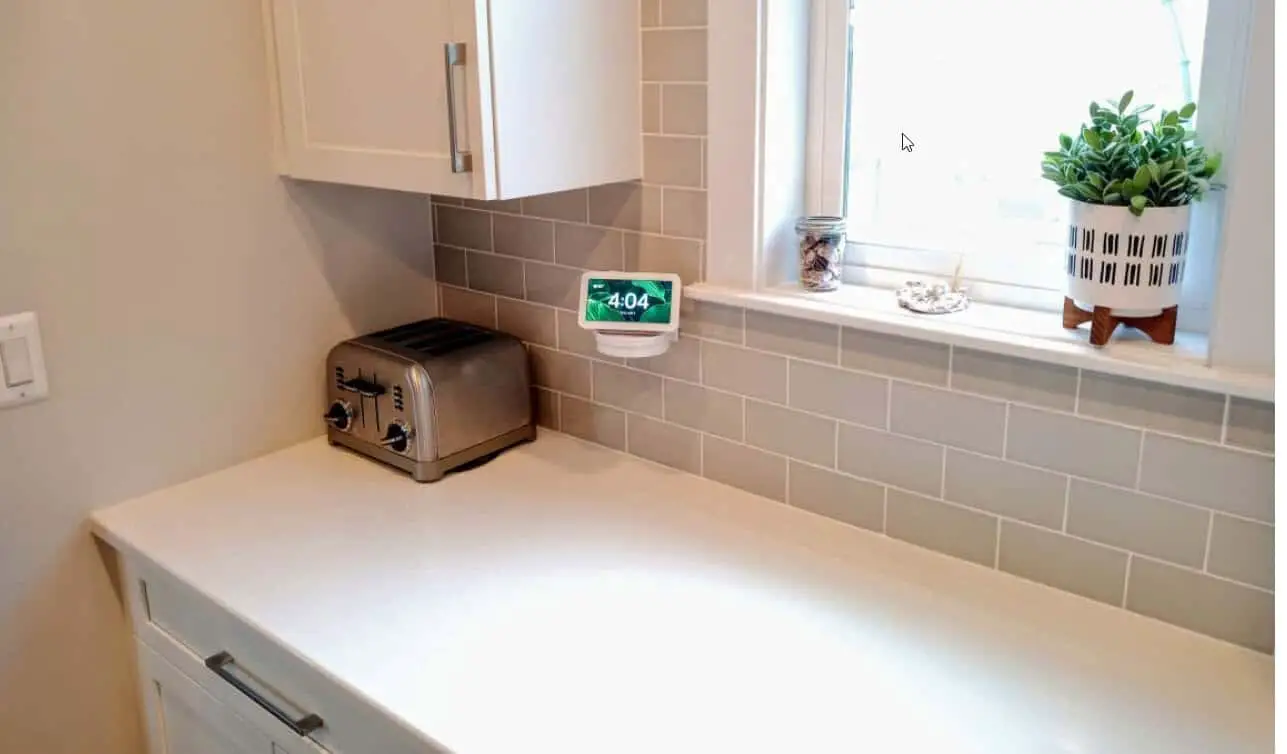 Pros
Designed to hire pesky wires from sight
Can rotate
Designed to be placed under cabinets or over countertops
Very little installation required – just sits behind outlet
Super inexpensive
Cons
Needs to have a convenient outlet spot
Can rattle a bit when playing music
---
---
Best Wall Mounts for Echo Show 2nd Gen
#9 – ATOPHK Aluminum Stand (2nd Gen)
This mount from ATOPHK, is nearly identical in style to the ame mounts they make for the Show 5 and Show 8. It is popular on Amazon because it offers a wide range of movement and adjustment.
Pros
Brushed aluminum looks rad and will match your stainless appliances in your kitchen
Tilts 25° up or down
Rotates 270°
Sturdy aluminum design
Cons
Customers noted a couple of complaints with screws, although complimented customer service with helping them through the install
---
---
Best Wall Mounts for Echo Show – What Do You Think?
And that's a wrap, folks! So what do you think about my picks for best wall mounts for Echo Show?
I've talked about a couple of different ways of getting your Echo Show up onto your wall, and now I'd love to hear your thoughts on the matter.
Did any of these cool wall mount options catch your attention? Do you plan on purchasing any of them? Any other thoughts of the new Echo Show 8?
Please leave me a comment and share what you think! And if you liked this article, could you give me a share using our social media buttons?
Thanks for stopping by, and enjoy your newly mounted Echo Show. ?
---
You Might Also Like
If you enjoyed this post about the best wall mounts for Echo Show, you might like some of my other articles on the Echo Show and related accessories:
About the Author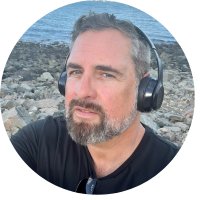 Tim Brennan is a technology blogger and host of the @TecTimmy YouTube channel. He shares insights about smart home tech at oneSmartcrib, home theater systems at UniversalRemoteReviews, and the future of AI in writing at Writeinteractive. A graduate of the Northeastern University School of Journalism, he has written about technology for 30 years. He lives on the ocean in scenic Nahant, Massachusetts.