Affiliate Disclosure
As an Amazon affiliate, I earn from qualifying purchases.
leakSMART vs Dome Home: In this post, I'll help you choose between two of the most popular smart water shutoff valves and sensors out there. My goal?  Help you avoid costly water damage in your home or apartment that I am in the throws of enduring as I type this.
Oh the Irony
I am actually writing this post from a hotel room less than two miles away from where I live. Why? My sister, who also happens to be my landlady, had her hot water heater pipe burst and completely flooded my ground floor apartment. It also did considerable damage to the ground floor of her home. As I type this, there are FOUR [very loud] industrial-strength dehumidifiers that need to run non-stop for the next three days in my apartment. Not to speak of the fact that I will need new carpeting throughout my apartment, and it will likely need to be repainted too.  Oh, if I had only recommended that my sister get a smart water shut-off valve, we could have likely avoided this unfortunate scenario.
Here are a few pics of my poor "no-so-smart" crib. The water is evaporating, but there is a ton of work ahead.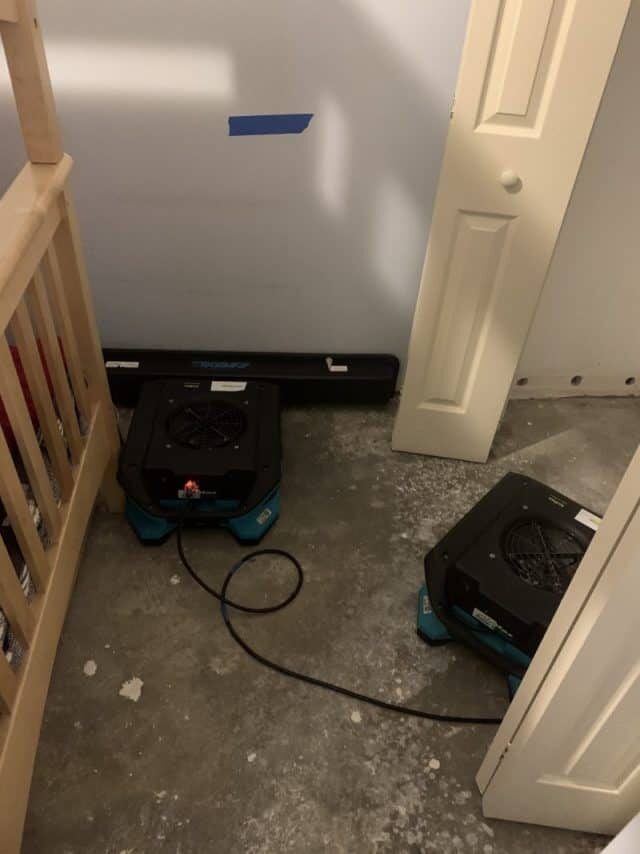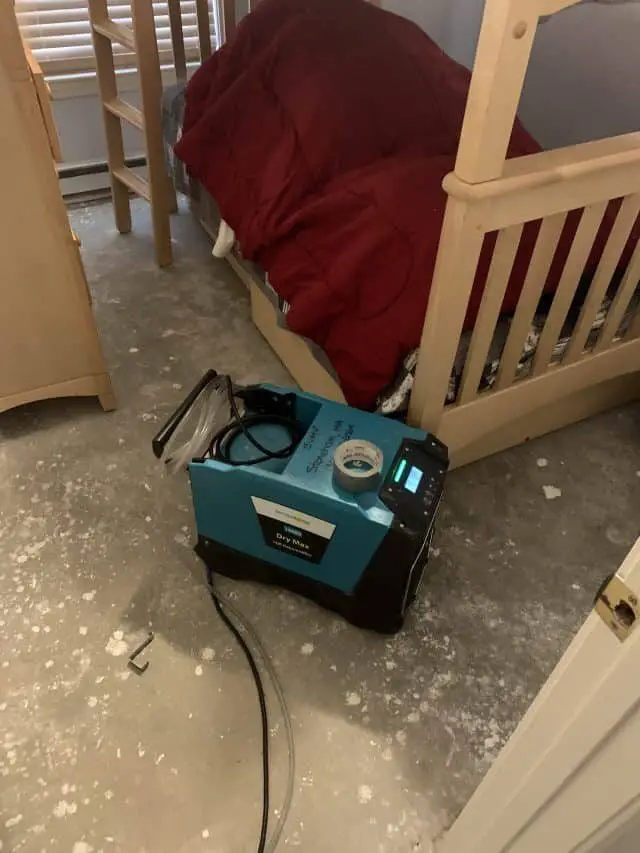 Yep, water damage can be super disruptive and a major bummer.
---
It Can Happen To You
For most homeowners, the idea of waking up to find that a leak has sprung in your basement or living room can be one of the most terrifying and even nightmare-inducing scenarios imaginable. Unfortunately, being able to stay on top of each and every pipe in your home every minute of the day simply isn't possible. Or, at least it never was until recently.
Here is one more pic of my kids' room: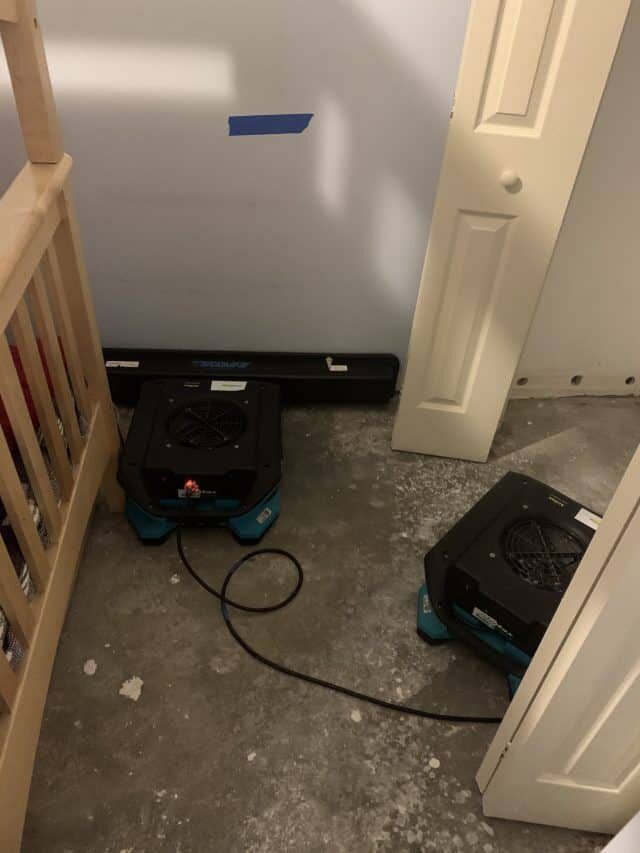 Ugh. And no the blue duct tape was not on the wall prior to the incident. If anyone knows why they put that there, please leave a comment and let me know!
---
What Is A Smart Water Shut-off Valve?
Automated and WiFi-connected shut-off valves have become the go-to technology for homeowners looking to avoid costly water damage due to leaks. These devices are designed to give you control over water leaks in your home, with features that automatically kill the water supply either at a valve or at the mains.
You basically need a sensor to detect the leak and a valve to shut it off.  The Wi-Fi capability comes into play during configuration of the valve and it some cases the sensor.
You typically place one or more sensors in or around the areas that are susceptible to a leak (e.g., at the base of a water heater, in a laundry room, or under a sink).  Then, in the event of a leak, the sensor detects it and springs into action per your configuration.
Some of these devices can be configured to send you alerts to your smartphone, and simultaneously even turn off the water main to your house to avoid further damage.
---
leakSMART and Dome Home: The Two Best
Out of all the devices out there, I am very comfortable saying that leakSMART water sensor and the Dome Home Automation Valve are two of the most popular, and for good reason. These devices give homeowners everything they need to stay in complete control of their water and pipes no matter what. A third is made by Guardian.
You can read my review of Guardian and 12 other smart water shut-off valves here.
Now, if you're in a rush and simply want to know which WiFi water shut off valve is best, in our opinion it's the LeakSMART. In the battle of the LeakSMART vs Dome Home, this valve comes out on top for two main reasons. First, the sensors can be placed anywhere in the home where you may have concerns about water leakage, with the central hub accepting up to 32 different sensors at once. Secondly, the LeakSMART comes with two different modes of protection including detect mode and shut-off mode so your water isn't constantly being turned off for no reason.
---
leakSMART vs Dome Home: Quick Comparison
Here is a helpful comparison chart that gives a quick summary of the differences between these two devices. If you're looking more of a detailed explanation, continue reading below.
Water Shut Off
At 1/4 turn-ball Valve up to 1 1/2"
Requires Hub
Yes, Z-wave (sold separately)
Water Shut Off
At 1/4 turn-ball Valve up to 1 1/2"
Requires Hub
Yes, Z-wave (sold separately)
Last update on 09/18/2023 / Affiliate links / Images from Amazon Product Advertising API
---
LeakSMART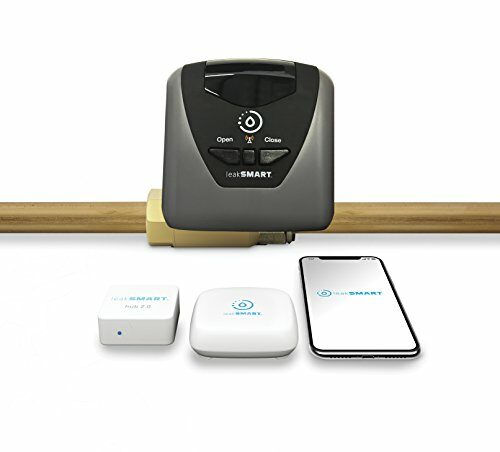 The LeakSMART is a water system smart home monitoring system that ensures that you never have to worry about a small droplet turning into a major, gushing leak that can turn your laundry room, basement, or bathroom into your own personal indoor swimming pool. This system is designed to give you the peace of mind you need even when you have to leave town for a few days. The best thing about leakSMART is that it can be configured to automatically turn off the water main in your house. Oh, and you'll also be alerted the moment any sort of issue pops up.
leakSMART has a nice overview of the installation process here:
However, because it provides a full kit that INCLUDES a valve, one sensor, and its own Hub it is more expensive than Dome Home that requires you to buy everything a la carte.
You can ?check the latest price of the leakSmart Starter Kit at Amazon here?.
Pros
Entire Home Service at Once: One of the biggest benefits to this particular product is that the central hub can support up to 32 sensors at once. This means that you can rest assured that your entire home is protected at once rather than picking and choosing the most unreliable and potentially "leaky" spots. Having this kind of complete coverage is just the thing you need to feel confident every time you leave the home.
Two Specific Monitoring Settings: Another important benefit of the LeakSMART system is that you don't have to worry about your water constantly being turned off for no reason. This device comes with two specific protection settings. First, there's the detection setting, where the device will alert you should it notice any sort of leak appearing in your home, which will give you the opportunity to check for yourself and verify whether or not there is an issue. The second setting is the protect setting, where the device will recognize that a massive leak has appeared and that it's time to take action. The central hub will then automatically turn off your home's water and alert you to the current situation through its range of notifications.
Lower the Risk of Water Damage: There can be no doubt that some of the most costly and overwhelming damage that homeowners can face is water damage. Not only do you have to deal with the structural issues that can come as a result, but you also have to worry about the potential for mold growth in unexpected areas. Mold can be extremely hazardous to your health and can even result in horrific lung infections. Taking action ahead of time by protecting your home with this quality system is your best bet.
Insurance Benefits: Did you know that installing a smart home water monitoring system can impact your insurance premium? Insurance companies love it when their clients install home safety features such as excessive water monitoring because it ensures that the home they are protecting remains in prime condition. However, these discounts are not always provided for every monitoring system, so you'll need to keep that in mind. When you install the LeakSMART system, make sure that you inform your insurance company so they can reward you accordingly.
Cons
LeakSMART comes with a wide range of positive reviews from customers who absolutely love the extra security that it's able to provide. Unfortunately, there were a few customers who found themselves turned off by the idea of having to purchase extra sensors separately. However, most customers appreciate the complete monitoring and range that these sensors provided and seemingly had no issue purchasing what they needed to give their home the protection it needed.
Overall, past customers felt that this was a product that significantly improved their home's water usage and safety. You can definitely rely on this device to keep your home safe from water damage no matter when or where you might be at the time.
---
Dome Home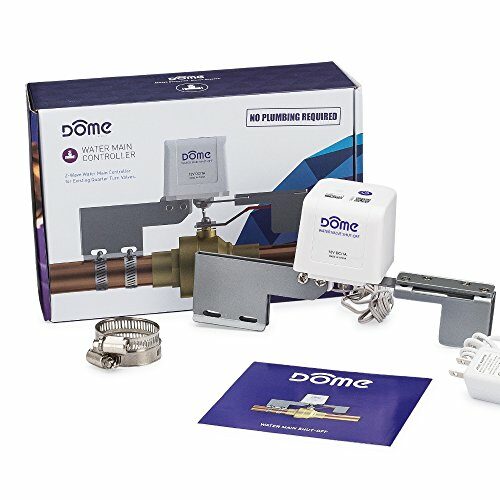 The Dome Home is an automated water shut-off valve that you can connect to the central water unit in your home, ensuring that you're able to stop leaks in their tracks the moment an issue appears. Like the LeakSMART system, the Dome Home also comes with various sensors that you can place around your home. However, the number of sensors that the central hub can support is much more limited, which can dramatically affect the overall protection of your home.
Pros
Do-It-Yourself Installation: One of the biggest benefits of this particular device is that you can securely install it on your own with just a screwdriver. For homeowners who aren't looking to spend even more money on professional installation, this can be a tremendous advantage. The easy setup instructions guarantee that you can get things ready to go the very same day you purchase the device if you feel so inclined.
Sensor Range: Another massive benefit of this particular product is that each and every sensor comes with a four-foot range, which means that even if you don't want the sensor out in the open, you can still depend on it to pick up on leaks from a rather far distance away.
Cons
This device is designed to help protect your home from leaks and water damage. However, many customers found themselves put off by the limited number of sensors they are able to connect.
Additionally, a few customers made note of the fact that the sensors had difficulty alerting the central hub to serious issues, which may have been an issue with WiFi connectivity.
While the Dome Home is an incredibly reliable product, it cannot provide you with the total home protection or the level of quality that the LeakSMART has made a staple of its service. This means that if you're looking for the absolute best in home monitoring, leakSMART reigns supreme.
However, if you are just looking for a single valve or sensor solution for a particular ball joint, Dome Home may suffice for you.
You can check the latest ?customer reviews on Dome Home over at Amazon here ?.
---
leakSMART vs Dome Home – What Do You Think?
So what do you of these two smart water valves? Which do you think is best?
Have you ever sustained water damage before?  Speaking for all-too recently experience, I can attest that it can really turn your life upside down for a while.
Are you considering one of these two products?  If so, which one and why?
Please leave a comment below and let me know.  It would be great to hear from you.
---
Related Posts
If you liked this post comparing leakSMART vs Dome Home, you might also like some of these articles:
---
leakSMART vs Dome Home…Please  Share?
Was this article comparing leakSMART vs Dome Home valuable? If so, would you mind giving us a quick share on social media?
It just takes a minute. And you can use any of the colorful social media buttons along the top and near the bottom of this page.
Thanks! This really helps to spread the word about our blog and gives us a little boost in Google rankings.
---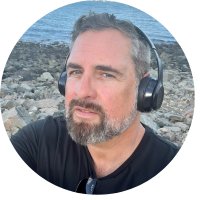 Tim Brennan, a tech blogger and host of the @TecTimmy YouTube channel, writes about smart homes at oneSmartcrib, home theaters at UniversalRemoteReviews, and AI in writing at Writeinteractive. He holds a Journalism degree from Northeastern University and has covered technology for three decades. He lives on the ocean in Nahant, Massachusetts.