As an Amazon affiliate, I earn from qualifying purchases. Learn more
In this post, I'll give you the "mow down" on three of the very best robot mowers for rough terrain and uneven yards that you can buy today.
Each of these is available for sale on Amazon with fast shipping so you could potentially have yours working on your gruff yard this weekend!
Drum roll, please!
Here are my top three robotic lawnmower picks for rough terrain:
So, which is the best option for your yard and price point? Que up Mr. Roboto by Queen, and read on!
---
Best Robot Mowers for Uneven Ground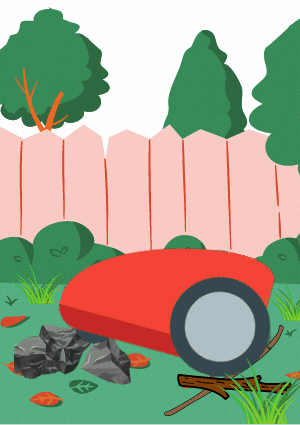 Getting a Roomba-like robot to mow your lawn is now totally possible where it wasn't a few years ago. However, all robot mowers are not created equal and some models can get a bit (ahem) "stumped" when they encounter rough terrain.
Read any decent robot mower buying guide and that will be one of the things the pundits tell you to watch out for when buying a robotic lawnmower.
Don't worry though, the robot lawn mower industry is maturing rapidly. Robot-minded engineers throughout the world are proactively trying to make these futuristic friends better. Innovative products and upgrades are being introduced quite frequently.
I wonder why they would care about getting a robot to mow your unsightly rough backyard. Oh, wait….
The booming robot lawn mower market is estimated to almost be a $700 million industry.Research Firm Technavio
The robot lawn mower market is estimated to almost be a $700 million industry, according to this market research report published by Technavio.
Well, there is a good reason right there!
Still, the data out there about solid mowers for rough landscapes is elusive for sure.
So, how can we get you over this little hump?
All you have to do is check out my three robot lawnmower recommendations for rough terrain and uneven yards.
---
Comparison Table: Robot Mowers for Rough Terrain
The following table compares key features of the best robot mowers for rough terrain side by side.
| | | | |
| --- | --- | --- | --- |
| Product Name | | | |
| Image | | | |
| Why good for rough terrain | Designed for small complex lawns, obstacle avoidance technology, boundary wire to guide the robot, ability to navigate over and around sizable rocks | Obstacle avoidance technology, boundary wire to guide the robot, does well on steeper slopes | Obstacle avoidance technology, boundary wire to guide the robot, ability to navigate over and around sizable rocks, broad cutting width can handle larger yards with ease, performs well on steep slopes |
| Dimensions | 22.83 x 14.9 x 9.05 inches | 21.97 x 15.91 x 8.07 inches | 29 x 26 x 12 inches |
| Weight | 16.09 pounds | 21.2 pounds | 86.8 pounds |
| Cutting Width | 6.69 inches | 7 inches | 22 inches |
| Operation Mode | Automatic | Automatic | Automatic |
| Capacity | From 2700 square feet to 8100 sq.feet. | ¼ acre | Up to ¾ acre |
| Power Source | Battery | Battery | Battery |
| Slope | 25% | 35% | 35% |
| Smartphone App | Yes | Yes | Yes |
| Weather-Resistant | Yes | No (but has a rain sensor) | No (but has a rain sensor) |
| Charging Time | 50 minutes (runs for 60-65 minutes) | 90 minutes (runs for 90 minutes) | 90-110 minutes (runs for 80-100 minutes) |
---
Best Robotic Mowers for Rough Lawns: Things to Consider
Here are some key things to think about when shopping for the best robot lawn mowers for rough terrain.
Type of Surface: OK, so just how rough is that terrain in your yard anyways? If you are in the market for a mower the fact that you have grass is a given. But is it tall grass? Do you have lots of weeds? What about rocks, sticks, tree branches? Tree stumps? Divets in the ground? What about hills and slopes? You'll want to make sure you get a mower that can handle the job—and avoid obvious obstacles.
📚 Related: Best Robot Mowers for Hills and Slopes
Obstacle Avoidance: The best of best robot mowers for rough terrain have features that enable them, to navigate through your yard by using sensors to detect any obstacles in its path. Some are even able to detect objects up to 32″ tall while traversing at speeds of 5mph or less. This feature can come in handy if you have pets (or kids!) as well.
Automatic Height Adjustment: This feature ensures that no matter how far overgrown your grass gets, you won't have to worry about chasing after "buddy" midway through the job because your grass had grown too high for optimum cutting. By the same token, this feature can also help the mower to navigate across uneven ground.
Durability and Wheel Size: If you have some seriously rough terrain, the implication is that your new little friend is going to do quite a bit of bouncing around as it is scampering about in your yard. You're going to want to choose a mower that can take a good beating. Wheel size is also another important factor. Obviously, a mower with large wheels is a good idea to help it navigate over some obstacles.
Weather Resistance: While not directly related to rough terrain per se, the best choice for rainy weather is a robot mower that can withstand the elements. Look for a model that is weatherproof. Some robot mowers will continue to operate in the rain and some have sensors that will return the mower to base if it starts to rain.
Battery Capacity: With an uneven yard, your robot mower is going to have to work harder than a mower would be cutting, say, the ninth hole of your favorite golf course. I would aim to choose a model with excellent battery life on a single charge to ensure it finishes the job in one pass before returning back to its docking station. All of the mowers here provide a good choice of battery life with rechargeable batteries that last a long time compared to other models I researched.
---
A Word About My Top Three Choices

If you've been researching robot mowers, then you probably know that finding a well-rated mower for rough terrain is no easy task.
While most manufacturers list details such as incline and battery life, know which mower to choose for a bumpy yard with rocks and dips in the ground can be tough without pouring through dozens of customer reviews.
So that is exactly what I did.
While I have not purchased each of these mowers myself, I have written several blog posts on them and done probably a hundred hours of research. Thus, I am confident about my recommendations.
---
#1 – Best for Small Uneven Lawns: Gardena SILENO Life
My first pick is my top pick for small uneven lawns. It is this robot lawn mower gem from Gardena, ideal for small yards (or medium-sized yards with lots of flower beds). This one is easy to set up and comes with a rotary knob. You can set up a mowing schedule and relax because it will carry on no matter the weather.
That's right. Like "The Little Engine Who Could" it has the ability to cut grass while it is raining. THAT should tell you a little something about its perseverance.
I think I can…I think I can….
Customers say that his mower is "surprisingly quiet" so it won't bug your neighbors (or annoy your wife). Oh, and watch out robot bandits b/c this baby also comes with multiple anti-theft protection features (see table above).
If you are one of those environmental types, you will also be happy to know that it is emission-free which makes it an eco-friendly choice. Finally, the cutting capacity can safely be described as excellent. Available in multiple models, the Gardena line is fit for all types of gardens and is energy efficient too.
Andreas M has a nice review of this mower over on YouTube; you will need to wait a few seconds for the translation to kick in but this is well done.
Pros:
Surprisingly quiet.
Hits up its charging station then goes back to work when fully charged (or to us a fancy word it's autonomous).
Happy to munch on small (1/4 acre) to medium-sized (1/8 acre) lawns.
Safety features include XX.
Easy to program.
Solid battery power.
Excellent with slopes.
Cons:
Lacks sophisticated remote-control capabilities available with other brands.
A tad bit expensive for what it offers.
Yeah, you still need to install that dang boundary wire. Professional installation might be worth considering.
---
Gardena 15101-41 SILENO Life 8100sq ft Robotic Lawn Mower, Grey
GARDENA SILENO Life mows yards up to 8100 sq ft automatically and streak-free. For Bluetooth connectivity, download the GARDENA Bluetooth app on your mobile device, turn off the mower and turn it on again, pair the GARDENA Bluetooth app with the product and enter the PIN code. The app is used for settings and operation of the mower but can be operated using the control panel on the mower itself. NOTE: The Bluetooth pairing mode is active for 3 minutes. Scan the QR code on the box for more.
Prices pulled from the Amazon Product Advertising API on:
Product prices and availability are accurate as of the date/time indicated and are subject to change. Any price and availability information displayed on [relevant Amazon Site(s), as applicable] at the time of purchase will apply to the purchase of this product.
---
#2 – For Small To Mid Sized Uneven Lawns: WORX WR140 Landroid M 20V
The WORX WR140 Landroid is a great robotic mower for small to medium lawns of in and around one-fourth of an acre. It is one of the easiest mowers to set up.
All you have to do before getting started is charge the mower, place the boundary wire and measure the lawn so that you can enter the dimensions on the app.
Note: The boundary wire installation is not trivial, especially when it comes to rough terrain. You may need to rope off larger obstacles to ensure the robot steers clear of them. Depending on the size of your yard, I would say set aside a day or a weekend to install the wire. The nice thing is….once this is done, it's done! Set it and forget it.
This mower comes with patented technology to help it move sleekly through narrow passageways where other robotic mowers fail.
You can control the mower with the app over your wi-fi network. This includes checking the progress of and scheduling mows. Remember to keep the software updated so you have access to regular updates released by the company.
The Work Landroid is not fully weather resistant but it has a sensor to detect wet weather and when it does, it returns to its charging station. Cutting wet grass over uneven surfaces with your shiny new robot mower is not the brightest idea anyhow.
Warren Nash has a nice video out on YouTube that includes some installation and setup tips.
Pros:
It's orange! This makes spotting it amongst your weeds easy.
Customers have raved that this mower handles rough terrain "like a boss."
Can schedule mowing sessions and monitor progress with the app's control panel.
Can adjust the cutting height and tilt sensors help with navigating rough terrain.
Comes with a rain sensor.
Cutting deck can tackle slopes well.
Bluetooth connectivity and Wi-Fi enabled with ability to set a custom mowing schedule.
Durable.
Works well through narrow passageways.
Cons:
Does not come with a remote (you use the app instead).
Its appetite is limited to small lawns.
A few customers have said this is a bit noisy, so I think it safe to assume the noise level is a bit louder than the others here.
---
Last update on 10/26/2021 / Affiliate links / Images from Amazon Product Advertising API
---
#3 – Best for Larger Uneven Laws: Robomow RS630
Those who have a large lawn will like this beast with a cool name: the Robomow RS630. Try saying Robomow three times fast. It's fun!
Robomow. Robomow. Robomow.
See?
What's even more fun is this.
It can handle up to ¾ of an acre in one go. Each charge lasts between 90 to 110 minutes, and this mower travels at almost 2mph if there are no interruptions. While that is not going to win the 100-yard dash, it is an impressive speed in the world of robot mowers.
What makes this little guy perfect for rough terrain is that it responds to objects or obstructions in its path the same way it would if an animal, or you came in its way. It turns off its blades and picks another path to go down. It has an app that you can connect to using Bluetooth and manage your lawn from a distance through a Wi-Fi connection. It can also be connected to Amazon Alexa so that you can work it using voice commands. Alexa, cut my grass? You betcha. Wow now if that isn't all Total Recall I don't recall what is.
The manual tasks involved are setting up the perimeter wire to keep the mower within its boundaries. Then you have a few things to take care of on the mobile app such as setting up the mowing area and a schedule, which is pretty straightforward. But apart from that, the mower will take care of everything else. It will even detect rain and return to its charging station just like the Worx model I told you about up there. Once the clouds clear (or at least the rain stops), it will resume cutting your lawn on its own.
If you want to take this baby for a test drive, Tilted Tripod Media provides an in-depth review of this mower over on YouTube. You can watch their review right here below.
Pros:
Very quiet when it is working (and even more quiet when it is not haha!).
Autonomous with changing weather (there's that big word again).
Enabled with anti-theft technology.
Powerful cutting ability.
Can be used with Alexa for voice control. ("Alexa, tell Buddy to mow my lawn then bring me a cold beer.")
Cons:
A wee bit expensive.
Shorter battery life / run time means it may take a couple of passes to do your whole yard. But better him that you, right?
Yeah, this one needs a guide wire too.
---
Prices pulled from the Amazon Product Advertising API on:
Product prices and availability are accurate as of the date/time indicated and are subject to change. Any price and availability information displayed on [relevant Amazon Site(s), as applicable] at the time of purchase will apply to the purchase of this product.
---
Robot Mowers and Rough Lawns: The Bottom Line
Ready for more good news? Each of these mowers is a solid choice for rough terrain but the one you pick is going to depend on the size of your yard and the features you want.
If you are looking for an affordable robotic lawn mower for rough terrain for smaller yards, my first choice from Gardena is a real crowd-pleaser.
If you are looking for something with more power and performance for a small to medium-sized yard, the second one from Worx is a good fit. This one offers the most value for the money IMHO.
And if you have a large yard and your new best bud to be a high-performing workhorse with Amazon Alexa, Robomow is a good way to go. (Hey, that rhymes!) Of course, it is also the most expensive model here. However, just think of all the benefits you get over a traditional mower.
I hope you found this helpful. Enjoy the extra downtime that your futuristic new yard toy affords you.
📚 Related: Best Robot Mowers for ¼ to ½ acre