We're an affiliate. As an Amazon Associate, I earn from qualifying purchases. Learn more
Looking for the best smart hydroponics systems for beginners in 2020? You're digging in the right place.
In this article, I'll review the pros and cons of five great systems for beginners, and I'll include a high-end pick for experts, too.
Ready. Set. Grow!
---
5 Best Smart Hydroponics Systems For Beginners [+1 for Experts]
Call it what you like: hydroponics, hydroculture, or controlled environment agriculture (CEA).
The idea of growing food and plants Smarts using nutrients and water instead of soil has taken off, big time.
According to this report from market research firm Stratistics, the Global Hydroponics market is expected to grow from $226.45 million in 2016 to reach $724.87 million by 2023.
Wow, that is some serious "growth."
Best of all?
You don't need to travel to Back to the Future like Marty Jr. here to enjoy some home-grown produce.
Source: Huffington Post: What Back to the Future Got Right… and Wrong. In fact, you can grow your own veggies, herbs, and more — right from the comfort of home sweet home.
Plus, you'll be ready for the impending zombie apocalypse 🧟🧟🧟!
The 21st century belongs to super plants, which include vegetables and flowers that do not require soil to grow. It has been known for hundreds of years that soil has essential mineral nutrients for plant growth, but the soil is not necessary to grow plants. Smart hydroponics systems is the newest trend in the agriculture sector which allows plantation in the presence of water and minerals, and the absence of soil.
---
What is Hydroponics Anyways?
Hydroponics is a combination of 'hydro' and 'ponics'. Hydro is a Greek word of water while ponics is decoded into labor. Smart hydroponics systems enable you to grow crops and vegetables without soil. However, water and necessary minerals are given to the plants. Using the plantation technique, you can grow crops indoor any time of the year.
Although hydroponic gardening has been around for hundreds of years, modern humans tested the technique in the 1950s. After many successful experiments, gardeners from several countries worldwide adopted the plantation method.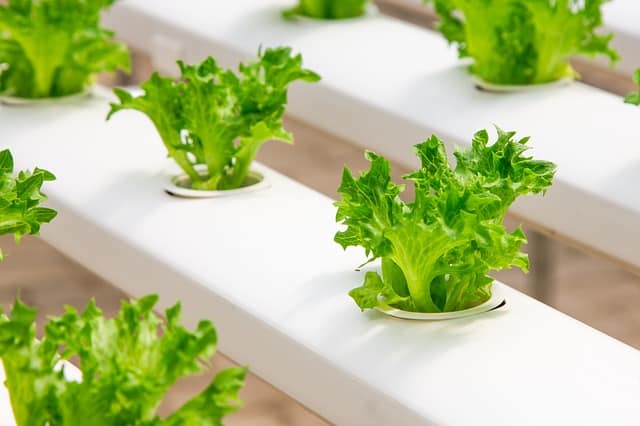 What Makes 'Smart Hydroponics Systems' Smart?
In a conventional plantation technique, soil helps a plant stay upright. Plus, it has various kinds of minerals that play a major role in a plant's growth. As hydroponics systems eliminate the need for soil, the plants are supported by other methods.
Instead of depending on soil for minerals, the new crop production technique supplies nutrients and water externally as a growth source to a plant. While applying this method, farmers can better control the agricultural environment. Plus, they can grow a crop in any season of the year.
Smart hydroponics systems use different types of substances as a growing medium. These include rock wool, volcanic glass perlite, coconut fiber, and others. The medium provides an inert substance without any minerals to support a plant's growth. For nutrition, crops depend on a solution of water and fertilizer.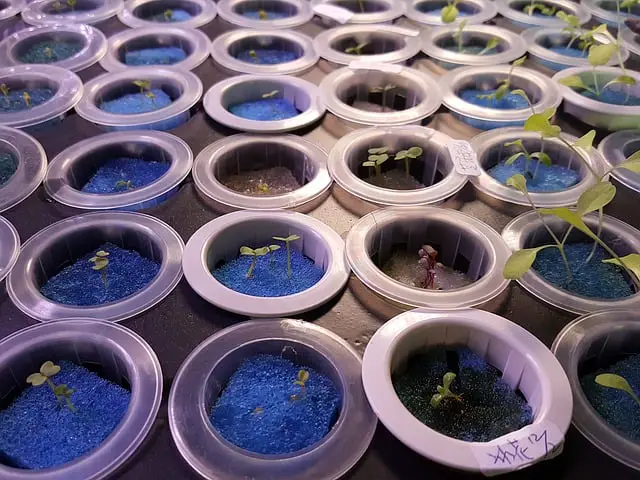 There is more than one way to deliver the nutrition solution to the vegetation.
Roots of a plant in a growing medium can receive the solution at regular intervals.
A solution dripper can serve as a tool to provide a plant with essential nutrition.
A plant can be removed from the medium and its roots provided with the solution mid-air.
The "smart" takes a step further. They are usually connected via Wi-Fi. You can even automate some systems by controlling them with your smartphone or tablet, or in some cases voice assistants like Alexa and Google Assistant.
---
Best Smart Hydroponic Systems for Beginners
In this guide, I'll take a look at the best smart hydroponics growing systems beginners can own today.
They come from familiar and not-so-familiar brands like Miracle-Gro, Viagrow, Cloudponics, Grobo, and Deep Water Culture.
We'll also include links to the best smart hydroponics growing systems on Amazon.com so you can see the latest pricing and read what current owners are saying.
In fact, here are all of the products featured in this review along with links and pricing so you can see them side by side at a glance.
Now, let's dig a little deeper into each product above.
---
#1 Best for Most: Miracle-Gro AeroGarden Ultra (LED)

Ideal for experienced as well as non-experienced gardeners, the Aerogarden Ultra LED system is a great pick for those looking to grow fresh herbs, veggies, lettuce, tomatoes, strawberries, peppers, and other produce Smarts year-round. Small enough to fit your countertop, the adjustable top allows for a hefty yield with growing heights that top out at 24 inches.
Check out this helpful video review from TheHydroCultivator® comparing the Ultra LED to another AeroGarden model, the Extra.

The fact that these products are produced by Scott's Miracle-Gro should give you added peace of mind that this is a quality product backed by a major brand. Plus, the AeroGarden line is priced at a point that many consumers can afford.
You cannot, however, manage this system using your smart device.  For an Smart hydroponics growing system you can manage with your smart device, see our next review of the wi-fi-enabled Aerogarden Bounty model.
Sizing It Up
Dimensions 17.5 x 11.5 x 34 inches
Weight: 13 lbs.
What You Get
Aerogarden Ultra Unit
30 Watt LED Grow Light
Includes 7-Pod Gourmet Herb Seed Kit that contains: Genovese Basil, Thai Basil, Thyme, Mint, Curly Parsley, Chives and Dill
3 oz. patented nutrients of fertilizer (a full year's worth)
Pros [Green Thumbs Up]
Up to seven plants can be grown at a time.
Sturdy and durable.
Set up is simple: takes just a few minutes and no tools are required.
Pods are spaced adequately apart.
Patented nutrients naturally grow plants abundantly.
Growing height extends to 24″.
Interactive LCD screen display guides you from setup through harvest.
Optimal LED light concentration gives bigger yields and plants can grow up to 5 times faster than in soil.
High-performance, full spectrum 30-watt LED lighting system is tuned to the specific spectrum that allows plants to maximize photosynthesis, resulting in rapid, natural growth and abundant harvests.
Cons [Room for Growth]
It's heavy.
Some customers have complained about it being difficult to clean.
Lights bulbs require replacing, which can add to cost over time
There is no timer for lights to go on and off. Light needs to be manually reset by holding down the light button.
---
#2 Even Smarter: AeroGarden Bounty Wi-Fi
The Miracle-Gro® AeroGarden Bounty Wi-Fi is very similar to the AeroGarden Ultra with three notable additions.  First, it adds two additional pods so you can grow up to seven plants at a time.  Second, it is completely wi-fi enabled so you can manage all AeroGarden features using your smart device.
Here is AeroGarden's video that covers Bounty's main features:
It will automatically send reminders to add water and nutrients, provide tips and advice for best yield.  You can also access one-touch customer support from your device to help you get the most from your AeroGarden. Third, the grow light is stronger: 45-watts, instead of 30.
Sizing It Up
Dimensions: 17.5 x 11.5 x 34 inches
Weight: 12.39 pounds
What You Get
Aerogarden Wi-Fi Unit
High-performance, full spectrum 45-watt LED lighting system t
Includes 9-Pod Gourmet Herb Seed Kit that contains: Genovese Basil, Thai Basil, Thyme, Mint, Curly Parsley, Chives and Dill
3 oz. patented nutrients of fertilizer (a full year's worth)
Pros [Green Thumbs Up]
Up to 9 plants can be grown at a time.
Wi-fi enabled so you can manage setup to harvest using your smartphone or device.
Very sturdy and durable.
Set up is simple: takes just a few minutes and no tools are required.
Pods are spaced adequately apart.
Patented nutrients naturally grow plants abundantly.
Growing height extends to 24″.
Optimal LED light concentration gives bigger yields and plants can grow up to 5 times faster than in soil.
High-performance, full spectrum 30-watt LED lighting system is tuned to the specific spectrum that allows plants to maximize photosynthesis, resulting in rapid, natural growth and abundant harvests.
Cons [Room for Growth]
It's heavy.
Some customers have complained about it being difficult to clean.
Customers have reported issues with shipments for this model. Some customers have had issues with the screen on the front missing or broken upon delivery.  Others have had the wrong model (non wi-fi version shipped to them). If you buy this model, make sure you check everything out carefully to make sure you received what you paid for and that there is no damage to the unit.
---
#3 Best Budget System: Deep Water Culture Bucket Kit
Ideal for beginners, DWC Hydroponic Bubbler Bucket Kit by PowerGrow Systems is an excellent way for hydroponics newbies to dip their toes in the proverbial water bucket. The AeroGarden LED includes a pump that pumps water to the top of the lid and then out through a little channel onto the grow sponge. Everything gets really moist so it grows really well. Dripping falls into the nutrient solution for oxidation and aeroponic growth. That's what makes this a top pick among our best Smart hydroponics grow systems.
Expert Tip: To save money, you can buy seeds or seedlings at your local garden shop.
You can see a nice video tutorial of the DWC system below, which is an excellent way for beginners to understand what's involved with Smart hydroponics grow systems.
More information about Deep Water Culture (DWC) Hydroponic Bubbler Bucket Kit:
Easy to use and inexpensive hydroponic system with four different sites.
The kit includes an air pump, 6″ basket lids, buckets, and other important items.
There is also a water level indicator that comes with the kit.
Sizing It Up
Product Dimensions: 30″ x 12″ x 12″Weight: 17 lbs
What You Get
Four 5-gallon buckets (expandable)
Four 10" net pots bucket lids
An air pump and 4 air stones
Blue water-level indicator and drain
Pros [Green Thumbs Up]
The inexpensive bucket-based system is great for budget-minded beginners.
The set-up is super easy.
The comprehensive system includes everything you need to start growing right away.
You can grow four plants to full maturity.
A high-power oxygen pump and four air stones are included with the system.
It's super easy to operate.
Produces fast-growing and high-quality plants,
Very positive customer feedback.
1-year warranty
Pro tip: An Eight Bucket kit is also available at a slight discount over buying a second setup.
Cons [Room for Growth]
Some customers have complained that the pump is noisy. If noise is an issue, you can replace the default pump with an alternate pump.
At least one customer complained that the blue water tubes that come with the unit are too dark to see the water level. However, these can be replaced with clear tubes.
Grow lights, pods, and hydroponic liquid nutrients are not included.
---
#4 Runner Up Budget Option: Viagrow Single Bucket System
The Viagrow Hydroponic Deep Water Culture Vegetative System  is one of a few cheap four-site bubbler best smart hydroponics systems designed to take rooted seedlings or cuttings and mature them before transplanting to your flowering room, raised bed, soil or hydroponic garden. Great for beginners, customers say they like the easy setup. A few have complained that the air pump has limited airflow, however.
Can't you just taste those fresh herbs, veggies, lettuce, tomatoes, and strawberries yielded from this Smart hydroponics growing system already?
More information about Viagrow 4-Site Hydroponic Deep Water Culture Vegetative System:
It's small and easy to control the vegetative system to grow small plans at four different sites but in one bucket.
The system is a 5-gallon bucket with four cups. In addition, there are necessary tools like an air pump and tubing.
Sizing It Up
Dimensions: 25.8 x 25.8 x 48 inches
Weight: 41 pounds
What You Get
4 net cups
1 five-gallon bucket
Air pump
Airstone
Tubing
Tip: Don't forget to purchase the hydroponic liquid nutrients separately.
 Pros [Green Thumbs Up]
Customers who love the product rave about it in comparison with higher cost systems
Relatively quiet compared to competing systems
Grow rocks make planting super easy – just cover the plant roots in the rocks and done!
Grow rocks provide high oxygen levels around the root, especially useful in a flood and drain hydroponic systems
Nursery pots are reusable and can be reused for many growing seasons.
The plastic timer has 48 on and off daily settings with trippers can be pushed down for each 15 minutes on cycle.
Cons [Room for Growth]
Item can be shipped only within the U.S and to select countries out of the U.S.
Warranty details unclear on Amazon
The submersible filter requires cleaning between grow cycles
Set up is doable but more involved than the other products we reviewed. A video guide on Amazon walks you through the steps required to set up the system.
---
#5. For Serious Growers: Grobo One Automated Grow Box
Last but certainly not least on our list of the best Smart hydroponics growing systems is the Grobo One Automated Grow Box.  About the size of the standard refrigerator, the Grobo is the ultimate state of the art growing experience from seed to harvest. You will enjoy peace of mind knowing your plants are being well taken care of using advanced artificial intelligence and you can manage the whole operation using an advanced smart device application. The grow box connects to your home's wi-fi network and has a very low power consumption, using only 300 watts for the 1st 12 hours a day cycle and 85 watts for the second.
This Smart hydroponics growing system ships fully assembled and is smartphone-controlled.
Planning a vacation? Go for it!  Your vegetables, lettuce, tomatoes, strawberries, peppers, and whatever else you happen to be growing (wink, wink) will be just fine. With the Grobo grow box, you will grow like a pro.  Everything is controlled from your smartphone app, so you can rest assured that your plants are doing incredibly well from virtually anywhere on the planet. Above and beyond the automation capabilities, customers have praised the system as being very easy to use. Some features that can be adjusted using the app include humidity control, watering frequency, pH buffering, temperature regulation, LED grow light scheduling,  auto-off, and more.
Sizing It Up
Dimensions: 66H, 28W, 28D
Weight: 102 lbs
What You Get
The Grobo One Hydroponic Grow Box comes with one set of bottles (bottles 1-5), one cocoa pod, one carbon filter, one pH sensor, one EC sensor and of course one beautiful Grobo One.
 Pros [Green Thumbs Up]
This really is a professional grade Smart hydroponics growing system.
GroBo automatically controls the watering, pH levels, temperature, humidity, & light controls within the unit.
Lets you monitor ambient light, air temperature, humidity
Automatically maintains pH levels.
Unlike other systems, the GroBo only requires you to fill the water reservoir every 2-3 weeks. Therefore, if you're planning a vacation, GroBo has your back.
You can control the nutrient dosing from the app. Fine-tune the amount of up to 3 nutrients on a week by week basis. App tells if the water is low, tells what the current temperature is and much more.
Fully integrated drying mode lets you dry your herbs in the grow box at the end of the growth cycle.
Compatible with both seeds or clones.
The unit ships fully assembled so there is no complex set up required.
The GroBo also features customized grow lights, an odor filter & an app-controlled door lock.
These solidly crafted units have a sleek wooden exterior that you can display is virtually any room of your home. Each GroBo is about the size of a standard refrigerator.
Active Carbon filter take the smelly work out of growing
GroBo remote app set up is easy. You just insert ID # from the unit, the key sent via email from the vendor, and your password, then it automatically pairs
A large water reservoir allows the system to run for 2-3 weeks without a refill.
Customers have said that support from the vendor is highly responsive.
Cons [Room for Growth]
Customers rave about this product on Amazon and also on YouTube. At the time of this writing, there are zero negative reviews!
---
What Are The Advantages of Hydroponic Growing Systems?
Hydroponics systems may require farmers to spend some time learning about the technique before applying it, but it's a plant-growing system that comes with lots of advantages.
Here are some ways that hydroponics systems are better than traditional agriculture:
Single crop cultivation: Unlike the conventional agriculture technique, farmers do not need to follow the crop rotation method of farming. They can grow one crop multiple times any month of the year.
Control over environmental conditions: In the hydroponics growing system, farmers can artificially control agricultural conditions. They can use uninhabited indoor space and grow any kind of plants close to each other. 
Water-saving: Growing crop with indoor hydroponics techniques helps save water. Researchers, who examined the method, have found that hydroponically grown crops use around 1/10 of water to conventional agriculture techniques. 
Better use of nutrients: Hydroponics farming allows farmers to control the number of nutrients they provide to plants. They can check what kinds of minerals a plant requires and use the nutrients in the right way. 
Better results: Soil attracts various kinds of pests and diseases. As the technique does not involve the use of soil, there are fewer pests.
---
What Are Some Challenges With Hydroponics Growing Systems?
Like everything else, an indoor hydroponics system has its own cons. The most common among them is commitment. The method requires a farmer to be responsible. He cannot leave the crops for weeks without inspecting them. 
Technical knowledge: In addition to using various equipment, farmers need to have technical knowledge about the method.
 Water risks: In the indoor hydroponics system, water has an important role to play. A shortage of water can lead to a serious situation for a crop.
 Setup cost: While installing the system, a farmer may have to spend money to get equipment and other essential resources. Plus, the implementation requires nutrients, lights, containers, and various other tools for effective working.
---
Should You Use Water Chiller As A Nutrient Solution?
In a hydroponics system, a water chiller as a nutrient solution is beneficial in many ways as it controls temperature and supplies a sufficient amount of oxygen to the plant. In addition, it ensures plant growth in the right and quick way.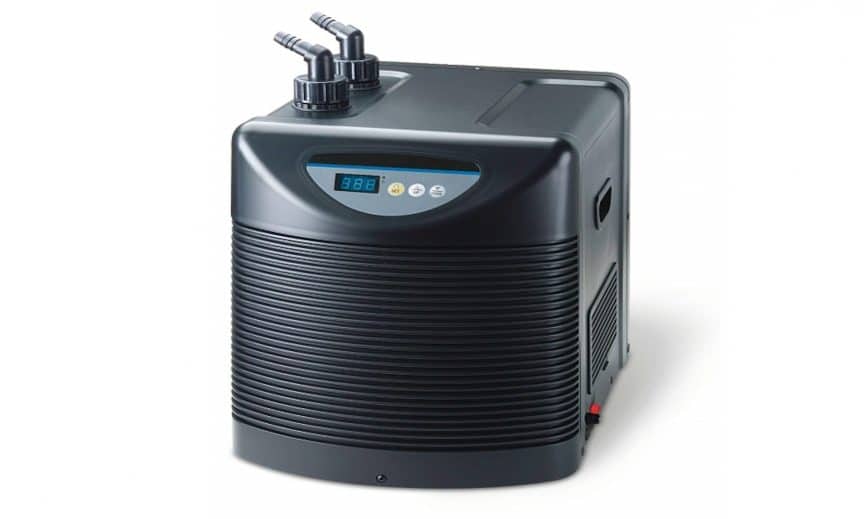 A water chiller also becomes important for the system due to its ability to control water temperature.  The indoor soil-free technique features a circulating pump to ensure plants get water. The circulation process increases the water temperature. Apart from that, the indoor environment and lights add to the increased temperature. This rise in water temperature leads to lower oxygen amount in water. To control the heat and increase oxygen, a water chiller can be used.
---
The Future Of Hydroponics Systems
 As the demand and reach of the hydroponics system are widening with each passing day, it is expected that more people worldwide will adopt the technique to grow crops indoors without soil. If you are planning to set up your indoor hydroponics system, then go for it as the future of the technique holds a great opportunity or growth for hydroponics and organic farmers.
---
Best Smart Hydroponics Growing Systems for Beginners – Your Turn
Did you find our review of the five best smart hydroponics systems for beginners useful?
Are you a beginner or expert grower?
Is there another, better system that we should add to our list? Which do you think is the best out of the indoor hydroponics systems that we reviewed?
Please let us know what you think by leaving a comment below.
Also, if you liked our review, would you mind sharing it using the colorful social media buttons at the top and bottom of this page? It really helps us out a lot – thanks!
Our thanks to Ramon Stevens of Comfy Home Corner for contributing to this article.
---
Related Posts
If you enjoyed reading this article about the best smart hydroponics systems for beginners, you might also like some of our other articles:
---
About the Author
Tim Brennan, Technical Writer & Blogger
Tim Brennan [a.k.a. "Tec Timmy"] is a senior technical writer with over 20 years of experience writing for companies and organizations in and around Greater Boston, including GE and MIT. In addition to actively writing for this smart home blog, Tim is also a regular contributor over at UniversalRemoteReviews.com. Tim holds a BA in Journalism from Northeastern University. Brennan is a father to two sons, an active blogger, a Star Wars nut, and loves a good taco🌮. There is a strong chance he is developing a crush on Amazon Alexa. You can learn more about Tim here.