Affiliate Disclosure: As an Amazon Associate, I earn from qualifying purchases. Learn more.
Summary: This article provides a detailed review and comparison of the Amazon Echo Dot 3rd Gen vs 2nd Gen model. It includes a helpful comparison chart highlighting differences between Amazon's two most popular smart speakers.
So what's the difference between the 3rd Generation and 2nd Generation Dot? The 3rd Generation Dot outshines the 2nd Gen Dot in nearly every way, except for the price. It has better sound, a vastly improved design, a stronger power supply, an improved light ring, and more color options. With the recent addition of an LCD clock under the fabric, the Dot now doubles as a clock and smart speaker.
Following is a quick list of differences between Echo Dot 3 over the Echo Dot 2:
We'll explain each one in more detail below. But first, let's start with a quick comparison table.
---
Echo Dot 3rd Gen vs 2nd Gen: Comparison Table
Here's a comparison table that highlights the key differences between the Echo Dot 3rd Generation vs 2nd Gen.
Echo Dot 3rd Gen
Better Sound
Design: Plastic with Fabric Wrapper
Speaker Size: 1.6 inches
Sound: Premium
LCD Clock: Optional
Dimensions: 3.9" x 3.9" x 1.7" (99 mm x 99 mm x 43 mm)
Weight: 10.6 oz. (300 grams)
Colors: Charcoal, Heather Gray, Sandstone, Plum
Privacy: Microphone Off, Delete Recordings
Warranty: 1 Year
Echo Dot 2nd Gen
Budget Option
Design: Plastic
Speaker Size: 1.1 inches
Sound: Standard
LCD Clock: No
Dimensions: 1.3" x 3.3" x 3.3" (32 mm x 84 mm x 84 mm)
Weight: 5.7 oz. (163 grams)
Colors: Black
Privacy: Microphone Off, Delete Recordings
Warranty: 1 Year
So as you can see, the size, design, and warranty all vary depending on the model you get.
---
Two Amazon Best Sellers
Since its debut way back in 2016, the Echo Dot has been among Amazon's bestselling Alexa devices.
In fact, the Echo Dot was Amazon's top-selling device for Cyber Monday 2018 and it has been shattering sales expectations ever since. Amazon is being a little elusive about the details saying only, "Millions of units were sold."
Additionally, the 2nd and 3rd Gen Echo Dots in various colors occupy FIVE of the top 10 slots on Amazon's Best Sellers List.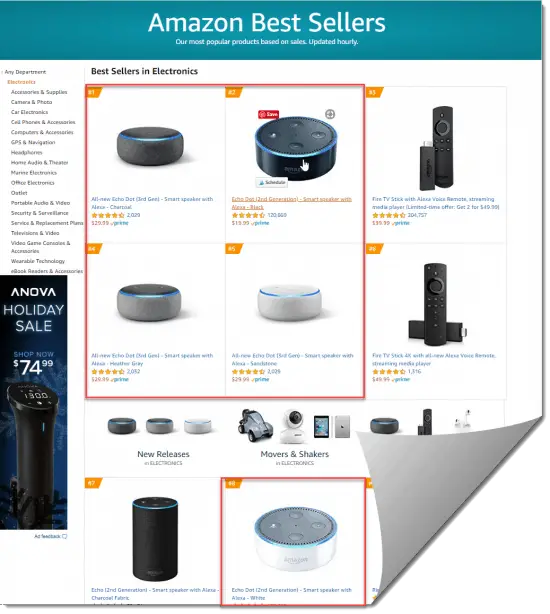 Wow.
But why is this little device so popular? Let's find out.
---
The Most Popular Smart Speaker
The Echo Dot is arguably the most popular smart speaker in the world for three reasons.
First, it's cheap. The Dot is one of the cheapest ways to make the foray into the wonderful world of Alexa, smart speakers, and smart home automation. [There are even cheaper ways to get Alexa, but we'll cover those in a future post. Stay tuned!]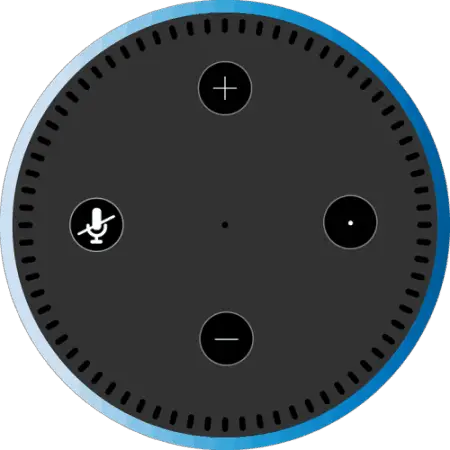 Second, the Dot works great all on its own. While the sound isn't as nice as on some of the more expensive Echo models, virtually all of the same Alexa commands are supported. These including weather, news, timers, alarms, music, games, fun for the kids, and so much more.
Finally, it works great as an add-on. When paired with other smart devices—other echo speakers, FireTV, security cameras, video doorbells, smart lights, smart thermostats, robot vacuums, appliances, and more—you get an inexpensive method of voice control over your smart home.
---
Echo Dot 3rd Generation vs 2nd Gen: Which to Choose?

Chances are, you've arrived here because you're on the fence about whether to buy the 3rd generation dot vs 2nd Gen model.
Is it worth shelling out the extra bucks for the 3rd-Gen smart speaker?
In a word, yes. Read on to find out why.
---
Echo Dot 3rd Generation Quick Review
First, let's take look at the All-New Echo Dot 3rd Generation. Taking a cue from the Google Home Mini, Amazon updated the design and improved the sound. This will surely help them maintain their healthy lead in the smart speaker market [source eMarketer]. Alexa also got an upgrade and she now has a vastly improved app. Moreover, fitness tracking along with tons of new games and skills have been added to Alexa's repertoire. [These work on any Alexa device, including 2nd Gen Dot.] From a design perspective, the new, larger, rounded Dot with a fabric wrapper blends in better with home décor. Customers complained that the previous Dot looked too much like a "shiny hockey puck." I can't help but agree. The 3rd Generation Dot also retained the audio output jack, so you can make either a wired or Bluetooth connection to external speakers.  Google Home Mini only supports Bluetooth. I'll break down the differences further later in this article.
I love the new LCD Clock option Amazon added this year.
CNET has a nice review of the Echo Dot Clock option (although I think the clock is well worth paying the extra $10):
👉See the All-new Echo Dot (3rd Gen) at Amazon
---
Echo Dot 2nd Generation Quick Review
The 2nd-Generation Dot gives you the world of Alexa at a very low cost, albeit with somewhat crummy audio. All of the same Alexa commands are available that you get on the 3rd Generation Dot. Echo connects to Alexa to play music, set alarms and timers, ask questions, control smart devices, and more. You can also use the Echo Dot 2 to call or message anyone hands-free.   While we really like the design improvements with the new Echo, the 2nd Generation may be worth a look if you:
Don't care so much about the ascetics
Aren't so worried about the less than premium sound
Plan to hook into a Bluetooth speaker
Want to save a few bucks
👉Echo Dot 2nd Gen:  See Latest Pricing at Amazon
---
Echo Dot 3rd Gen vs 2nd Gen: Similarities
All three versions of the Dot share many of the same features.
They both have Mute, Volume Up, Volume Down, and Action buttons.
Each has a Bluetooth Audio Input and Output, an A/C Power Adapter, and Alexa is activated by using a wake word or via pressing a button on the top of the unit.
None of them have an audio or USB output like some of the other Amazon devices.
Also, none of them have a built-in Hub. For the scoop on Echo's with a hub, check out my review comparing the Echo dot with the Echo Show and larger-sized Echo Plus.
---
Echo Dot 3rd Gen vs 2nd Gen: Five Key Differences
Difference #1: Better Sound Quality
The most notable distinction between the 3rd Generation vs the 2nd Generation speaker is the substantially better sound quality. The overall audio quality is just much richer and has a deeper mid-range, bass, and tonality. The 2nd Generation sounds "tinny" in contrast. It's actually quite impressive that Amazon was able to get so much big sound out of such a tiny speaker.
Kpaceguy does a really nice job comparing the Echo Dot 3rd-Generation vs 2nd-Gen sound. Skip to the halfway point in the video for the audio test.
Also noteworthy:
You can pair the 3rd-Gen with the new Amazon Echo Sub subwoofer, not true of the 2nd-Gen model
You also pair two dots together for a more stereo sound effect. This is also not true of the 2nd-Gen model.
Both 3rd-Gen and 2nd-Gen sport an audio output jack if you want to connect to wired audio devices or headphones.
Difference #2: More Elegant Design
The "All-New" Echo Dot has a rounded edge, fabric mesh wrapper and an overall softer edge to it. The rubber backing on the bottom is the same on both devices. The 3rd Generation Dot is also larger and heavier than its predecessor and looks a lot more like the newly redesigned full-sized Amazon Echo. It also more closely resembles the competition [namely Google Home Mini]. However, at the time of this writing, Google Home Mini costs significantly more.
Here's a nice video overview of the Amazon Echo Dot 3 from CNET Smart Home.
Difference #3:  Stronger More Durable Power Supply
The 2nd gen uses a detachable micro USB cable to power it (similar to your smartphone charger). The 3rd Gen has a non-detachable proprietary wired power adapter that plugs into the unit and then into the wall. Why should you care? Generally speaking, for the 2nd-Generation you could power it directly from a USB port [e.g. from a TV USB port or set-top box]. For the new Dot, you need to plug into a power outlet. We think the 3rd-Gen power supply stands a better chance of holding up over time.
Difference #4: Cooler Light Ring
The 2nd Gen light Ring is much brighter. Some customers complain that it is too bright. So, Amazon corrected this with the 3rd Gen model. The dimmer light on the 3rd Generation won't distract you if you're in a dark room watching a movie, for example. Movement on the light ring is different as well. It moves more gracefully than the 2nd Gen model.
Difference #5: More Color Options
The 3rd Generation Echo Dot is available in Charcoal, Heather Gray, or Sandstone. The 2nd-Gen is available in Black or White only. There are more kid-friendly color options for the Amazon Echo Dot Kids Edition.
---
Echo Dot 3rd Generation – A Couple of Caveats
While the 3rd-generation smart speaker is improved over the previous version, we should point out a couple of caveats.
First, more than one Reddit user recently reported that voice pick up of Alexa's microphone is actually worse than on the 2nd-Generation and that she takes about half a second longer to respond.
Second, the same Reddit users reported occasional static-ey sound coming from the speaker like it is blown.  It corrects itself but has reportedly happened more than once.  I have noticed this myself with my 2nd-Generation Echo on one occasion, but not with the new Dot as of yet.  If I had to guess, I would say this is probably a network hiccup of some type causing this to happen.
---
Echo Dot 3rd Generation vs 2nd Gen: Setup
Set up is essentially the same for all three devices using the Alexa App. It's super simple. You just plug in the Echo and do what Alexa tells you (i.e., follow the prompts in the Alexa app).
If you want a bit more hand-holding [or are just curious as to what is involved], How To Tech will step you through in the following video:
---
What's in the Box: 3rd Generation Echo Dot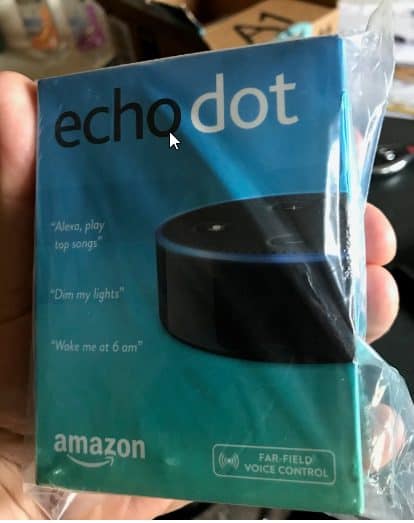 The following is included in the 3rd Gen Box:
Echo Dot
Power Adapter (15W)
Quick Start Guide
---
What's in the Box: 2nd Generation Echo Dot
The 2nd Gen Box contains the following:
Echo Dot
Power Adapter (9W)
Micro USB Cable
Quick Start Guide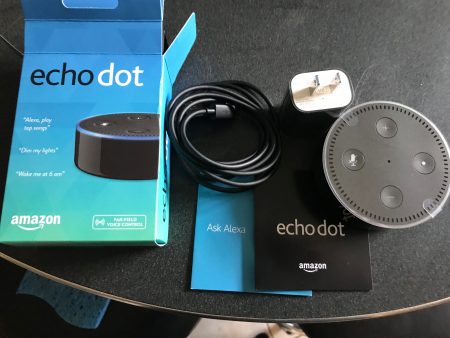 ---
Pricing and Availability
The Echo Dot 3rd generation has been shipping since September.  Both models are currently still available at Amazon, and the 2nd Generation is available at a steep discount.  The 2nd Generation Dot will likely be retired in the near future. If you're interested, we suggest you buy one now.
---
Frequently Asked Questions
Following is a list of questions frequently asked about the Echo Dot 3rd Gen vs 2nd Gen.  If you have a question, leave it in the comments below and I will include the answer here.
Q: Does Alexa record all of my conversations?
A: No. Echo devices ONLY listen when you use your chosen wake word (Alexa, Amazon, Computer or Echo). According to Amazon: " The device detects the wake word by identifying acoustic patterns that match the wake word. No audio is stored or sent to the cloud unless the device detects the wake word (or Alexa is activated by pressing a button)."  So let's put those conspiracy theories to bed.
Q: Can I review and delete my voice recordings?
A: Amazon answers this question best:
"Yes. You can review voice recordings associated with your account and delete those voice recordings one by one or all at once by visiting Settings > Alexa Account > Alexa Privacy in the Alexa app. You can also review those voice recordings by visiting Settings > Alexa Account > History in the Alexa app and delete those voice recordings all at once for each of your Alexa-enabled products by visiting Manage Your Content and Devices. "
Q: I do not own any other Alexa products. Can the Echo Dot function all on its own?
A: Yes, that's the beauty of the Echo Dot. It gets you a full-fledged smart speaker for a very low price.
Q: Can I use multiple Echo devices as an intercom system?  For example, can I use more than one Echo Dot to call my kids to dinner?
A: Absolutely yes! Check out this handy video from Chris Fry the Tech Guy.
Thanks for the great video Chris. Now go enjoy your dinner. 😉
---
Echo Dot 3rd Gen vs 2nd Gen  – Your Turn
We hope you found our review and comparison of the Echo Dot 3rd Gen vs 2nd Gen helpful.
Do you plan on buying 3rd or 2nd Gen Echo Dot? Or perhaps you're going for the Kids Edition?
What do you think of the new LCD clock?
Please leave a comment below, and share this with your friends if you found it useful.  Thank you for your support!
---
You May Also Like
If you enjoyed this review of the Echo Dot 3rd Gen vs 2nd Gen smart speakers, you might also like these reviews and posts:
Echo Dot vs Echo Plus: Is the Bigger Amazon Alexa Speaker Really Better?
Amazon Echo Dot Kids Edition vs Echo Dot 3rd Generation [and 2nd Gen]
The Year of Alexa! 19 Awesome Amazon Echo Device Gifts
15 Best Amazon Echo Show, Dot & Spot Accessories
Amazon Echo Auto vs Echo Input vs Echo Dot: What's the Difference?
---
About the Author
Tim Brennan, Technical Writer & Blogger
Tim Brennan [a.k.a. "Tec Timmy"] is a senior technical writer with over 20 years of experience writing for companies and organizations in and around Greater Boston, including GE and MIT. In addition to actively writing for this smart home blog, Tim is also a regular contributor over at UniversalRemoteReviews.com. Tim holds a BA in Journalism from Northeastern University. Brennan is a father to two sons, an active blogger, a Star Wars nut, and loves a good taco🌮. There is a strong chance he is developing a crush on Amazon Alexa. You can learn more about Tim here.