As an Amazon affiliate, I earn from qualifying purchases. Learn more
In this article, I present a side-by-side comparison of Amazon's new Echo Show 10 vs 2nd Gen smart display.  It's the battle of the 10-inch smart displays, and the winner is you.
If you simply want to know the main differences between the two, here they are:
Apart from the obvious design differences, Echo Show 10 introduces auto-framing whereby the camera and screen follow you around a room. The Echo Show 10 also adds a camera shutter, and it has two 1-inch tweeters and a 3-inch woofer compared to two 2.2" tweeters on the 2nd Gen,  and a 13-megapixel camera versus 5MP on Show 2nd-Gen.
There are also some additional differences that I will cover in detail below.
Battle for Your Kitchen Counter
A
mazon recently
announced
an update to its Echo product line, including enhancements to what had been its largest smart display to date: the Echo Show 2nd Generation.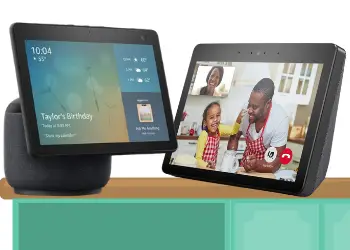 According to a recent study by market research firm Statistica, Amazon owns 61% of the smart display market—that's out of a total of 9.6 million smart displays sold in the U.S. alone. Surely, this new entry is only going to help Amazon add to its commanding lead in this space.
While the new Echo Show 10 looks cool, I'm not sure how I feel about it.
Why?
I'm a bit biased as I love, love my Echo Show 2nd generation. It is my favorite Echo speaker out of the (embarrassingly) eight Echoes that I now own.
However, it does have some cool upgrades that include a faster processor, auto-framing (the camera follows you around), a much higher-resolution camera, a camera shutter, and better sound.
Still, I am looking forward to getting my hands on the new Show 10 and testing it out. But we'll see if it unseats my Echo Show 2nd Generation from my kitchen countertop.
Here's a video from Amazon that shows Show 10's new motion detection in action:
OK, let's get into my full Echo Show 10 vs 2nd Gen review and comparison. Up first, a comparison chart!
---
Echo Show 10 vs 2nd Gen: Side-by-Side Comparison
Here's a side-by-side comparison of the major features between the Echo Show 10 vs Echo Show 2nd Gen. I'll also include a price comparison table of the full Echo Show lineup down below.
| | Echo Show 10 | Echo Show 2nd Gen |
| --- | --- | --- |
| Image | | |
| Display | 10.1 inches | 10.1 inches |
| Alexa on Board | | |
| Sound | 2 1-inch tweeters and a 3-inch subwoofer | 2 2.2-inch tweeters |
| Camera | 13 megapixels | 5 megapixels |
| Voice Calling | | |
| Auto Framing with Pan and Zoom | | |
| Alexa Guard | Enhanced by Auto-Framing | |
| Display Photos on Screen | | |
| Privacy Controls | Camera/Mic On/Off, Plus Camera Shutter | Camera/Mic On/Off |
| Dimensions | 9.9" x 9.1" x 6.8" ( 251 mm x 230 mm x 172mm) | 9.7" x 6.9" x 4.2" (246 mm x 174 mm x 107 mm) |
| Weight | 90.3 oz. (2560 grams) | 62.2 oz. (1765 grams) |
| Colors | Charcoal, Glacier White | Charcoal, Sandstone |
| Generation | Third | Second |
📚Related: Echo Show vs Facebook Portal vs Nest Hub
---
Echo Show 2nd Generation
At the risk of repeating myself, I love my Echo Show 2nd Generation. It is my absolute favorite out of the eight Echo Speakers that I own.  Why?
First, it just looks cool on my counter and has been my go-to for music, timers, news, weather, and more in my kitchen for the better part of a year. I recently put it on an aluminum stand which makes it look even cooler.
Second, it sounds great. I realize that Amazon upped the ante on sound with the new Echo Show 10, but this is by far the best sounding of the Alexa speakers that I own right now.
Third, I like to cook, and I enjoy the step-by-step guidance for recipes that walk me through making a mean chili or epic "Irish chicken marsala." I also use it to watch YouTube videos in the kitchen inside of Amazon's web browser.
Grab your Echo Show 2nd Gen at Amazon.
Video Review
Allthingstech provides a thorough review of the Echo Show out on YouTube. Love the accent, man. Happy birthday!
Vital Specs
10.1 inch HD display
Dual 2" neodymium drivers & passive bass radiator
5MP camera
Zigbee Hub
Intel Atom x5-Z8350 processor
Pros
Large screen great for whatever you are watching
Elegant design wins out over the 10 in my opinion
The best sounding of the Echo Shows to date; we'll see if Show 10 really does sound better
Speakers deliver nice highs and lows
Sounds great as part of my multi-room music configuration
Zigbee hub lets you can control Hue lights without a bridge
Cons
Does not include a stand, although one can be purchased separately
Similarly, there is no camera shutter [this can also be purchased as an add-on]
No YouTube app, so need to open a browser
Some users complain about screen glare
---
📚 Related: 13 Best Echo Show Stands
---
Echo Show 10: My Initial Thoughts
Full Disclosure: As of this writing, I haven't purchased the Echo Show 10 yet. However, I think I know enough about smart displays where I can make a few comments.
Comment #1: In comparing Echo Show 10 vs 2nd Gen, I don't love the design. It seems bulkier and clunkier than the 2nd Generation Show, which I feel has more of an air of sophistication over the new smart display.
Comment #2: The hardware upgrades, particularly the improved camera and speaker configuration, are significant. I am looking forward to testing these out and adding this speaker to my multi-room music setup.
Comment #3: I am excited to see the futuristic auto-framing capability. I don't make a lot of video calls but am curious to see in what other ways this will be useful. For example, how can I use this as a security camera? And will it work with my Echo Show compatible cameras like the Show 2nd Gen.
I'll come back and update this once I have had a chance to put it to the test.
Learn more at Amazon's Show 10 product page.
Video Review
CNET does a nice job showcasing Amazon's new lineup, including the Echo Show 10.
Vital Specs
1 inch HD display
2 x 1.0" tweeters and a 3.0" woofer
15MP camera
Zigbee Hub
Two processors: MediaTek 8183 and Amazon AZ1 Neural Edge
Pros
Adds a 3.0″ woofer for increased bass – no doubt to compete with the Google Nest Hub
Camera is significant better 13MP vs 5MP with the Show
Includes built-in camera shutter in addition to microphone/camera on off button
Available in charcoal and white to accommodate just about any kitchen décor
No separate stand required
Cons
Design takes a step backward in my opinion
Will the cloth fabric get dirty over time if I put this on my counter?
Zigbee Hub is limited to select Amazon partners
Resolution is the same as its predecessor
Costs more
No temperature sensor like on the new Echo [non-screened speaker]
---
📚 Related: Echo Show 10 vs Echo Show 15
---
Echo Show 10 vs 2nd Gen: Similarities
When comparing Echo Show 10 vs 2nd Generation, the similarities are:
Screen size and resolution are the same – 10.1 inches with a 1280 x 800 resolution.
The camera is in the same location
Both will let you control over 25,000 smart home devices
Both will work with Alexa Guard, although Show 10's ability to pan around a room makes this more effective
Alexa's skills are the same across any Alexa device, and this is also true of the smart displays. Popular Echo Show skills include recipes, music Amazon Music or stream from Apple Music, Spotify, and more and streaming video content from Prime Video, Netflix (coming soon), Hulu, and others. YouTube is still accessible only via the web browser [no skill or app].
From a security perspective, they both allow you to disable the camera and microphone, although the new Show 10 adds the same camera shutter introduced with the Echo Show 8 and 5 that completely blocks the camera lens
You can use both smart screens to display digital photos of family and friends via the Alexa app
Set up process it essentially the same, and no longer requires switching over to your phone; both screens automatically connect to Alexa during setup
They both include a Zigbee Hub
The proprietary 30W power adapter is the same for both devices.
---
Echo Show 10 vs 2nd Gen: Differences
Here are the major differences between Echo Show 10 vs 2nd Generation:
The most obvious difference is the design is dramatically different, where the base of the new Show 10 is a 360-degree speaker
The new show uses face and body recognition to track your movements and follow you around the room (Amazon took a queue from the Facebook portal) here
a 5-megapixel camera, the Echo Show 10 (third-gen) bumps that all the way up to a 13MP camera.
The power cable is a foot longer on the new Echo Show 10 vs 2nd Gen
📚 Related: Echo Show 8 2021 Vs 2019
---
Technical Specifications
System Requirements
Echo Show 10 comes ready to connect to your Wi-Fi. Here is what is supported:
11a/b/g/n/ac Wi-Fi networks
Dual-band, dual-antenna Wi-Fi (MIMO)
15.4 radio support for smart home devices
What is not supported:
Ad-hoc (or peer-to-peer) Wi-Fi networks
Wi-Fi 6 (802.11 ax) <- You are probably NOT running this yet
Operating Systems
The Alexa app is compatible with Fire OS, Android, and iOS devices and is also accessible via your web browser.
Setup Technology
This is a great new feature. The setup "just works" now for both devices. Echo Show automatically finds and connects to your Wi-fi network. There is no more back and forth between your phone and the Echo device. Very cool.
Processor
When comparing the processor on the Echo Show 10 vs 2nd Generation:
On the Echo Show 2nd Gen, the processor is the Intel Atom x5-Z8350.
On the Echo Show 10, MediaTek 8183 is the main processor, plus there is a second processor: the Amazon AZ1 Neural Edge.
Accessibility Features
From Amazon:
"On Echo devices with screens, you can enable Alexa captioning and closed captioning, magnify the screen, toggle color inversion, and choose between color correction options. You can also enable the VoiceView screen reader to use gestures to navigate the screen and hear spoken feedback about the items you select. Learn more about Echo with screen accessibility and Alexa accessibility."
Bluetooth
Echo Show 10 supports Advanced Audio Distribution Profile (A2DP) support to audio stream from your mobile device to Echo Show 10 or from Echo Show 10 to your Bluetooth speaker.
Bluetooth speakers requiring PIN codes are not supported.
---
What's in the Box
Just in case you are curious as to what comes in the box with Echo Show 10 vs 2nd Gen, here is the scoop on both packages.
Note: I see that in one of the Amazon Product images there is a stand in the photo, I don't think this comes with the 2nd Generation Show.  I didn't get this with mine. Can someone leave me a comment below and let me know if this has changed?
Echo Show 10 Box

Echo Show 2nd Generation Box

·         Echo Show 10

·         Power adapter (30W)

·         Cable (5 ft.)

·         Motion footprint template

·         Quick start guide

·         Echo Show

·         Power adapter (30W)

·         Cable (6 ft.)

·         Quick start guide
---
Price Comparison Chart
Here is a price comparison table so you can compare all Echo Show displays side by side (contains affiliate links).
Title
Price

Top

Top

Top

All-new Echo Show 10 (3rd Gen) | HD smart display with motion and Alexa | Glacier White
Show Me

Top

Top

Top

Echo Show (2nd Gen) | Premium 10.1" HD smart display with Alexa – stay connected with video calling - Charcoal
Show Me

Top

Introducing Echo Show 15, Full HD 15.6" smart display for family organization with Alexa
Show Me
All-new Echo Show 8 (2nd Gen, 2021 release) | HD smart display with Alexa and 13 MP camera | Charcoal
See It At Amazon
All-new Echo Show 5 (2nd Gen, 2021 release) | Smart display with Alexa and 2 MP camera | Charcoal
See It At Amazon
Product prices and availability are accurate as of the date/time indicated and are subject to change. Any price and availability information displayed on [relevant Amazon Site(s), as applicable] at the time of purchase will apply to the purchase of this product.
Prices pulled from the Amazon Product Advertising API on:
---
Echo Show 10 vs 2nd Gen: Conclusion
In my final analysis comparing Echo Show 10 vs 2nd Gen, Show 10 is a hard sell for me, mainly because I love my Echo Show 2nd Generation so much.
I'm not wild about the new design, and I don't do much video calling.
However, I do love some multi-room music and I am looking forward to testing out the enhanced audio with the new Show 10 for sure. Yes, I am buying one to "test out" just the same.
So, who is this new speaker for?  I would say if you do a lot of video calling and really want the best possible audio experience in a smart screen, then this is worth a look. Interestingly, the price is not that much more than the 2nd Gen speaker, so Amazon was smart about that also (maybe they also recognized the design limitations).
---
If you got some value from this post comparing the Echo Show 10 vs 2nd Gen, would you mind giving me a quick share on social media?
You can use the colorful social sharing buttons along the top and bottom of this page. Or you can pin this pin over to Pinterest: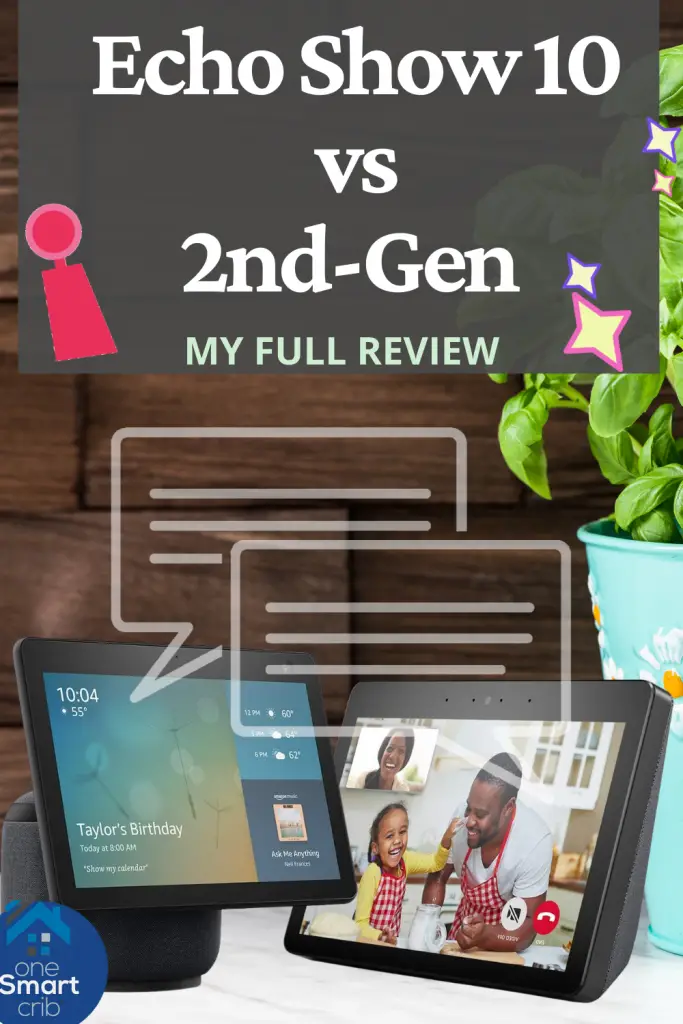 Thanks! It really helps out with Google rankings, which in turn helps to grow my blog.
---
You May Also Like
If you liked this post comparing Echo Show 10 vs 2nd Gen, you may also like some of these articles: