As an Amazon affiliate, I earn from qualifying purchases. Learn more
In this article, I'll break down all of the key differences between the Amazon Echo Show 10 vs Echo Show 15 smart speakers with screens from Amazon. Oh, and I'll cover the similarities too.
Here is a quick breakdown of the major differences:
When comparing Echo Show 15 and Echo Show 10, Show 10 has a better 13 MP camera vs 5MP on the 15; it also has a three-inch woofer, auto-framing, motion tracking, and a Zigbee hub where the 15 does not. However, the newer Show 15 has a larger screen, is wall-mountable, and offers customizable widgets on the display.
---
Echo Show 10 vs Echo Show 15: Showdown
I
have an Echo Show 2
nd
Gen in my kitchen, and I love it. I really dig the way the Echo Show 2
nd
Gen sounds as part of my multiroom music group and also how it helps me with recipes and timers in the kitchen.
9 million others have been enjoying their smart displays too, with one study predicting a CAGR of 32% from 2021 to 2026 [source: Modor Intelligence]. That's some crazy adoption.
However, so that I can provide more in-depth reviews here and on my smart home YouTube channel, I want to upgrade from the 2nd Gen to the 10 or the 15.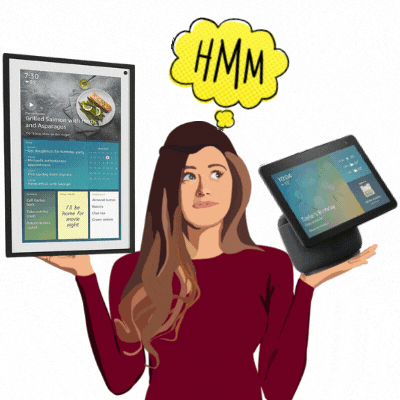 Sadly, I can't afford them both so I want to be sure to get all of the vital deets before I make my decision.
The yet-to-be-released Echo Show 15 has been recently introduced by Amazon at the same price point as the Echo Show 10. It is available via invitation only at the moment, but you can request a "Day 1" invitation to buy it. I have requested my invite already.
If you can't tell, I'm excited about upgrading to either one of the 10 or 15 models. But, which one will be ideal for my kitchen? I'm thinking the 15 could complement my existing 2nd Gen Show and the 10 would likely replace it.
Anyhow, let's take an in-depth look at both of these devices together and make a decision!
📚 Related: Echo Show vs Facebook Portal vs Google Nest
---
Echo Show 15 Mini Review
Larger, Wall-Mountable Screen with Customizable Widgets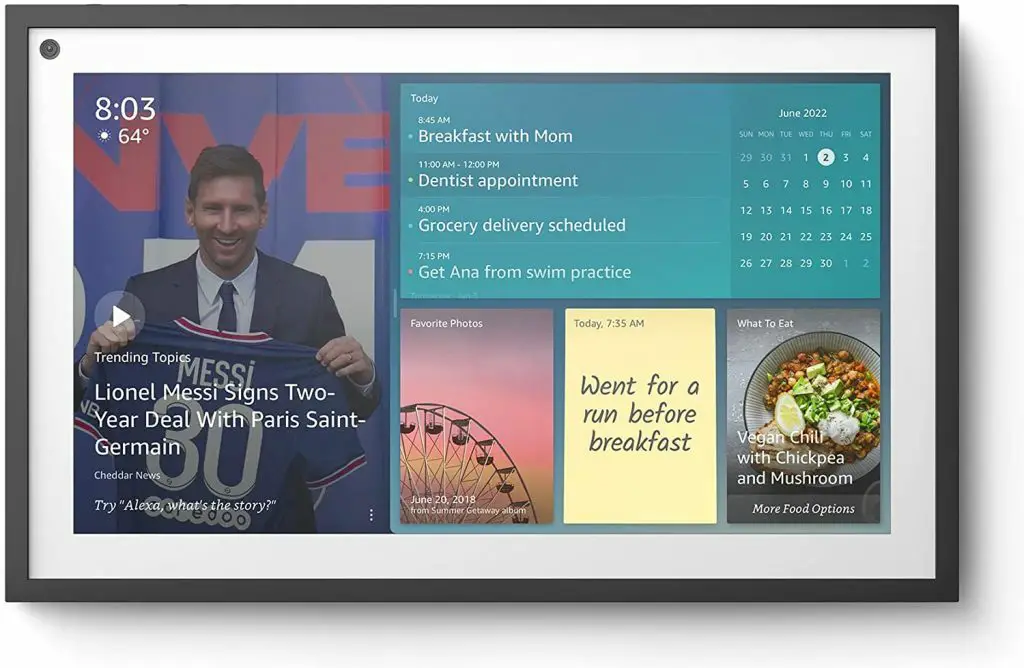 The biggest change in the new Echo Show 15 is its larger screen. The display now measures a whopping five inches bigger than the 10, coming from an already impressive 10-inch screen. This makes it perfect for those who want to fit more information on one screen or simply want a larger display.
The Echo Show 15 has a new form altogether, moving from a countertop device to a wall-mounted picture-frame option with support for both landscape and portrait modes. The Echo Show 10's flagship motion-sensing swivel action is also not available in the Show 15 model.
Amazon also did not include a woofer in the Echo Show 15, which was a part of the large speaker at the base of the Echo 10. Instead, it has two larger 1.6″ tweeters installed at the back of the frame.
The new device is also augmented with a few dramatic software upgrades like the visual personification identification system. This can detect different members of your household and display information personalized for them. The new customizable widgets I really like. I am a big to-do list guy and I live by my calendar, so being able to display these prominently on the Show 15 is a big draw for me.
There are some things that work for and against the new Echo Show 15.
Pros:
Larger screen.
Wall-mountable frame design, can be used with a compatible stand if you want to use it on a countertop.
Portrait Mode compatibility.
Visual ID personalization enabled.
Full HD screen resolution.
Cons:
No woofer system, two larger tweeters instead.
Less supported smart home devices (no Zigbee).
No motion sensing swivel action that tracks your movement across the room.
5 MP Camera as compared to the 13 MP front camera on the Echo Show 10.
Unclear whether the frame can be rotated on the wall, like I can do with my Meural Canvas. (If not, Amazon get on this please!)
---
Bottom line
Echo Show 15 is an excellent device for those who are looking to upgrade their current Echo Show with a larger display at the same price point as before.
Love the widgets and the fact that this can be used as a smart chalkboard-like Hub for members of your household.
However, I feel that the lack of a woofer system and built-Zigbee support is a bit of a letdown.
📚 Related: 9 Best Wall Mounts for Echo Show (All Models)
---
Echo Show 10 Mini Review
Better Sound, Better Camera, Auto-Framing, & Zigbee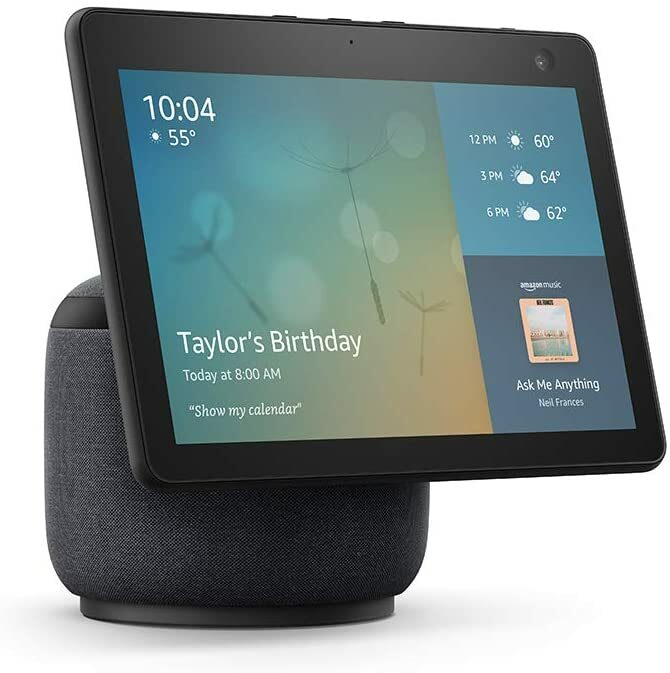 There are many things to love about the Echo Show 10. I am especially a big fan of the auto-framing and motion functionality that always keeps you front and center. I mean who doesn't like being the center of attention! But seriously, this is great if you make video calls from the device as I sometimes do.
The Echo Show 10 follows you if you are talking to it across the room and moves to face you when alerted by its "hey Alexa" wake word. I find this especially convenient for when I talk to my nerdy Alexa friends. It is also great for recipes in the kitchen so I can keep my hands free while I cook.
Another thing to love is that the Echo Show 10 comes with two, 1″ tweeters and a 3″ woofer. This means that the Alexa Show 10 sounds significantly better than the Echo Show 15 and even my 2nd Gen Show. This would mean a nice sound upgrade for my multi-room music setup.
Amazon also includes Zigbee support in this model. The Echo Show 10 includes a built-in Zigbee "hub" that works with smart home devices from many leading brands. This will save you money in needing to buy a separate Hub to control smart lights, like Philips Hue for example.
Pros:
A better 13 MP camera as compared to the 5 MP in the newer Echo Show 15 model.
Auto framing and motion tracking.
Two one-inch tweeters, plus one three-inch woofer for vastly better sound quality than the Echo Show 15.
Zigbee support for more smart home device compatibility.
Cons:
No wall mountable frame design like the Echo Show 15.
Smaller screen real estate, lesser pixel density.
No Visual ID personalization compatibility yet, but a matter of time before it becomes available since it is a software upgrade.
Screen resolution is less than the Echo Show 15 at 1,280 by 800 pixels. However, the total screen size is also less, which means, the Echo Show 10 will probably appear just as crisp as the newer model.
---
📚 Related: Echo Show 10 Vs 2nd Generation
---
Echo Show 10 vs Echo Show 15: Tech Specs Comparison
The Echo Show 15 is Amazon's newest model that comes with some upgrades and some downgrades as well. The most obvious upgrade is the larger screen size but the widgets are also a big deal I think.
Screen
10.1" with 1280 x 800 resolution
15.6" with 1980 x 1080 resolution
Speakers
2 x 1.0" tweeters + 3.0" woofer
Visual ID Personalization
Camera Controls
Built-in camera shutter and microphone/camera off button
Built-in camera shutter and microphone/camera off button
Screen
10.1" with 1280 x 800 resolution
Speakers
2 x 1.0" tweeters + 3.0" woofer
Visual ID Personalization
Camera Controls
Built-in camera shutter and microphone/camera off button
Screen
15.6" with 1980 x 1080 resolution
Visual ID Personalization
Camera Controls
Built-in camera shutter and microphone/camera off button
Last update on 09/24/2022 / Affiliate links / Images from Amazon Product Advertising API
---
Hardware
The new Echo Show 15 device has some notable hardware differences including the lack of a woofer. This means that the Alexa Show 15 won't deliver the same bass experience when compared to the 10 or even mt 2nd-Gen model.
On the plus side, the Echo Show 15 is wall-mountable in either portrait mode or landscape without taking up your precious counter space.
📚 Related: 21 Best Echo Stands, Mounts & Holders
---
Camera
The camera has also received a downgrade with only a single front-facing webcam at just five megapixels in resolution. This means that the Echo Show 15 also won't be as good for video calling as the 10.
Hmm. Decisions, decisions…
📚 Related: 11 Best Echo Show Compatible Cameras
---
Screen
In exchange for cheaper hardware on the 15, Amazon has added some new functionality including visual identification personalization and portrait mode compatibility.
The screen resolution is also better on the newer model, bumping up to a full HD screen at 1980 x 1080 pixels, which should be quite bright and vibrant.
The customizable widgets are also a big win and something that Alexa fans like Craig from Craig's Tech Talk have been asking about for a while.
---
Smart Home Hub
While it is built into the Echo Show 10, the Echo Show 15 does not have Zigbee compatibility. This means that you may need to purchase additional hubs to power the smart home if you don't have another Alexa device with Zigbee built-in.
📚 Related: Echo Show 10 vs 2nd Gen: Which is Better?
---
Amazon Echo 10 vs Echo Show 15: The Verdict
The Amazon Echo Show remains one of my Favorite smart home devices.
With the underlying software and basic functionality remaining the same, the new Echo Show 15 manages to not only deliver a new photo-frame format, but also packs a powerful punch with its new wall-mountable design, high-quality screen, plus the addition of widgets and visual identification personalization.
Both the Echo Show 10 and the Echo Show 15 serve a unique purpose. The Echo Show 10 will give you that hands-free audio-video experience with its auto-framing feature, 13 MP camera, and inbuilt woofer system, while the Echo Show 10 serves as a wall-mount family hub that keeps track of your calendars, notes other automation tasks.
📚 Related: Echo Show 8 2021 Vs 2019
I could see the Echo Show 15 hanging from the wall that faces the entryway to my kitchen. This way I could see my calendar and to-dos for the day as I enter the kitchen.
And the Show 10 would go on the kitchen counter itself (to replace my 2nd Gen, which I will trade-in). This way I could use it for video calls and for help with cooking and routines.
Having an Echo Show 10 in the kitchen will also let me maintain (and even improve) the great-sounding multi-room music configuration that I am currently getting with my Echo Show 2nd Gen.
📚 Related: Echo Show 5 2021 vs 2019
Echo Show 10 vs Echo Show 15 Bottom line: If I had to choose, I would say the Echo Show 10 is the better overall upgrade from the earlier generation Show devices. If you want to use the Show as a primary speaker as well as a smart hub, I'd recommend the Show 10 thanks to its better sound, built-in Zigbee, and much better camera.
At the end of the day, if you are looking to buy a new smart display with great screen quality and super voice assistance functionality, then go ahead and pick up either one of these displays. It really depends on your personal choice and how important some extra features like higher screen resolution or wall mounting capability are to you personally. I think I've decided I'm getting them both. Stay tuned.