Affiliate Disclosure
As an Amazon affiliate, I earn from qualifying purchases.
This is my original review comparing Neeo vs Logitech Harmony that I originally wrote in 2019. With Control4's acquisition of Neeo, the company now sells the remote through Control 4's website. I requested more information on the latest Neeo remote from Control 4 and will be updating this post soon .  For now, check out this post I wrote comparing Control 4 Neeo vs SR-260 or this post about the 5 Best Remotes that Work with Alexa.
---
Neeo Remote Review:  2022 Update Coming Soon!
This article provides a thorough and well-balanced Neeo Smart Remote Review.
I'll weigh the pros and cons…
We'll look at how the remote stacks up against the competition: the Logitech Harmony Elite and Ultimate Home.
And I'll even embed a video of Neeo's energetic founder demonstrating the remote live.
---
In a Nutshell: My Neeo Smart Universal Remote Review
The good
Beautiful interface, similar to your smartphone
Small size makes it easy to hold in your hand
No apps required after setup
Tactical buttons and a touchscreen
Battery lasts 2-3 weeks with regular use
Supports Bluetooth, Wifi, Z-Wave®, HDMI, CEC and Infrared
Excellent customer support
The bad
There are some bugs
No backlight on physical buttons
Limited support for Phillips Hue (they are working on it)
No Nest or Echobee Compatibility Yet (they are working on it)
---
Watch Out Logitech, Here Comes Neeo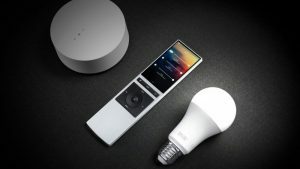 The universal (smart) remote control market has long been dominated by one vendor, Logitech, and Logitech's Harmony family of smart remote controls.
Newcomer Neeo is hoping to buck that trend with its new smart remote control.
Neeo called it the Thinking Remote.
I think it's pretty cool.
"Recipes" allow you to control multiple parameters such as volume, lighting, etc. You could potentially have a "movie" recipe that at the touch of a button dims the lights, lowers the blinds, fires up your soundbar, and launches Netflix.
Neat.
Set up is simple and is done using your smartphone using an iOS or Android App. People actually RAVE about the unboxing experience and the Neeo's elegant packaging saying they do an even better job than Apple. Customers also rave about Neeo's highly responsive customer support team.
Check out this video from Neeo CEO and Founder below demonstrating the remote at the ISE 2018 trade show below:
---
Ultra-High Density 3″ Smart Screen
The main highlight of this remote is its beautiful, full-color touchscreen that offers an ultra-high-density display at 291 pixels per inch.
It really is quite stunning and nicer than other remotes we have tested, including the Logitech Harmony Elite.
Moreover, it's compact size and solid aluminum composition makes holding it enjoyable and using it simple. It is much less bulky than its main competitor, the Logitech Harmony Elite.
---
The Brains Behind the Operation
The Neeo comes with its own smart hub called "The Brain." The brain is what commands all of your Neeo connected devices. Neeo claims that the Brain is fully compatible with Apple TV, Hue, Sonos, Roku, and 60,000 additional devices. This means the devices you own will most likely work with it. Customers have said that it has excellent range in connecting with your smart devices.
---
Broad Device Support
Neeo will work seamlessly with all of your favorite entertainment and smart devices including:
TVs
Cable boxes
Sound bars
Game consoles
Music systems
Smart lights (Philips HUE, LIFX, IKEA TRÅDFRI etc.)
Entertainment products like Apple TV, Roku, Amazon Fire TV, Google Chromecast, Sony
PlayStation 4 and Microsoft Xbox One
Smart home sensors & devices on Z-Wave, Wifi and many others
Full disclosure: some customers have complained about bugs with Neeo working with some devices. See "Not Perfect, Yet" below.
📚 Related: Best Universal Remote Apps for iPhone
---
Questions and Answers
What is the main difference between Neeo vs Harmony Elite?
The real difference in the design.  The Neeo smart remote is smaller and has a completely different feel that the Logitech Harmony Elite or Ultimate Home.  Based on customer reviews, it looks like the battery will last longer. However, the Harmony Elite or Ultimate Home will support more devices (at least for now) and will have fewer bugs because it is a more mature product.  Also, if you are interested in Harmony, see the link to our post comparing Elite vs Ultimate, and don't miss our handy comparison chart.
If you are interested in purchasing the Elite:
Logitech Harmony Elite Remote Control, Hub and App
The most powerful and intuitive Harmony remote works with Alexa for voice control. All-in-one control of up to 15 home entertainment and connected home devices

Full color touchscreen: Simply swipe and tap to control channels, movies, volume, 50 favorite channels and smart home devices like Philips Hue lights

One-touch Activities: Touch an Activity like "Watch a Movie" to automatically power on and switch devices to the right settings; Compatible with Amazon's Alexa for easy voice integration and activation

Harmony app: Turns iOS or Android smartphones or tablets into personal universal remote controls for the whole house

Closed cabinet control: Included Harmony Hub lets you control devices in closed cabinets, or even when away from home

Convenient charging station: Keeps your remote powered and within reach

The box includes Harmony Elite remote (with rechargeable battery), Harmony Hub, 2 IR mini-blasters, Charging station, USB cable, 2 AC adapters, User documentation
Does it work with Amazon Alexa?
Yes, here is the company's response about Alexa integration: "NEEO's current firmware is already working with Alexa. This integration was thought as a proof-of-concept only, but you can already now trigger NEEO recipes, even if they use different protocols such as Infrared, HDMI-CEC, IP or Z-Wave. The integration is very popular and shortly it will be even more powerful, as we're working on a deep integration based on the Alexa Smart Home Skills. NEEO is evolving very fast and with every software update new integrations and features are added."
Does it work with Direct TV?
Yes, its compatible with all versions.
What frequencies does it support?
The NEEO Brain communicates in the following frequencies: IR, WiFi, Bluetooth, Z-wave, ZigBee & 6LoW pan. The NEEO does not support RF.
---
Not Perfect…Yet
Although it is highly rated on Amazon, the Neeo Remote is not perfect.
And any Neeo smart remote review would not be complete without including some of the cons.
Some users have complained about issues with some devices including lack of support for Google Assistant and some have reported issues with Sonos compatibility. Others have complained that the physical buttons are not backlit, which makes it hard to maneuver in the dark. Also, there seems to be very limited support for smart thermostat technology at the time of this writing. At least one user complained that the text on the buttons is too small and the same customer said that dedicated play, pause, rewind, and fast forward buttons would also be helpful.
However, these issues surely won't last. The company's passionate founder "Rafael" and a world-class team of engineers based in Switzerland are sure to make this product a viable contender to Logitech Harmony for a long time to come.
---
Neeo Remote Review: Your Turn
I hope you enjoyed my Neeo smart remote review.
If you did not, will you please tell us why?  Or shoot, just leave a comment below and let us know even if you enjoyed it.
Thanks for your support of this site.  Tell your friends!
---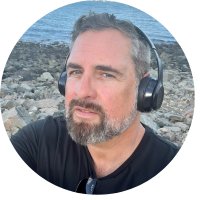 Tim Brennan, a tech blogger and host of the @TecTimmy YouTube channel, writes about smart homes at oneSmartcrib, home theaters at UniversalRemoteReviews, and AI in writing at Writeinteractive. He holds a Journalism degree from Northeastern University and has covered technology for three decades. He lives on the ocean in Nahant, Massachusetts.