Affiliate Disclosure
As an Amazon affiliate, I earn from qualifying purchases.
In this article, I explore 17 unique and amazing smart home furniture ideas, including sofas, chairs, tables, lighting, and more. Some of these ideas are practical and offer a high degree of comfort as well as utility.  Others are just plain cool.
17 Amazing Smart Home Furnishing Ideas
L
ooking for some amazing smart home living room ideas to modernize your main living area? You're in good company.  According to a recent study by market research firm,
Statistica
, household penetration of smart home technology is
33.2% currently and is expected to hit 53.9% by 2023
. That is some impressive growth.  You're right on trend and you have come to the right place.
I have spent over 25 hours scouring the web and pouring over reviews to bring you 17 unique and inventive smart home living room furniture ideas. A few of these might even blow your mind (like they did mine).  I've organized them by category so you can quickly get to the pieces that interest you the most.
Here are my top smart living room furniture lighting ideas for:
So, get comfy on that worn-out sofa or favorite e-z chair. sit back, put your feet up, and get ready to you take your living room into the 21st century!
---
Not Like Granny's House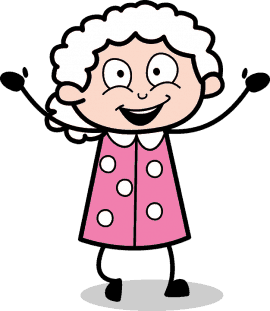 Like me, you may recall visiting grandma's house as a kid. The living room was pretty much off-limits to anyone under the age of 20. Everyone else had to take off their shoes and there was plastic covering the very best furniture. Today, the living room is a different place. With living space at a premium, the idea of a "formal" living room as a place to receive and impress your guests has gone by the wayside.
These days, for many families, the living room is often the most used room in their house, save perhaps the kitchen.
Similarly, many dens have been replaced with home offices. Consequently, the primary TV and entertainment experience has moved front and center to the living room for many families.
More and more, living rooms are centralized places of living where all the members of your clan can not only relax but also be entertained, play, eat, work, and study.
---
Smart Home Furniture of the Future
As you spend more time in your living room, why not make that time simpler, more comfortable, and more convenient for your tribe? This is where a new breed of smart living room furniture can help. For example, wouldn't it be great to be able to surf the web from your coffee table or charge your phone simply by setting it down on a side table? Or how about a heated back and relaxing leg massage while you recline and watch your favorite episode of Game of Thrones?
Smart furniture is the perfect complement to other smart home technologies you can take advantage of in your living room.
In this article, we'll focus exclusively on smart home furnishings for your living room. We'll cover additional living room tech (like robot vacuums and smart thermostats in a future post.
---
Smart Sofas
Ahhh the sofa, a place to rest your behind while you watch the tube, eat a snack, read a good book, or snuggle up with a friend. In this post, we'll look at two incredible smart home sofa ideas that can help you save space, save face by upgrading your living room style, and maybe even save your back. Smart.
Zuo Thor Smart Sofa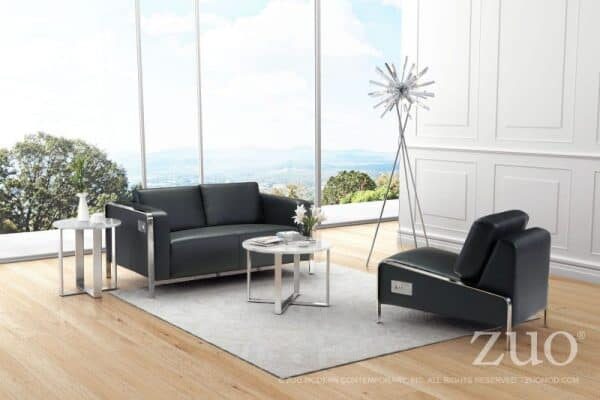 I tried to be super selective in sofa choices to bring you the most technically inclined furniture for modern living.  While this sofa isn't jam-packed with tech, it is just plain cool. And it will look great in your smart home living room. It features a "smooth leatherette fabric" on a sleek chrome frame. Three USB panels are provided on both outside arms for access to charging your favorite electronics. Color options include both white and black and a matching armchair is available if you can find one in stock.
Dimensions: 28 x 35 x 73 inches
Weight: 78 pounds
>> See It At Amazon <<
Kawaii 3H Smart Acupressure Couch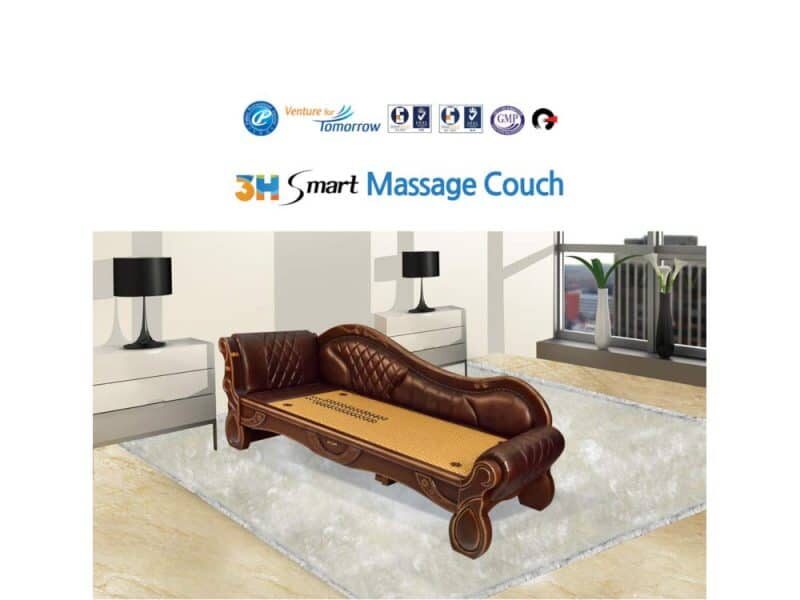 Have you ever been to Kawaii? I have not yet but I've seen pictures and it is absolutely beautiful. It's on my bucket list. So is this couch! For roughly the same price as that trip to the Islands, you can also own a beautiful sofa that doubles as a high-end massage bed with thermotherapy, acupressure, and massage functions. The heart of the technology for this beautiful piece of furniture is in its "acupressure rods for thermal moxibustion" and massage with a temperature setting controllable to 10°C- 70°C, or 50°F – 158°F.  The massage feature applies Chuna massage treatment. If you were unaware, Chuna is often used to treat Musculoskeletal disorders.
The sofa features 62 Acupressure rods vertically massaging 18 points on the two sides of muscles covering the shoulder, back, and waist areas. It even comes with its own remote to give you full control of all functions by body type (shoulder, back, and waist).  The sofa sometimes sells out At Amazon so if you are interested, order yours now. While the price is expensive, the shipping seems to be included. You can add to cart without actually buying it to see the price with shipping to your location.
Dimensions: 37 x 97 x 33 inches
Weight: Not available
ASIN: B07PYPGXQ8
>> See It At Amazon <<
---
Smart Coffee and Side Tables
Do you remember that children's show Blue Clues? Didn't Steve (that guy in the green striped shirt) have a side table that talked?  I guess you could say that was a smart table. LOL.  But what does the coffee table of the future really look like? How about a side table? Here are four very compelling ideas.
Mozayo Multi-Touch Hardwood Table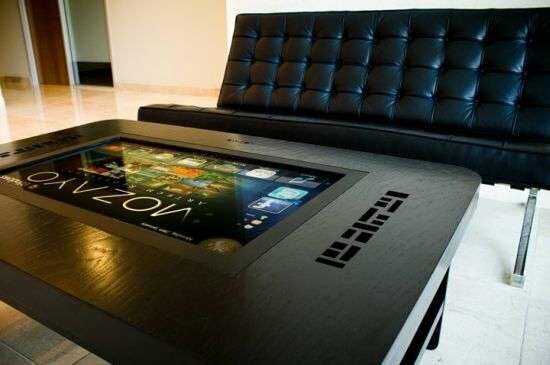 While the Mozayo Multi-Touch Hardwood Table has been around since 2012, it combines a luxury item with artistic design to create the best multi-touch technology right from the comfort of your living room coffee table. This stand-out item is sure to impress your guests whether they arrive for game night or for the latest episode of Game of Thrones.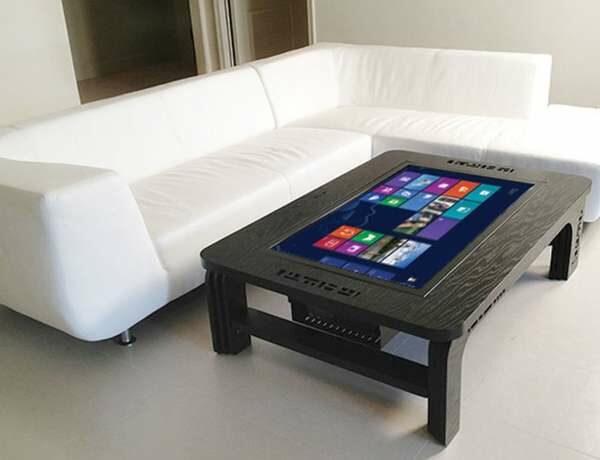 The table features a convenient surface area to place mobile devices and drinks, a zero-bezel design to repel water and minimize glare from overhead lighting and reinforced and strengthened glass capable of handling heavy use.
>> See it at Trendhunter.com <<
PRIMST Coffee Table—with a Fridge!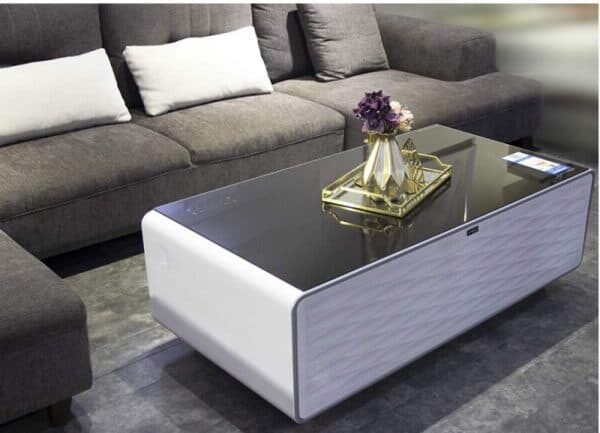 You've heard of sofa with a secret? Well, this is a coffee table with one very "cool" secret and a few additional surprises as well. The PRIMST Smart Coffee Table is a unique piece of furniture designed from the bottom up to help you simultaneously live a good life and quench your thirst. First, it doubles as a fridge! Yes, you heard that right.  It has a cooling drawer that will keep your cold ones nice and cold for game time. Also, it has charging ports with LED lights and built-in Bluetooth speakers.  This could be the biggest living room innovation since the remote control.
This device is more than a portable cooler, mind you. PRIMST installed a compressor so the fridge is the real deal. It even temperature controls that you can customize according to your personal preferences. On both sides of the table, there are great-sounding Bluetooth speakers that allow you to play music from your device or entertainment center using a Bluetooth connection. The innovative features, relatively inexpensive prices, and snacking / convenience factor, make this one of our favorite living room furniture pieces out there.
Smart Coffee Table Features
Refrigerator drawer
Touch controls
Bluetooth speakers
2 USB charging ports
2 power ports
LED lighting
Connects to your TV via Bluetooth
Tempered glass top
Dimensions: 51.2 x 26.2 x 18.2 inches
Weight 128 pounds
ASIN: B01HZWZRE4
>> Check Price At Amazon.com <<
Hammacher Schlemmer Coffee Table Touchscreen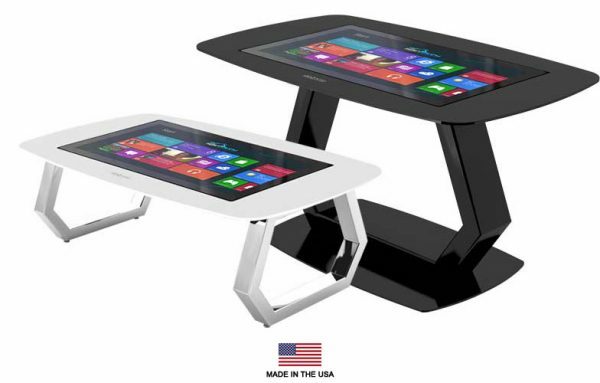 Want to know my favorite piece of smart home furniture in this post?  It's this bad boy right here.
The Hammacher Schlemmer Coffee Table Touch Screen turns your coffee table into a humongous 32″ touch screen computer. The table features a fully functioning touchscreen Windows 8 PC.  This is great fun for the whole family.  Just think you'll be able to look up your favorite TV shows and fun facts, plays games, access your favorite apps and more all from your coffee table! Great for displaying photos as well. The touchscreen functions like a giant tablet screen. The screen is LED and has anti-glare filtering.  The tempered glass finish also allows you to place books, dishes, remote controls and everything in between on top of the coffee table touch screen as well. Best of all? it's 100% spill-proof as it has been tested to withstand 13 gallons of water over five minutes. It also has four USB ports and is Wi-Fi and Bluetooth enabled.
Key Features:
32-inch touchscreen
Windows 8
Anti-glare
Tempered glass
Spill proof
USB ports
Wi-fi Enabled
>> Get a Quote from Virtual Dimension <<
Sierra Modern Home Studio Smart Table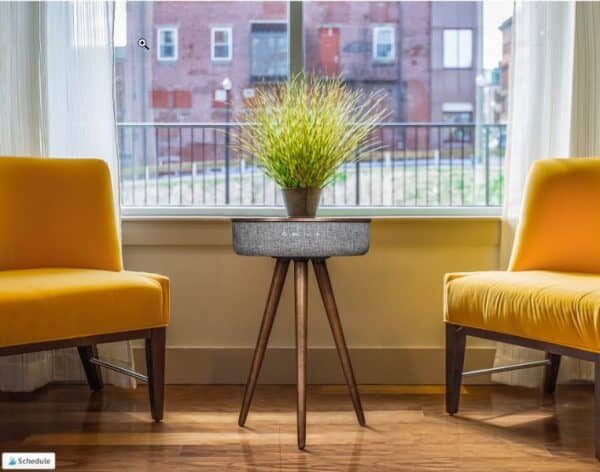 The Sierra Modern Home Studio Smart Table by Sierra Modern Home is stylish as well as smart.  This is currently Amazon's Choice for a smart side table and it's my favorite piece here. With Built-in 360° Bluetooth Speaker & Wireless Qi Charger, the sweet-looking ash wood nightstand/side/coffee/accent table is both modern and functional.
So, whether you are looking for the perfect accent table for your smart home living room or a great table for beside your bed, the Sierra Modern Home Studio Table, is, well, a smart choice. ? Oh, and it's affordable too.
In fact, I would say this is my 2nd favorite piece of smart home furniture here.
Thanks to Nick from Quick Tech Reviews for the helpful video review.
Key Features:
Super easy to set up
Rubber nib on bottom of legs
Built-in wireless QI charger
Built-in USB charging power bank (6600 mAh)
Great sounding 360-degree Bluetooth speaker
Rear-facing subwoofer
Elegant design
One Year Warranty
Dimensions: 24.8 x 15.9 x 9 inches
Weight: 18.05 pounds
>> See it At Amazon <<
---
Smart Chairs and Ottomans
There are a ton of these chairs At Amazon and the people who own them swear by them and love them.  It took me a good few hours to go through the top-rated smart recliners. As of this writing, these all have near perfect ratings At Amazon. Rather than bore you with an overview of massage chairs, I thought it would be more useful to summarize key features of each, so here you go. You can link over to Amazon for more details.
Thanks to our friends over at TopReview for the helpful overview video that cover these chairs and a couple of other lower rated ones.
Real Relax Shiatsu Massage Chair
This is one of my favorite smart home furniture pieces and is a top-rated massage chair At Amazon. Customers who own this chair RAVE about it. One customer said this chair saved his life. LOL.
Zero gravity mode makes you feel weightless
Eight massage rollers inside the backrest
Foot rollers function
50 airbags placed all over the shoulders, arms, hips, legs, calves, and feet.
>> See it At Amazon <<
Kahuna Massage Chair
You will feel like the Big Kahuna in the Kahuna Massage Chair.
Total 13 Auto programs – 4 Stretching programs – Yoga Stretching, Active Stretching, Sv-Chiro Stretching, Dynamic Stretching. 5 programs – Fast Recovery, Pain Relief, Relaxation, Athlete and 4 special programs – Office Person, Golfer, Senior Mode, Dynamic Sport
Heating therapy on the back and leg area with separate on/off button
Bluetooth app controller for wireless control and premium quality speaker. Longer operation time up to 1 hour per massage session.
Variety of massage techniques include kneading, tapping, knocking, tapping + knocking, and shiatsu massage on selective body proportion of whole or partial or fixed point on the body.
>> See it At Amazon >>
Shiatsu Massage Chair
This chair seems to have more options than the others. It is also highly rated and looks super stylish too.
Seven different massages variations like Knocking, Kneading, Rolling, Shiatsu, Tapping, Vibration (seat) and combo Tapping with knocking (a favorite of many).
Remote features four automatic massage programs: Stretch, Relax, Swing, and Recover mode.
Yoga stretch mode squeezes feet and legs and then pull your legs/feet down towards the ground with "larger pull area" than most chairs.
Foot rolling massage with foot and calf acupressure) and foot elongation
>>See it At Amazon <<
Companion Cube Ottoman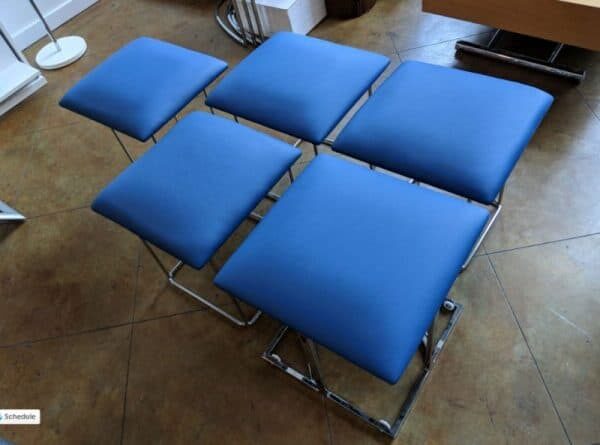 Gosh, the Companion Cube is a really neat and practical product that is just great for large families or for anyone who has large gatherings.  My ex-wife comes from a large Portuguese family.  Whenever her parents had the whole family over— that was maybe about 20 of us—her mom would break out these tiny metal stools that they fondly referred to as "bonkas." I'm not sure if that is a Portuguese thing or not, but the bonkas drove me bonkers. LOL. They were probably designed for six-year-olds to sit on and were super uncomfortable. Worse still, my ex-mother in law stored these unsightly stepstools in the basement three floors down, and it was generally my job to retrieve them.  The Companion Cube would have been the perfect butt-saving solution.
The Cube was designed to elegantly store five hidden seats that are easily assembled by taking apart the cube walls and putting them together.  The process takes literally seconds.  The cube and seats are super stylish as well as comfortable. It comes in a variety of colors too. Bonkers be gone!
Thanks to Expand Furniture for the excellent video demo:
>> See it At Expand Furniture <<
---
Smart Home Furniture: Lighting and Lamps
In a recent blog post, I posed the question "Are smart lights worth it?"  The answer was a resounding yes ??. Smart lights and bulbs pretty much pay for themselves over time. Analysts including CNET and many others agree. While none of the lighting ideas listed in this post are essential, they can enhance your mood, delight your family and friends, and even inspire.
While this is isn't really smart home furniture, per se, I would be remiss if I didn't include some spectacular lighting ideas in this post.
Innermost Asteroid Lamps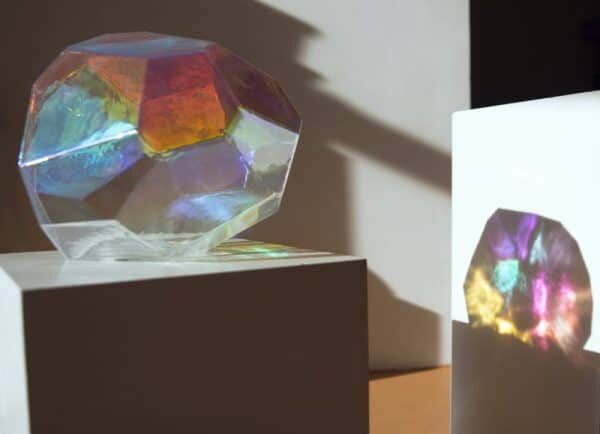 Remember the video game Asteroids? It was definitely my favorite arcade game to play as I was coming up a young lad in the 80s. The Innermost Asteroid Lamp is a cool 3-D version that is reminiscent of the asteroids from that game.  Innermost defines asteroid glass lamp as "a faceted blown-glass pendant and table light."  The lamp was designed by Koray Ozgen for innermost and it is available in clear and 'petrol' finishes. The light features 24 individual faces that are the same; however, no two edges lengths are equal, giving this light. The recommended bulb is a compact LED filament or soft tone style 2200 – 2700K with output 300 – 500 lumens. Shade aperture measures ø7cm.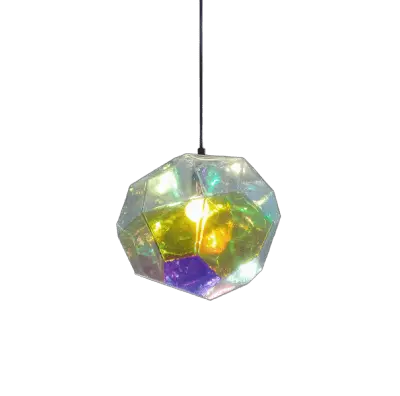 If you want to see them live before you order them, the lights are a fixture at the W Retreat Hotel in the Maldives. Let's go check them out!  ?.
Key Features:
Material: Glass
Colors: Clear Glass / Petrol Glass
Light source: UK/EU E27 Max 40W, USA E26 Max 40W (not included)
Dimensions:
29cm H x 30cm diameter
>> See it at Innermost.com <<
Nanoleaf Rhythm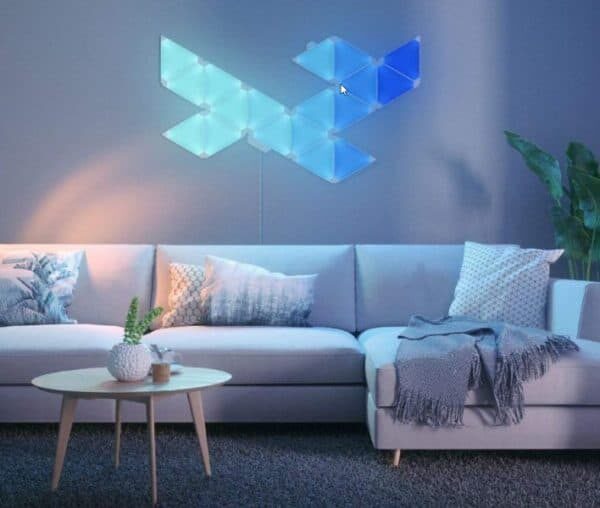 If you're a music fan (and who isn't!) the Nanoleaf Rhythm Edition "Smarter Kit" will surely get your living room lights rocking to the beat of a different drum. The kit features a variety of triangular panels that you connect together to create a work of art that turns into a stunning A/V light show on the walls of your home. The innovative Rhythm module recognizes your favorite tunes and the panels change color in time with the beat.  You can also control the lights using a smartphone app or via voice commands with Siri (iOS 8 or later), Google Assistant, or Amazon Alexa. The kit has everything you need to get started.  You can also create some cool recipes using IFTTT (If This Then That).
Included in the kit:
One Rhythm Module
15 Light Panels
Linkers (15)
Mounting stencils (15)
15 mounting strips
HAMLITE LED TV Backlight
HAMLITE LED TV Backlight is a Smart TV "bias" backlighting kit.  The result is a whole new immersive entertainment experience. HAMLITE will and look great behind most modern Smart TVs. I like this over other options, as there are more color choices (16 static colors and 20 dynamic modes, speed and brightness adjustable), and you don't need a special Hub in order to use it. The HAMLITE also comes with a remote. This product tends to sell out often At Amazon.
>> See it At Amazon<<
P.S. A similar option is the Philips Hue White and Color Ambiance LightStrip. However, this requires a Hue Hub. Whichever option you choose, your living room is about to get a whole lot more colorful!
LIFX TILES
The LIFX Tile Modular Light Surface is essential a square version of the Nanoleaf Rhythm. Like the Rhythm you install the tiles in any matter you like to create cool wall designs. There is no Hub required and you can also control them using Alexa, Apple HomeKit and the Google Assistant. You can also control them using the LIFX app. The starter kit comes with a pack of five, but they are a good size.
Thanks, Kevin Wildenradt, for the awesome unboxing and review. Dig the funky music too, man.
According to LIFX and Kevin, there are "64 individually addressable colorful mixed soft zones in every tile."  You can create your own custom patterns, images, and custom waveforms to get the perfect look for your smart home living room.
>> See it At Amazon<<
---
Other Smart Home Furniture & Décor [Bonus Item]
Hold the Line Bench
This next piece in our list of smart living room furniture ideas is a bit more out there, but too cool not to include it on our list.  See what I mean: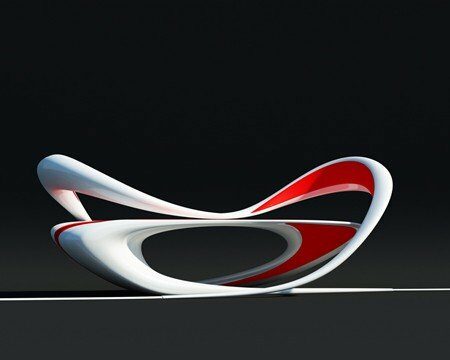 Designed by Christian Precht as an alternative to the traditional public space bench, I thought this would also look super cool in my living room.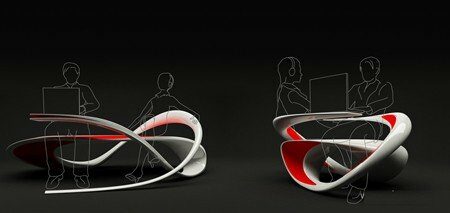 The bench resembles a "waiting loop" in appearance. Some of the custom benches feature geometrical shapes which are comfortable for sitting as well as surfing the web using your laptop or tablet.  Want! While I couldn't readily find a link to order one of these, I'm sure you will be able to find out more with a bit of research.
>> See it at Tuvie.com <<
📚 Related: Aura Carver vs Nixplay vs Skylight Digital Frames
---
Smart Home Furniture: What Do You Think?
So, what do you think about our picks for smart home furniture and lighting ideas? Aren't some of these pieces really cool?
Which one do you like best?  For me, it's a toss between the coffee table with the giant tablet or the fridge. Decisions…decisions. LOL.
Anyhow, we would love to get your opinion on these and any other product you fee we should add to this list.
Please let us know by leaving a comment below. Thanks for visiting our blog! Please like and share.
---
You May Also Like
If you liked this article, you might also like some of my other posts. I hope you hang around and check these out too.  Cheers.
---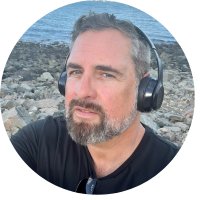 Tim Brennan, a tech blogger and host of the @TecTimmy YouTube channel, writes about smart homes at oneSmartcrib, home theaters at UniversalRemoteReviews, and AI in writing at Writeinteractive. He holds a Journalism degree from Northeastern University and has covered technology for three decades. He lives on the ocean in Nahant, Massachusetts.