Affiliate Disclosure
As an Amazon affiliate, I earn from qualifying purchases.
In this article, I will cover the differences between Hue Play Vs Bloom Vs Go Vs Iris. My goal is to help you choose the best light for your indoor living space.
The Hue Accent Light Dilemma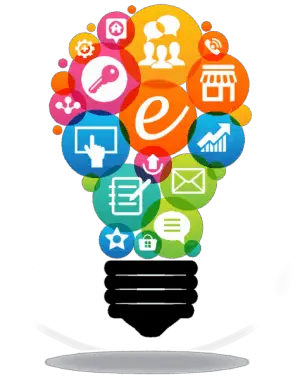 P
hilips Hue offers a variety of playful smart light options to add color, ambiance, and accent lighting to bedazzle key living spaces in your home. However, with four neat options from which to choose, this really got me thinking about the key differences between each product, and hence another blog post was born!
I'll start with a summary that compares the key differences between each product, followed by a handy comparison table so you can see the major differences (in design brightness, color, and more) side by side.
---
Features Comparison: Hue Play vs Bloom vs Go vs Iris
Let's start with a quick comparison chart of Hue Play vs Hue Bloom vs Hue Go vs Hue Iris:
Last update on 11/24/2023 / Affiliate links / Images from Amazon Product Advertising API
---
Key Differences Between Each Product
Hue Play vs Hue Bloom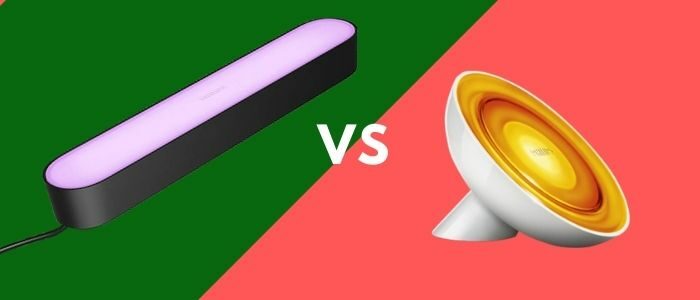 The main difference is that Hue Play's larger, rectangular shape is 11.73 x 4.02 x 3.78 inches and weighs 1.12 lbs vs Hue Bloom's 4.96 x 5.12 x 3.98 inches and 14.9-ounce circular design. Play is much brighter at 530 lumens vs Go at 300 lm; Play also requires that you purchase a separate power supply to get started.
Hue Play vs Hue Go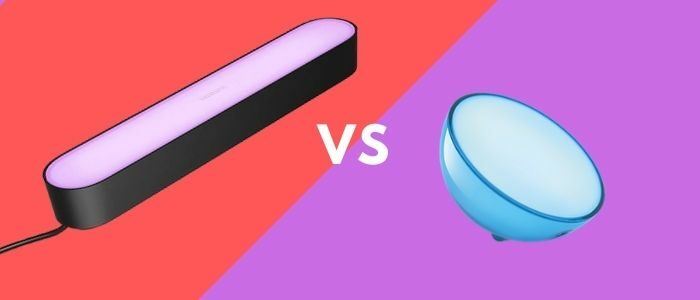 Aside from obvious size and shape differences, the main difference is that the battery-operated Hue Go is portable and the wired Hue Play is not. The Play makes an ideal spot for bias TV lighting, while you can use the rechargeable Go anywhere you want accent lights, like your bedroom, dinner table, or even your yard or patio.
Hue Play vs Hue Iris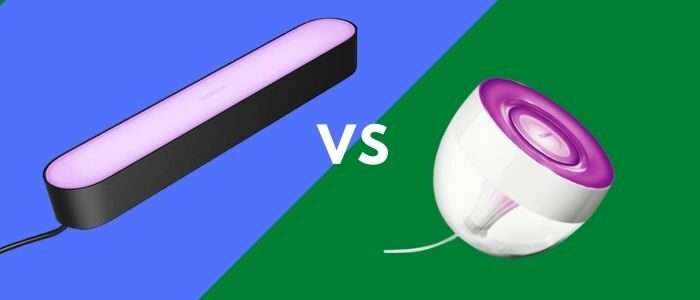 The main difference is that the Hue Play was designed to flood your wall or home theater set up with 530 lumens of colorful light while the Iris is a more portable spot capable of a max brightness of 210 lm. While larger than other Hue lights at 9 x 6 x 7 inches, the Iris is still smaller than Play at 10 x 1.7 x 1.4 inches.
While currently unavailable at Amazon, the company says the Iris has been re-imagined and will be available soon [source 9to5Mac].
Hue Bloom vs Hue Go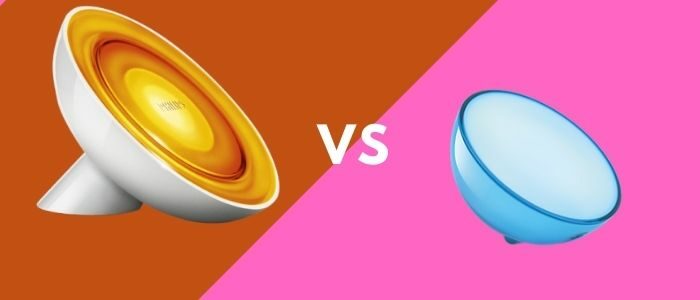 The main difference between Hue Bloom and Hue Go is that Bloom is wired and Go is not; as the name implies, Go was designed to be portable so you can take it anywhere, even outside. Bloom was designed to provide indirect ambient lighting to highlight artwork or features in your home, where Go is more of a table or "mood" light.
Hue Bloom vs Hue Iris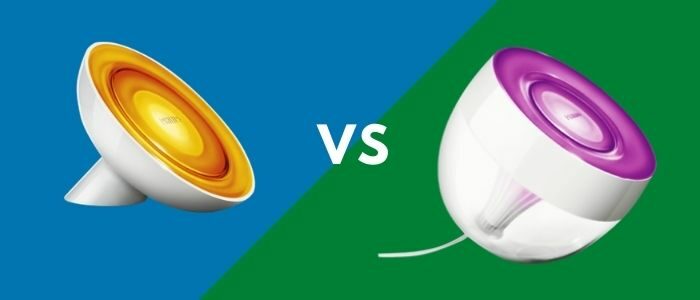 While both of these products require a Hue Hub, the main differences between the two products are size and brightness.  The Hue Bloom is a much smaller 5 x 4 x 5-inch spot while the Iris is 9 x 6 x 7 inches; the bulb in the Bloom is 8W capable of up to 120 lumens whereas the bulb in the Iris is 10 watts capable of up to 210 lm.
Hue Go vs Hue Iris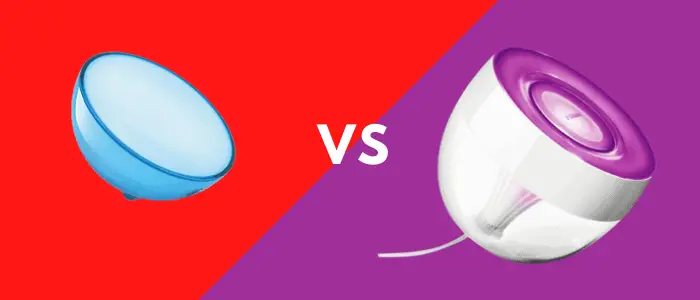 The main difference between the smaller Hue Go and Hue Iris is that the Go is a wireless, rechargeable portable accent light, and the much larger Iris makes for an ideal spotlight. The six-watt Hue Go is brighter than the Iris, however, with its ability to display up to 520 lumens vs the 10-watt Iris' to deliver up to 120 lm.
---
Philips Hue Play: Best for Entertainment
One of the neatest features of the Hue Play is that up to three Hue Plays can be connected to a single power supply unit, which means that homeowners can set up an impressive lighting system in any room of their home with little difficulty. This does require the use of the Hue Hub, which is sold separately but provides plenty of lighting control and power. Additionally, the aesthetically pleasing design of this light makes it perfect to put in any room, as it won't clash with décor or look out of place.
What really sets this unit apart from others is that it offers both smart and voice control, which allows users to easily create custom lighting displays without a lot of difficulties. Cool and warm light options, relax or focus brightness, dimming, and timers all work together to create a custom lighting experience. With 16 million different colors, it's easy to see how the Hue Play is, hands down, the most impressive smart lighting option on the market today.
Check out this outstanding video review from DetroitBORG:
Note that pricing mentioned in the video may not match the latest pricing.
Pros
Thanks to multiple mounting options, this is one of the most versatile smart lighting options available on the market.
Features very low latency, which means that the lights respond quickly and correctly to lighting changes.
Can be used to create a more immersive viewing experience when watching TV or playing games as the light will sync with the TV.
Easily controlled with certain smart applications allowing for voice control.
Since the lights offer timers and dimming options, they can be used for gently waking up in the morning.
Cons
When a screensaver kicks in on a computer, then it can cause the lights to stop working, but turning off the screensaver can fix the problem.
At least one consumer reported that the package was missing screws and a wrench for installation, but most screws can be used for installing the lights.
---
---
Hue Bloom: Best for Illuminating an Object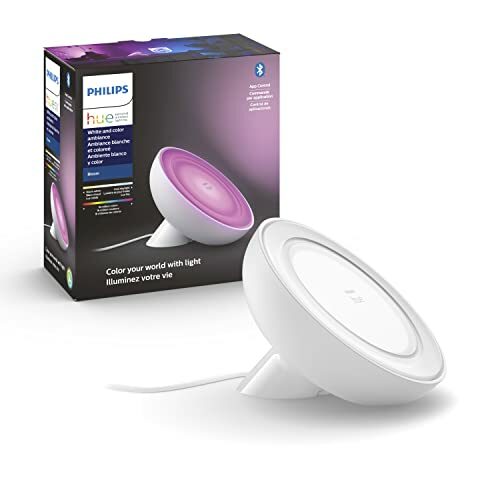 Next on my list in comparing Hue Play vs Bloom vs Go vs Iris is the Hue Bloom! The long power cord on the Philips Hue Bloom means that users can easily set it up in most any room of their home without worrying about how close it is to an outlet. It's perfectly designed to provide comfortable ambient light without the light being too bright or overwhelming, making it ideal for showcasing certain areas in the home or setting off art to ensure that it looks great. It's easy to set up the light by plugging it in, although more advanced controls are possible in a smart home.
With a connection to media, Hue Bloom can be set to add dynamics by matching and contrasting with the lights and colors in the movie or on the game. This allows Bloom to have a huge impact on how people feel and their viewing experience. With voice control, 16 million colors to choose from, and the ability to set and edit timers, the Bloom offers easy control over the lighting.
Here's a recent video demo-ing the Philips Hue Boom from Security Baron:
Pros
Designed to add lighting effects to any room, providing a personal light show with ease.
Ideal for providing indirect lighting that won't be too overwhelming, which makes it ideal for a spotlight.
Can be controlled via voice, which makes creating ambiance in the room faster and easier than ever before.
Perfect for setting up the light and then forgetting it, as it can be used as a permanent fixture in the home.
The durable aluminum casing is designed to resist scratches and other types of damage, making the Bloom look great for years.
Cons
There are some users who are disappointed with the less bright display that this unit provides, but it is great for ambient light.
Can sometimes be difficult to match the exact lighting color to what is produced by other Philips units, which can make a room's lighting look uneven.
---
---
Hue Go: Best Portable Colored Lamp
This portable light is a great option for any homeowner who wants the beauty and control of a Philips Hue smart lamp and wants to also be able to take it on the go. It boasts the same 16 million colors as the larger Hue lamps, and can easily be controlled via voice, smart control, or by the product control. It's very easy to connect the Go to the bridge, making it possible for users to sync multiple lights.
While not the best option for a permanent location in the home, this portable light has the added benefit of a rechargeable battery, which makes it perfect for use in power outages. The attractive light can easily be adjusted to make it warmer or cooler or to make it brighter or duller, depending on the person's needs.
9to5Mac
has this nice video review and demo of the Philips Hue Go:
Pros
Offers an impressive 300 lumens of bright light on the go. This is more than enough power to light up a smaller room.
The portable design means that the Go can easily be unplugged from the wall and moved to a new location in the home.
Thanks to smart battery management, the Go provides max charge every time that it is unplugged from the wall. This reduces the chance of the unit running out of power when away from an outlet.
On-product control makes it very easy to control lighting on the Go without having to rely on voice control or on the app.
Plastic chassis is designed to help resist moisture damage and high humidity, which means that the light can be used in the bathroom.
Cons
At least one owner has reported lower battery life than is advertised, but since the unit can be plugged in, this issue is easily rectified.
While great for use in smaller spaces, the Go doesn't offer a lot of power in a larger room.
---
---
Philips Hue Iris: A Smart Bright Spot
Not only is this light easy to control with voice access, which makes it a great option to use as a part of a smart home setup, but it also provides plenty of light. While it is not quite enough light to illuminate an entire room, it's still a great choice for showcasing certain items in a space. The larger dimensions make this lamp sturdier and ensure that it won't be misplaced.
When connected to the Philips Hue Bridge, users will have complete control over their light and be able to adjust it as necessary. Additionally, this lamp uses ZigBee technology, like other Hue lamps, to provide fast and reliable communication with the bridge for ease and responsiveness.
All things tech has a super helpful review comparing the Hue Go and Iris:
Pros
Offers 210 lumens of power, making this light ideal for use in darker areas.
The larger size of the Iris makes it ideal for use in areas where more light is needed.
Being able to adjust the position of the lamp makes lighting a room easier than ever.
The bulbous design of the Iris is ideal for projecting a lot of light and for lighting up a room or a certain area of the house.
Dimmable light is easy to control and allows users to adjust the light according to their needs.
Since the light is omnidirectional, it's easy to turn and adjust the smart light to point the light in the correct location.
Cons
At least one owner has reported that the unit doesn't integrate easily with the Hub app, making controlling it difficult.
The clear enclosure is lighter weight than other similar lights, but this makes it very easy to move and adjust the light.
---
---
Philips Hue Play Vs Bloom Vs Go Vs Iris: Colorful Ideas?
So what do you think about my comparison of Philips Hue Play Vs Bloom Vs Go Vs Iris?
Do you think these smart light ideas are as cool as I do?
Here's are some more cool ideas for setting up the ultimate Hue lighting setup from The Tech Chap. Way to go, Tom!
What kind of plans do you have for these lights? Home? Apartment? Dorm?
Please leave a comment below and let me know your thoughts. I would love to hear from you.
---
Related Posts
If you enjoyed this post, you might also like some of our other posts about Amazon Echo devices and Alexa.  Here are a few of the most recent.
---
Philips Hue Play Vs Bloom Vs Go Vs Iris: Please Share
By the way, were you able to get some value from this post about Philips Hue Play Vs Bloom Vs Go Vs Iris? If so, would you do me a huge favor and share it via social media. It just takes a few seconds to use the colorful social media buttons along the top and bottom of this page.
You can also share the following image to Pinterest if you are so inclined.
It really helps us spread the word about our blog and gives us a little boost in our Google rankings too.
Thanks for your support!
---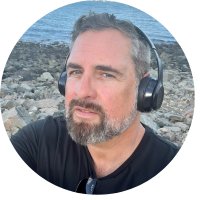 Tim Brennan, a tech blogger and host of the @TecTimmy YouTube channel, writes about smart homes at oneSmartcrib, home theaters at UniversalRemoteReviews, and AI in writing at Writeinteractive. He holds a Journalism degree from Northeastern University and has covered technology for three decades. He lives on the ocean in Nahant, Massachusetts.