Affiliate Disclosure
As an Amazon affiliate, I earn from qualifying purchases.
In this post, I will compare three of the most popular digital photo frame brands: Aura vs Nixplay vs Brookstone. Let's get to the bottom of it.
Digital Frames Are All the Rage

Digital picture frames have been around for a long time, and they have become more popular as frame portability, features and display resolutions have improved. This may explain why GlobeNewswire expects the global digital frame market to grow to $62.10 million between now and 2025.
Aura, Nixplay, and Brookstone are three of the top digital frame brands, and now we're putting them to the test to see which frame performs best for your needs.
At 8 inches, Brookstone is the smallest frame, making it highly portable. On the other hand, the Aura Carver has unlimited cloud storage— perfect for those who want to access many images and videos. The Nixplay's 2K resolution and numerous frame sizes ranging from 9.7" to 15.6" make it ideal for an office or home bookshelf display.
Ultimately, your frame choice depends on what you want to get out of your new digital frame. Let's compare these three frames side by side next.
---
Aura vs Brookstone vs Nixplay: Side by Side
The table below lets you compare the key specifications between the three frames to see how they stack up.
Size Availability
9.7"/10.1"/13.3"/15"/15.6"
Cloud Storage
Images saved to the PhotoShare Frame App
8GB Cloud storage with third-party options
Cloud Storage
Images saved to the PhotoShare Frame App
Size Availability
9.7"/10.1"/13.3"/15"/15.6"
Cloud Storage
8GB Cloud storage with third-party options
Last update on 11/24/2023 / Affiliate links / Images from Amazon Product Advertising API
---
#1 – Aura Carver Luxe HD Smart Digital Picture
The Aura Carver has the fewest smart features. However, it does have a few standout features, like unlimited cloud storage and an app that helps you stay connected with the number of photos you have and haven't synced with Aura.
Standout Features
Unlimited cloud storage.
Free Aura App.
1080p HD Display.
Intelligent Photo Pairing.
Four frame design choices.
With this particular Aura Carver Frame, they use an exclusive intelligent photo pairing feature. This feature places two related photos side-by-side to bring special moments to life. Unfortunately, this is the only way to fully view portrait photos because the only frame orientation allowed is landscape mode.
That being said, the Aura Carver's 1080p HD display pairs nicely with its four elegant frame designs, making your photos look crisp on the 10.1" screen.
It also comes with a free app for sharing photos with loved ones. Those same people can also share their photos and videos with you, bringing an element of surprise to your photo-viewing experience.
With unlimited cloud storage, you never have to worry about overdoing it. You'll always have every photo and video available to you.
Pros
Unlimited Cloud storage.
Crisp design with Intelligent Photo Pairing.
Friends and family sharing enabled.
High definition display.
Four design choices.
Cons
Fewer "smart" features than the other two.
Landscape orientation only.
---
Video Review
YouTube Video Credit: GreatDad.com
---
#2 – Brookstone PhotoShare Digital Frame
The Brookstone digital frame feels durable when you pick it up, and while it strives hard to be the smart photo frame you've been looking for, like the Aura, it falls a bit short for full, smart home integration. However, it has many exceptional features.
Standout Features
Auto-rotating frame.
High Definition resolution.
Built-in frame email address.
Optional background music.
Touch display.
The auto-rotating frame comes with slots for an SD card and a USB expansion and is designed to settle in the orientation you want, whether it's sitting on an end table or hanging on the wall.
Of course, hanging it on the wall is a bit problematic since the Brookstone uses AC power only, with no option for batteries. However, the display is sharp and responsive to touch controls.
The optional background music is also a nice touch, and the frame comes with an email address that's directly applied to the frame. If friends and family want to email a picture, they can send it directly to your frame, so you don't have to worry about transferring photos from another device.
Pros
Elegant-looking frame.
Responsive Touchscreen HD display.
Built-in email address.
Optional background music.
Auto-rotating frame for multiple display angles.
Cons
No batteries, wired AC power only.
Lack of voice assistant integration.
---
Video Review
YouTube Video Credit: Lian's Buhay in America
Brookstone PhotoShare 10" Smart Digital Picture Frame, Send Pics from Phone to Frames, WiFi, 8 GB, Holds 5,000+ Pics, HD Touchscreen, Premium Black Wood, Easy Setup, No Fees
Effortlessly send photos and video clips from phones to frames with the free PhotoShare Frame App, Email, Facebook, or Google Photos & they arrive in seconds
---
#3 – Nixplay Smart Digital Frame
The Nixplay has more smart features than the Brookstone or the Aura Carver, making it the ideal digital frame for the person that wants it all.
Standout Features
2K HD resolution display.
Smart Photo Frame Tech.
Alexa Compatible.
Seven sizes available.
Double flexible stand w/wall mount.
Nixplay Cloud and third-party app integration.
The Nixplay successfully adds multiple features into a single frame. The best one may well be its Alexa compatibility, enabling you to tell Alexa to move on to the next photo or perhaps load them in reverse.
There are also many storage options since the Nixplay is compatible with its own app and Dropbox, Google Photos, Facebook, Instagram, or Verizon Cloud.
The 2k IPS resolution is impressive. However, its Smart Photo Frame Technology is especially noteworthy. Each photo is displayed so realistically that it is very difficult to tell that it is actually a digital photo and not a physical one in a standard photo frame.
Even when you move off to the side, it's still difficult to tell you're viewing a digital image. That makes a difference when it's paired with the ability to hang or set your Nixplay anywhere you want — cord-free since it runs on batteries.
In terms of quality and build, the Nixplay is in a class of its own with its integrated smart features and Smart Photo Frame Technology.
Pros
2k IPS resolution.
Smart Photo Frame Technology.
Wireless.
Excellent build quality.
Works with Alexa for voice control.
Variety of sizes and frames.
Cons
Requires frequent battery changes.
Voice assistant currently limited to Alexa.
---
Video Review
YouTube Video Credit: 9to5Toys
---
All Things Considered
If follow my blog, you may know what a big fan I am of Amazon Alexa. So, I may be a bit biased toward the Nixplay for this reason alone.  However, when you compare the frames feature for feature the Nixplay also has the highest resolution and seems to be a fan favorite of other tech reviewers.
For these reasons, I recommend the Nixplay over the other two.
At the end of the day though, it is going to come down to which features are important to you, including frame size the ability to switch up the orientation, and how each design fits in with your home's décor. Both Aura and Brookstone do provide some nice options in these areas.
Oh and by the way, if you want to compare even more options, check out this post I wrote comparing the 21 Best Digital Photo Frames out there!
---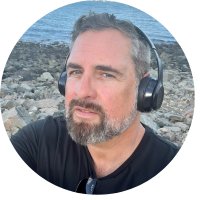 Tim Brennan, a tech blogger and host of the @TecTimmy YouTube channel, writes about smart homes at oneSmartcrib, home theaters at UniversalRemoteReviews, and AI in writing at Writeinteractive. He holds a Journalism degree from Northeastern University and has covered technology for three decades. He lives on the ocean in Nahant, Massachusetts.