Affiliate Disclosure
As an Amazon affiliate, I earn from qualifying purchases.
In this latest article, in my digital frame comparison series, I'll do a deep dive comparison into the differences between Nixplay vs Dragon Touch vs Pix-Star wi-fi connected frames.
The Best Digital Frame for You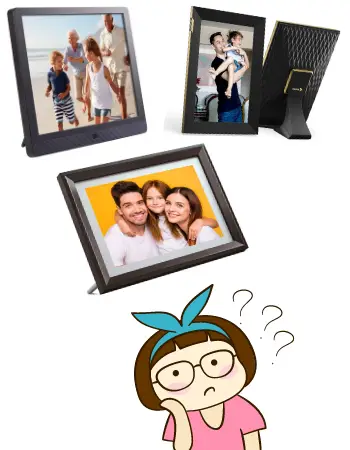 Digital smart frames are coming out with new and more remarkable options every year, and if they don't reach the point of becoming direct competition for Amazon's Echo Show series, it would be surprising. As it is, the Dragon Touch, Nixplay, and Pix-Star are top-ranked frames that you'll want to evaluate for your next picture-perfect purchase.
If you're in a hurry and don't have time to read an in-depth review, here's a short summary of each frame's best features:
The Nixplay offers a 2000p resolution and is available in five different frame sizes. At the same time, the Pix-Star provides both social media and mini-game playing options. Finally, the Dragon Touch digital photo frame has a full 16GB internal storage with a USB port and an SD slot, providing ample internal storage for all your photo needs.
Still not sure which frame is the best choice for you? Read on to learn more.
---
Nixplay vs Dragon Touch vs Pix-Star: Side-By-Side
Cloud Storage
Free account with unlimited storage, 8GB internal with USB, SDHC, and SDXC expansion
None.16GB internal with USB and SD expansion
8GB Cloud storage with third-party options
Audio Features
Radio/Music/Background Music
Music/Background Music/Video playback
Cloud Storage
Free account with unlimited storage, 8GB internal with USB, SDHC, and SDXC expansion
Audio Features
Radio/Music/Background Music
Cloud Storage
None.16GB internal with USB and SD expansion
Audio Features
Music/Background Music/Video playback
Cloud Storage
8GB Cloud storage with third-party options
Last update on 11/24/2023 / Affiliate links / Images from Amazon Product Advertising API
---
#1 – Pix-Star Digital Frame
The Pix-Star is loaded with features. While aesthetic choices are in short supply, it's packed with smart features that magnify the experience and even add a little entertainment to the standard picture frame.
Features
Motion Sensor that detects your presence and turns the frame on
Link 25 Pix-Star frames to a single account
8GB of storage with multiple expansion ports
Built-in radio
Social media connections
Games
Weather Forecasts
You can play games on the Pix-Star digital photo frame. Granted, you're not going to get a Call of Duty experience, but it provides a unique, pre-loaded game feature that you simply wouldn't expect from a digital frame.
The Pix-Star app allows you to connect and post photos and videos to a wide array of social media platforms while letting you view and download pics and videos from those same platforms.
There's plenty of storage, and if 8GB isn't enough, you have multiple SD slots and a USB port for both expanding storage and transferring photos/videos back and forth between the Pix-Star and another device.
Its most unique feature is the inclusion of a built-in web radio that lets you tune in to various international radio stations. If the device's built-in sound quality doesn't fit your tastes, you can even plug in a USB speaker of your own.
There's a large and robust ecosystem for transferring photos through social media, email, and the sheer volume of frames that your account can hold. Better yet, the frame has a motion detection sensor that turns the frame off when you're gone and back on when you return.
The Pix-Star really has only one major drawback, and that's the low-resolution video playback.
Pros
Multiple ports for expandable storage
Built-in radio
Built-in games
Large social media connections
Motion sensor
Large, single account
Cons
Set up is a little clunky
The app is easier to use than the actual frame
---
Video Review
Video Credit: Backyard Boogi
---
#2 – Dragon Touch Digital Frame
The Dragon Touch is the most inexpensive frame of the three, which will take you by surprise, considering it sports a massive amount of expandable storage and high image quality.
Features
Significant storage
Headphone jack
Homescreen includes time, date, weather, and alarm options
Excellent picture and video quality
There's no arguing that the Dragon Touch has an outstanding picture and video quality that exceeds expectations for a digital photo frame. However, it's necessary to point out that the frame is constructed from poor-quality plastic.
Of the three frames, the Dragon Touch has the largest storage capacity with expandable options through USB and SD slots. You can absolutely load it with pictures and videos, and the Dragon Touch will still transition nicely from one to the next.
While the Dragon Touch does have its own app, it can only be called standard, as it lacks any particularly enticing features. However, you can also share your account with friends and family to upload new pictures to your account when they want to.
Pros
Large storage with additional options
Headphone jack for personal listening
Easy to share images with friends and family
High-quality images
Cons
Cheap plastic frame
Nothing that stands out on the app
---
Video Review
Video Credit: AwkwardHamster
---
#3 – Nixplay Digital Frame
The Nixplay is the most expensive of the bunch, which may be due, in part, to its exceptional frame quality. The Nixplay frame feels like you're holding something sturdy and high-quality.
Features
2K resolution
Alexa integration
Several frame options
Smart Photo Frame Technology
Social media management
The most outstanding feature that the Nixplay offers is its 2K resolution and the impressive ability to display digital photos that are best described as lifelike.
You can also surround those pictures with a wider range of frame choices than the other two digital frames in this competition combined. With so many different frames to choose from, you won't be disappointed in its appearance.
With social media and Alexa integration, the Nixplay gives you significant versatility, but that does come with a catch; the Nixplay requires a subscription to unlock features like these.
📚 Related: Nixplay Vs Skyzoo Vs Aeezo
Pros
2k resolution
Smart Photo Frame Technology
Alexa
Smart social media integration
Multiple frame options
Cons
Subscription model
Video playback is poor
---
Video Review
Video Credit: 9to5Toys
---
Final Word
When all is said and done, the best digital photo frame for you is ultimately a matter of personal choice. If you want a frame that visually sets itself apart from the rest, the best choice for you would be the Nixplay. If you want a significantly large amount of internal and expandable storage, the Dragon Touch stands apart as the superior option. However, you may prefer a digital photo frame that gives you exciting new options like mini-games and social several different media options. If so, the Pix-Star is what you want to consider.
---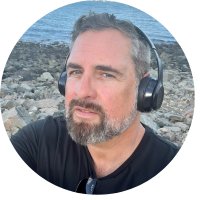 Tim Brennan, a tech blogger and host of the @TecTimmy YouTube channel, writes about smart homes at oneSmartcrib, home theaters at UniversalRemoteReviews, and AI in writing at Writeinteractive. He holds a Journalism degree from Northeastern University and has covered technology for three decades. He lives on the ocean in Nahant, Massachusetts.