Affiliate Disclosure
As an Amazon affiliate, I earn from qualifying purchases.
In this post, I review nine of the very best Amazon device gifts for kids of all ages.
Whether you have kids of your own or are looking to pick up a little something for a member of the younger set, these 11 gadgets all make great gifts kids are sure to love.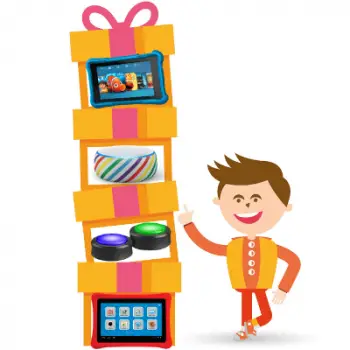 Here are my picks for the best Amazon device gifts for kids, ordered by age-appropriateness:
---
Got Kids?
Got kids?  Or do you know someone who does? Of course, you do.
Shortly after I updated my post comparing the Echo Dot Kids vs Echo Dot, a few of you had asked about additional Amazon device gifts for kids.
I am a kid at heart, so I couldn't think of anyone better for the job.
OK, my dear readers who want to spoil a special youngster, this post is for you.
---
1

All-New Echo Dot Kids Edition
The #1 pick on my list of the best Amazon device gifts for kids is the Echo Dot Kids Edition (5th Gen). The best thing about this speaker is that it is designed from the ground up for kids.
This includes built-in parental controls and a ton of kid-friendly content (e.g., Disney stories, classic fairytales, music, games, and more. A generous two-year worry-free guarantee is also provided if your kid decides to take it into the bath—or fling it into a wall.
Amazon has upped the Ante by releasing this "5th-generation" in September. The main obvious difference in this update to the Echo Dot Kids Edition is that is available in two cute designs: Owl and Dragon. Yay, Alexa!
Kids Will Love 🧒
Loads of kid-appropriate content from the likes of Disney, Nickelodeon, PBS Kids, and more.
Two fun kid-friendly animal design /color choices.
FreeTime Unlimited gives kids access to over 1,000 Audible books, thousands of songs, and hundreds of games and skills.
Kids can ask Alexa questions, check the weather, set alarms and timers, and more.
Alexa will also play music, tell jokes, and read stories appropriate to younger ears.
Kids can control lights, plugs, and switches using Alexa's smart home features.
👪 Parents Will Like
The Parent Dashboard gives you granular, centralized control over the content to which your kids are exposed.
Pause Alexa if you hear something you don't like.
Review kids' activities and set time limits.
Ability to filter explicit songs from certain music services so that your child is never listening to anything you don't approve of.
An extended two-year warranty means you can easily replace it if your child uses it as a hockey puck or a frisbee.
📚 Related: Echo Dot Kids vs Echo Dot
---
2

Echo Show 5 Kids Edition

Next on my list of best Amazon devices for kids is one of the best-kept secrets on the Net: the Echo Show 5 Kids Edition. Yes! There is a kid's version of the Echo Show.

If you want a cool way to make that special child feel a little more grown-up, here you go. In addition to the same benefits they would get with the Echo Dot Kids Edition, including parental and privacy controls, they also get everything Alexa with a 5.5″ screen at a vibrant 960 x 480 resolution.

Kids can also play videos, make video calls to approved contacts, and get help with homework using the Show 5 Kids fun chameleon design. The included one full year of Amazon Kids+ subscription gives them access to a whole world of kid-friendly content.
Kids Will Love 🧒
Fun chameleon design just for them.
They get the best of Alexa for kids on a cool display.
Thousands of hours of fun content, including games, audiobooks, and educational skills, to help them develop and grow.
Same premium audio experience as the adult version of the Echo Show for crisp vocals and nice bass.
👪 Parents Will Like
Privacy settings include a camera shutter and a microphone off button.
Parents can set a list of approved contacts for video calls to ensure their child speaks with only those they approve.
Parental controls let you set time limits for specific types of content (like video watching).
Alexa delivers all responses in kid-friendly language.
Ability to filter explicit songs with a single tap.
Two-year worry-free guarantee; Amazon will replace it for free if your kid breaks it.
Video Credit:
Run Run Deals
---
3

Fire HD 7 Kids Edition Tablet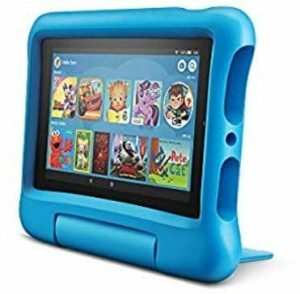 The Fire HD 7 Kids Edition Tablet makes kids feel all grown up with their own tablet that comes pre-loaded with kid-friendly and educational content.
With a 16GB hard drive, the Fire 7 Kids Edition Tablet comes with a generous two-year warranty to give you added peace of mind in the event it breaks. Also, with the included one-year FreeTime Unlimited subscription, kids get unlimited access to videos, audiobooks, apps, and educational content to browse the web, watch videos, or listen to music.
In other words, parents have complete control, and kids can still have loads of fun!
Kids Will Love 🧒
Choice of a Pink, Blue, or Purple case, each with a built-in stand.
One-year FreeTime Unlimited subscription comes with a ton of kid-friendly content.
Access to 20,000 books, movies, TV shows, apps and games curated especially for kids 3-12.
16 GB of storage (expandable by up to 512 GB) + unlimited cloud storage for Amazon digital content.
Up to 7 hours of battery life.
👪 Parents Will Like
Ability to set age filters to ensure kids see age-appropriate content.
Parents can add content to kids' profiles and limit access to apps and games like Netflix or Minecraft.
Parents can create time limits, filter the overall content, and even set educational goals.
Ability to manage content for up to four child profiles from a single parent dashboard.
All in-app purchases require parental approval.
Rugged case and two-year, "worry-free guarantee."
---
4

Fire HD 8 Kids Edition Tablet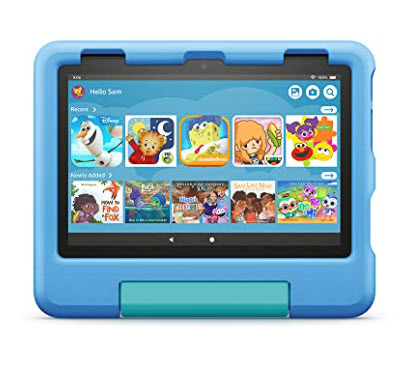 Available in three different color choices (Blue, Pink, and Yellow), the Fire HD 8 Kids Edition Tablet includes a bright 8" HD display and 32GB of internal storage. Plus, kids can use it for up to 10 hours per battery charge, and purchasing it gets you one full year of access to apps, videos, Audible audiobooks, and much more from Amazon FreeTime Unlimited.
Like the Fire HD 7, kids can also play games such as Minecraft and watch parent-approved movies via Netflix. Parents can monitor activity and set limits on the websites kids can visit.
Kids Will Love 🧒
Youngsters get access to a ton of kid-friendly content from FreeTime Unlimited, including over 20,000 books, movies, TV shows, educational apps, and games.
Kids can access a wide variety of content from fan faves, including PBS, Disney, and Nick Jr.
Up to 10 hours on a single charge means the battery won't poop out mid-game or mid-stream.
Kids can watch their favorite parent-approved shows on Netflix.
👪 Parents Will Like
You can control the amount of time your kids spend on the tablet.
Parents can set age filters ensuring they are only allowed access to age-appropriate content.
You can also restrict access to specific websites and review browsing history and usage.
Parental controls are easily managed online via a parent dashboard on the Amazon website.
---
5

Fire HD 10 Kids Edition Tablet
The larger 10.1" Fire HD 10 Kids Edition Tablet also comes with a colorful, durable case and 32GB of internal storage.
The full HD display makes it even more exciting for kids to use. It comes with one year of free access to Amazon FreeTime Unlimited, giving your little hooligans access to sites such as PBS Kids, Disney, Nickelodeon, and many others.
After the year is up, you can opt to continue FreeTime Unlimited access for only $2.99 per month, making it a great deal for every family.
The annual cost of FreeTime is currently the same for all Fire HD Kids tablets and the Echo Dot Kids Edition. The larger screen size makes this one of my favorite Amazon device gifts for kids.
Kids Will Love 🧒
All of the benefits of Fire 7 and 8 HD Tablets
Kids can access thousands of movies, TV episodes, books, apps, games, and more through FreeTime Unlimited (free for one year).
Some examples of content kids can access include Toy Story, Frozen and Frozen 2, Rocky and Bullwinkle (remember them?), Lego City, and (one of my favorites) If You Give a Mouse a Cookie.
👪 Parents Will Like
Parents can limit screen time and set educational goals and curfews.
Ability to filter content and restrict types of music children listen to.
The online parent dashboard and 800 number make it easy to manage content for up to four child profiles.
In FreeTime, kids do NOT have access to social media.
All in-app purchases require parental approval, and kids do not have access to Alexa in FreeTime, so they can't order an Xbox—or 100 pizzas.
Video Credit:
Tech Verve
---
Quick Comparison Table: Fire HD Tablet 7 vs 8 vs 10
The following table provides a side-by-side comparison of key specs for Fire HD Tablet 7 vs 8 vs 10.
Educational Apps and Games
Netflix
Yes [with subscription purchased separately]
Color Choices
Aquamarine, Lavender, Sky Blue
One-Year FreeTime Unlimited
Educational Apps and Games
Netflix
Yes [with subscription purchased separately]
Color Choices
Aquamarine, Lavender, Sky Blue
One-Year FreeTime Unlimited
Last update on 09/06/2023 / Affiliate links / Images from Amazon Product Advertising API
Wade from Tech Daily does a nice job in this video review comparing the Amazon Fire HD 7 and Fire HD Kids Edition tablets:
---
6

Amazon Echo Glow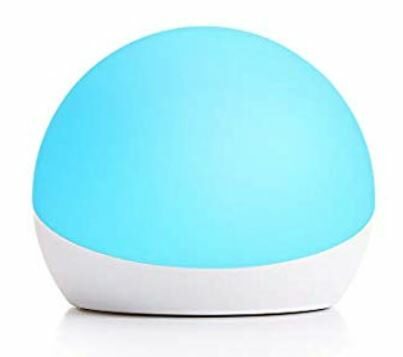 The Amazon Echo Glow is a multicolored smart lamp that is great for kids and works great with Alexa.
The first thing that you need to know is that the Echo Glow requires a compatible Alexa device for it to work. It works only with Alexa and does not support other smart speakers like Google Home or Apple Homepod. The upshot is that the device is so simple to set up and use that it's completely stress-free for parents.
Kids can even create lighting cues that help them count down to dinner time [or bedtime!] or tell them when they can stop reading.
As I side note, I was surprised to see Amazon discontinue the Echo Dot buttons, which I own and enjoy with my kids. Remember Simon? They work in much the same way. Man, did we have fun with that in the 80s or what?
Kids Will Love 🧒
Playing to beautiful rainbow lighting patterns.
Controlling the smart light's color and brightness using Alexa.
Having a smart light that is especially for them.
Synching it up to their favorite music using an Echo Dot or other compatible Alexa device.
👪 Parents Will Like
Super simple setup using the Alexa app.
Making bedtime fun with the Rainbow timer to keep bedtime routines on track.
The 'Easing wake up time' feature gradually makes the light brighter until it's time to wake up.
📚 Related: Hue Play vs Bloom vs Go
---
7

Fire HD 7/ 8/ 10 Kids Pro Tablet

Here's a little something for older kids requiring more oomph in their tablet experience.

Whiles still available in kid-friendly designs that appeal to older kids, Amazon explicitly states that this is "not a toy." This is because it features:
an octa-core processor
3 GB RAM
10.1″ Full HD display
dual cameras
USB-C (2.0) port
up to 1 TB of expandable storage
This powerful tablet is perfect for homework, gaming, streaming, and more that won't slow your kid down. There are also 8-inch and 7-inch options available that you can choose from the Amazon product page at the link below.
Kids Will Love 🧒
Powerful tablet with hardware on steroids that won't slow them down.
Amazon Kids+ included.
Older kids will appreciate content from National Geographic, Rabbids Coding, LEGO, and others.
More than 9,000 titles, plus thousands of songs and audiobooks for kids ages 6 and up.
👪 Parents Will Like
Multiple levels of parental controls allow you to "ease restrictions" over time.
The more powerful tablet unlocks a whole world of learning for your child without limiting the experience.
📚 Related: How To Use Alexa for Homeschool
---
8

Kindle Kids Edition

Made specifically for kids, the Amazon Kindle Kids Edition allows them access to thousands of audiobooks that they can peruse with the touch of an icon.

Kids can choose from popular titles like Harry Potter and Boxcar Children, and onboard tools like Word Wise and Vocabulary Builder help strengthen reading skills.

Available in four different designs, it lets them concentrate on books only because there are no games or movies to distract them.

Kids can explore thousands of popular titles anytime, and the device comes with a free year of FreeTime Unlimited for their reading enjoyment.
Kids Will Love 🧒
That Gollum character in the Hobbit always freaks me out. Smeagol, Smeagol. Yikes!
👪 Parents Will Like
No games, ads, or videos means kids are free from distractions to keep them reading!
Parental controls keep kids away from books you don't want them to read.
Parents can set educational goals and even view their child's reading progress for each book and each day.
Amazon Parent Dashboard makes changing the settings fast and simple
If you ever have any questions or problems, you simply contact the customer service department for assistance.
---
9

For Older Kiddos: Echo Show 8 or 5

Last on my list of the best Amazon device gifts for kids is the Amazon Echo Show. With a 5" or 8" display screen, the Echo Show Show 5 or Echo Show 8 can make a great gift for older or more "mature" kids in your life.  Teens can use the device to issue voice commands and a screen to control their home life.

Your kids can connect with you and their friends via messaging and video calling. You can also set up the Echo Show as a video intercom to communicate with other devices in your home. Your kids can personalize their home screen so that everyone knows who it belongs to.

📚 Related: Echo Show 8 vs 5 vs 2nd Gen
---
FAQs
Can You Make Echo Dot Kid-Friendly?
You can make the adult version of an Echo Dot kid-friendly by enabling parental controls on the device. However, you won't get access to the free one-year FreeTime Unlimited subscription like you will with the Echo Dot Kids Edtion.  You also don't get the extended two-year warranty, the fun colors, the carrying case, or comic-book-like documentation.
Still, the Echo Dot from grown-ups may be more appropriate for older kids or kids who think they are too old for the Kids Edition. The good news is that you can enable parental controls on the device by following the steps under "How To Enable Parental Controls" below.
DGIT also has a nice guide here, although my instructions below are more up-to-date where the Alexa app is concerned.
What Can Kids Do with an Echo?
Whether you choose an Echo Dot Kids Edition, a regular Echo Dot, or an Echo Show, the selection of Echo products for kids affords them some amazing opportunities, including the chance to:
Listen to kid-appropriate stories and Audible audiobooks
Play content from kid-friendly entertainment networks like PBS Kids, Disney, and Nickelodeon
Get help with Math, History, English, Science, Spelling, and other schoolwork
Play music from favorite artists and, if on an Echo Show, view song lyrics
Control smart devices such as lights and plugs
Communicate with other Echo devices in the home
Enjoy a variety of fun and educational games
It is important to note that there are some non-native Alexa devices (Fire HD, Kindle) on my list of best Amazon devices for kids, and parents can always control what kids have access to with Alexa.
Is Amazon Alexa Safe for Kids?
This is a common question asked by families with young children in the household, and the answer to this question is yes, Alexa is safe for kids as long as certain precautions are taken.
These devices all have a way to allow parents to filter the content so that kids can't access songs with explicit lyrics or shopping sites that allow them to run up a credit card bill or call people you may not want them to talk to.
Parents can use parental control features to make Alexa safe for kids. They can also use their judgment about what is appropriate for the age and maturity level of their children.
---
How to Enable Parental Controls
Parental control capabilities in the various Alexa-compatible tools are super easy to utilize, even for parents who are not exactly tech-savvy.
For Youngsters
To set any type of parental controls for Kids Edition devices, first, you need to enable FreeTime.
To Enable FreeTime:
On your iOS or Android device, open the Alexa app.
On the bottom right, tap Devices.
Tap Echo & Alexa.
Select the devices for which you want to enable parental control.
Scroll down and select FreeTime.
Tap the toggle to change it from Disabled to Enabled.
Tap the Setup Amazon FreeTime button at the bottom.
Enter your child's first name, select a gender and enter the birthdate.
Choose an icon and select Add Child.
Tap Continue, then enter your Amazon password and tap Sign in. It may also ask you to confirm it's you through two-factor authentication.
To Access the Parental Controls Dashboard:
Do the following to access the Parent Dashboard on your computer or from a mobile device:
Go to https://parents.amazon.com.
Note: For Amazon FreeTime-enabled devices, Alexa communication is available only for parent-approved contacts outside your household.
For Teens:
To allow teenagers to shop on their own and parents can approve purchases over text.
Click Sign up Now and follow the instructions provided
---
Getting Help
Once you log on, the steps are usually self-explanatory; however, Amazon also publishes a toll-free phone number for Free-Time Unlimited customers you can utilize if you have any questions or concerns while setting up your device.
You will get access to the number after you sign up.
---
Best Amazon Device Gifts for Kids: Your Take?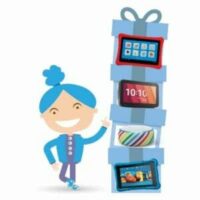 So what do you think about my picks for the best Amazon device gifts for kids?  Are you considering gifting one of these cool gadgets to a child this year?
Do you feel the parental controls give you peace of mind enough to trust your kids with Alexa?
Amazon has sure come a long way to address consumer privacy concerns over the past year. I do think the parental controls and other privacy options will continue to get even better.
If you are curious about some additional Alexa devices Amazon announced in September, don't miss my "A+ Alexa" post. I'll include a link under Related Links below.
Please leave me a comment and let me know your thoughts.  I hope to hear from you!
---
Related Links
---
Please Like and Share
If you got some value from this article about the best Amazon device gifts for kids, would you mind giving us a quick share on social media?
It just takes a minute, and you can use any colorful social media buttons along the top and near the bottom of this page.
Thanks! This helps to spread the word about our blog and gives us a little boost in Google rankings to boot.
[no_toc]
---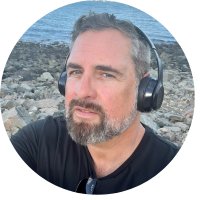 Tim Brennan, a tech blogger and host of the @TecTimmy YouTube channel, writes about smart homes at oneSmartcrib, home theaters at UniversalRemoteReviews, and AI in writing at Writeinteractive. He holds a Journalism degree from Northeastern University and has covered technology for three decades. He lives on the ocean in Nahant, Massachusetts.