As an Amazon affiliate, I earn from qualifying purchases. Learn more
Synopsis: In this article, I provide a thorough Amazon Echo Auto review, including pros and cons as well as how it can help you own the road ahead in 2022 and beyond.
The Bottom Line
I
nitially available by-invitation-only but now
shipping to the masses
, the new Echo Auto brings location-aware Alexa to your car at a very affordable price.
With Alexa as your co-pilot, things you are already doing in your car just become simpler.
Plus, you get some cool new capabilities too. Echo Auto can help you navigate to your destinations, tune your radio, play audiobooks, as well as help you find the nearest gas station or taco stand.
Alexa can even help you manage your calendar, to-dos, and shopping lists—all from the comfort of your driver's seat.[/column]
Pros:
Hands-free navigation
Voice control of your tunes, audiobooks, and more.
Remote control of lights, garage doors, locks, thermostats, and other smart devices
Full Alexa capabilities in your car: to-do lists, calendaring, telephone calls, drop-in, games for the "kids," and more.
Cons:
Could eat into phone data plan for those without unlimited data.
Could be distracting for some drivers.
---
---
9 Ways Echo Auto Makes Driving a Gas
So what would an Echo Auto review be without letting you know what this bad girl can do? In this article, we'll take a deeper dive and review 9 ways the Amazon Echo Auto can make your drive easier, more interesting, and more fun. Here they are:
Way #1. Navigate Like a Boss
Way #2. Make Phone Calls and Send Texts
Way #3. Get Your Tunes How You Like 'Em
Way #4. Enjoy a Relaxing Audio Book
Way #5. Receive a Warm Welcome Home
Way #6. Manage Your Busy Calendar
Way #7. Find Nearby Restaurants and Services
Way #8. Food Shop from the Road
Way #9. The Other Cool Alexa Stuff Too
Of course, I'll go into each of the 9 ways in more detail below. Read on fellow commuters!!
---
Finally! Got My Echo Auto Invite…
When I first heard about Echo Auto way back in September of 2018, I thought cool! Now I can get Alexa in my car.
It looks sleek and unobtrusive.
And, I saw it was being offered by Amazon on an "invitation only" basis.  I thought oh how fancy, and  I felt pretty special. Then, I waited, and waited, and waited for my invitation to arrive.  But I heard nothing but crickets ?? for months!
Then, word on the street way back in December of last year was the long-awaited Amazon Echo Auto "invite-only" orders were finally starting to ship [source CNET].
But still, I waited. And waited…
Well, my friends, the wait is finally over!  I received my invitation last week and immediately ordered up my Echo Auto. I should have it in a few days.
While I don't have the device in hand just yet, I've done a TON of research since this was announced and a friend of mine let me take her Echo Auto on a test run for a few weeks. I also took another Alexa-in-your-car device, the Roav Viva Pro, for a test drive, and I wrote up a review that compares Roav Viva with the Echo Auto here.
That said, here's my UPDATED Echo Auto review for this year.
But first, a flashback!
Here is Amazon announcing the Echo Auto [along with other products] at their "surprise event" last September.
One year later, Amazon announced a slew of new devices a few weeks ago. The Verge does a nice job summarizing the latest Alexa devices in the following video:
While the company shied away from talking about the general availability Echo Auto, the scuttlebutt out in the forums is that more and more devices are being sent out. Finally!
---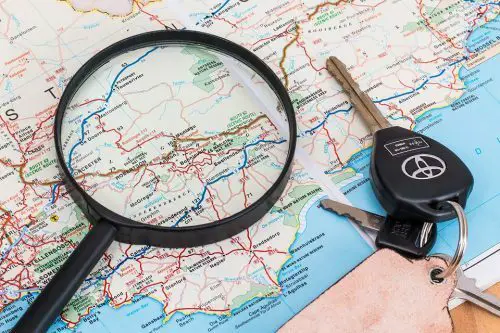 I'm terrible with directions. I couldn't find my way out of a paper bag. Before the advent of GPS, I would often travel back to my old neighborhood the next town over so I could use that a launch point for my latest excursion. [Yep, THAT bad.] Needless to say, GPS navigation apps like WAZE, Google Maps, and yes even Siri has been a godsend.
That is AFTER you get them open.
Admit it you've been here too. Fumbling around to get these apps open and ready for the state when they are ready for your input can range from annoying to infuriating to downright dangerous.
And, what's up with that Waze screen that makes you lie and say you're a passenger before you can get directions??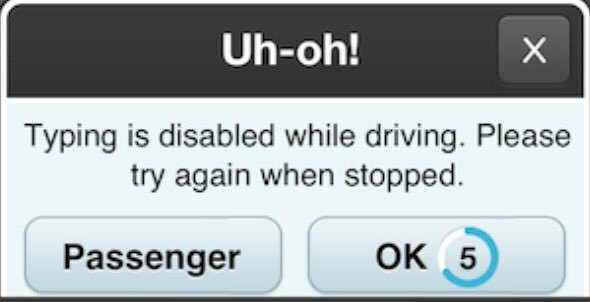 I always feel dirty after pressing that Passenger button.
Yeah, I'm trying to drive someplace right now, so let's open up the !@#$&* app already!
Echo Auto promises to solve all this by providing real on-demand voice-controlled directions.
---
Way #2. Make Phone Calls and Send Texts
Despite laws and hefty fines, the number of people I still see texting and driving on a regular basis makes me nuts.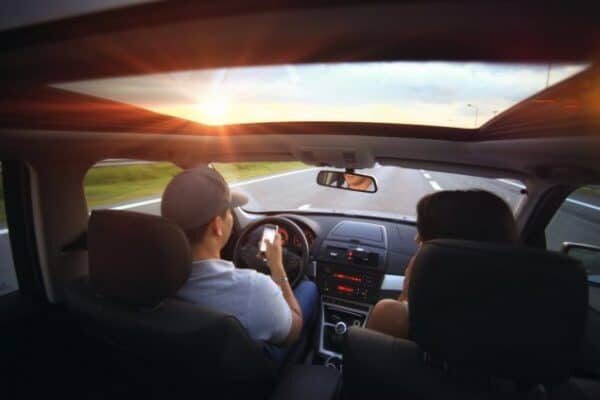 Grr. See?
Hopefully, Alexa can help make this ancient history with simple hands-free texting capabilities that actually work.
But what about phone calls?
My little Mercedes wagon actually has a voice recognition setup that will let me make calls over voice. Aren't you impressed?
I'm not. It is so over-the-top complicated and unreliable that I never use it.
With some very basic setup to integrate Alexa with your address book, Alexa will let you make phone calls and send text messages using your voice simply. And Amazon continues to add more skills to Alexa on the communications front. For example, you can use drop-in calling to let your family know that you are on your way home from work.
Thanks to our friends at Old Nerd Reviews for this helpful unboxing video:
---
Way #3. Get Your Tunes How You Like 'Em
If you own an Echo device, you know that Alexa has got some mad skills in the music department.
There's Amazon Music of course, Pandora, iHeartRadio, Tunein, and Spotify. But did you know that support for Apple Music is now available too?
No question. Alexa can help you get your groove on as you ease on down the road.
Hmm. Now I wonder if there is a skill to control my satellite radio.  I will look into this and report back.
Either way, this will absolutely be one of our favorite ways to use Amazon Echo Auto on the road in 2022.
---
---
Way #4. Enjoy a Relaxing Audio Book
In addition to tunes, with an Audible subscription, you can listen to the world's largest collection of audiobooks.
This can be great for that long commute to and from work. Even better, it can help calm your nerves when you are stuck in the bleeping Boston traffic that is enough to get out of the car, jump and down on the roof, and scream to the high heavens ????.
[Yup, me again! Boston traffic is the worst! ]
Don't have Audible yet? Click here to see Amazon's latest subscription offer.
---
Echo Auto Review Way #5. Receive a Warm Welcome Home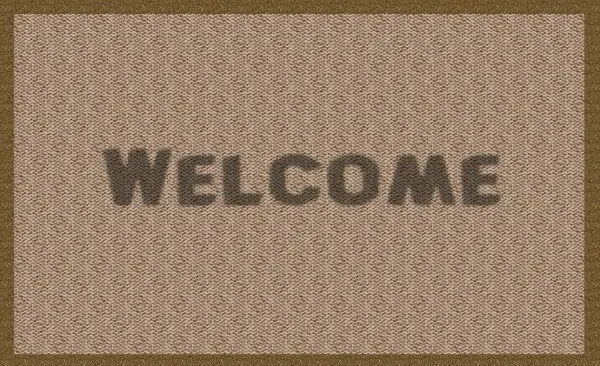 With Alexa and Echo Auto at your fingertips—um, I mean voice—the world is yours.
You can combine Alexa with your smart home devices to create "routines" that are anything but…routine.
For example, you could have a welcome home routine that automatically detects when you are within a few hundred feet of home, turns on the outside lights, opens the garage door, turns on a few lights in your home, and even tunes the TV to your favorite local news program.  Pretty cool.
Similarly, you could have a "Workday" routine that automatically locks your door, opens the garage door, closes your smart blinds, and turns on your daytime lighting configuration. Also cool.
---
Way #6. Manage Your Busy Calendar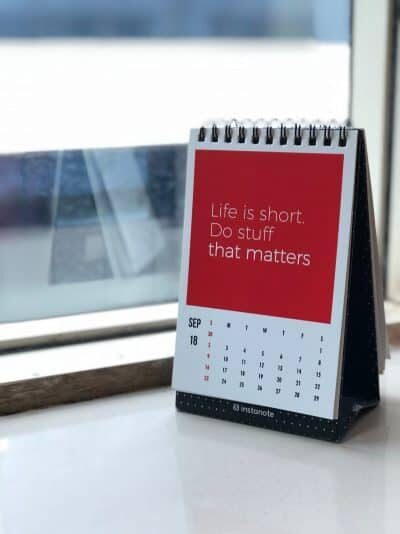 I don't know about you, but I'm terrible about managing my calendar. I too often caught up in what I'm doing [read blogging] and neglect to take the time to properly manage my schedule. If only I had a secretary…but wait! I can get Alexa to manage this for me. Problem solved!
With Alexa as my personal assistant, I can ask her to schedule meetings, set appointments, send reminders, and more. And with web calendar integration, I have full access to my calendar from anywhere with a web browser including my phone. Shoot. I have a dentist appointment tomorrow at two.
---
Way #7. Find Nearby Restaurants and Services
Almost out of gas?  No problem. Just ask Alexa the location of the nearest and least expensive gas station. Hungry for a huge cheeseburger with extra pickles and a side of fries? [Oh wait that's me…]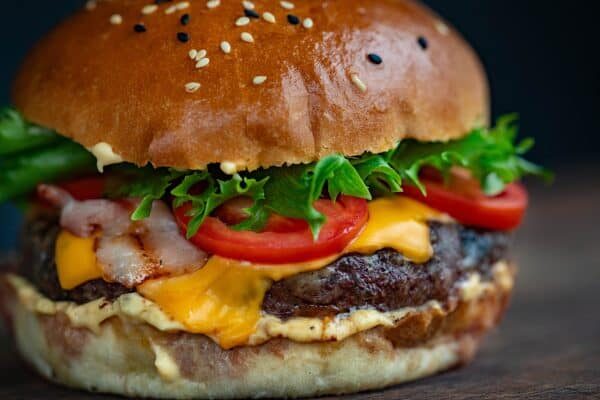 Alexa's got'chu.  Just ask her the location of the nearest hamburger joint. You'll never run out of gas—or go hungry—again.
On to our Echo Auto Review Way #8.
---
Way #8. Food Shop from the Road
I do some of my best thinking in my car.  When I think, I usually get hungry!  Lucky for me, I will soon be able to use Alexa lists to add items to my shopping list while I drive.
I recently set up Peapod integration, so now I just ask "Alexa, Ask Peapod to add Powerade Zero to my shopping cart."
And she does it!
Speaking of lists, my car seems like a great place to put Alexa to work on my good old to-do list as well.
"Alexa, add work on my To-do List to my To-Do List."
"OK. "
Okay!
---
---
Way #9. Get All The Other Cool Alexa Stuff Too
Of course, you get all of your favorite Alexa skills too.
This includes weather reports, news, alarms, games, jokes, Find My Phone, food delivery, and on and on.
Yay.
---
Setting Up Your New Echo Auto
Automate Your Life does a nice job with this video walkthrough that includes how to set up a new Echo Auto.
Thanks for pausing the game, man. Very helpful!
---
Echo Auto Review: Fun Fact
Just out of curiosity, I Googled "Echo Auto Review" shortly after Amazon announced this product way back in September of 2018.
At the time, there were 92 Google results with these words in the title.  Yes, that number indicates the number of pages with those words in the title from the entire Internet.
I tried again a little over one year later, and Google spit back 15,100,000 results.
And now, this year I tried again, and  52,900,000 results!
How's that for crazy popularity!
Hopefully, you were still able to come across MY review in that FAT haystack.
---
Discover What Alexa in Your Car Can Do For You
Now that Amazon has started shipping Echo Auto to the masses, there is no telling if and when they will end their invitation-only discount.
Our guess is that this will be over soon. So why not head on over to Amazon and reserve yours now?
You'll be glad you did.
You can click on the button in the box below to learn more about Echo Auto at Amazon.
Echo Auto- Hands-free Alexa in your car with your phone
Add Alexa to your car - Connects to the Alexa app on your phone and plays through your car's speakers via auxiliary input or your smartphone's Bluetooth connection. Includes Vent Mount.

Designed for the road - With 8 microphones and far-field technology, Echo Auto can hear you over music, A/C, and road noise.

Go beyond radio - Voice control Echo Auto through the Alexa app to stream from Audible, Amazon Music, Apple Music, Spotify, SiriusXM, and radio stations with TuneIn and iHeartRadio.

Just ask - Use your voice to play music, check the news, make calls, add to your to do-list, set reminders, pay for gas, and more.

Do More with Auto Mode – Turn your phone into a driver-friendly display that complements your Echo Auto. See whats playing and save time with easy-touch shortcuts to your favorite places, people, and content.
---
Amazon Echo Auto Review – Your Turn
So what do you think of my Echo Auto review and ways you can use it this year?
Are you clear on what Echo Auto can do to help you own the road?
Do you get the information you were looking for? Are you as excited as we are about putting Alexa in your car?
Please leave a comment below and let us know.  We would love to hear from you.
Until next time, be careful out there!
Beep beep !
---
You Might Also Like
If you liked this Echo Auto review, would you mind sharing it using the social media buttons on this page?  If you enjoyed reading this, you might also like: