As an Amazon affiliate, I earn from qualifying purchases. Learn more
Summary: In this article, I review the best Amazon Echo device gifts to give and get in what is already shaping up to be another epic year for Alexa.
If you simply want to know the best Amazon Echo devices to gift this year, here they are starting with my favorites:
#1. Echo Show 10
#2. Amazon Astro
#3. Fire TV Cube
#4. Amazon Glow
#5. Echo Show 15
#6. Echo Studio
#7. Echo Sub
#8. Facebook Portal Plus
#9. Amazon Echo 4th Gen
#10. Echo Show 8
#11. Echo Auto
#12. Echo Dot 4th Gen [with Clock]
#13. Echo Dot Kids Edition
#14. Echo Buds Wireless Earbuds
#15. Echo Wall Clock
#16. Echo Show 5
#17. Echo Glow
#18. Amazon Nebula Soundbar
#19. Amazon Basics Microwave
#20. Echo Show 2nd Gen
#21. Echo Frames
In the rest of this article, I'll summarize the high points of the very best Amazon Echo device gifts in your official gift-giving guide for 2022. I'll also include some handy price comparison tables so you can see which gifts match your budget at a glance.
---
My Secret Crush
I think I have a crush on Alexa.
Why?
She gets me.
Alexa brightens my day [smart lights and bulbs]. She helps me when I'm forgetful [reminder skill] and gets me out of bed on time [alarm].  She even feeds me [GrubHub and Whole Foods skills] and she makes me laugh [pirate jokes].
And she keeps my kids and me entertained on the weekends [music and games].
Besides, she's way cooler than Siri ever was.
---
Amazon Echo Device Gift Guide
A
ccording to the 2021 Smart Speakers Statistics Report
published by Speakergy.com,
Amazon sells more Smart Speakers than any other vendor worldwide.
And another study about household penetration of smart devices from Statistica said that as of 2021, around 43 percent of U.S. households have owned a smart home device, increasing from 33 percent in 2019.  Without question, Amazon is poised to increase those ranks big time with its latest product launch, especially with the peak holiday shopping season upon us.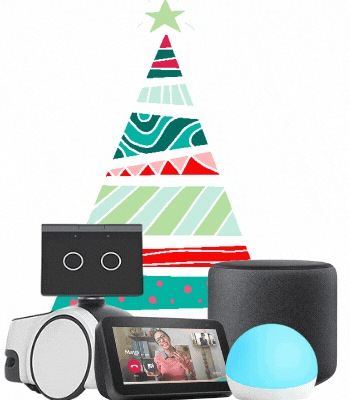 Despite increasing competition, Amazon Echo dominated the bestseller charts last holiday season and over the past year, helping to solidify Amazon's place as the #1 retailer on the planet.
It's no wonder.
Amazon continues to improve Alexa and usher in some major improvements to key members of the Amazon Echo family.
These include some great new features that help to address Alexa privacy concerns.
And, there are some cool really cool new devices that Amazon just announced too.
These include a talking household robot, a wall-mountable Echo Show with a huge 15.5-inch screen, an interactive video projector for kids, and several new gadgets priced for just about any budget.
Without further ado, let's dive into more detail about each of the best Echo device gifts you can give this year.
I own several of these and I have a few on my list for Santa this year. Hope I made the "Nice" list. Hmm.
Drumroll, please…
---
Amazon Echo Device Gifts: #1-7
Here are my top seven picks for the best Amazon Echo Device gifts for 2022 summarized in a table.
| Ranks | Image | Title | Buy |
| --- | --- | --- | --- |
| 1 | | Echo Show 10 (3rd Gen) | HD smart display with motion and Alexa | Charcoal | View at Amazon |
| 2 | | Introducing Amazon Astro, Household Robot for Home Monitoring, with Alexa, Includes 6-month Free Trial of Ring Protect Pro | View at Amazon |
| 3 | | Fire TV Cube, Hands-free streaming device with Alexa, 4K Ultra HD, includes latest Alexa Voice Remote | View At Amazon |
| 4 | | Introducing Echo Show 15, Full HD 15.6" smart display for family organization with Alexa | View at Amazon |
| 5 | | Echo Studio - High-fidelity smart speaker with 3D audio and Alexa | View at Amazon |
| 6 | | Echo Sub - Powerful subwoofer for your Echo - requires compatible Echo device | View at Amazon |
Prices are pulled in nightly from the Amazon API and were last updated as to the date and time displayed at the bottom of the table.
Pro Tip: Click the 'View at Amazon' button next to the product to see the up-to-the-minute sale price on Amazon.
But that's only seven, you say! What about the rest of the amazing Echo device gifts on my list?  I'll include a couple of additional along with my mini-reviews of each product down below .
---
1. Amazon Echo Show 10
The Amazon Echo Show 10 is one of the most advanced smart displays you can buy today. It is also my favorite Alexa device, so it tops my list of the best Amazon Echo device gifts this year.
It features everything you expect from an Echo Show, but it comes with improvements that you can only wish that Santa's elves enabled in other smart displays.
If you're looking for a great video conferencing solution that you can put on your desk or in the kitchen, Show 10 checks all the boxes. One Echo Show 10 standout feature is its super-sharp 13MP camera. Even cooler is that since it's mounted on a rotating base, the display can "follow you" around when you're nearby. And its "auto-framing" feature makes sure you're also in the middle of the frame at all times.
This can come in handy if you're making video calls, watching Netflix, or viewing recipes while preparing dinner. A little creepy? Maybe. Cool? Oh yeah!
iJustine does a great job explaining some of the additional benefits in her review and unboxing video, which I'll include below. Dig the enthusiasm, iJustine!
---
2. Amazon Astro Household Robot
Brand new this year, this is the device that I am most excited about getting. If it wasn't so dang expensive, the Amazon Astro Household Robot would be at the top of my list.  You can think of Astro as a personable smart display mounted on wheels with home security capabilities. While it won't vacuum your floors or make you a sandwich, it can beatbox and bring you a beverage.
More to the point, Astro was designed to be a roving security robot that roams about your home, allowing you to check every nook and cranny in your home.  You can get alerts for certain events and see live views of what Astro sees in the Astro app. Think you left the stove on? Don't worry. Send Astro on over to check it out. A telescopic arm lets Astro peer into high-up places. Neat.
Couple this with Alexa Guard, Astro is capable of detecting the sound of smoke alarms, carbon monoxide alarms, even glass breaking, and sending alerts to your phone. Truly can't wait to get mine.
You can learn more about what Astro can do in this helpful video from CNET's Claire Reilly. Love your accent, Claire!

---
3. Fire TV Cube with Alexa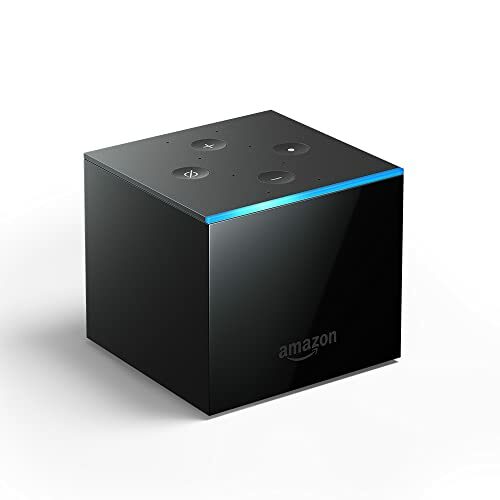 A Fire TV stick and Echo smart speaker smashed into one, the Amazon Fire TV Cube lets you control your entertainment experience using Alexa. Trust me when I say that this would make an excellent Amazon Echo gift for any binge-watcher or a streaming junkie.
I love being able to use my voice to turn on/off the TV, open apps like Netflix and YouTube, and play, pause, rewind, and fast forward my favorite content. Best of all, the new Fire TV 2nd Gen's design upgrades make Alexa in the Cube more responsive compared to the 1st Gen Cube.
Here's an aerial view of my Fire TV Cube sitting atop my soundbar. Please pardon my dust!
With Alexa built right on board the Cube, a trip to the Amazon Cloud is no longer required for basic commands. This means that common Alexa commands like turning on the TV and tuning to your favorite shows and channels are executed super fast.  For example, you can just say "Alexa, Play Squid Game." And she will fire up Netflix where you last left off with that show instantly.
You can also use Alexa Fire TV voice commands to navigate around as well as show specific seasons and programs from which you can select a show. Just say, "Alexa, Show me all the Seasons of Iron Fist." "Alexa, Scroll left." "Alexa, Pick Episode 5." This thing is just awesome.
Here's a great review of the Fire TV Cube from Digital Trends.
---
4. Amazon Glow Interactive Projector
If you're looking for a wholesome, family-friendly gadget for the kids, and you think Amazon's not the right place, the Amazon Glow Interactive Projector might just prove you wrong.
It's a device that simplifies video calls with kids and allows you to interact with them. It uses a built-in projector that displays a 19-inch screen on a flat surface in front of the device.
Kids can play games like Chess, Checkers, Go Fish, and Memory Match with friends and family virtually. It even comes with a drawing space so kids can share their creativity and ideas with loved ones.
One smart aspect of the Amazon Glow is that you only need to purchase a single glow device for the kiddos. Family and friends on the other end just need to install the Glow app on iOS and Android to interact with the kids or they can also use an Alexa smart display. I wish my kids were younger as I so wanna play with this thing!
Check out this video from Amazon News which does a nice job of showing Amazon Glow's fun features.
---
5. All-New Amazon Echo Show 15
The Amazon Echo Show 15 is no ordinary smart display. It may not look like it, but it packs all of the features of the Amazon Echo Show devices, plus a few new goodies that Amazon display owners have been wanting for a while.
As its name suggests, it's a 15.6-inch touchscreen complete with Alexa capabilities. You can mount it on a wall or set it up using a rotatable stand on your kitchen counter. The gem inside this piece of hardware is its AZ2 Neural Edge processor, a custom chip designed specifically for Amazon that allows the Echo Show 15 to process voice commands with ease. I love that you can rotate the display to either landscape or portrait mode.
The Echo Show 15 also acts as an entertainment and smart home hub allowing you to organize shopping lists, appointments, and security cam footage. All of this can be customized using the new "widgets" capability.  Oh, and with the ability to watch Netflix, Hulu, YouTube videos, and live TV,  it also makes a nice alternative to your kitchen TV.
If you are torn between this and the Echo Show 10 like me, check out this post I wrote comparing the Echo Show 15 vs 10. I think I decided I am getting both devices. LOL.
Craig from Craig's Tech Talk always does a great job reviewing Alexa devices and the Echo Show 15 is no exception. I'm excited about the widgets too, Craig.
---
6. Echo Studio
The Echo Studio is Amazon's best-sounding speaker yet. I love my Echo Studio and the depth of audio it adds to my multi-room music configuration. This bad boy packs in a ton of audio hardware that includes three mid-range speakers, a one-inch speaker, and a five and quarter-inch subwoofer at the base of the device.  The Studio fires sound in all directions to fill even a large room with robust three-dimensional sound.
The speaker is of course also a voice assistant with full Alexa capability, but Amazon really designed this for the audiophile. If you are nuts about listening to music or creating an immersive surround sound experience with your home theater setup, the Echo Studio is for you. For home theater, Amazon suggests combining two Echo Studios with an Echo Sub for the ultimate in home-entertainment audio.
CNET gave their first impressions of the Echo Studio last month in this helpful review.
OK! On to #7 in my list of best Echo device gifts for this year. I don't think this next one will surprise you.
📚 Related: Echo Studio Vs Echo Sub
---
7. Echo Sub
Next on our list of best Amazon Echo device gifts, is the Amazon Echo Sub Subwoofer. I can attest to the fact that this would make a great gift for any music lover on your list.
Perhaps the best compliment to the other audio devices in the Echo family, the Echo Sub will let you significantly update the sound of your Echo devices. How? This little beast of a subwoofer provides the powerful, deep room-filling-bass capability. Moreover, it will work with existing Alexa speakers so you can provide a surround-sound or multi-room audio experience.
In other words, this 'mini ottoman' gives Alexa some serious bass.
While a few have complained about the looks, I just don't get it. This is about as attractive a sub-woofer gets,  and it is definitely better-looking than the boxy sub-woofers that come with most soundbars. If you are interested in comparing this with additional subwoofers, don't miss my review of Echo Sub Vs Sonos Sub Vs Bose Sub.
If you want to see it in action, check out this Digital Trends video review here:
---
Amazon Echo Device Gifts: #8-14
This post is so big I couldn't possibly cram all of those devices into a single table! Read on for my next seven Echo device gift faves that you can get from Amazon this year.
Image
Title
Buy

Top

8
Facebook Portal Plus - Smart Video Calling 15.6" Touch Screen Display with Alexa - Black
See It At Amazon
9
Echo Dot (4th Gen) | Smart speaker with clock and Alexa | Glacier White
View at Amazon
10
Echo Show 8 (2nd Gen, 2021 release) | HD smart display with Alexa and 13 MP camera | Charcoal
View at Amazon
11
Echo Auto- Hands-free Alexa in your car with your phone
View at Amazon
12
Echo Dot (4th Gen) | Smart speaker with clock and Alexa | Twilight Blue
View at Amazon
13
Echo Dot (4th Gen) Kids | Designed for kids, with parental controls | Tiger
View at Amazon
14
Echo Buds (2nd Gen) | Wireless earbuds with active noise cancellation and Alexa | Black
View at Amazon
8. Facebook Portal Plus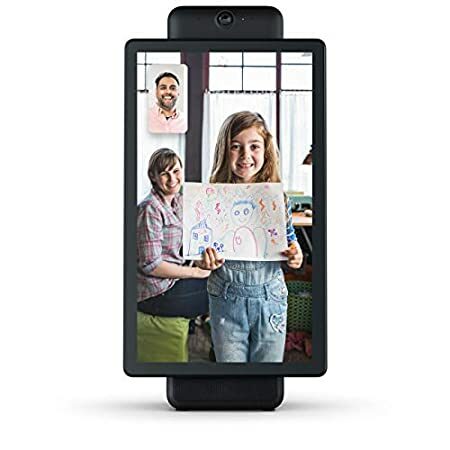 Facebook Portal Plus is the biggest smart screen you can get with Alexa right now. I've already blown my smart home budget for this year, but I really, really want Santa to bring me one of these babies. I guess it's time I started working to get my butt off the naughty list.
The coolest thing about Portal Plus is that you can rotate the screen to view it in either landscape or portrait mode. The giant screen is great for video calls or just about any other activity you can do with on-screen Alexa. There are some limitations compared to Echo Show, however.  Check out my full review comparing Portal Plus vs Echo Show vs Nest Hub Max if you are interested in learning more.
---
9. All-New Amazon Echo 4th Generation
With the new Amazon Echo 4th Gen, Amazon has done it again. They built a better mousetrap. First, I'll state the obvious: the new Echo takes for them of Amazon's revamped circular design. It features better premium speaker hardware and a more advanced upward-firing speaker configuration, including a 3.0″ woofer and dual front-firing 0.8″ tweeters.
The latest Echo also includes a 3.5 mm line in/out if you want to hook it up to a surround sound configuration or an external speaker set up.  The net result is a dramatically better audio experience. It even includes a  built-in Zigbee smart home hub to control compatible smart home devices without requiring a separate hub.  This is a boon for those running multiple Zigbee devices, including Phillips Hue smart bulbs, some of which require a hub.  This is truly a brilliant upgrade in my opinion that will make a great gift for anyone on your list.
📚 Related: Echo 4th Gen vs Echo Plus 2
---
10. Echo Show 8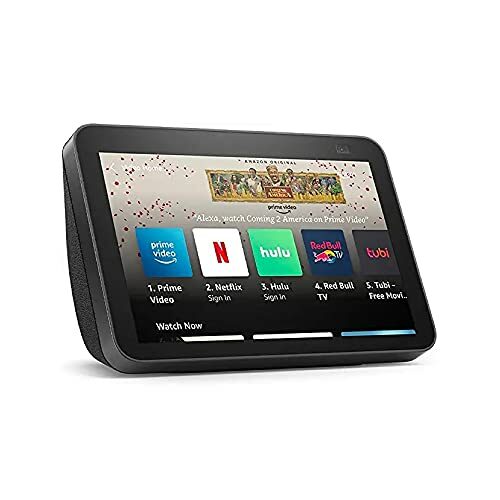 Coming in at number 10 on my list of best Amazon Echo device gifts is—you guessed it—the Echo Show 8.
In 2021, Amazon released this latest 2nd Generation Echo Show 8 which provided not much in way of design changes but some nice hardware upgrades over the 1st-gen model released in 2019.  The 2021 Show has an 8-core MediaTek processor vs a 4-core with the previous generation.
It also has a much-improved 13MP vs 5MP camera with pan and zoom capability. While it doesn't have the same robotic ability to follow you around the room like the Echo Show 10. The pan and zoom capability will let you check up on things from your smartphone or tablet, which is a nice addition.
The 2021 Show is also made from recyclable materials following Amazon's drive to be more eco-friendly. I'm a fan of that.  If you are interested in learning more about the differences, check out my full post comparing Echo Show 8 2021 vs 2019.
---
11. Echo Auto
Amazon's Echo Auto brings the power of Alexa to your car. Before I got this handy little gadget I used to think if I had $10 for every time I wished I could talk to Alexa in my car, I would be rich.
I do some of my best thinking in my car, so it would be great to be able to ask Alexa to take notes, send an email or text, update my to-do lists, etc. I also strongly prefer Alexa to Siri, which has gotten better, but I prefer Alexa for the basics like checking the weather or making calls.
If you have an Alexa fan in your life who doesn't already own this little gadget, do them a favor and give them the gift of Echo Auto.
With eight microphones designed for in-car acoustics, Echo Auto can hear them over music, air conditioning, outside weather, and road noise. As I documented in my early review of Echo Auto, I am a big fan and have been loving Alexa in my car.
In addition to the more traditional ways you use Echo, you can also:
Get driving directions from Waze, Google Maps, or Apple Maps
Open a smart garage door
Find the nearest gas station
Play Audible audiobooks
Stream Podcasts or listen to Amazon Music, Spotify, Sirius XM, or NPR
Make calls, set reminders, add items to your shopping and to-do lists
Manage your calendar
Even cooler, you could set location-based routines. These are automated actions Alexa can start when you leave the office or get home (i.e., open the garage door, turn on outside/inside lights, and unlock the front door.
Here's another shout-out to CNET for the helpful Echo Auto video.
---
12. Echo Dot 4th Gen [with Clock]
Number 12 on my list of the best Amazon Echo device gifts is the Echo Dot 4th-Generation. Last year, I wondered how in the heck is Amazon going to improve on its most popular smart speaker. Well, they put an LED clock under the fabric. This year the larger, rounder design change is a bit less subtle.  But I still like the 4th gen model with the bright clock display, which could make a nice addition to your bed stand or perhaps even your favorite side or coffee table.
Additional improvements are similar to other 4th-gen Amazon Echo improvements discussed previously, including a more advanced audio setup for better sound and a better chipset that is supposed to make Alexa more responsive.  New color options include Twilight Blue and Glacier White. I think I am partial to the blue one (pictured above).
Here is another nice video review from Craig Paulsen of Craig's Tech Talk:
---
13. Echo Dot Kids Edition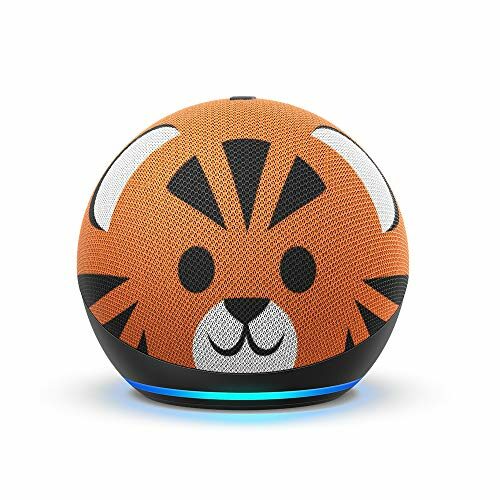 Like the new Echo and Echo Dot, the All-New Echo Dot Kids Edition features a new spherical design, updated hardware, and better sound. Available in two, playful new design choices (Tiger and Panda), Dot Kids is an ideal gift for any youngster on your list. "Designed with kids in mind" the Dot Kids Edition features a host of kid-friendly content and skills. Pair it with an Amazon FreeTime Unlimited subscription (a free trial comes with the Kids Dot) and you open up a whole world of content for the kiddos.
This includes 20,000 kid-friendly books, educational apps, games, movies, and many fan favorites from Disney and Nickelodeon. Best of all, the Dot Kids edition comes equipped with parental controls that enable parents to set daily time limits and monitor activity. The new Dot Kids also includes a longer two-year warranty. This can be useful if your kid decides to use it for a game of ball or worse.
Amazon does a great job covering the benefits of the Kids Edition over the other Echo devices on its product page (link above).
There is also a new Kids Edition of the Echo Show. I'll include a product box to that below.
If you want even more gift ideas for kids, check out this article I wrote on some of the best Alexa device gifts for kids.
---
14. Echo Buds Wireless Earbuds

Take that Apple Airpods! [Or is it Earpods?] Whatever…Amazon just upped the ante with its own brand of earbuds, the Amazon Echo Buds. Yes, they include hands-free voice control of your favorite tunes with none other than everyone's favorite assistant, Alexa.
The buds feature Amazon's premium speaker drivers with Bose Active Noise Reduction technology to limit background noise. A feature I love is that they built in the ability to temporarily turn off the noise reduction to let sound pass through to your ears.  This is a great safety feature for commuters or anyone using the buds on the go.  The stylish-looking Echo Buds also pack in some solid battery life, with up to five hours of music playback per charge.
There is also a "quick charge" feature that gives you two hours with a 15-minute charge. Amazon says the buds are sweat-resistant and exercise-ready. I recently had mine stolen at my gym so I ordered another pair. Here's what the Echo Buds box looks like: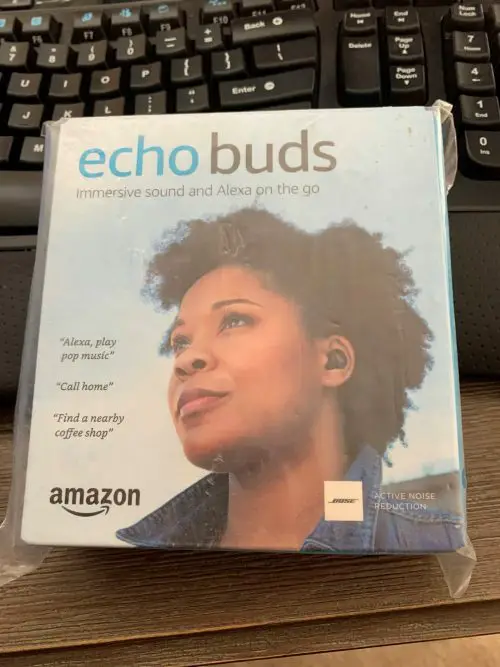 For those concerned about privacy, Amazon has built-in "multiple layers of privacy protections and controls." This includes the ability to mute the mics with the Alexa app.
---
Amazon Echo Device Gifts: #15-21
OK, last but certainly not least, I have seven more gems including an Alexa device that you wear on your face! So read allllll the way until the end – you don't want to miss that one.
Image
Title
Buy
15
Echo Wall Clock - see timers at a glance - requires compatible Echo device
View at Amazon
16
Echo Show 5 (2nd Gen, 2021 release) | Smart display with Alexa and 2 MP camera | Charcoal
View at Amazon
17
Echo Glow - Multicolor smart lamp for kids, a Certified for Humans Device – Requires compatible Alexa device
View at Amazon
18
Nebula Soundbar – Fire TV Edition, 4K HDR Support, 2.1 Channel, Built-In Subwoofers, Voice Remote with Alexa
View at Amazon
19
Amazon Basics Microwave, Small, 0.7 Cu. Ft, 700W, Works with Alexa
View at Amazon

Top

20
Echo Show 8 (2nd Gen, 2021 release) | HD smart display with Alexa and 13 MP camera | Charcoal
View at Amazon
21
Echo Frames (2nd Gen) | Smart audio glasses with Alexa | Classic Black with prescription ready frames
View at Amazon
---
15. Echo Wall Clock
The Amazon Echo Wall Clock was the butt of a few jokes when its debuted a while back. Some have even said that its initial mediocre launch is what led to Amazon's 'Alexa Fails' commercial (yes, the one Han Solo and his Alexa dog collar and Forrest Whittaker with an Alexa toothbrush).
Say what you want about the wall clock, but I have one hanging on my kitchen wall and really like it. Here's what it looks like hanging over my stove.
No, it doesn't put full-blown Alexa on your kitchen wall. What it does do is let you set and see timers visually with the clock and your Alexa device.  And that's about it where Alexa is concerned.  It will auto adjust for daylight savings time, and the clock is stylish and inexpensive enough where it makes a super gift.
Stu's Reviews does a nice job with his review of the Amazon Wall Clock:
---
16. Amazon Echo Show 5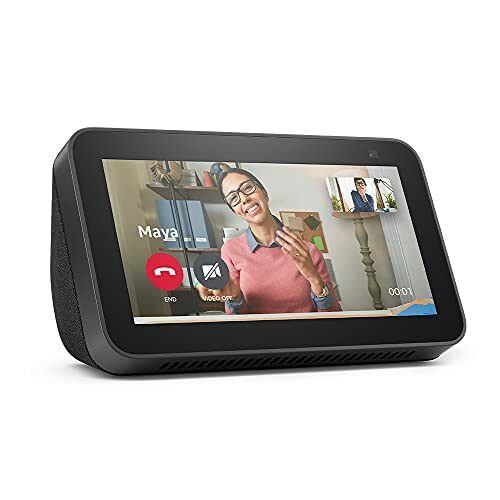 The Echo Show 5  is essentially a smaller version of Show 8.  Both the '8' and the '5' indicate screen size (eight and five inches diagonal respectively). My favorite of the smart screens with Alexa is the Echo Show 10, which has an even larger 10″ screen. We'll see if the Echo Show 15 becomes my new favorite when that ships out to me in December.  I just feel like if you are going to use the screen you want it to be as big as possible.
The Echo Show 5 includes the camera shutter for added privacy controls and has all of the newer audio components of the Echo Show 8.  Like Show 8, Amazon released an upgrade the Show 5 in 2021. The main improvement of the newer second-generation Show 5 is a better camera at 2MP vs 1MP on the previous 2019 model. There is also an additional color choice (Blue), and the Kids Edition mentioned previously. If you want to compare the new and older Show 5s, check out this post I just wrote comparing Echo Show 5 2021 vs 2019.
---
17. Echo Glow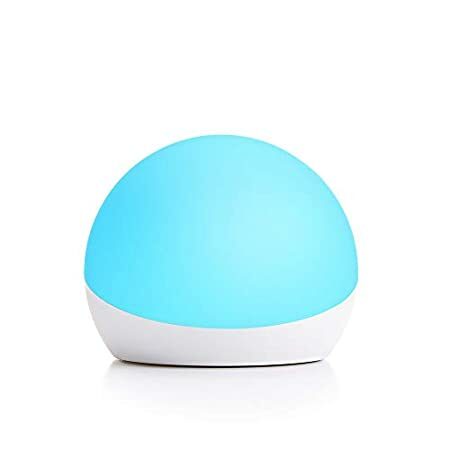 The Echo Glow is Amazon's answer to similar colorful accent lighting from Philips Hue and others. However, it has one major added benefit that is lacking in the competition. You guessed it! The Echo Glow has some pretty 'bright' Alexa skills. Once you pair it with any Echo device, you can adjust color, brightness, and also create helpful routines using Alexa.
For example, you can set a morning routine that automatically slowly adjusts the lamp brightness as you (I mean your child!) are waking up.
You can also set rainbow timers for certain events — like bedtime, wake-up time, dinner, etc.  The rainbow timer will cycle the lamp's colors. Pretty neat. Amazon is selling this as an advanced nightlight for kids, BUT I totally want this for ME! If you want to see some additional accent lighting options for adults, check out this post I wrote comparing Philips Hue Play vs Bloom vs Go vs Iris.
---
18. Nebula Soundbar
Next on my list of the best Amazon Echo device gifts is the Amazon Nebula soundbar. What a cool name, right? So what is a Nebula anyway?  Well, it's a giant cloud of dust and gas in space. It's an interesting analogy, as the sound from this bar is totally a gas. But how does it compare to some of the most popular soundbars out there, like Sonos Beam for example? Here's a hint: it's better. With 4 Full Range Woofers, 1 Tweeter, a 5 Class D Amplifier, and 3.0 on Front Channel this audio device raises the bar on sound for your Smart TV.
If you want to get the full-on scoop on how it measures up against Sonus, check out my full review of Amazon Nebula vs Sonos Beam.  Best of all?  You get Alexa built right in.  This not only means that you can ask your soundbar the weather, sports scores, and to play the latest round of music trivia, but you can also include the awesome sound in your multi-room music configuration. Sweet.
---
19. Amazon Basics Microwave
I was so happy to replace the sadly-out-of-date Sharp microwave on my kitchen counter with the Amazon Basics Microwave when my son bought it for me last year. My previous microwave was 10 years old, and several of the buttons no longer worked, including the one and zero. When I heat my coffee in the morning, I would heat it for "22" seconds, because "20" wouldn't work. LOL.
This is no longer an issue with my new Alexa microwave and smart voice control. Now I just do this!
Forgive the new YouTube long-form video format (#shorts).
It works with most Echo devices; you don't need the Show.
Amazon hopes to make using buttons a thing of the past with integrated voice control. And it could make one of the best Amazon Echo device gifts to help simplify your mom and dad's daily routine in the kitchen.
I just ask Alexa things like:
"Alexa, microwave for two minutes."
or "Alexa, reheat rice."
Optionally, I can skip the wake word by pressing the Alexa button on the front of the unit.  Then I just need to say:
"Defrost vegetables."
"Microwave popcorn."
or "Stop the microwave."
The microwave also includes all the basics like 10 power levels, a kitchen timer, a child lock, and a glass carousel turntable for automatic rotation of your food. The turntable does come off its base occaisionally but still this is a great deal and I love it.
My man Dan from The Verge does a great job with this review of the ABM:

The best thing of all about this microwave is the super-affordable price.
---
20. Amazon Echo Show 2nd-Gen
Despite my love affair with the newer Amazon Echo Show 10, the Amazon Echo Show 2nd Generation remains on my list of favorites this year for three reasons. First, it sports Amazon's solid-state and sophisticated product design with durable plastic and an elegant fabric finish.
Second, it still has that 10″ screen that is on par with the new Echo Show 10 and only trumped by the Show 15 smart display and Facebook Portal Plus in size. The 10″ high-definition display makes it super enjoyable for viewing videos and step-by-step recipes, Skype video calls, and just about any smart screen other activity.
Third, the audio quality received a major upgrade in this model with the introduction of Dolby Premium Sound, two side-firing speakers, and a passive bass radiator. The sound is especially sweet as part of a multi-room music configuration.
Here is what the 2nd Gen looked like on my counter (prior to me replacing it with Show 10):
Check out this excellent video review of the Echo Show 2nd Gen from Engadget:
---
21. Echo Frames
I got a first look at the new 2nd-Gen Amazon Echo Frames last month at my local Amazon store and I'm here to say it's a "good look." These seem to be a vast improvement over the "Day 1" version of the frames (designed for early adopters) previously released.
The frames have Alexa built-in so you can pretty much take her anywhere. Swipe along the side of the frame to issue commands aloud and Alexa will reply from the frames and send audio backward toward your ears. Wow, talk about futuristic.  There is plenty of privacy built-in so that you can lower the volume, and mute the mic, etc. I think the new 2nd gen frames look pretty stylish too.
Here is a nice review from Brian of the Day 1 version over at AutomateYourLife. Looking sharp, Brian!
My understanding is that the updated 2nd-Gen frames were made via an Amazon partnership with Burberry there are a few different design choices so they look even nicer and they are easier to set up. You can see the latest models over at Amazon at the link above. Also, Amazon has added support for iOS in addition to Android.
---
Alexa, Alexa Everywhere
Wired, CNET, The Verge, CNBC, and the New York Times have all weighed in with very favorable reviews about the new Alexa devices so far.
And the momentum still seems to be building.
My personal crush aside, I really am a huge Alexa fan, so it's kind of exciting. Sorry, Apple and Google.
Best of all?
Many of these products are generally more affordable and are now within reach for many consumers.
---
Best Amazon Echo Device Gifts – Your Turn
We hope you liked my review of the best Amazon Echo device gifts.
If you did, would you mind sharing it using the social media links at the top or bottom of this post?
Do you agree that this is going to be another banner year for Alexa? Which Alexa device is your favorite?
Do you have a crush on Alexa too ❤️?
Please leave a comment below and let me know.
---
Related Links
If you enjoyed this article, you might also like: