As an Amazon affiliate, I earn from qualifying purchases. Learn more
In this unabashed Atomi space heater review, I am happy to share the full deets on what I think is hot (and what is not) with this high-tech portable heater from Atomi. Read on to find out if this heater is 'smart' enough to fit your needs, budget, and space requirements.
---
Got Heat?
G
ot heat? No? Well, then you better get some. Like it or not, winter
is
coming.

With New England's autumn chill in the air over the past few days, this has me thinking about the best ways to keep my office warm. The problem is: I've been having issues with my aging electric baseboard heat, so it looks like I'm going to be relying on a space heater until I can get maintenance to replace these baseboards.
So it's pretty urgent that I find the best portable space heater that will keep my living and working areas toasty. I love the concept of a Wi-Fi-enabled, voice-controlled, whisper-quiet indoor space heater that has a compact design and is compatible with my smart home.
One option I found with a lot of great features was the Atomi Space Heater, so I figured I'd take a deep dive and see what there is to love (or not) about this heater with its intuitive controls and smartphone app.
---
Pros and Cons of the Atomi Smart Space Heater
What's Hot:
Wi-Fi-enabled and voice-activated
Compatible with Alexa and Google Assistant
iOS/Android app available; easily controlled through your phone
Excellent built-in safety features
Whisper-quiet operation
Quick heating—0 to 70 degrees in two seconds
Perfect for mid-sized rooms
Cheaper than competitor models, available online
What's Not:
Emits a strong smell in the first few hours of use
Light cannot be switched off at night
---
---
Atomi WiFi Tower Space Heater Specifications
Following are key technical specifications of the Atomi Smart Space Heater:
Dimensions:
29.7 x 10.6 x 10.3 inches
Voice Assistant Support:
Amazon Alexa, Google Assistant
Other Controls:
Built-in touchscreen, smartphone app
Availability:
Amazon, Costco, Direct from manufacturer
Dimensions:
29.7 x 10.6 x 10.3 inches
Voice Assistant Support:
Amazon Alexa, Google Assistant
Other Controls:
Built-in touchscreen, smartphone app
Availability:
Amazon, Costco, Direct from manufacturer
Last update on 09/24/2022 / Affiliate links / Images from Amazon Product Advertising API
📚 Related: 13 Best Smart Alexa Thermostats This Year
Who Is The Atomi Wi-Fi Tower Heater For?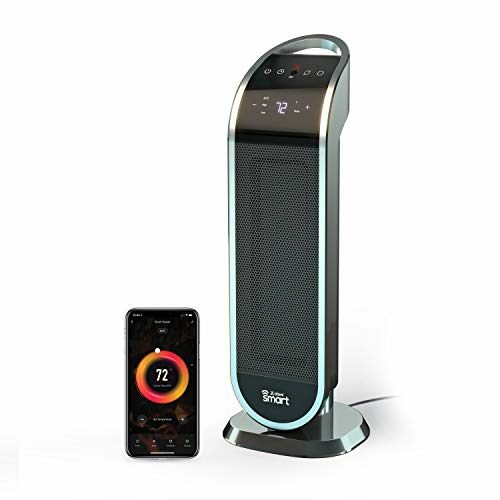 Anyone who has a small-to-mid-sized room and needs heat fast is an ideal candidate for the Atomi. The heater is sized for rooms up to 750 square feet. This makes it great for larger rooms and smaller areas alike including a home office, living room, den, game room, or even large master bedroom (including en-suite and closet).
Thanks to the PTC ceramic heating technology, the air around the heater will reach 70F in two seconds, and the rest of the room will quickly follow suit. With the wide-angle oscillation, you can reach every corner of the room without ever having to get up and move the heater. Smartphone users will love how easy it is to control using the app. I loved how smoothly this integrated with my existing smart-home set-up (Amazon Alexa).
HelpInLivin has a nice unboxing video of the Atomi out on YouTube. I'll embed it below if you want to take a look.
---
Is the Atomi Wifi Tower Heater Easy To Use?
Using it is straightforward and simple: just press the button on the touchscreen panel to get heating. The screen makes it easy to choose from the three heating options: set a timer, adjust the temperature, or turn oscillation on and off.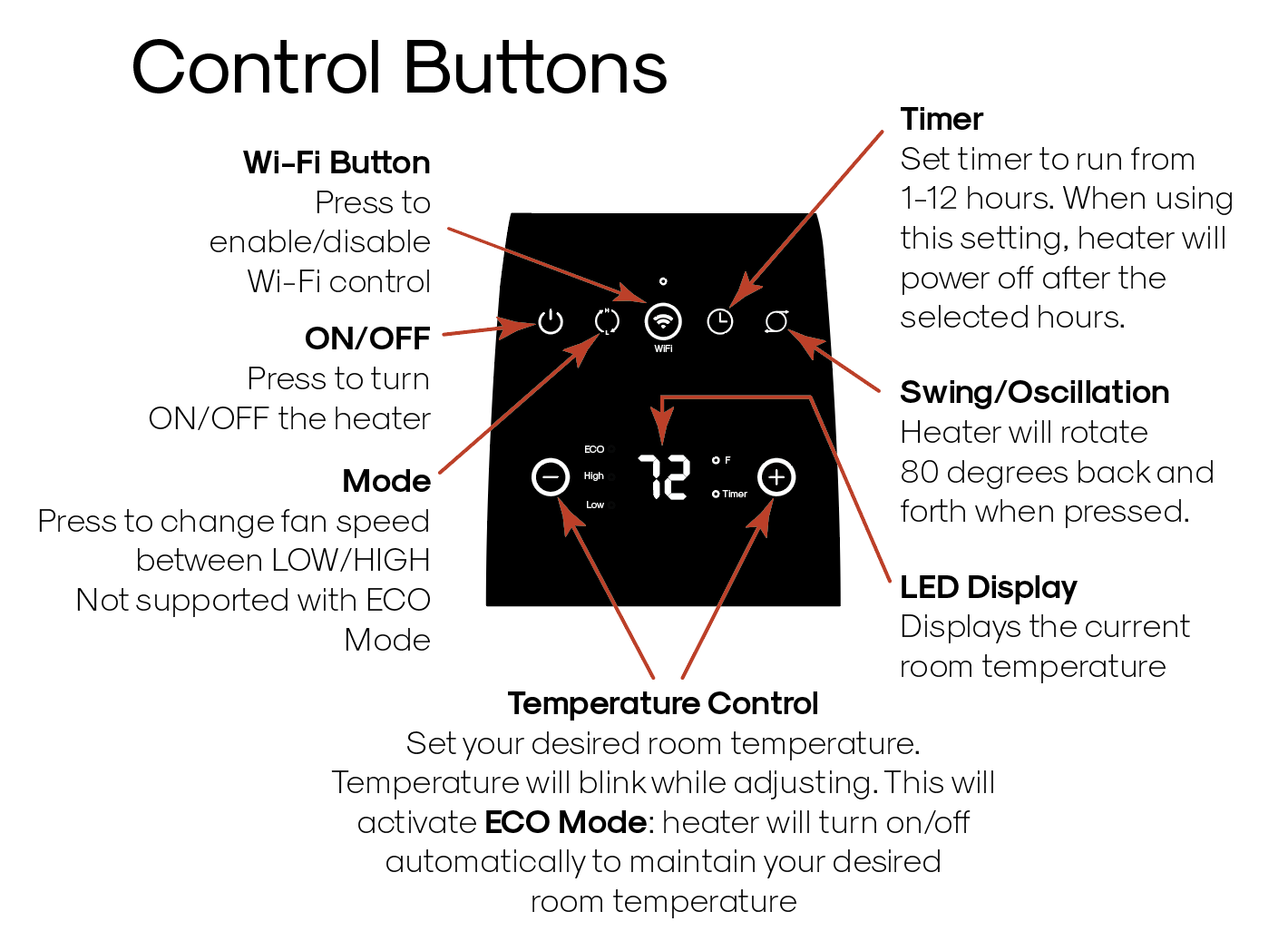 Setting up the Atomi Smart App takes a few minutes, but once it's connected to your heater, you'll have all the heating options at your fingertips. You can even add and adapt a heating schedule to keep your room warm at all the right times using just your smartphone.
Atomi Smart WiFi Portable Tower Space Heater – 1500W, Oscillating, 750 Sq. Ft. Coverage, Works with Alexa & Google
WIFI ENABLED AND VOICE ACTIVATED – Control your heater from your phone anytime. Turn the heater on/off, change temperature, create schedules, and more using the free Atomi Smart App. Also works via simple voice commands with Alexa or Google Assistant.

SAFETY & STABILITY - Receive an instant phone notification if heater tips over. Also has built-in overheat protection, cool-touch housing and handle, a wobble-free base, and a 360 degree tip-over safety switch. Works on any floor surface – including carpet. ETL Certified.

LARGE TOUCH SCREEN PANEL – Can use without the app. Digital display and manual control pad features buttons for turning the heater On/Off, changing the temperature, switching between 3 modes (High, Low and ECO), setting the timer, and turning oscillation On/Off.

HEATS QUICKLY – Whisper-quiet 1500W PTC ceramic heating technology warms the surrounding air to 70 degrees in two seconds flat. Provides heat for rooms up to 750 square feet. Wide-angle oscillation warms up every corner of your room.
---
How Much Does the Atomi Tower Heater Cost To Run?
Like most tower space heaters, the Atomi runs at 1500W. This would consume under $3 per day if I was to run it during my waking hours (max 16 hours a day; it's not safe to leave space heaters running).
But I definitely didn't need to keep it running all day, and I can fiddle with the adjustable thermostat to my heart's content. This automatic "eco mode" makes this heater surprisingly affordable.
📚 Related: How To Make A Dumb Ceiling Fan Smart
---
Does the Atomi Smart Wifi Portable Tower Space Heater Work?
I set it up in my open-floor office (roughly 650 square feet). The ceramic element heat up to hit my preferred temperature of 68 degrees in around 20 minutes. I only had to switch it on a few more times throughout the rest of the day—and only for half an hour at a time—to keep the area nicely warm. I love the way the ceramic heat up nice and fast.
I loved the smart safety feature that automatically shuts the heater off if it gets tipped or knocked over. Though the base is sturdy enough to keep it upright, my dogs knocked it over chasing each other through the house. It shut off instantly and didn't so much as singe my living room carpet—definitely a "pro" in my book. With concerns about portable heaters being unsafe, this safety system gives me huge peace of mind.
---
Using the Atomi Smart Wifi Portable Tower Space Heater Controls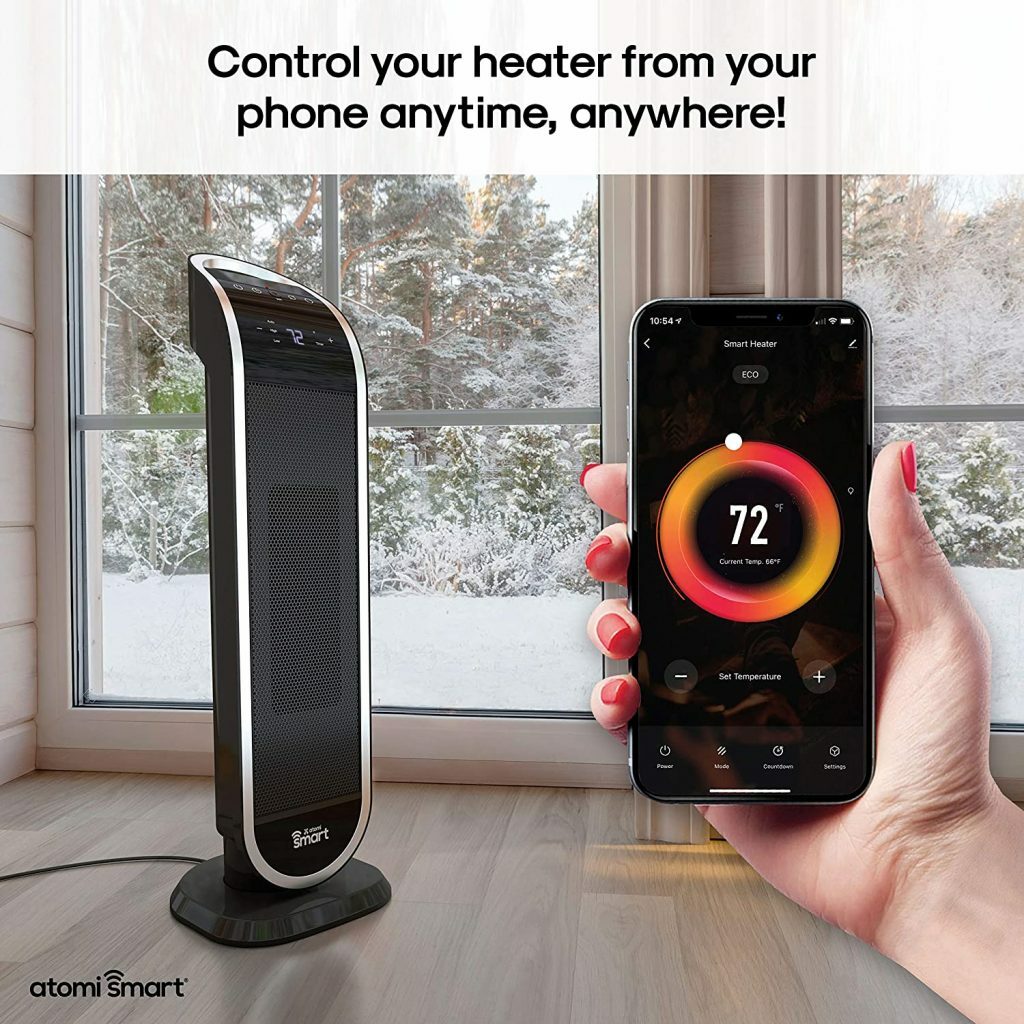 The Atomi comes with an integrated touchscreen panel for easy controls.
At the top of the tower are five buttons: power, timer, Wi-Fi connection, oscillation, and low/high eco setting.  The screen itself displays the temperature in large digital numbers that I found easy to read from across the room—much easier compared to other models, like the Amazon Basics Tower Space Heater.
Raising and lowering the temperature or switching it between low/high eco settings is easy thanks to the built-in buttons.
---
Using the Atomi Smart Space Heater App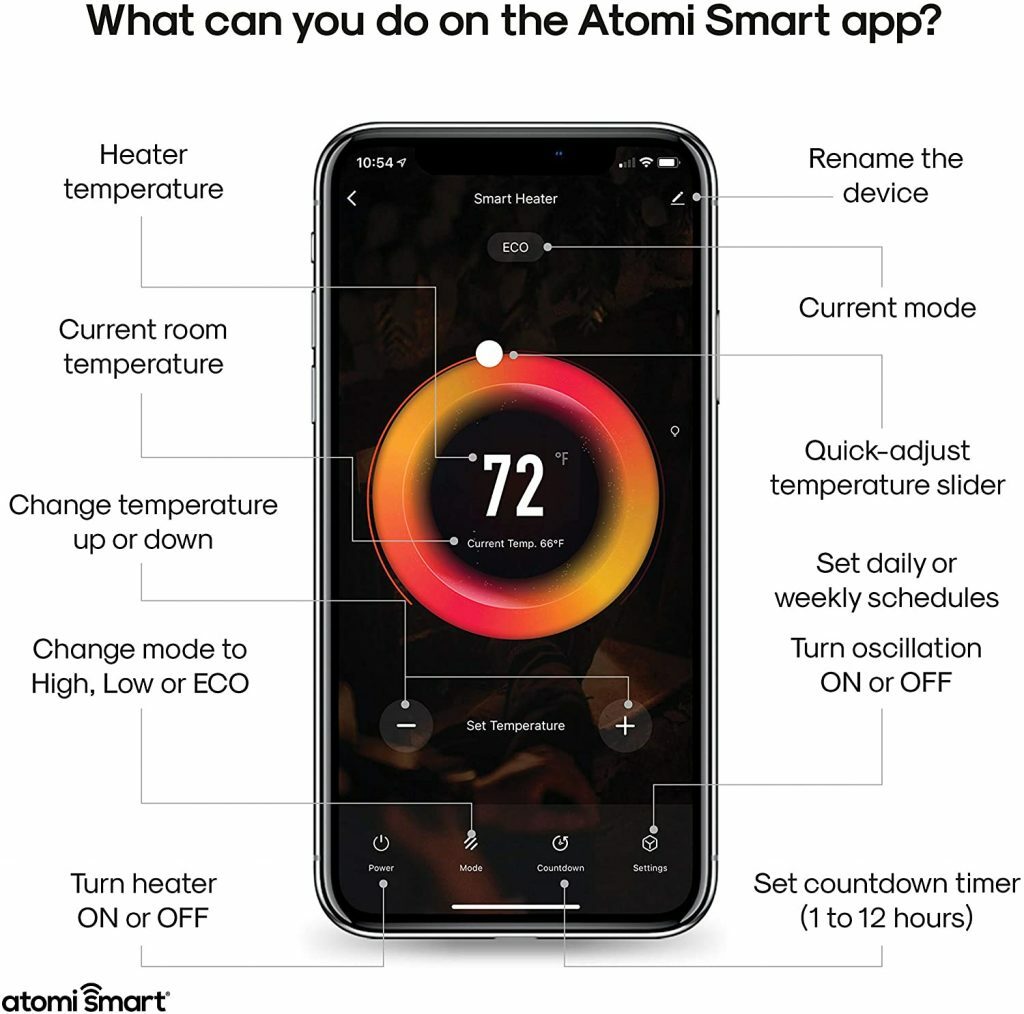 The Atomi Smart App makes it even easier to control the heater without needing to stand up—totally eliminating the need for a separate remote control.
Installing and setting up the app takes a couple of minutes, and the instruction manual walks you through the process of connecting the heater to your home Wi-Fi network and then pairing it with your phone.
Once the heater is paired to your phone, you have a wide array of options to choose from: adjusting the heat, switching oscillation on/off, setting the timer. You'll love how easy it is to set a schedule to switch the heater on and off at precise times of the day, so the room will be warm when you need it but the heater turns off when you're out of the room to reduce energy waste.
Compared to other smart home apps I've tested—such as the Dyson or Nest apps—the Atomi Smart App was definitely one of the more intuitive and user-friendly operating systems to use. I like it much better than my UKOKE smart A/C unit app that I cover on my YouTube channel.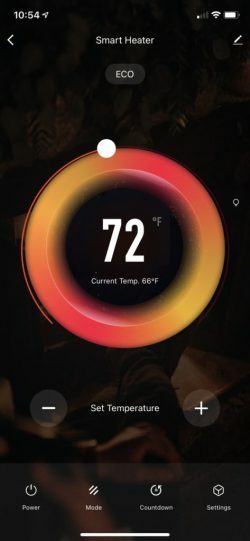 You can even control multiple heaters in the same house, pairing them together to create a highly efficient heating schedule for every room. Here's what the scheduling screen looks like. Super easy!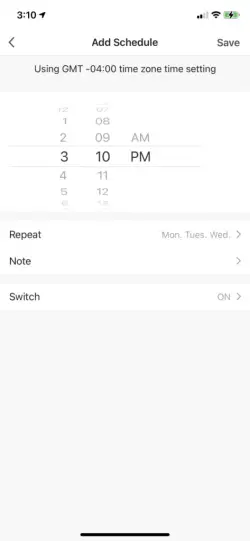 Wxrayreview gives a nice quick demonstration of the phone app and how to operate the Atomi smart heater.
---
Using the Atomi Tower Heater with Alexa and Google Assistant
The Atomi Smart App connects the heater to your Wi-Fi network, which then allows you to access the Atomi heater via the Amazon Alexa or Google Assistant apps. Once the heater is set up, it connects quickly to your smart home apps for easy voice control.
The commands available through Alexa and Google Assistant are fairly simple. The Atomi Smart website has a full list available here. Here is a breakdown of the basics:
Atomi Heater Alexa Commands:
"Alexa, turn on/off [device name]"
"Alexa, increase/decrease the [device name] temperature by X degrees"
"Alexa, what's the [device name] temperature?"
"Alexa, turn on/off oscillate on the [device name]"
Alexa, turn on/off the light on the [device name]"
Atomi Heater Google Assistant Commands:
"Hey Google, turn on/off [device name]"
"Hey Google, increase/decrease the [device name] temperature by X degrees"
"Hey Google, what's the [device name] temperature?"
"Hey Google, what's the status of the [device name]?"
"Hey Google, turn on/off oscillate on the [device name]"
---
What I Didn't Like About the Atomi Wifi Tower Heater
There were really only two complaints that we had about the Atomi Smart Heater:
It emitted an unpleasant odor when I first started using it like something was burning. Other users posting reviews on both Reddit and Amazon noted the same problem. Turns out it's a problem that even Atomi admits on their website, explaining, "It is possible that a new heater will produce an odor when first used. This is normal and should go away after the heater has been used for a while." Sure enough, after about 3 hours, the smell was gone.
The red Wi-Fi light doesn't shut off. I'm a very light sleeper, and when I'm trying to nap in a dark room, the light was annoying and makes it hard to sleep. I put a little piece of black tape over it and problem solved!
---
Verdict: Atomi Space Heater Review: Is It Worth it?
Compare the Atomi to other similar tower space heater models, and you'll find that the price tag is about 10-25% lower than many competitors and almost 80% less than the leader in this space (Dyson). Given its quality, the user-friendliness of its smartphone app, and its built-in safety features, it's definitely an option I'd consider on its own.
Factoring in the lower-than-average price and three-year warranty, I'm convinced that it's a great option to consider if you want a smart heater for your home office, game room, master bedroom, or living room.
Stay toasty, my friends! I hope you found my Atomi space heater review helpful.
Speaking of which, if you want to see some additional options and price points, check out this post I wrote on the  11 Best Smart Space Heaters  [5 Work with Alexa].