Affiliate Disclosure
As an Amazon affiliate, I earn from qualifying purchases.
In this post, I provide four solutions to the curious challenge of how to connect Amazon Alexa to college dorm Wi-Fi. These tips will work with Google Assistant and other smart speakers as well.
You basically have four options:
I will explain each option in more detail in this post and walk through each one step by step.
Alexa Goes to College
A
h yes, back to school…..it's that time of year again where young "co-eds" (
both male and female
) everywhere converge on college campuses across the world.
If recent reports in the media are true, many students will be introducing their smart speaker to their dorms and apartments for the first time [source Alexa Goes to College, USA Today].
However, depending on your college or university's Wi-Fi configuration, getting your Echo Dot, Spot, Show or smart speaker to play nice with your college network is not an elementary endeavor.
Fear not, young padawan!  I am here to hook you up some workarounds that will have you playing Song Quiz with your college roomies in no time flat.
---
The Backstory
Last year, my older son Chris gave his girlfriend an Amazon Echo Dot for Christmas.
She has been living full time on campus at Salem State University in MA, and they were both excited to use the Echo Dot in her dorm room.
However, when they tried to set it up as a new device in the Alexa app, they received a general and cryptic "This device is not compatible" error message.
Bummer.
With both of my sons planning to begin their own first-year college and my younger son Casey living away at UMass Lowell, I thought what better time than now to research this issue and solve it for them and others.
---
The Problem
Many universities use special security or peer-to-peer (P2P) networks for college campus Wi-Fi. This means that getting your favorite Amazon Alexa or Google Assistant device to play nice with your campus network can be a challenge.
They typically have security and other mechanisms in place that cause problems for Echo and Google smart speakers to connect to the network.
As this academic paper published by Neil Davie and Tobias Hilber of South Westphalia University of Applied Sciences confirms, getting Alexa to work on an enterprise dorm room network can be a challenge.
---
⚠️Caution: Check with Campus IT FIRST
A STRONG WORD OF CAUTION HERE: Creating a hotspot or having your own router or extender may violate some colleges and universities' IT policies. Some students out the forums have reported actually getting SUSPENDED for putting their own router on the campus network. Yikes! Be sure to check in with your campus IT department before going this route.
Man, I would be so mad if my son set up one of these based on a blog article he read and then got into trouble.
So please don't let me be that guy.  If you aren't sure about your school's policy, ask!
---
Four Potential Solutions
Option 1: Follow Your College or University Guidelines to Connect
To save yourself a lot of aggravation and possibly a little expense, check your campus help pages before you try either of the below.
Some schools publish instructions on how to get your assistant to work with their Wi-Fi configuration.
For example, West Virginia University has a page that shows students how to connect their Echo devices.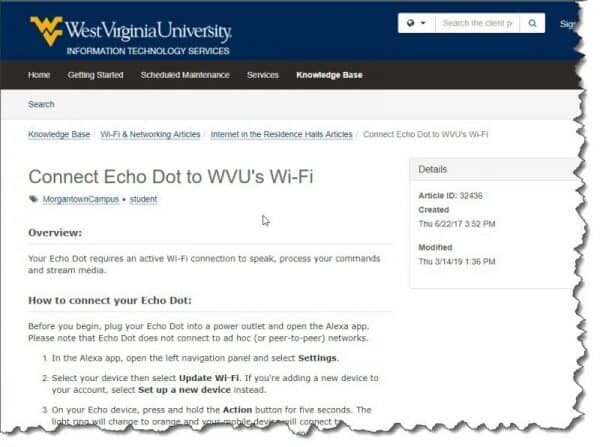 ---
Option 2: Ask IT to Add Your Device's MAC Address to the Network
The second solution on how to connect Amazon Alexa to college dorm Wi-Fi was offered up by a fellow Redditor as I was soliciting feedback on this article (thanks dheeraj1021).
Dheeraj suggests that you contact the IT department for your college or university and ask them to add the wireless MAC address for your Alexa device to the network.
Of course, your school's IT policy will need to allow for this, but it is certainly worth a shot.
Northwestern U. has some simple instructions here on how to get the MAC address for both Echo and Google Home.
Note that you will need to enter setup mode in order for Echo or Assistant to connect to the wireless network transmitted by your Echo device.
---
Option 3: Create a Hotspot with Connectify (Software)
The third solution is to use Connectify. Connectify is software that puts a wireless hotspot on your PC that basically acts like the router you hook Alexa up with at home.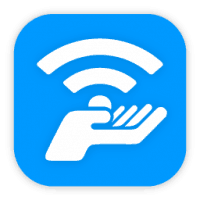 While your computer needs to be up and running and sending out a Wi-Fi signal to use Alexa, this is a simple and easy way to get Alexa and Google Assistant connected in your college dorm or apartment.
A ton of students out in the forums report success using this method. It also seems to work well for business travelers who have problems connecting their Echo Dot to hotel networks.
You can check out the latest pricing plans for Connectify via their website at https://www.connectify.me/
I'm not really a fan of the way they structured their pricing plans, but the PRO version should work just fine. There is also a cheaper "2019 version" that should work too.  I don't get a commission for recommending any Connectify plans, but I would say to stay away from the free version – students report that the ads can be super annoying.
Step 1 Go to Connectify.me and decide whether you want the free [ads] or paid version.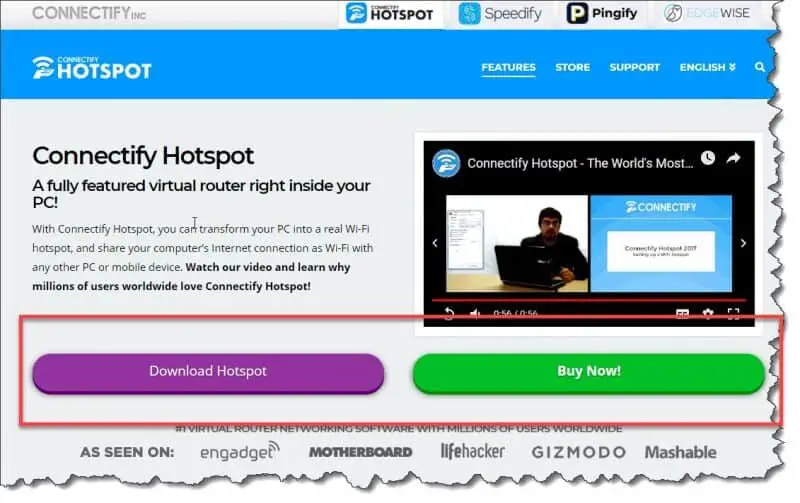 Step 2 Download and install the software onto your PC.
Step 3 Follow these excellent instructions over at Wikihow to configure Connectify.
Step 4 Set up Alexa as your normally would at home, BUT choose the Connectify hotspot instead of your campus network.
Guido's How-to's has a nice video tutorial that steps you through the setup. It's a bit dated but the steps are generally the same.
This is probably the most turn-key solution on how to connect Echo to your college campus wi-fi.
---
Option 4 Use a Router or Wi-Fi Extender (Hardware)
If you don't like the idea of relying on your computer being on 24/7 to use Alexa (think AM alarm clock), you can also get your own router or Wi-Fi extender.
You will need to have an Ethernet jack in your room in order to set up and configure a router.  Chances are you will have one (usually a wall or desk mount in most dorms), but if not this is a deal-breaker. Also, it is likely you will not have a spare jack, so you may need to buy a splitter for this purpose. TRENDnet has a great 5-Port splitter that you can get for pretty cheap on Amazon here. It looks like this:
Some universities do provide splitters though, so check with the IT department before purchasing.
Google Wi-Fi Extender and Linksys Dual-Band Wifi Router provide two solid options here. BUT again, be sure to check with your IT department to confirm these devices are allowed and compatible with your campus network.
Google Wi-Fi Extender looks like this:
You can check out the price at Amazon here.
Reviews.org has a nice YouTube video explaining the benefits of Google Wi-Fi and how it works.
The LinkSys router looks like this:
Here's an unboxing review of the LinkSys router from Techin' IT Reel. Great name, man!
---
Additional Advice and Resources
Here is a quick YouTube #shorts video that I put together that summarizes the above:
You can subscribe to my YouTube channel here.
Here are some additional resources that cover this topic from around the web:
---
How To Connect Alexa to College Dorm Wi-Fi: Are You Good?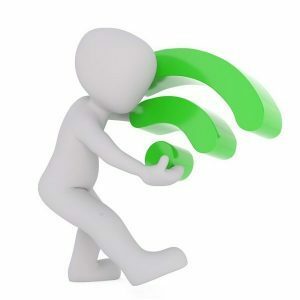 So what do you think about these methods to connect Amazon Alexa to college dorm wi-fi?
Are you using an Echo device,  Google Assistant, or another smart speaker?  The methods here should still apply regardless.
Were you successful in getting any of them to work?
If so, which one?  I would love to know. Please leave a quick comment below with the method you tried and either "success" or "fail."
Also, what university are you attending? Do they allow Alexa and Google on the campus Wi-Fi network?
Again, please leave a quick comment and let me know. I will publish every comment with the hope that you can use this page to help your fellow classmates.
---
Please Like and Share?
If you got some value from this article about how to connect Alexa to college dorm Wi-Fi, would you mind giving us a quick share on social media?
It just takes a minute, and you can use any of the colorful social media buttons along the top and near the bottom of this page.
Thanks! This really helps to spread the word about our blog and gives us a little boost in Google rankings.
---
Related Links
If you liked this post, you might also enjoy some of my other posts about college and smart speakers:
---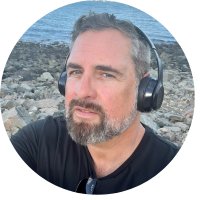 Tim Brennan, a tech blogger and host of the @TecTimmy YouTube channel, writes about smart homes at oneSmartcrib, home theaters at UniversalRemoteReviews, and AI in writing at Writeinteractive. He holds a Journalism degree from Northeastern University and has covered technology for three decades. He lives on the ocean in Nahant, Massachusetts.