Affiliate Disclosure
As an Amazon affiliate, I earn from qualifying purchases.
In this updated post, I review four viable ways how to make a dumb air conditioner smart. I will also review one potentially dangerous method you definitely want to avoid.
Note: 2/14/2023 – I am currently working on revising this post and the update should be complete by 2/15/2023. Happy Valentine's Day!
The three ways you can make your dumb AC smart are:
Install a smart AC controller.
Use a smart plug.
Invest in a smart thermostat.
Buy an actual smart air conditioner. 
OK, so the last one may be "cheating" but the lastest breed of smart ACs have gotten so good it would be unfair not to mention them.
How To Make A Dumb Air Conditioner Smart
E
specially for those of us in New England, the summer season comes and goes so fast. However, when the weather gets hot, sitting around in a hot house or apartment is no fun at all.
I like to keep things nice and cold all summer long. Nerd alert: my 25-year-old son Chris and I like to joke around that we like things "data center cold." This is even truer during those hot summer nights.
But running your air conditioner, especially an older "dumb" air conditioner all summer can be super expensive, according to the experts at HVAC.com.
But you and I don't need experts to tell us.  Even though I have electric heat, my "cooling" bill used to be nearly as much in the summer as my heating bill in the winter. Yikes!
That is, until last year.
What did I do?  I implemented two of the four methods I will cover in this post on how to automate a dumb air conditioner. Since then, my electric bills in the summer are nearly half of what I was paying before. Very cool.
---
1

Get A Smart AC Controller

This is my favorite and probably the most cost effective method of how to make your dumb air conditioner smart. A Smart AC controller is an add-on device that essentially turns your dumb air conditioner into a smart appliance. Here are the main benefits.
Control our Dumb AC using an App on Your Smartphone (Or Tablet)
This is especially neat if you want to crank up your AC when you leave the office for home on a hot summer evening.  But, you can literally do this from anywhere.  The app lets you adjust the temperature too.
Set Schedules to Save Energy (and Money)
In addition to remote control of your unit, you can also put it on a schedule so that it runs only during certain times, powers off and on, etc.  My unit is actually more powerful than what I need for my apartment, so I stop it for 40 minutes every few hours during the night.  This saves money while I sleep, which I love. ?
Leverage Geolocation Based On/Off Using Your Phone
Have you ever left the A/C running when you left the house?  I know I have. What a waste of money. Geolocation based control that works with your phone virtually eliminates this problem. Both iOS and Android are supported.
Get Voice Control of Your ACs with Amazon Echo, Google Home, and Apple Siri Too
Anyone who reads this blog regularly knows about my well-documented love affair with Alexa. With a smart AC controller you can use Alexa—or Google or Siri—to control your AC unit too.  Phrases like: Turn on the Bedroom AC, Lower temperature in the Living Room, etc. Cool.
What Are the Best Smart AC Controllers?
To see the differences between the best smart AC controllers, check out this article I wrote comparing Sensibo Sky vs Ceilo Breeze Plus vs Ambi vs Tado.
These are the biggest players in this space.
Since I own one and it has already saved me a ton of dough, I am partial to the Sensibo Sky. They are the market leader and make a great product.  This has paid for itself at least three times over in a single summer. You can also use it to adjust heating in conjunction with a smart thermostat.  I have not tried this yet but I plan to experiment in the Fall.
Here is
a link to Sensibo Sky over at Amazon
.
This is what the product looks like [photo from Amazon]:
The smartphone app is super intuitive, and it is easy to get this to work with Alexa.
Sensibo also supports pretty much every major top air conditioner brand on the market today. These include Carrier, Frigidaire, LG, Samsung, Panasonic, and many, many more.
You can check whether Sensibo works with your unit, here.
Other smart AC controller options available for purchase on Amazon include Cielo Breez, Eco, and Air Patrol. They are less expensive although the ratings are not as good.  I do not have first-hand experience with any of these products.
Honestly, if you run your dumb air conditioner a lot, just go with Sensibo.  It will more than pay for itself, it just works great, and the customer service is super helpful.
Thanks to the Gadget Whisperer for this helpful unboxing and detailed review of Sensibo Sky:
---
2

Use an Actual Smart Air Conditioner
While smart ACs were initially reported to have had a ton of problems, most of the problems have been ironed out over the past few years.
The main benefit is that you get all of the features that you get with a smart air conditioner controller built right into your unit. If you choose the right size for your room or space, these also do an exceptional job of cooling, probably better over the dumb model you are running. The cooling technology has gotten better.
What are the Best Smart Window and Portable ACs?
You can read my recent reviews of the seven best smart windows AC units here and the five best smart portable AC units here.
The thing to know out of the gate about the portable ones is that they need to be vented.  That is, you need to install a ventilation kit that vents out a window in your home. A lot of people don't know this and they end up returning these units in favor of a window unit. Anyhow, more on that in our review.
Here's a link to
the Frigidaire CoolConnect Smart AC at Amazon
.
---
3

Install a Smart Thermostat

Ok, it's time for the next option which is today is currently above my paygrade. But hey, I'm working on it! If you are fortunate to have central air installed in your home, the best way to make your dumb central air conditioning smart is with a smart thermostat.

These offer a variety of benefits for controlling your central AC. Benefits of smart thermostats include:
Both heating and cooling control
Ability to save energy with schedules and remote control capabilities
Integration with IFTTT to adjust temperatures based on the weather outside
"Learning" abilities that will automatically adjust the temperature based on your heating and cooling habits
How To Make Your Dumb Air Conditioner Smart with a Smart Thermostat
The best smart thermostats are Nest Learning Thermostat and the Ecobee 4. At the time of this writing, both thermostats share equally outstanding ratings on Amazon with more than 1,000 reviews.
You can see the Nest thermostat above.
I like the colorful interface of the Nest slightly better, even though I am technically color blind. LOL.
You can see the latest pricing for the
Nest Learning Thermostat over at Amazon here.
---
What Not to Do: Smart Plugs
While some smart home experts advocate the use of smart plugs as a solution to make your dumb AC smart, I would stay away from this or at least make 100% sure the implementation is safe. Why?  My understanding is that with some plugs, the on/off mechanism is the same as yanking the plug from the wall. This is why so many shy away from using smart plugs to control their television.  I definitely don't want my $2K TV to get fried for the added convenience of turning it off and on with Alexa. There are many better options for this. I blog about TV voice control options over at UniversalRemoteReviews.com if you are interested in learning more.
And ACs use way more power than your TV and often require that you install a special plug in the wall in order to support them. I am no electrician but there's something about the idea of popping a smart plug into one these sockets that worries me.
There are also some smart plugs on the market that are just plain junk and even worse are probably a fire hazard.
I have literally had a smart plug fry the lights in my Christmas tree this past year. I talk about this and some of the better benefits for uses of smart plugs, in this post. Stay away from those cheapo plugs. They really are junk.
If you do decide to use a smart plug to make your dumb AC smart, please please just consult with an electrician.  Again, Sensibo Sky is priced reasonably enough where this probably isn't worth the risk.
---
Conclusion and Recommendations
To wrap things up here's a summary of recommendations depending on your AC type:
If you want to make a dumb window or portable air conditioner smart, your best option is Sensibo Sky. This really is a great product paid for itself a few times over in a single summer.


If you want to make your dumb central air conditioning smart, go with a smart thermostat.  Two great choices are Nest and Ecobee. The Nest one looks way cooler in my opinion.  I will write a post about some additional smart thermostat options later this summer. I plan to purchase the Nest prior to the Fall.


If you are going to try to get by with a smart plug to control your AC, please make sure that you consult an electrician first. Based on first-hand experience, I am very leery of cheap smart plugs and whether or not they could be a potential fire hazard.
---
How to Make Dumb Air Conditioners Smart – Your Turn
So what do you think about these ways on how to make your dumb air conditioner smart?
Which method are you thinking about going with?
Either way, we would love to hear from you.  Please leave us a comment below and let us know.
Also, if there is an electrician out there who wants to way in on my thoughts about smart plugs, please do!
Oh, and if you liked this article, would you mind giving a quick share using any of the social media buttons at the top of this page?
Until next time, stay "data center cool!" Enjoy your summer. Well, maybe not as much as these guys.
---
You Might Also Like
If you enjoyed this post about how to make your dumb air conditioner smart, you might also like some of our other articles:
---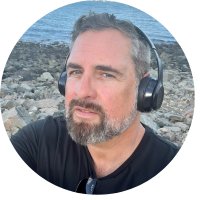 Tim Brennan, a tech blogger and host of the @TecTimmy YouTube channel, writes about smart homes at oneSmartcrib, home theaters at UniversalRemoteReviews, and AI in writing at Writeinteractive. He holds a Journalism degree from Northeastern University and has covered technology for three decades. He lives on the ocean in Nahant, Massachusetts.