Affiliate Disclosure
As an Amazon affiliate, I earn from qualifying purchases.
Have you ever wondered what happens with smart lights after a power outage?
Well, if you have Phillips Hue lights and don't make this change, they could ALL come back on. Even in the middle of the night, while you are sleeping.
In this post, I will show you exactly what you need to do to prevent this from happening.
⚡Want the short answer on how to prevent your Hue lights from coming on after a power outage? You must update the 'Power On Behavior' settings for all your Hue bulbs using the Philips Hue App. Go through every bulb and choose 'Power Loss Recovery' mode.
---
A Rude Awakening

L
ast night, the power went out around 3:30 AM. I probably would have slept soundly through it had it not been for EVERY Phillips Hue "smart" light in my house turning on.
Bummer. I felt like the guy under the covers in the featured image of this post.
To add insult to injury, it took Alexa a few minutes to boot up after the lights came on. So, by the time I could get her to turn them off, I was WIDE awake.
So I started looking for a fix and found the solution, and then I thought: BLOG POST.
⚡Related: Hue Play Vs Bloom Vs Go Vs Iris
---
What Happens To Philips Hue Lights When The Power Goes Out?
This section is going to be very short.
If you want to know what happens to your Hue lights when the power goes out, the answer is quite simple. Since they require a little thing called "electricity" your Phillips Hue lights go out when the power goes out.
Mic drop, followed by an obligatory transmission tower image.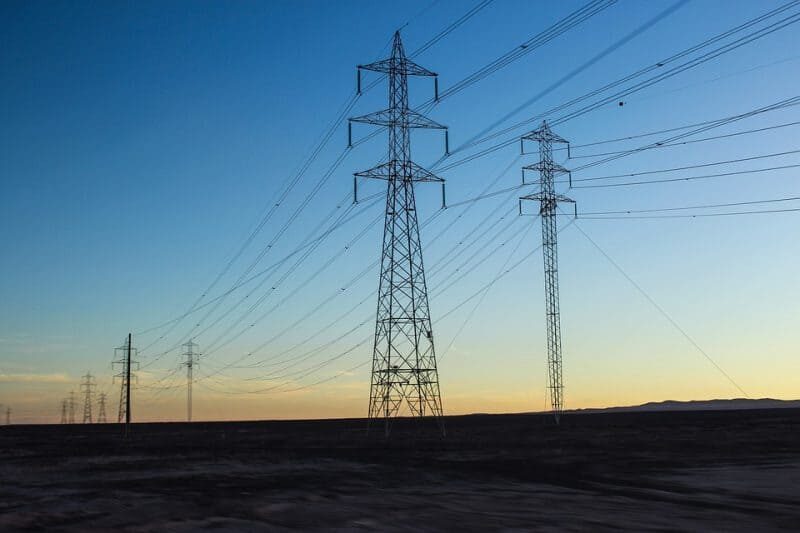 Did you know they were called that?  I had to look it up.
Now let's move on to where things get a bit more interesting.
---
What Happens When The Power Comes Back On?
There are two scenarios of what will happen with your Phillips Hue lights after a power outage.
Scenario 1: Lights Turn On
ALL of the lights connected to your Hue Hub turn on. [Yip, HELLO, rude awakening!]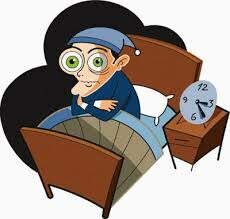 This is DESPITE the state they were in before the time of the outage. It also includes your outside lights as well as inside lights that are connected to the Hue Hub.
⚡Related: 5 Best Hue Outdoor Lights
Scenario 2: Lights Stay Off
If you update the appropriate setting in your Philip Hue app, your lights will stay off. [Yay, snooze city.]
Why on earth Hue hasn't made this the default behavior of the app and Hub, I don't know.
BUT, I am here to help you enjoy a solid slumber, sleepy pants.
In the next section, I'll walk you through updating your app settings step-by-step, so you can enjoy a blissful nights sleep, even when there is a power blip.
---
How To Stop Philips Hue Lights from Turning On After Power Loss: Step By Step
⚠️Important: This procedure applies to the Philips Hue Bridge only. If you use Echo Plus or another hub to control your lights you can't adjust this setting. The Philips Hue app won't work without a Hue Bridge.
Step1Make sure you have the latest version of the Philips Hue app.
To do this, you can follow Philips advice here [link opens in new window]. Or simply go to your friendly neighborhood app store for iOS or Android, and click the Update button.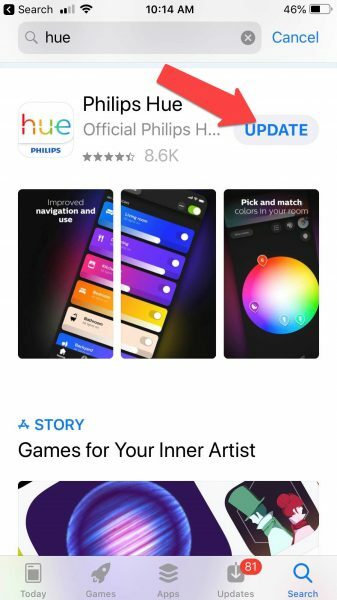 [My app was sadly out of date. Shame on me.]
Next is where the real magic happens.
Step2Open the Hue app, and click the Settings icon at the bottom of the screen.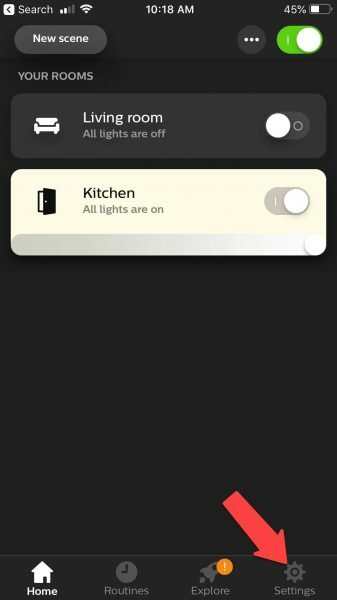 Step3On the Settings screen, scroll down to Power-On Behavior and click it.
NOTE: If any of the bulbs say Not Supported, then you'll need to run a software update first (also within the Settings menu). Otherwise, tap on a bulb to change its power-on behavior.
Step4Click on the first bulb in your list.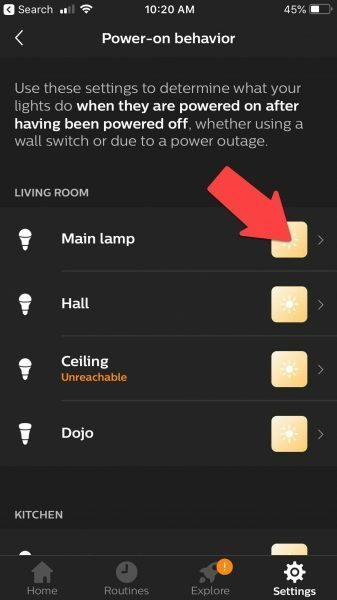 You'll have three options [maybe]:
Philips Hue Default – lights turn on with power removal and restoration [boo].
Power Loss Recovery – switches the bulb to the last-used state it was in before it lost power [yay].
Custom – if you have colored bulbs you can customize the settings for power on behavior [overkill].
Step5If you want to avoid a rude awakening when the power comes back on, change this setting to Power loss recovery.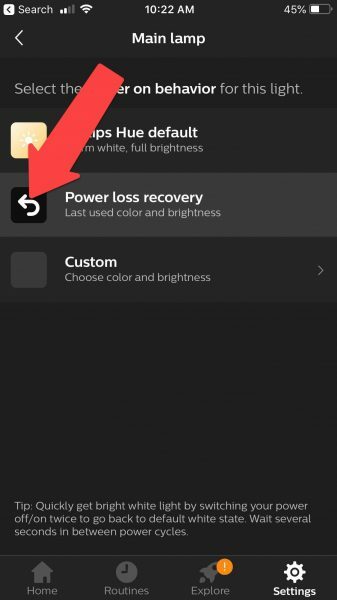 Step6Now, go through and do this for ALL of your lights that you don't want to come on when the power comes back.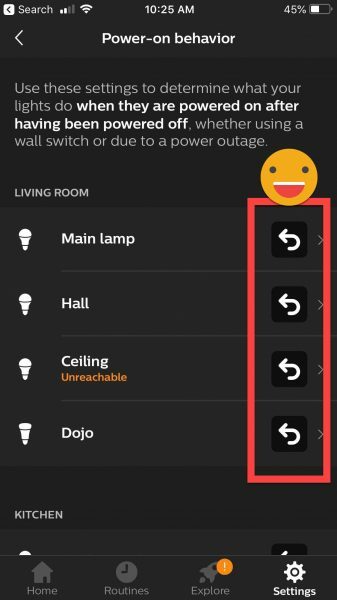 That's it! Now run over to your fuse box and throw the power to test it out! Just kidding….
---
Is There Any Reason I Wouldn't Want to Enable This Setting?
The only reason I can think of for NOT choosing this setting is that if you control your Hue lights using a  wall switch and only a wall switch.  This would actually be counter-intuitive to the whole point of smart lights so I can't imagine why you would.
---
Some Neat Philips Hue Lighting Ideas
Now that we figured out how to prevent Philips bulbs from keeping us up at night, check out some of these neat Hue lighting ideas over at Amazon that might complement your existing setup.
Image
Title
Prime
Buy

Top

Top

Top

Top

Philips Hue White and Color Ambiance A19 E26 LED Smart Bulb, Bluetooth & Zigbee Compatible (Hue Hub Optional), Works with Alexa & Google Assistant – A Certified for Humans Device (562785),3 Pack

Prime

Eligible

SHOP NOW

Top

Top

Top

Top

Philips Hue Go White and Color Portable Dimmable LED (Bluetooth & Zigbee) Smart Light Table Lamp, White

Prime

Eligible

SHOP NOW

Top

Top

Top

Top

Philips Hue Play White & Color Smart Light, 2 Pack Base kit, Hub Required/Power Supply Included (Works with Amazon Alexa, Apple Homekit & Google Home)

Prime

Eligible

SHOP NOW

Top

Top

Top

Top

Philips Hue Gradient LightStrip 65" (Sync with TV, Music and Gaming), Hue Hub & Hue Sync Box Required

Prime

Eligible

SHOP NOW

Top

Top

Top

Top

Philips Hue Smart Button for Hue Smart Lights, Smart Light Control, (Hue Hub required)

Prime

Eligible

SHOP NOW
---
Conclusion
Until Philips Hue updates the Power Loss Recovery setting to the default, there will surely be more people like me who get woken up in the middle of the night due to a power outage.
But by following the steps, I've outlined above you can help to ensure an uninterrupted night's sleep.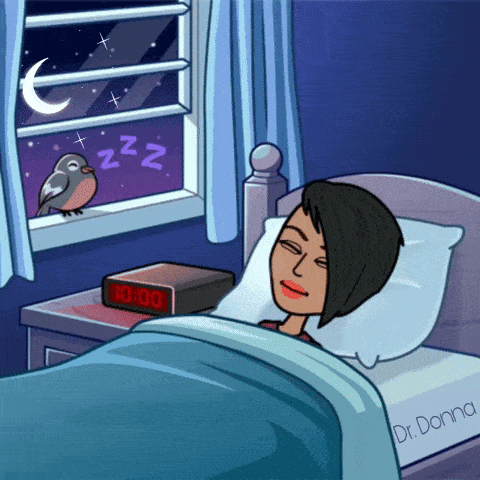 Sleep well, friends.
---
Philips Hue Power Outage: Did This Help?
So, what do you think about this article?  Did you find in it helpful in dealing with the next Philips Hue power outage situation?
Have you recently lost sleep due to this happening like me? What do you think of some of the Hue products I recommended above.
I think Hue lights are awesome–just so long as they don't wake me up.
Please let us know your thoughts by leaving a comment below.
---
Related Posts
If you enjoyed reading this post, you might also like some of our other posts about Amazon Echo devices and Alexa.  Here are a few summerish ones!
---
Please Like and Share
By the way, if you were able to get some value from this post, would you do us a huge favor and share it via your favorite social media channel? It just takes a few seconds using the colorful social media buttons along the top and bottom of this page.
It really helps us spread the word about our blog and gives us a little boost in Google rankings too.
Thanks for your support!
---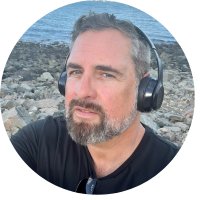 Tim Brennan, a tech blogger and host of the @TecTimmy YouTube channel, writes about smart homes at oneSmartcrib, home theaters at UniversalRemoteReviews, and AI in writing at Writeinteractive. He holds a Journalism degree from Northeastern University and has covered technology for three decades. He lives on the ocean in Nahant, Massachusetts.