In this article, I review the 17 best smart kitchen gadgets under $300 $200, and $100 respectively. Heck, I'll also include a couple of smart kitchen gadgets under $50.
Among them is a blender that displays nutritional data on your smartphone, a smart kitchen scale that works with your iPad, and a trashcan that opens on command.
Here are my picks for the best smart kitchen gadgets organized by price:
You can use the links above to jump down to the section for your budget or peruse the full table of contents below. All of my picks make great gifts that you can give at the holidays, weddings, showers, or as birthday gifts any time of year.
I'll include some handy price comparison tables so you can compare the products in each category at a glance as well as go into more detail about each product.
Sound ok? Let's get you some smart kitchen gadgets.
---
Make Your Kitchen Smarter
Ah yes, the best smart kitchen gadgets — toasters, coffee makers, slow cookers, blenders, moppers, mixers, scales, and—
BAM!
[Remember Emeril Lagasse's cooking show on
Food Network
? I used to love when he did that whole BAM thing. He also has a killer
turkey-sausage chili recipe
.]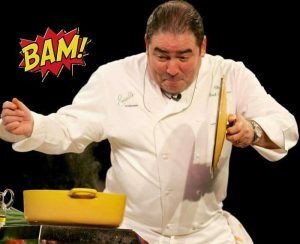 The best smart kitchen appliances can help make your life easier in the kitchen—and more fun.
Like Emeril, they can also help you to "kick it up a notch."
The future of cooking looks bright. So bright in fact, that the global smart appliances revenue is projected to show an annual growth rate (CAGR 2022-2026) of 12.03%, resulting in a projected market volume of US$14.84bn by 2026 (source: Statistica). Household penetration will be 7.4% in 2021 and is expected to hit 18.9% by 2025.
That's some pretty crazy growth, right?
So now that we know you, Emeril, and I are in good company, let's dive a little deeper into the smart kitchen technology gadgets for this year and beyond.
They're great to give as gifts, especially to yourself. 😉
---
Best Smart Kitchen Gadgets Under $300
Here is a summary of my top picks of the best smart kitchen gadgets for under $300:
#1 → Tricked-Out Smart Display: Facebook Portal Plus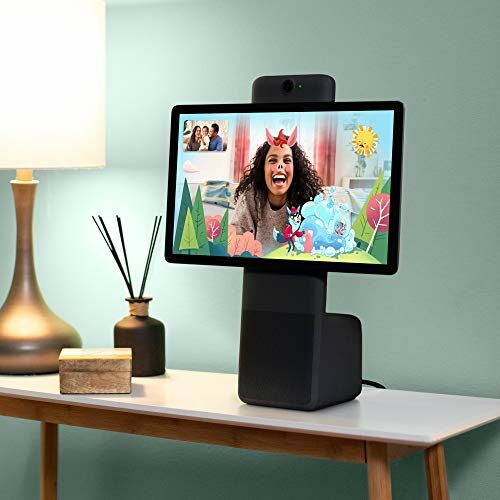 Awesomeness Meter
I think Facebook Portal Plus is the coolest of the smart displays, mainly because it has the largest monitor and it lets you rotate it into Portrait mode. This can be a huge space saver in the kitchen and is super helpful where guided recipes and video calls are concerned.
I have mine in my galley-style kitchen with an Echo Show on the counter across from it.
Speaking of video calls, Portal is the only speaker right now that will actually follow you around the room to keep you in the Frame during your calls. Amazon has added this to the new (smaller) Echo Show 10, but it is not available just yet.
There are lots more features as well. Check out my comparison of the Facebook Portal Plus vs Amazon Echo Show vs Google Nest Hub if you are interested in learning more.
#2 → Wall Display: Echo Show 15
Awesomeness Meter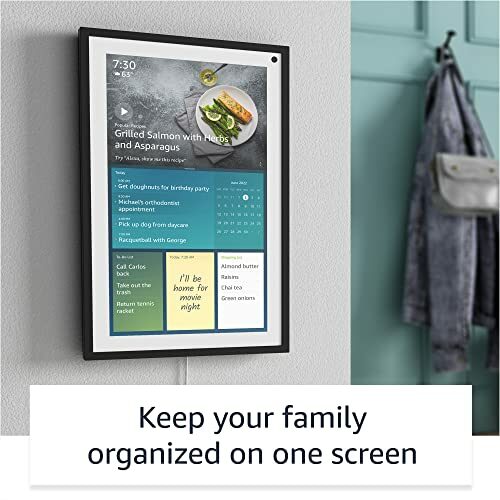 I got the wall-mountable Echo Show 15 as a Christmas gift this year.  I have been so busy I haven't had time to take it out of the box as of yet.  Here it is. [Sigh.]
My friends have one though and I absolutely love that the display is wall mountable. You can use it as a bulletin board for your entire household. I am most looking forward to using it as a calendar so I can keep track of my schedule and have it displayed on the wall entryway to my kitchen. This will make a nice compliment to my (9) other Echo devices here for sure. Stay tuned for a YouTube unboxing video and review coming over on my YouTube channel very soon!
#3 → Smart Toaster: Breville Die-Cast 4 Slice
Awesomeness Meter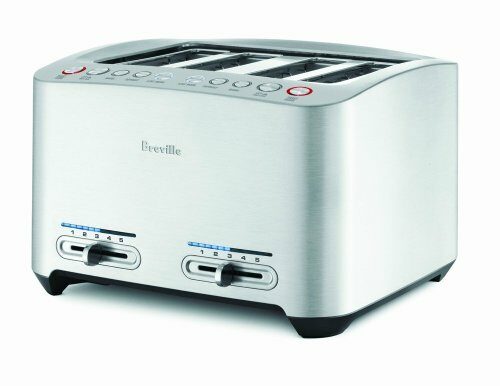 When we initially started searching for the perfect smart toaster, we went looking for one that was compatible with our smartphones and Alexa. Then we thought for a minute. Why on earth would we want to control a toaster with our smartphones? LOL. I mean, you've got to stick some bread in the darn thing anyway right?
The Breville Die-Cast 4-Slice Smart Toaster has some pretty smart technology even without your phone, Alexa, or Siri. For example, one really cool thing about it is that it's motorized. Your bread/toast falls and rises like an elevator scene from your favorite movie. The one-button toaster lets you preview your toast during the baking, er toasting, and cycle. Moreover, it is safe to touch the outside even after heating.
This is good news for "someone" who "may" have burnt his hands putting away an old school toaster in the past. But we won't name any names here. You can also get the Die-Cast Two-Slice Model with pretty much the same feature set.
---
Best Smart Kitchen Gadgets Under $200
Here is a summary of my picks for best smart kitchen gadgets for under $200 followed by mini-reviews of each product.
#4 → Smarter Blender: Nutribullet Balance
Awesomeness Meter
Know a smoothie nut? Then the Bluetooth-enabled Balance Smart Blender from Nutribullet with the "world's first nutrient extractor" would make a perfect gift. The Nutribullet Balance app connects to your smartphone and sends nutritional information in real-time as you add it to the blender bottle.
This device is freakishly accurate in our testing and probably one of the smartest devices we've come across. Add spinach to the cup, and it automatically displays how much you've added as well as nutritional data on your connected device. Now you'll know how many calories, fat, carbs, and proteins you're consuming in every drink. Now you can go ahead and make that guilt-free green smoothie. Yum. Just go easy on the yogurt. 😉
#5  → Indoor Hydroponic Garden: AeroGarden
If you aren't familiar with hydroponics, it basically the science of growing plants in a door without the use of soil. The science has gotten so good in fact, that it is practically impossible to fail.  AeroGarden from MiracleGrow (yes that MiracleGrow) makes some of the best smart hydroponics systems out there. They have a wi-fi-enabled one that lets you track and feed your plants via your smartphone, but that is probably overkill for most.
I'm going to recommend a slightly less smart and more affordable version that comes in a cool-looking stainless steel finish that will look pretty spectacular in your kitchen. The people who grow using these systems love them. I wrote a blog post a while back about some of the best smart hydroponics systems for beginners if you are interested in learning more.
#6 → Alexa 10″ Display: Echo Show 8
Awesomeness Meter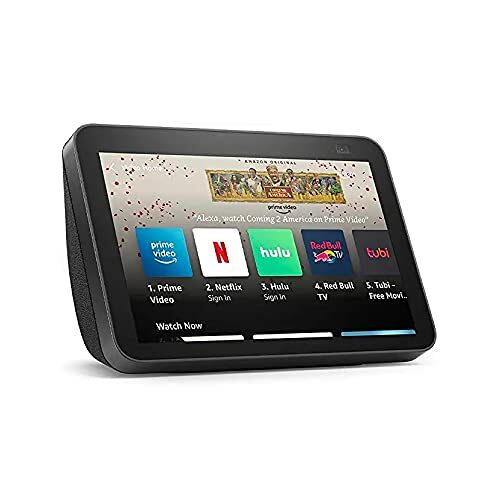 While I own both the Echo Show 2nd Gen and the Echo Show 8, I have my 2nd Gen Show displayed proudly on my kitchen counter and my I use my Echo Show 8 in my bedroom. However, the Echo Show 8 is less expensive than the larger 2nd Generation Show and I understand now everyone is as crazy as I am about having smart screens all over the place. LOL.
That said, the Echo Show 8 offers pretty much all of the benefits as the 2nd Gen Show in the kitchen. You can use it to browse recipes, set timers, check the weather, browse YouTube, control other Alexa-enabled devices, make video calls, and much more. The Echo Show 5 could potentially work in the kitchen as well, although with my eyesight I find it is helpful having a larger screen in the kitchen. Check out this post I wrote if you want a breakdown of the technical differences between the Echo Show 8 vs 5 vs 2nd Gen.
#7 → Alexa-Enabled Slowcooker: Crockpot 6 Quart
Awesomeness Meter
I don't know about you but I have always loved using my slow cooker. The ability to make simple meals that are savory and delicious and to set it and forget has been a boon for a bachelor like me. This latest Crockpot from the champ of slow cookers takes the convenience factor a step further.
You can ask Alexa to start or stop the slow cooker, program cook times, adjust heat settings, and even check the status of your meal from anywhere. You don't even need an Alexa-enabled device for it to work as you can control it using the free Alexa app on your phone or tablet. However, just asking Alexa via my Echo Show sitting on my kitchen counter just makes the experience even more magical. You can program cook times from 30 minutes to 20 hours and even adjust cook settings while you are away from home. Smart.
#8 → Sous Vide Cooker: Anova Culinary
Awesomeness Meter
Next on our list of best smart kitchen technology appliances and gadgets is the Anova Culinary Sous Vide Precision Cooker. I have to admit, I was a bit lukewarm to the idea of "precision cooking" before I started researching this article. How does it differ from cooking on the stovetop or grill, I wondered? Bill Clark from Anova's own Culinary Sous Vide Precision Cooker offers a great explanation. [You can see a video interview with him on Amazon's product page.]
"Grilling leaves hot spots and cold spots and everything in between…with precision cooking you get your desired doneness all way through," Clark said.
Cooking with Sous Vide is simple. You just fill a pot with water, clip the cooker, sync it to the app, put your food in a plastic bag, and clamp the bag into the water. If you're interested in learning more about Sous Vide cooking, check out this great video guide for beginners from Martha Stewart's Everyday Food.
Again, the benefit is that it allows you to cook your food to the desired temperature with precision. This not only ensures the food is cooked at the right temperature for taste but it addresses health concerns about under-cooked food as well.
#9 → Budget Robot Mop: iRobot Braava Jet 240
Especially during busy times of the year like the holidays or when you are entertaining, there is no better way to clean up your messy kitchen and bathroom floors than having to do nothing at all! Robot mops and vacuums used to be too expensive to be affordable for most. Thankfully, this is no longer the case, and these are now more affordable than ever. While there is a ton of competing products in this space, the iRobot Braava Jet 240 is a wonderful budget option in robot moppers.
People who own this mop rave about it and you can't beat the price. It gets into hard-to-reach places, including under and around toilets, into corners, and below cabinets, using an efficient, systematic cleaning pattern.  It's also pretty versatile and has options for both wet and dry sweeping.  Totally a back saver. If you want to see some additional options, check out this article I wrote comparing the Roborock s7 vs Braava m6 vs 360 robot mops.
---
Smart Kitchen Gadgets Under $100
The following table provides a summary of my picks for the best smart kitchen gadgets under $100:
#10 → Touch-Free Trashcan: iTouchless SensorCan
Awesomeness Meter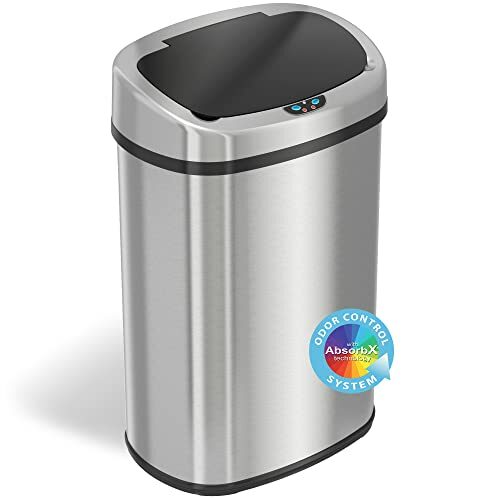 Germophobes rejoice! The iTouchless 13 Gallon SensorCan KitchenTrash Can with Odor Filter makes having to touch any part of your trashcan on a regular basis a thing of the past. In fact, the only time you'll need to put your hands on this puppy is when it comes time to change the bag.
The iTouchless 13 Gallon SensorCan Kitchen Trash Can is 100% touchless and hygienic. Just the motion of your hand opens the lids automatically! Avoid exposure to the illness-causing germs and bacteria that live on trash can surfaces; it's a hygienic and convenient choice. The included 1 AbsorbX Natural Activated Carbon Odor Filter absorbs and neutralizes trash odors, for a healthier and fresh, and clean-smelling home.
This affordable model is a popular choice over at Amazon.
#11 → Alexa Coffee Maker Hamilton Beach
Awesomeness Meter
Wouldn't it be cool if you just have Alexa fire up the coffee maker for you in the morning so that you can have a nice hot cup of Joe waiting right when you get out of bed?  You can. "Alexa, turn on my coffee maker"  is now a reality with this gem from Hamilton Beach. You can ask Alexa to turn on your coffee maker to brew up to 12 cups in the glass carafe.
Have a favorite coffee? Add it easily using the swing-out brew basket and pour in water without pulling the coffee maker out from under the cabinets, thanks to the front-fill water reservoir. You can even choose your desired brew strength — regular or bold — through the Alexa app, via voice command, or manually. The Hamilton Beach Coffee Maker works with the Alexa app or with Amazon Echo devices, such as Amazon Echo Plus, Echo Dot, Echo Spot, Echo Show, and more.
#12 → Connected Kitchen Scale: Drop
Awesomeness Meter
If you like to try new recipes AND you have an iPad, the Drop Connected Kitchen Scale can give you a productivity boost in the kitchen. For around $100 depending on where you shop, the Drop connects to your iPad and gives you step-by-step instructions for cooking a variety of delectable delights.
The app weighs ingredients as you go and tells you when you've added enough. Oh, and if you want to use it as a scale to weigh out your breakfast granola or gym meals, it does that as well.
Check out this video from Ben Harris, CEO of Drop explaining drop's vision for a "connected kitchen." Great accent dude!

Editor's Tip: This product is designed to work with an iPad. Customers have complained about trying to get it to work with their smartphones. Also, you'll need a current version of the iPad, so be sure to check the requirements carefully before you buy one.
---
#13 → Dual Prob Kitchen Thermometer: iDevices
Awesomeness Meter
The iDevices Smart Kitchen Thermometer is another one of our favorite best small kitchen appliances for your smart home kitchen. This little tech gadget simply does what it was designed to do and it does it well. That is, it monitors the cooking temperature of whatever you are stewing, roasting, broiling, or baking and notifies on your smartphone when it's done. The thermometer automatically syncs up with the iDevices app on your iOS-connected device. It then displays the real-time temperature of what you are cooking and notifies you when dinner is ready.
Two probes allow you to select two different zones to ensure the desired doneness. The app also includes a variety of recipes if you're looking for new ideas. This is one of our most essential smart kitchen technology appliances and gadgets on our list for any aspiring cook.
#14 → Kitchen Ambience: Philips Hue Lightstrip
Awesomeness Meter
Last on our list of smart kitchen appliances is a bright idea for your smart home kitchen. What is it?  An idea I LOVE ♥—smart LED lighting in the kitchen. Why? It just looks cool. LED light strips to help create a perfect ambiance whether you are dining, cooking, or entertaining. Stick them under countertops, around kitchen islands, under cabinets, or where the wall meets the ceiling.
They give off a perfect splash of colorful light to help lift your mood. Oh, and they also go great with a full-bodied Cote de Nuits. I like the Philips Hue White and Color Ambiance Lightstrip for its reliability, smart device compatibility, and ability to bend and install easily. There are also less expensive options available. By the way, these look great behind your living room TV, too.
---
Best Smart Kitchen Gadgets Under $50
Here is a summary of my picks for the best smart kitchen gadgets under $50.
#15 → Pizza Pizzazz: Presto Plus
Awesomeness Meter
Impress your friends — or maybe your kids or your significant other — with your tech-savviness while you whip them up a hot and delicious pizza cooked to perfection every time. You can add all of your favorite toppings can it does a great job on both fresh and frozen pizzas.
You can even use its rotating action to cook, up some perfect chicken wings and nuggets, jalapeño poppers, pizza rolls, fish fillets, egg rolls, and more. It also can be used to make quesadillas and grilled sandwiches to boot! Yum!
#16 → Budget Kitchen Scale: Homeever
Awesomeness Meter
Currently, this is Amazon's Choice for a connected kitchen scale and I can see why. The interface works just like a regular scale making it super easy to use. It offers multiple units of measure (grams, ounces, pounds, kilograms, and milliliters)  and includes a tare function that makes it subtract the weight of containers, etc.
This makes it super convenient for you to measure the pure weight of the food or liquid inside your containers, pots, pans, etc.
---
Best Smart Kitchen Appliances – Your Turn
Without question, the Internet of Things [IoT] is alive and well in the kitchen.  And the future of cooking sure looks bright [source: Epicurious.com].
So what do you think about our picks for the best smart kitchen gadgets this year?
Do you plan to purchase any of this tech? Perhaps you have a favorite essential kitchen device you feel I missed?
If so, I would love to hear about it. Please leave a comment below and let me know.
Also, if you enjoyed this article would you mind giving us a social share using the buttons at the top or bottom of this page?  Thanks for your support!
You may also be interested in some of our other blog posts.  I'll include some links to similar posts below.
But most importantly, bon appétit!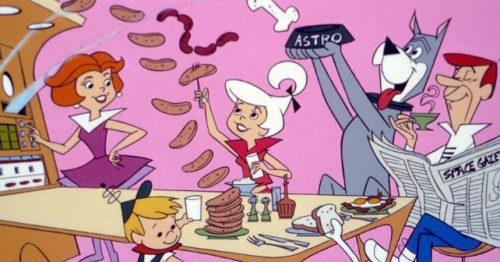 ---
You Might Also Like
If you enjoyed this article about the best smart kitchen gadgets under $300, $200, $100, & $50 you might also like:
---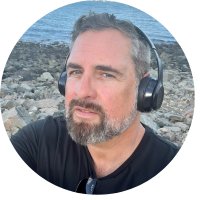 Tim Brennan, a tech blogger and host of the @TecTimmy YouTube channel, writes about smart homes at oneSmartcrib, home theaters at UniversalRemoteReviews, and AI in writing at Writeinteractive. He holds a Journalism degree from Northeastern University and has covered technology for three decades. He lives on the ocean in Nahant, Massachusetts.