In this article, I'll take a look at some of the best Philips Hue compatible motion sensors to automate both your indoor and outdoor lights.
The Top Hue Sensors and Alternatives
W
elcome to my exploration into the captivating world of motion sensors, the silent workhorse behind your automated lighting systems. As a seasoned user of Philips Hue lights and sensors, my passion for smart home technology has led me to experiment with some other popular motion sensor brands, including
LIFX
,
Sengled
,
SmartThings
, and
Zwave
, to name a few.

Motion sensors are the secret sauce of energy-efficient smart lighting. It's not just about asking Alexa to dim the lights but about using Hue-compatible motion sensors to optimize energy consumption—a smart devices field predicted by Statistica to grow exponentially through 2030.
So whether you're using the Philips Hue bridge, Hue bulbs, exploring the broader Hue ecosystem, or other smart home devices, motion sensors offer a world of possibilities. Stayed tune in as I share my insights on the best motion sensors to help you harness their full potential.
---
Hue Compatible Sensors & Options: Comparison Table
Here are my recommendations in a convenient table. Click on the Check Price button to see the up-to-the-minute price over at Amazon.
---
Best For Indoors: Phillips Hue Motion Sensor
If you want the best of the Hue compatible motion sensors, go with a Philips Hue sensor!
It does require the Hue Hub and bulbs in order to get it to work, but like Hue lights, this works as advertised.  The Philips Hue Indoor Motion Sensor will help to save energy by not having the lights on all the time, which will also save you some cold hard cash.
It even has a built-in light sensor so that it will conserve energy during the day. (If the room is already bright, the lights won't turn on).
The sensors can be placed anywhere you want to detect motion, or you can mount it to a wall using the provided screw. This does not interfere with your current schedules or Alexa integration.  I have one in my hallway, living room, and bedroom, and it works great.
Thanks to our friends at TWiT Netcast Network for the helpful video review. Sweet studio setup, guys!
Hub Required?
Yes, Philips Hue Hub is required.
Feature Highlights
Works flawlessly with existing Philips Hue lights
Daylight sensor automatically keeps the sensor off during daytime
Simple installation: Place anywhere or mount to the wall using screws
What's in the Box?
1 Philips Hue Motion Sensor
2 AAA batteries
Mounting screw
---
Best for Lifx, Sengled, and Others:  SmartThings Motion Sensor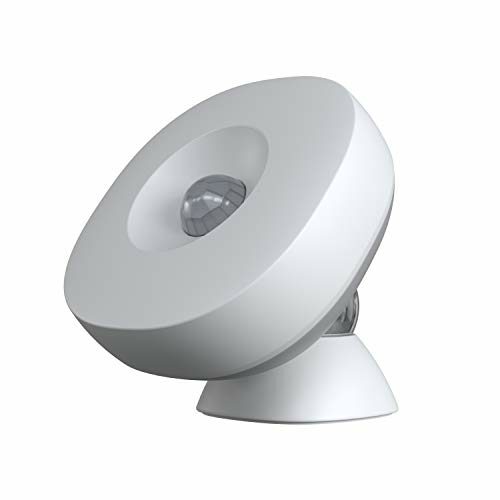 If you don't have Philips Hue lights, your best option is to go with a Samsung SmartThings compatible motion sensor as a Hue alternative.  Like Hue, this also requires the SmartThings Hub in order to get it to work.
A nice add-on feature of this sensor is that it can alert you when motion is detected. This is a nice security feature. Another benefit is that this is tiltable with a magnetic ball mount, so you can optimize your detection coverage area. It will also work with both Amazon Alexa and Google Assistant.
In addition to SmartThings, this will also work with the Z-Wave and ZigBee communication protocols. In addition to the sensor and magnetic ball, it also includes wall-mounting pads, a quick-start guide, and a health and safety guide, which is interesting.  I have not tested this product, but it is highly rated on Amazon, and customers say it works great.
Hub Required?
Yes, a Samsung Smarthings Hub or Z-wave compatible hub is required.
Feature Highlights
Can send alerts when motion is detected
New temperature sensor lets you adjust lighting based on room temperature
Compatible with SmartThings, Z-wave, and Zigbee
Magnetic ball creates a titlable mount for great coverage
What's in the Box
Battery
Magnetic ball
Wall-mounting pads
Quick-start guide
Health and safety guide
---
Best for Pet Owners: Zooz Z-wave Plus Motion Detector
This Ecolink Pet Immunity Motion Detector is compatible with Z-Wave hubs that include Samsung SmartThings, Vera Plus, Vera Edge, Vera Lite, HomeSeer, D-link, Connect, and Piper NV.  The hub is required to get this to work. At the time of this writing, this is Amazon's Choice for a motion detector.
If you have Phillips or Lifx, I recommend the other two options because they will work natively with those products. The best thing about the Z-wave Plus Motion Detector is that it is immune to the movement of pets as large as 55 lbs. This makes the annoying problem of a pet triggering the lights on and off go away.
It is also easy to install and the kit includes flush mount and corner mount wall brackets. It also has a whopping FIVE-year battery life, which means you can just set it and forget it.
Hub Required?
Yes, a Z-Wave Hub is required [see above].
Feature Highlights
Compatible with most major Hub brands
Pet detection helps avoid false triggers
Five-year battery life
What's in the Box?
Sensor
Flush-mount wall bracket
Corner mount wall bracket
1 CR123A battery
---
Another Great Option: Aukora Motion Sensor Bulbs
Another great and highly recommended product on Amazon is Aukora Motion Sensor Bulbs. These also work as advertised for indoor use.
They are great for overhead lighting or for any light where the bulb is visible. Customers like that they are bright enough to use for standard household bulbs. While they are just 12 watts they are LED so that makes them brighter than traditional bulbs.
One customer said that they were the "answer to their parenting prayers" as a solution to his kids' forgetting to turn off a hallway light.  A two-pack is also super inexpensive.
It will detect motion up to 10 feet.  It also has a built-in "Dusk to Dawn sensor" that auto switches ON at dusk when the motion sensor is activated and OFF at dawn to help you further save on electricity. They will not work with Amazon Alexa or Google, however, and they will also pick up the detection of animals. Otherwise, I would have put them higher on this list.
Hub Required?
No
Feature Highlights
No hub required
The sensor is in the bulb itself
Customers say the level of brightness is ideal
Some customers have had success using outdoors
What's in the Box?
Two bulbs
Product documentation
---
Best for Outdoor Use: Philips Hue Dusk-to-Dawn Outdoor Motion Sensor
OK, here's a shocker: my top recommendation for an outdoor lighting motion sensor is also made by Philips Hue.
Ideal for a front porch, this light will deter would-be intruders or package thieves from breaking in or stealing the package containing your latest smart home gear. Of course, this also requires the Philips Hue hub in order to work.
At the time of this writing, this has a TON of reviews on Amazon with a near-perfect rating. One customer said she uses it to scare away a thief stealing her plants on her porch!
What's extra cool about this sensor is that you can use it to trigger indoor lights too.  So, when you arrive home from a long day at the office, your outside lights and desired inside lights turn on auto-magically. Now, that's what I call smart.
Hub Required?
Yes, Philips Hue Hub is required.
Feature Highlights
Can trigger outdoor and indoor lights simultaneously
Weather resistant [UL certified to endure extreme conditions]
No electrician required
Includes multiple mounting components for various surfaces
What's in the Box?
1 x Motion Sensor
2 x Wall Brackets 2 x screw (3.5×35)
2 x screw plug (6×35)
1 x M4x12 boss screw
---
FAQs about Hue Compatible Motion Sensors
1. Do Philips Hue lights and motion sensors work together?
Indeed, the Philips Hue system smoothly integrates with motion sensors. They work together to trigger your Hue light bulbs based on detected motion automatically. This seamless operation provides an energy-efficient lighting solution, all backed by an excellent battery life that enhances your smart home ecosystem. (Words: 55, Keywords: 6)
2. What is the optimal utilization for a Hue motion sensor?
The Hue motion sensor is versatile, activating specific lights to detect movement and adjusting light levels with daylight sensitivity. It syncs with your Philips Hue system and Alexa routines, offering control from the home screen. This enables a tailored lighting experience in your smart home ecosystem. (Words: 57, Keywords: 6)
3. Is the Hue motion sensor a worthwhile investment?
Absolutely. A Hue motion sensor offers immense value, delivering long battery life and exceptional performance. It controls your Philips Hue light bulbs based on your movements, turning your home into an interactive, energy-efficient space. It's an investment that redefines your smart lighting experience. (Words: 55, Keywords: 6)
4. What are some constraints of a Hue motion sensor?
While Hue motion sensor offers many features, it's worth noting a few limitations. For instance, fine-tuning motion sensitivity and defining time slots for day or night behavior setting might require some learning curve. Additionally, for maximum utility, the sensor needs to be within your smart home ecosystem's range. (Words: 58, Keywords: 7)
5. Do Philips Hue Motion sensors stand out among the rest?
Philips Hue motion sensors are indeed standout devices within the smart home arena. From their long battery life to compatibility with third-party apps and Alexa routines, they enhance the functionality of your Philips Hue system. However, comparing with others like Wyze motion sensors would depend on personal preference and specific requirements. (Words: 58, Keywords: 8)
6. How does a Hue motion sensor interact with outdoor lighting?
Philips Hue outdoor motion sensor is an excellent addition to exterior lighting. It can trigger specific lights or scenes when movement is detected, providing safety and convenience. However, it's essential to place the sensor on a flat surface or magnetic mount for optimal performance. (Words: 55, Keywords: 6)
Hue Compatible Motion Sensors: Your Turn
So what do you think of my choices for the best Philips Hue compatible motion sensors and alternatives?
Do you already have a Philips Hue Hub? What about Samsung SmartThings?
Is there a product you feel I missed and should add here?
Please leave a comment below and let me know. I would love to hear from you!
If you don't want to implement a motion, you can always have your cat handle the lights.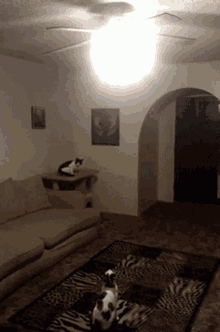 ---
Related Links
If you enjoyed this article about some of the best Hue compatible motion sensors and alternatives, you might also enjoy some of my other posts:
---
Please Like and Share
If you got any value from this article featuring the best Philips Hue compatible motion sensors and alternatives, would you mind giving us a quick share on social media? You can use the buttons at the top and bottom of this page. Thanks!
---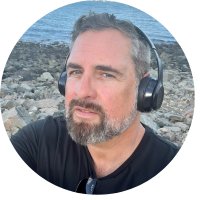 Tim Brennan, a tech blogger and host of the @TecTimmy YouTube channel, writes about smart homes at oneSmartcrib, home theaters at UniversalRemoteReviews, and AI in writing at Writeinteractive. He holds a Journalism degree from Northeastern University and has covered technology for three decades. He lives on the ocean in Nahant, Massachusetts.