Affiliate Disclosure
As an Amazon affiliate, I earn from qualifying purchases.
In this article, I compare two of the smartest cribs out there: the mamaRoo vs SNOO smart sleep bassinets ideal for sleep-deprived new parents.
In a rush? Here are the main differences at a glance:
SNOO includes 3 soothing sounds, a safety swaddle, and cry detection to gradually increase vibration to lull fussy babies back to sleep. mamaRoo has 4 soothing sounds, adjustable height, but it does not have preemie or weaning modes like SNOO. mamaRoo also costs much less.
mamaRoo vs SNOO: Side-by-Side Comparison
I'll start with a side-by-side comparison of mamaRoo vs SNOO focused on key features, followed by mini-reviews outlining the pros and cons of each product. I'll also include a price-comparison table near the end of this post.
Design and Dimensions
Features
SNOO Smart Sleeper Baby Bassinent
Features
SNOO Smart Sleeper Baby Bassinent
Last update on 09/05/2023 / Affiliate links / Images from Amazon Product Advertising API
Movement and Sounds
Last update on 09/05/2023 / Affiliate links / Images from Amazon Product Advertising API
Key Functions
Cry Detection (Increases Motion When Babies Fuss)
Cry Detection (Increases Motion When Babies Fuss)
Cry Detection (Increases Motion When Babies Fuss)
Last update on 09/05/2023 / Affiliate links / Images from Amazon Product Advertising API
Safety
Swaddle Baby Harness (Prevents Rolling)
Complies with AAP Safe Sleep Guidelines
Mesh Crib Walls Reduce Overheating
Swaddle Baby Harness (Prevents Rolling)
Complies with AAP Safe Sleep Guidelines
Mesh Crib Walls Reduce Overheating
Swaddle Baby Harness (Prevents Rolling)
Complies with AAP Safe Sleep Guidelines
Mesh Crib Walls Reduce Overheating
Last update on 09/05/2023 / Affiliate links / Images from Amazon Product Advertising API
Other Considerations
30-Day Free Trial/Money Back Guarantee
30-Day Free Trial/Money Back Guarantee
30-Day Free Trial/Money Back Guarantee
Last update on 09/05/2023 / Affiliate links / Images from Amazon Product Advertising API
👶Related:  7 Best Smart Vibrating Cribs
---
SNOO Smart Sleeper: Mini Review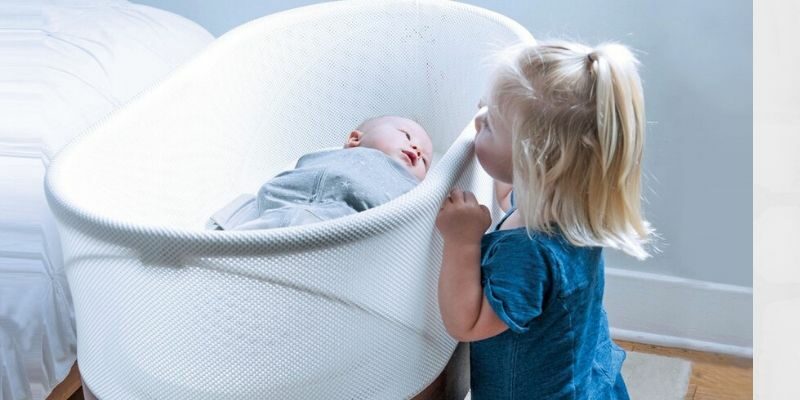 As the smart crib market is "escalating significantly in developed and developing economies" according to this report from Transparency Research, the SNOO Smart Sleeper arguably remains the leader in this space.
The SNOO was the first vibrating bassinet with an app. It is an award-winning smart crib developed by Dr Harvey Karp. Dr. Karp is a pediatrician and renowned sleep expert and has authored books on how to help your baby get a better night's sleep. He designed the SNOO smart sleeper to be the ideal environment for a baby to sleep in.
This smart sleeper not only emulates life inside the womb but also includes an array of smart features to automatically soothe a fussing baby. These include customizable motion settings (configured via a smartphone app) and built-in cry detection. This cry detection is the signature of the SNOO, and one of the reasons for its success. The crib will readjust its motions and sounds to soothe a baby once they start to get fussy. Pretty smart.
Here is an awesome review by a parent and proud SNOO owner:

Too funny how Cory tried to get in on the act!
The SNOO is the only smart crib that includes a patented baby swaddle (also called the SNOO sack) that straps your baby into their crib at night. This really is a key feature of the SNOO and helps to set it apart from the competition. The swaddle was designed to prevent risky rolling and keep your baby on his or her back. [The American Academy of Pediatrics has recom­mended that babies sleep on their backs since 1992.]
I personally love the SNOO and I think it is one of the most useful pieces of smart tech there is! However, the elephant in the room is the price. The SNOO Smart Sleeper is a rather expensive product, especially for the limited amount of time you can use it.
So when comparing mamaRoo vs SNOO this is definitely a consideration.
However, knowing what a zombie I was back in the day; I would have paid ANYTHING to get my kids to sleep through the night. In a recent article, Good Housekeeping magazine agrees: "If You're Going to Splurge on One Baby Item, Let It Be the SNOO Bassinet."
Pros:
Breathable mesh sides
Patented safety harness prevents risky rolling
Vibration feature with 5 Soothing motions
Built-in white noise machine
Cry detection automatically adjusts motion when the baby fusses
Mobile app and alerts
Timer function
Track your baby's sleep
Preemie and weaning mode
Money-back guarantee and rental options
Cons:
It's an expensive bassinet
No nightlight built-in
---
Where to Buy It
The best way to get SNOO is to pick one up at Amazon via the button below. You can often get free or discounted shipping and then generally ship the crib out fast.
SNOO Smart Sleeper Baby Bassinet – Bedside Crib with Automatic Rocking Motions
Added Sleep: SNOO Sleeper boosts sleep 1-2+ hours per night, so parents get more sleep than with other baby cribs or smart furniture. Our moving sleeper bassinet soothes babies with the constant rumbly sound and gentle rocking motion they loved in the womb.

Automatically Responds To Cries: SNOO detects fussing and the self-rocking bassinet responds with gradually stronger white noise + motion to calm crying.

Prevents Risky Rolling: The only bassinet, sleeper, or bed that keeps your baby safely on the back. Comes with 3 hip-safe sleep sack swaddles.

Easy To Customize: Our smart app logs sleep and naps, and lets you adjust bassinet's motion, sound, and cry sensitivity.

30-Day, No Risk Trial: If you're not 100% satisfied, return your SNOO within 30 days of receipt and well give you a full refund and pay for return shipping, too!
Don't miss this interview with Dr. Harvey Karp, pediatrician, sleep expert, author, and inventor of the SNOO:
And here are some great parent testimonials about the SNOO from the Happiest Baby YouTube channel.
Cute kid, Chris!
So glad to hear Oliva is sleeping through the night!  Too cute!
Time for another cute baby pic? You bet your woobie! Love to see big sis checking up on baby bro in the SNOO!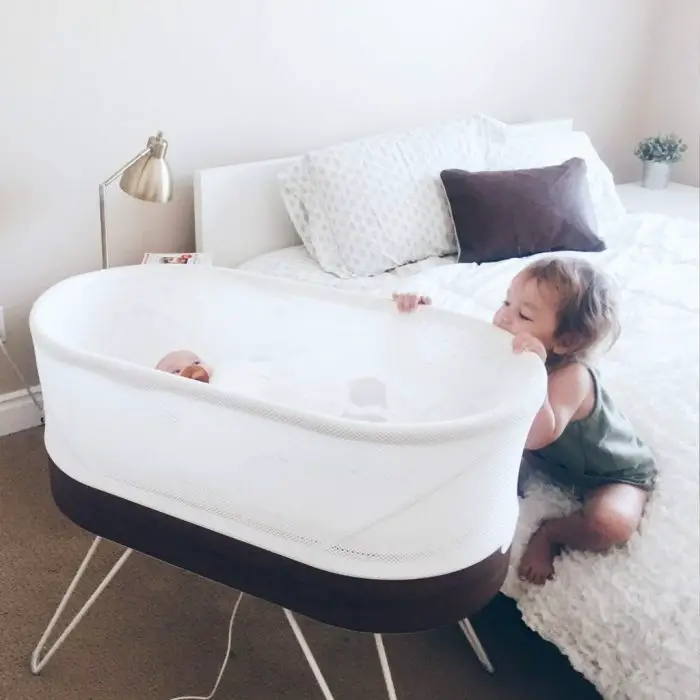 mamaRoo bassinet: Mini Review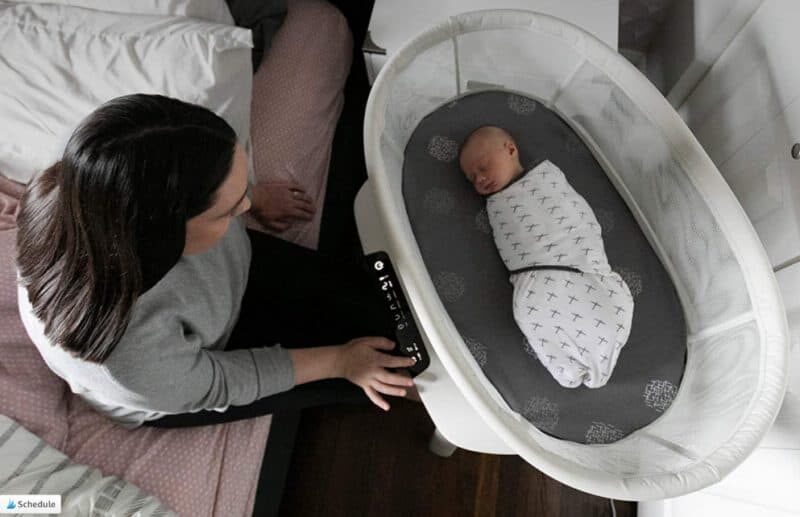 4moms is well known for making high-quality and affordable baby products, and the mamaRoo smart bassinet is no exception. When comparing mamaRoo vs SNOO, this bassinet is a more affordable alternative to the SNOO.
The mamaRoo bassinet is supposed to be as natural of an option for your baby as possible. When comparing mamaRoo vs SNOO, the mamaRoo is also built to emulate the feeling of a mother's womb. However, it has unique features designed to mimic the natural bounce movements of real parents (they tracked parents with their babies in real life) to provide the most natural movements for your baby. Some parents say this crib provides similar movements that mimic a car ride or tree swing. With five unique motions and speeds, the mamaRoo also matches the SNOO with its soothing white noise options.
It does not include an equivalent of the SNOO's patented swaddle, however.
4moms also has an app that lets you control and adjusts the bassinet settings freely through Bluetooth. As a bonus, if you own any other 4moms smart products, they are all controllable from this new app.
Pineapple Mamas has a great unboxing and review video over on YouTube. I'll embed it below for your convenience.
Pros:
Built-in white noise machine
Soothing natural motions
Mobile app
Timer function
Adjustable height
Cheaper price
Great customer service
Slightly more portable bassinet than SNOO
Cons:
Shuts off automatically after a few hours
A few customers complained about the rocking motion being too loud
---
Where to Buy It
You can pick up the 4moms mamaRoo bassinet over at Amazon. Click the See It button in the box below.
---
Similarities and Differences
mamaRoo vs SNOO: Similarities
In looking at mamaRoo vs SNOO, both of these smart sleepers have the following things in common:
Breathable mesh sides
Vibrating and rocking motion options with adjustable speeds to customize your baby's needs
The weight limit and age limit are the same for both products at 25 lbs or 6months, whichever comes first
Soothing sounds and white noise
A washable and water-resistant mattress, just in case!
Mobile app lets you adjust movement
Proven to help many newborn babies and parents sleep better and longer
mamaRoo vs SNOO: Key Differences
Here, I'll outline some of the main differences between mamaRoo vs SNOO.
Difference #1: Baby Swaddle – While the mamaRoo does provide the necessary firm flat surface to not just help baby sleep but to keep baby safe. The only thing is it's hard to compete with the SNOO's patented swaddle, which secures your child into the crib and helps ensure they are as safe as possible. If you want to take that extra step in safety, the SNOO is the clear winner here. The sleep sack is the main thing that the mamaRoo sleep bassinet lacks, although you can potentially pick that up separately from SNOO's website. All told the mamaRoo is still a very good sleeper..
Difference #2: Cry Detection – Another signature feature of the SNOO is its built-in cry detection. If your baby wakes up in the night, the SNOO will pick up your babies' cries and automatically adjust the motion and speed of the crib to help soothe your baby back to sleep. It is an incredibly useful feature that helps keep both you and your baby in more restful sleep. If this cry detection sounds important or useful to you, you may want to check out my SNOO vs Graco crib article, where I take a closer look at two different cry detection options.
Difference #3: Preemie and Weaning Mode – The SNOO has two additional modes that are just simply not available in any other smart crib option that help customize the SNOO's settings for gentler and younger babies. While this is more important for the SNOO with its automatic cry detection features, the preemie mode provides a gentle motion rocking option that is unavailable to the mamaRoo bassinet.
Difference #4: App Features – When comparing mamaRoo vs SNOO, The SNOO's mobile app has more features vs the mamaRoo's app, with the ability to keep track of how much sleep your baby is getting. I have also read a few customer complaints about the mamaRoo's timer on the app, as the mamaRoo bassinet automatically turns off after 4 hours. The SNOO has no such restriction, and perhaps 4moms will change their mind, they have stated the limit is to make sure babies don't become dependent on the motion to sleep.
👶 Related: mamaRoo vs SNOO Vs Graco
Difference #5: Adjustable Height – The legs of the mamaRoo bassinet are adjustable, allowing you to change the height of the crib by 4.5 inches! This can help make sure you have the best vision for your baby, and they are exactly where you want them to be.
Difference #6: Cost – The biggest difference between the mamaRoo vs SNOO is their price. The SNOO is a very high-quality product, but it is a premium product and is much more expensive. The mamaRoo is more affordable, so if none of the additional features of the SNOO are appealing for you and your baby, the mamaRoo is a solid option, matching the SNOO in its movement and sound options.
However, if you do really like the SNOO, but you're worried about the huge price tag, it might be less of a deal-breaker than you expect. Happiest Baby, the company behind the SNOO Smart Sleeper has an option to rent the crib for a much more affordable price. They also have a 30-day-money-back-guarantee on the SNOO, if the crib doesn't work for your baby.
---
Price Comparison Table
Following is a handy price comparison table so you can see the difference in price between the mamaRoo vs SNOO bassinets at a glance. I'll include some useful accessories for both bassinets too.
The prices are pulled in nightly from Amazon's API.
---
Questions and Answers
How Do Smart Sleepers Work?
You might be wondering why smart sleepers are so popular. I have read hundreds of testimonials from sleep-deprived parents across the globe, and the most popular smart crib brands work as advertised.
These smart cribs are great tools to help your fussy babies sleep through the night—and for you to get back some precious Zs as well!
Their features offer a lot of convenience for tired parents because the design of these smart sleepers actually keeps your baby sleeping longer and better every night.
The design, motion, and sounds of the crib make the baby feel as if they were in their mother's womb, which helps soothe them to sleep and helps them get better quality sleep throughout the night. Brilliant.
What else is comparable to the SNOO?
Aside from Mamaroo, there are some other SNOO smart sleeper alternatives. These include Graco Sense2Snooze, the Halo Bassinest Swivel Sleeper, Dock-a-tot, and the BabyBjorn Cradle. Each of these cribs offers its own strengths and weaknesses and has a different range of technical capabilities.
What's the difference between mamaRoo and rockaRoo?
The difference between mamaRoo and rockaRoo comes down to branding. 4moms offers both a Baby Swing and the Sleep Bassinet featured here under the mamaRoo brand; however, they only have a baby swing under the rockaRoo brand.
Is renting the SNOO worth it?
Where the SNOO is expensive, some parents might consider SNOO's rental option, which puts your child in a "previously-owned" crib for a low monthly fee. This is, of course, a very personal decision and will depend upon factors like how parents feel about renting a used cradle, their budget, and the age of the baby (e.g., how long before they outgrow the SNOO).
At what age should babies stop using SNOO?
Happiest Baby recommends that parents start weaning baby from the SNOO at about 5 or 6 months. Of course, this is going to depend on the size and weight of the baby with the max weight being 38 lbs.
At what age should babies stop using mamaRoo Sleep Bassinet?
In contrast with the SNOO's 38 lbs, mamaRoo recommends a max weight of 25-30 lbs "or can sit up unassisted, attempts to climb out, whichever comes first." This, in effect, could put your child in the SNOO for significantly longer than mamaROO, depending on their growth and development.
---
mamaRoo vs SNOO: Conclusion
Overall, the SNOO is a more premium option compared to the more traditional mamaRoo bassinet. In the final analysis of mamaRoo vs SNOO, the SNOO's patented swaddle, cry detection, and additional preemie and weaning modes really help to set it apart from the competition. It possesses more features with its app to help parents more. However, the mamaRoo bassinet shares all of the basic features of the SNOO, such as the vibrating motions, soothing sounds, and timer while being more affordable.
If you're looking for a solid smart crib and aren't worried about the premium features of the SNOO, then the mamaRoo is a worthy option. I have read dozens of positive reviews from parents saying that the mamaRoo crib helped their kids to sleep through the night.
👶 Related: SNOO vs Halo Vs BabyBjorn: 3 Smart Cribs Compared
---
Your Thoughts?
That's it! mamaRoo vs SNOO! Which crib do you think 'wins' the battle for your precious Zs?
Do you have any thoughts or experiences of your own on these smart cribs? Are there any other smart sleepers that you prefer? Do you think the SNOO is worth the money? I honestly think these are two of the best bassinets you can buy today.
Tell me all about it in the comments below, I'd love to hear from you.
---
mamaRoo vs SNOO: Please Like and Share
If you thought this review comparing mamaRoo vs SNOO was useful, would you consider sharing it with your friends or other parents you know? There are some handy social media links right down below.
Thanks! I hope you and your newborn baby have many more restful nights. Here's to a good night's sleep.
---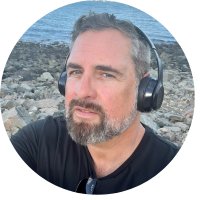 Tim Brennan, a tech blogger and host of the @TecTimmy YouTube channel, writes about smart homes at oneSmartcrib, home theaters at UniversalRemoteReviews, and AI in writing at Writeinteractive. He holds a Journalism degree from Northeastern University and has covered technology for three decades. He lives on the ocean in Nahant, Massachusetts.