Affiliate Disclosure
As an Amazon affiliate, I earn from qualifying purchases.
In this article, I'll help you answer the question "why is Echo Dot Red" and walk you through how to fix it step by step.
Echo Dot's Mysterious Light Ring
I
love the Amazon Echo line of smart speakers. I currently have four Echo Dots in addition to several other Alexa electronic devices that include two Echo Shows, a Fire TV Cube, a regular Amazon Echo, the Echo Auto, an Echo Flex, and I just bought the Amazon Astro home robot. I guess you could say I'm a big Echo guy.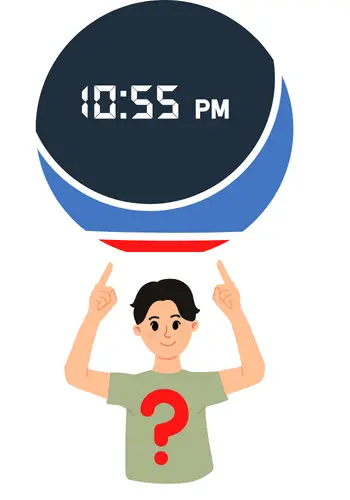 An early adopter of Alexa, I pretty much have each Alexa ring color figured out now. For example, I know that…
A spinning orange ring light means the device is in setup mode.
Yellow light ring notifications mean I have a new message or messages.
A spinning green light means there is an active call.
A spinning cyan light means the device is starting up.
However, the light rings—especially the red-light ring—and what they mean may not be evident to many folks.
This post from CNET comes close to helping solve the question about the Alexa red ring issue, but it does not fully address it.
To add insult to injury, Amazon's documentation on some of the light rings (including the red one) is a bit confusing as well.
Amazon says:
Red
What it means:
Solid red light shows when the microphone on/off button is pressed. That means the device microphone is disconnected, and Alexa is not listening. Press it again to enable your microphone.
While it is true that having the microphone muted may be the cause for the red ring, this is not the only reason a red ring can occur on an Alexa speaker. There are two different ways it can appear. That said, let's check and see if your mic is muted first.
You can use the Amazon Alexa app to follow these simple steps to solve they why is Echo Dot red mystery.
Let's take a closer look nad get you the answer to the question: Why is Echo Dot Red?
📚 Related: Echo Auto vs Input vs Dot vs Amp
---
Reason 1: Muted Microphone [Solid Red Ring]
The first thing to check for the solid red ring issue on an Echo Dot is that your microphone button is muted. This is how Alexa alerts you that she is unable to respond to your voice commands.
Some people like to turn on this feature if they have concerns about Amazon eavesdropping or do not want to be disturbed by a drop-in incoming call and/or Alexa phone calls.
1. An Amazon Echo Dot Alexa device with a muted microphone button on top of the device looks like this:
2. To unmute, simply press the red-lit-up mic button (e.g., mute button) on top of the Dot (circle with a line through it).
3. If this was your problem, the solid red light will go out, and you will be able to resume Alexa normally again.
4. Try saying "Alexa are you there." She should now reply with her usual blue flashing lights Yes, I'm here….I listen when I hear the wake word. And the light will go out.
📚 Related: 21 Best Echo Dot Stands & Mounts
---
Reason #2: Internet Wi-Fi Connection Issue [Pulsing Red Ring]
Here is the second reason in response to the question Why is Echo Dot red? Well, you could be experiencing a red light on your Amazon Echo device if your internet connection is having an issue.
In this is the case, she will typically flash a red ring in response to a command. And then she'll issue a low tone, and say something like "I am having trouble connecting right now."
Since this may be your first time seeing this, I'll unplug my internet router so I can show you what this looks like on my Amazon echo speaker. I'll upload a #shorts video of the results to my Tec Timmy YouTube channel and embed the pulsing red light or spinning light video below.
This in and itself is the most common problem and may help you answer the question of why is Echo Dot red.
This type of the red light ring could happen for many reasons, including:
A temporary Wi-Fi network connection issue or outage in your area
A service interruption in your area
A low or weak Wi-Fi signal or a change to your wi-fi setup
A firewall or blocked ability to connect (such as at many college dorms)
📚 Related: Why is Echo Dot Blue?
If you have a typical home network, I suggest you do the following:
Check your internet provider (e.g., cable company's website to see if there is an outage.
Note: This is the most likely scenario and, in this case, you just have to wait for them to restore the connection.
If it is not obvious what is causing the problem, you can try restarting your router at home. But do it in this exact order:

Completely unplug your Echo Dot.
Unplug your router from the wall.
Wait a full five minutes.
Plug the router back in, then plug Echo Dot back in.
Give Alexa a few minutes to come back online and run a test command (e.g., Alexa are you there?)

If you still don't have any luck, I suggest you contact your cable /internet company. Or leave me a comment below and I will get back to you as soon as possible.
Note: if you have an Echo Show and your microphone is muted, it will look like this: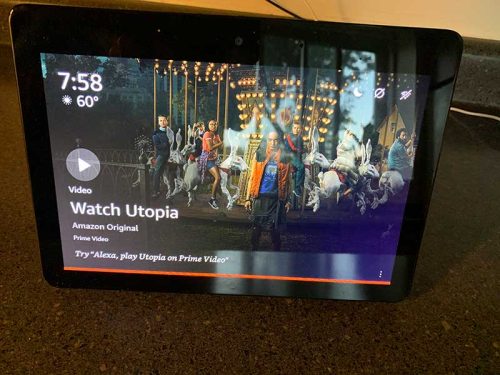 📚 Related: Echo Dot vs Dot Kids Edition
---
Why Is Echo Dot Red: Did This Help?
I hope this helped answer the question: Why is Echo Dot red?
I initially thought Alexa might be "blushing," but clearly that is not the case.
So, what do you think about all of Alexa's different lights and what the red ring light means? Some people refer to the red one as the red ring of death! The good news is that is not the case with your Alexa Echo device and the worst-case scenario is that your Dot is faulty.
Did my troubleshooting steps above help you return your Echo Dot to normal operation with these easy ways to fix it?
Please leave me a comment below and let me know if these simple tasks for the red light ring fix are what you have been looking for!
---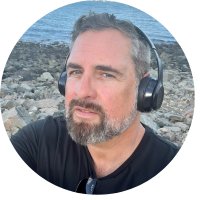 Tim Brennan, a tech blogger and host of the @TecTimmy YouTube channel, writes about smart homes at oneSmartcrib, home theaters at UniversalRemoteReviews, and AI in writing at Writeinteractive. He holds a Journalism degree from Northeastern University and has covered technology for three decades. He lives on the ocean in Nahant, Massachusetts.