Affiliate Disclosure: As an Amazon Associate, I earn from qualifying purchases. Learn more.
In this article, I compare two of the smartest cribs out there: the SNOO vs mamaRoo smart sleep bassinets. The SNOO has continued to win the hearts of sleep-deprived parents all around, but the mamaRoo is cheaper with a lot of the design that makes SNOO so great. But how exactly do they measure up?
The main differences between SNOO vs mamaRoo are this:
The SNOO is 36x16x32 inches; it includes 3 soothing sounds, a safety swaddle, and "cry detection" that increases motion to lull fussy babies back to sleep. The 34x24x34.5-inch mamaRoo has 4 soothing sounds, the height can be adjusted, it is more affordable, and it does not have preemie or weaning modes like SNOO.
My thanks to Alexia Boyle Fontana for contributing to this article.
---
SNOO Vs mamaRoo: Best Crib to Beat Sleep Deprivation?
S
ome of the most popular articles I've written have been my series on the SNOO Smart Sleeper and its competitors.
A few of you have written in thanking me, so you're welcome!  I am still determined to help you and your kiddos get a better night's sleep.
As a parent with two terrible sleepers, I'm pretty passionate about these products. My kids are older now and they sleep through the night just fine. While it's too late for me to get back all the sleep I lost to my kids, that doesn't mean it's too late for you to get a good night's sleep!



So, as a follow up to my recent article comparing SNOO vs Graco Sense2Snooze, in this article, I'll give another side-by-side comparison of two of the most popular smart cribs right now, the SNOO vs mamaRoo sleep bassinet. I'll also include some links at the end of this post to my other SNOO product comparison articles.
Oh, and I will also include three really cute baby pics, so make sure you read this until the end to see all three!
After all, everyone likes cute baby pics, right?
Here's the first one.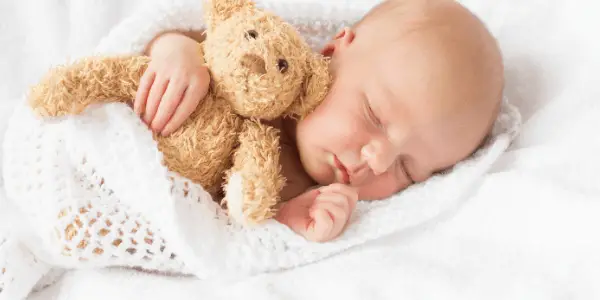 Aww. So cute.
---
How Do Smart Sleepers Work?
You might be wondering why smart sleepers are so popular. I have read hundreds of testimonials from sleep-deprived parents across the globe, and the most popular smart crib brands work as advertised.
These smart cribs are great tools to help your fussy babies sleep through the night—and for you to get back some precious Zs as well!
Their features offer a lot of convenience for tired parents because the design of these smart sleepers actually keeps your baby sleeping longer and better every night.
The design, motion, and sounds of the crib make the baby feel as if they were in their mother's womb, which helps soothe them to sleep and helps them get better quality sleep throughout the night. Brilliant.
---
SNOO Smart Sleeper: Mini Review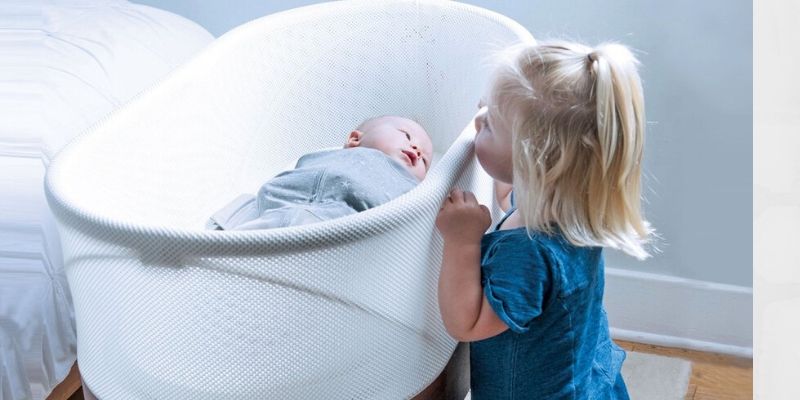 The SNOO Smart Sleeper was the first vibrating bassinet with an app. It is an award-winning smart crib developed by Dr Harvey Karp. Dr Karp is a pediatrician and renowned sleep expert and has authored books on how to help your baby get a better night sleep. He designed the SNOO smart sleeper to be the ideal environment for a baby to sleep in.
This smart sleeper not only emulates life inside the womb but also includes an array of smart features to automatically soothe a fussing baby. These include customizable motion settings (configured via a smartphone app) and built-in cry detection. This cry detection is the signature of the SNOO, and one of the reasons for its success. The crib will readjust it's motions and sounds to soothe a baby once they start to get fussy. Pretty smart.
The SNOO is also one of the safest smart cribs on the market, as it includes a patented baby swaddle that straps your baby into their crib at night, to virtually eliminate risky rolling.
I personally love the SNOO and I think it is one of the most useful pieces of smart tech there is! However, the elephant in the room is the price. The SNOO Smart Sleeper is a very expensive product, especially for the limited amount of time you can use it. Knowing what a zombie I was back in the day; I would have paid ANYTHING to get my kids to sleep through the night.
In a recent article, Good Housekeeping said "If You're Going to Splurge on One Baby Item, Let It Be the SNOO Bassinet."
Pros
Patented safety harness prevents risky rolling
Built-in white noise machine
Soothing motions
Cry detection and automatic sound/motion adjustments
Mobile app and alerts
Timer function
Track your baby's sleep
Preemie and weaning mode
Money-back guarantee and rental options
Good Housekeeping seal of approval
Cons
Pricey
No nightlight
Swaddle looks a bit like a straightjacket which takes some getting used to – but it works!
Where to Buy It
The best place to get the SNOO is directly from the company's website. They often run specials. Right now, you can get a 30-day risk free trial with free shipping to boot. You can learn more about the rental option over there as well.
Time for another cute baby pic?  You bet your woobie!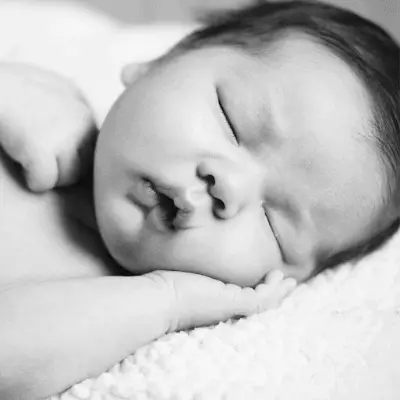 Awe. Precious. You know this kid has got to be in a smart crib.
---
mamaRoo bassinet: Mini Review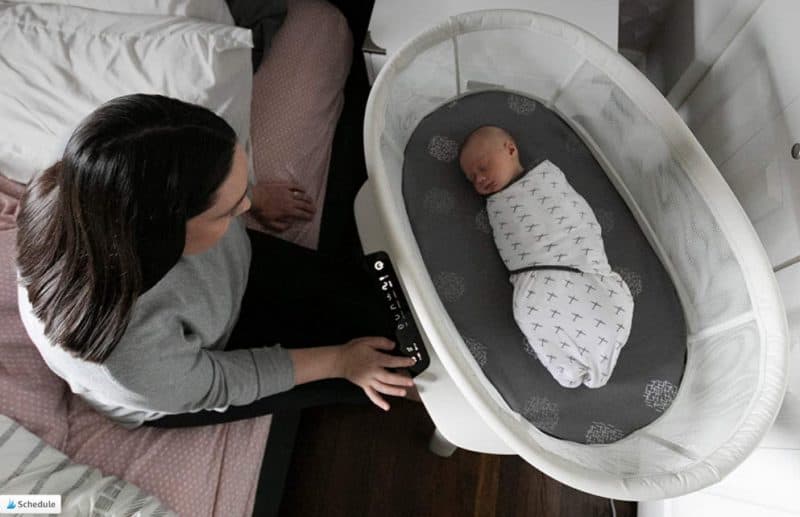 4moms is well known for making high quality and affordable baby products, and the mamaRoo bassinet is no exception. This bassinet is a more affordable alternative to the SNOO, and it is an upgrade to a previous product of theirs, the mamaRoo Infant Seat. Even if it isn't as fun to say as SNOO, I think the name they picked for the bassinet is kind of cute. mamaRoo.
The name reminds me of Roo's mother from Winnie the Pooh, whose name is interestingly not "Mama Roo" but Kanga.
The mamaRoo bassinet is supposed to be as natural of an option for your baby as possible. Just like the SNOO, the mamaRoo is built to emulate the feeling of a mother's womb. However, it was also designed to mimic the movements of real parents (they actually tracked parents with their babies in real life) to provide the most natural movements for your baby. With five different options for motions and speeds, the mamaRoo easily matches the SNOO with soothing options.
It does not include an equivalent of the SNOO's patented swaddle, however.
4moms also has an app that lets you control and adjust the bassinet settings freely through Bluetooth. As a bonus, if you own any other 4moms smart products, they are all controllable from this new app.
4moms has a video over on YouTube that quickly shows you the bassinet's features. I'll embed it below for your convenience.
Pros
Built-in white noise machine
Soothing natural motions
Mobile app
Timer function
Adjustable height
Cheaper price
Cons
Shuts off automatically after a few hours
Some customer complaints about a knocking sound
Where to Buy It
You can pick up the 4moms mamaRoo bassinet over at Amazon here [affiliate link].
---
SNOO Vs mamaRoo: Feature Comparison
| | | |
| --- | --- | --- |
| Features | SNOO Smart Crib | mamaRoo Sleep Bassinet |
| Breathable Mesh Design | Yes | Yes |
| Swaddle Baby Harness | Yes | No |
| Vibrating Motion | Yes, 5 motions | Yes, 5 motions |
| Soothing Sounds | Yes, 3 options | Yes, 4 options |
| Lullabies | No | No |
| Cry Detection | Yes | No |
| Preemie and Weaning Mode | Yes | No |
| Companion App | Yes | Yes |
| Timer | Yes, with App | Yes, with App |
| Log Sleep | Yes, with App | No |
| Washable Mattress | Yes | Yes |
| Water Resistant Mattress | Yes | Yes |
| Rent Option | Yes | No |
| Free Trial Option | Yes | No |
| Age/Weight Limit | 6 Months / 25lbs | 6 Months / 25lbs |
| Product Weight | 38 lbs. | 30 lbs. |
| Dimensions | 36 x 16 x 32 in | 34 x 24 x 34.5 in |
---
Similarities and Differences
SNOO Vs mamaRoo: Similarities
Both of these smart sleepers have the following things in common:
Breathable mesh designs
Vibrating and rocking motion options with adjustable speeds to customize your baby's needs
Soothing sounds and white noise
A washable and water-resistant mattress, just in case!
Mobile app, with a timer, to make adjustment and control easier
Proven to help many babies and parents sleep better and longer
---
SNOO Vs mamaRoo: Differences
Here, I'll outline some of the main differences between SNOO VS mamaRoo so you can determine which is the best smart crib option for you.
Difference #1: Baby Swaddle – While the mamaRoo does provide the necessary firm flat surface to keep a baby safe, it's hard to compete with the SNOO's patented swaddle, which secures your child into the crib and helps ensure they are as safe as possible. If you want to take that extra step in safety, the SNOO is the clear winner here.
Difference #2: Cry Detection – Another signature feature of the SNOO is its built-in cry detection. If your baby wakes up in the night, the SNOO will pick up your babies' cries and automatically adjust the motion and speed of the crib to help soothe your baby back to sleep. It is an incredibly useful feature that helps keep both you and your baby in more restful sleep. If this cry detection sounds important or useful to you, you may want to check out my SNOO vs Graco crib article, where I take a closer look at two different cry detection options.
Difference #3: Preemie and Weaning Mode – The SNOO has two additional modes that are just simply not available in any other smart crib option that help customize the SNOO's settings for gentler and younger babies. While this is more important for the SNOO with its automatic cry detection features, the preemie mode provides a gentler rocking option that is unavailable to the mamaRoo bassinet.
Difference #4: App Features – The SNOO's mobile app has more features vs the mamaRoo's app, with the ability to keep track of how much sleep your baby is getting. I have also read a few customer complaints about the mamaRoo's timer on the app, as the mamaRoo bassinet automatically turns off after 4 hours. The SNOO has no such restriction, and perhaps 4moms will change their mind, they have stated the limit is to make sure babies don't become dependent on the motion to sleep.
Difference #5: Adjustable Height – The legs of the mamaRoo bassinet are adjustable, allowing you to change the height of the crib by 4.5 inches! This can help make sure you have the best vision on your baby, and they are exactly where you want them to be.
Difference #6: Cost – The biggest difference between the SNOO vs mamaRoo is their price. The SNOO is a very high-quality product, but it is a premium product and is much more expensive. The mamaRoo is more affordable, so if none of the additional features of the SNOO are appealing for you and your baby, the mamaRoo is a solid option, matching the SNOO in its movement and sound options.
However, if you do really like the SNOO, but you're worried about the huge price tag, it might be less of a deal-breaker than you expect. Happiest Baby, the company behind the SNOO Smart Sleeper has an option to rent the crib for a much more affordable price. They also have a 30-day-money-back-guarantee on the SNOO, if the crib doesn't work for your baby.
---
SNOO Vs mamaRoo: Conclusion
Overall, the SNOO is simply a more expensive, more premium option compared to the more classic, straightforward mamaRoo bassinet. The SNOO's cry detection and additional preemie and weaning settings really help the bassinet adapt to exactly what you need, and it possesses more features with its app to help parents more. However, the mamaRoo bassinet shares all of the basic features of the SNOO, such as the vibrating motions, soothing sounds, and timer while being more affordable.
If you're looking for a solid smart crib and aren't worried about the cry detection, then the mamaRoo is an excellent product, and it has risen very quickly in popularity, with a lot of parents supporting the simpler, cheaper option than the premium choice.
---
Your Thoughts?
That's it! SNOO vs mamaRoo! Which crib do you think 'wins' the battle for your precious Zs?
Do you have any thoughts or experiences of your own on these smart cribs? Are there any other smart sleepers that you prefer? Do you think the SNOO is worth the money?
Tell me all about it in the comments below, I'd love to hear from you.
---
SNOO vs Mamaroo: Please Like and Share
If you thought this review comparing SNOO vs mamaRoo was useful, would you consider sharing it with your friends or other parents you know? There are some handy social media links right down below.
Thanks! I hope you and your baby have many more restful nights.
Like this little beauty.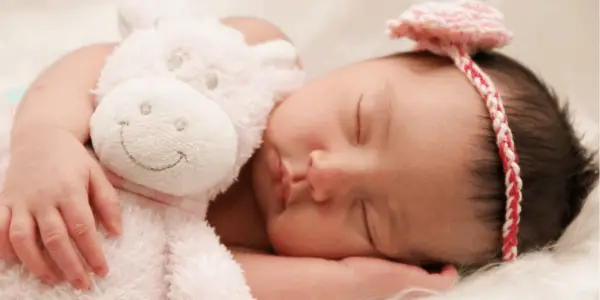 ---
You Might Also Like
If you liked this post comparing SNOO vs mamaRoo, you might be interested in some of my other, similar posts, including reviews comparing the SNOO Smart Crib against some other crib options as well!
SNOO Vs Halo Vs BabyBjorn: 3 Smart Cribs Compared [+Alternatives]
SNOO Vs mamaRoo Vs Graco: 3 Brilliant Bassinets for 2020
11 Brainy Ways to Use Amazon Echo Show in Homeschool
SNOO Vs Graco Sense2SNOOze: Sleep Deprivation [Solved]
11 Baby & Toddler Tech Gifts For Dads [And Moms Too!] 
---
About the Author
Tim Brennan, Technical Writer & Blogger
Tim Brennan [a.k.a. "Tec Timmy"] is a senior technical writer with over 20 years of experience writing for companies and organizations in and around Greater Boston, including GE and MIT. In addition to actively writing for this smart home blog, Tim is also a regular contributor over at UniversalRemoteReviews.com. Tim holds a BA in Journalism from Northeastern University. Brennan is a father to two sons, an active blogger, a Star Wars nut, and loves a good taco🌮. There is a strong chance he is developing a crush on Amazon Alexa. You can learn more about Tim here.