As an Amazon affiliate, I earn from qualifying purchases. Learn more
In this post, I compare two of the coolest new 'smart art' products out there: the Meural Canvas vs Canvia smart digital art frames.
If you simply want to know the differences at a glance, here they are:
Meural is available in either a 16×24″ or 19×29″ frame; it comes in Black, Wood, or White; and it has a 100-piece basic or 30,000-piece premium (paid) collection. In contrast, Canvia comes in an 18×27″ frame, and color choices are Black, White, Cherry, and Woodgrain. However, Canvia's free art catalog includes 2,500 pieces as opposed to 100 with Meural.
There are other factors to consider when comparing Meural Canvas vs Canvia as well.  Let's take a closer look.
Battle for My Living Room Wall
A
pparently, I was on Santa's naughty list this year.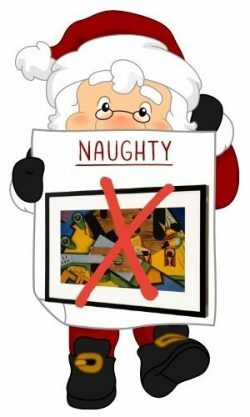 Despite multiple well-placed requests to old Saint Nick for the Meural Frame smart art display, I received a new winter coat instead! To be fair, Santa knew that the winter code was more a "need" and Meural more of a "want," so good on him. for that.
However, I do really still want a Netgear Meural Frame II for my apartment so I decided I am going to save up $100 per pay period. This would put me on track to have one on my wall by the Spring.
BUT then I noticed smart frame newcomer Canvia peddling some frames on Amazon for a bit less money.  I thought "Eureka!" maybe this is as good as Meural and I can get it sooner!  And another smart art blog post is born.
Full disclosure, I don't own either of these products (yet). BUT I have done a TON of research for my post on Meural Canvas vs Samsung frame and also in anticipation of this purchase. 
So, without further ado, here is my review of the Meural vs Canvia digital art frames.
 📚 Related: Meural Canvas vs Samsung Frame: Art. Ask for More.
Meural Canvas vs Canvia: Side-by-Side Features Comparison
Let's kick things off with a comparison table.
---
Meural Canvas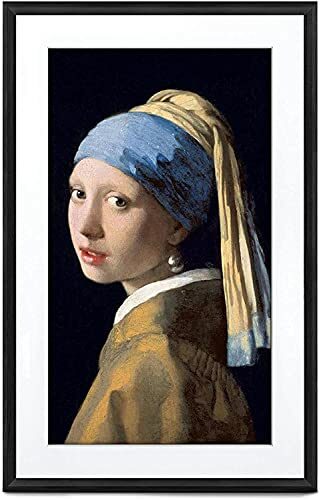 First up in my review of the Meural Canvas vs Canvia smart digital art frames, is ….the Meural Canvas II!
To be honest, I've had my heart set on the Meural Canvas frame for a while now, so I was pretty biased coming into this review. One of my most memorable trips out on the West Coast was a gondola ride up the side of the LA hills to the J. Paul Getty Museum. I love that the Meural has works from Getty, the Lourve, MoMA, the Met, and pretty much every famous museum in the world.
You can browse pieces by specific artists from Picasso to Norman Rockwell to Andy Warhol. Impress your friends with your artistic prowess by displaying classic masterpieces like the Mona Lisa or Starry Night to name a couple.
This is all part of Meural's massive 30,000-piece art collection.  I also love that I can use hand gestures or Alexa to switch up the art with my voice.
What I don't like is that in order to get that full collection, I need to buy into a monthly subscription out of the gate. Yeah, it's not really that expensive, but it is an added expense. I also find it a bummer that they charge an additional fee for the wall mount that lets you swap between portrait and landscape (one of its coolest features and a must-have for me). 
Pros
Premium plan has over 30,000 works of art (triple Canvia)
Two larger frame sizes
Ability to rotate between portrait and landscape mode
Auto-detection feature for orientation
Hand gestures to navigate through playlists and get info. about a piece
Established company with proven 2nd Gen product
Works with Alexa for voice control
Cons
The free plan is limited to 100 works of art (compared to 2500 with Meural!)
Not all colors are available in all sizes
Swivel Mount (lets you go between portrait and landscape) costs extra
---
Meural Video Review
Where to Buy It
---
Canvia Smart Frame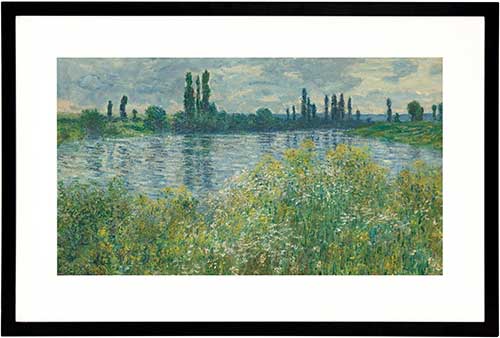 The Canvia Smart Digital Art Frame first started out as a Kickstarter project in 2018. The company claims that its Artsense technology is what sets it apart from the competition. However, when the "competition" is Meural Canvas vs Canvia, I'm not convinced that it is really that much better. While I haven't had a chance to view them side by side, I've seen enough videos and read enough reviews to make the judgment.
What I really like about Canvia is that the base service gives you access to 2500 works of art, so you don't really need to commit to a monthly fee unless you want more of their full catalog of 10,000 works of art. You can also schedule artworks for displaying at a specific time/day or appearing on a recurring basis every day or week, which is really cool.
However, in trying to decide between Meural Canvas vs Canvia, the sense I get is that Art Sense is marketing hype.
Pros
Art Sense technology makes images look realistic
Brushstroke detail is arguably slightly better than Meural
The ambient light sensor adjusts the backlight to match the lighting in the room (Canvas has this too)
The website has a nice search feature that lets you add images to your queue
Great support based in the U.S.
Cons
Premium service only has 10,000 works of art compared to Meural's 30,000
Customers complain that the app is difficult to use
Requires 75/100m Vesa mount for swivel mechanism
Orientation does not rotate automatically (requires adjustment in app)
Customers also complain that the documentation is not helpful
---
Canvia Video Review
Where to Buy It
---
Meural Canvas vs Canvia: The Verdict
Well, as I said earlier, I was biased coming into this review as Meural has been a "want" of mine for a while. However, after learning more about Artsense, Canvia was starting to tug at me a bit in that direction. In the final analysis of Meural Canvas vs Canvia (from a non-art connoisseur) though, I went with Meural.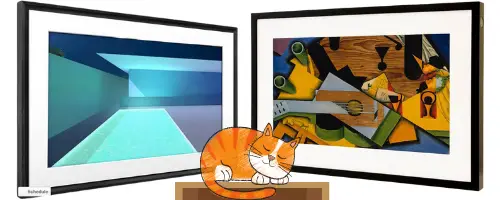 Why?
Four reasons.
The first is that I read quite a few customer complaints about the Canvia app being difficult to use. For me, that is a big part of the experience.
Second, I like that Meural's premium service has all of that content. I mean, 30,000 works of art. Wow. I could display a new work of art every day until I die. LOL.
Third, I actually had a Canvia customer who is an actual photographer email me to say that he had problems returning the product to Canvia customer service. The same customer had issues with motion graphics and also complained that Artsense didn't work properly on his device. While I can't vouch for these issues, clearly this customer was not satified with the product.
Finally, Meural is a more mature product. Now in its 2nd-generation, Netgear has worked out the bugs with the initial version and it just seems to be more solid technically for that reason.
The update is I couldn't be happier with my purchase. In fact, it is one of my favorite out of the several smart devices that I own.
Here is a short video I did out on my YouTube channel showcasing the Alexa commands:
And here is another video of me trying out hand gestures (forgive the bad coloring in the 2nd video the frame has a white matte not pink):
P.S. If you ever make it out to L.A. don't miss the Getty Museum. It really is a remarkable experience.
---
You Might Also Like
If you enjoyed this post comparing Meural Canvas vs Canvia, you might also like some other posts I wrote:
About the Author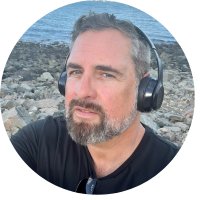 Tim Brennan is a technology blogger and host of the @TecTimmy YouTube channel. He shares insights about smart home tech at oneSmartcrib, home theater systems at UniversalRemoteReviews, and the future of AI in writing at Writeinteractive. A graduate of the Northeastern University School of Journalism, he has written about technology for 30 years. He lives on the ocean in scenic Nahant, Massachusetts.