Affiliate Disclosure: As an Amazon Associate, I earn from qualifying purchases. Learn more.
In this post, I'll compare the similarities and differences between the all-new Amazon Echo Studio vs Echo Plus smart speakers with Alexa and premium audio.
If you simply want to know the key differences between Echo Studio vs Echo Plus, here they are:
The larger Echo Studio features Dolby Atmos processing and more audio hardware with three 2″ midrange speakers, a 1″ tweeter, and a 5.25 " woofer. This is in contrast to the 0.8″ tweeter, 3″ woofer, and standard Dolby sound in the Echo Plus. They both have a built-in Zigbee smart home hub.
Echo Studio vs Echo Plus: Features Comparison
With these significant enhancements, the Echo Studio is my enthusiastic pick for premium sound in a smart speaker, though it does cost a bit more. You can check the latest price of both the Echo Studio and the Echo Plus over at Amazon using the buttons in the following table.
My Pick
Echo Studio
Best Sounding Echo
Number of Speakers: 5
Speakers: 1" Tweeter, three 2" Mid-range Speakers, and 5.25" Woofer
Dimensions: 8.1" height x 6.9" diameter (206 mm x 175 mm)
Weight: 7.7 lb (3.5 kg)
Amplifier: Peak output 330W; 24-bit DAC; 100 kHz bandwidth
Line In/Out: 3.5 mm or mini-optical Toslink Line In
Dolby Processing: Yes, Atmos
Zigbee Smart Home Hub: Yes
Temperature Sensor: No
Echo Plus
A Cut Above
Number of Speakers: 2
Speakers: 0.8"Ttweeter and 3" Woofer
Dimensions: 5.8" x 3.9" x 3.9" (148 x 99 x 99 mm)
Weight: 27.5 oz. (780 grams) A
Amplifier: None
Line In/Out: 3.5 mm Audio Input or Output
Dolby Processing: Yes, Dolby Audio
Zigbee Smart Home Hub: Yes
Temperature Sensor: Yes
There are other advantages of Echo Studio vs Echo Plus too. I will go into them in more detail below.
---
Key Hardware Differences
I
've already maxed my annual budget for Amazon devices. I now own 11 Echo devices total, including an Echo Plus. In order to research this post, I took a little trip over to my local Amazon Store, where they demo-ing some of
Amazon's new devices
today. I gotta say, the new Echo Studio just rocks.
This is two primarily to some major design upgrades that Amazon has packed into its latest speaker.
Here is what the Echo Studio vs Echo Plus looks like on the outside:
Here is what the Echo Studio looks like on the inside
: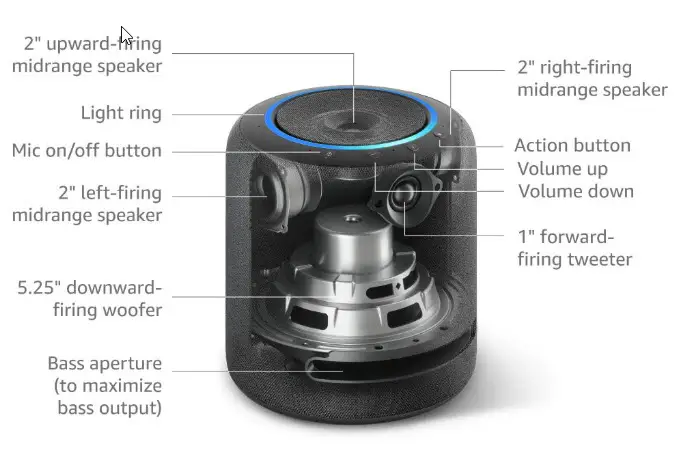 And here is an inside view of the Echo Plus
.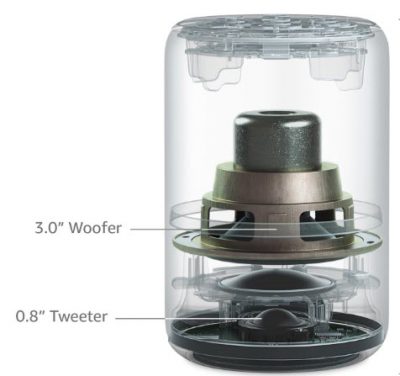 As you can see, the Echo Studio really packs in a lot more hardware.
---
Echo Studio: Watch Out Sonos, Apple and Bose
There is no question that Amazon designed the Studio to not just compete with its competitors like Sonos, Apple Homepod, and Bose. IMHO, Amazon's foray into the premium audio market and relatively affordable price point actually beat them at their own game.  The sound is just amazing. And it should be this bad boy packs a real punch with "multi-dimensional sound" that cranks out of not three, not four, but FIVE speakers and Dolby Atmos processing.
The reason the Studio sounds so good is that it includes microphones inside are designed to calibrate its audio performance based upon its surroundings. Now, how is that for smart?
Nicole Lee from Engadget does a nice job with this video overview of the Echo Studio
While I don't have the budget for this just now, I do plan to purchase one over Black Friday sale, and I can't wait to add it to my multi-room music configuration.
So what about the Echo Plus? I have always been impressed with the sound of my Echo Plus. Next to Echo Show 2nd Generation, this was my favorite sounding Alexa speaker. But the Echo Studio just blows it out of the water. And with the release of the new Amazon Echo [3rd Generation], there is really no compelling reason to get the Plus now, unless the temperature sensor and Zigbee Hub are important to you.
---
What Can the Echo Plus Do?
Echo Plus was Amazon's answer last year to improved sound quality from some of the competitors' sound speakers mentioned above.
It also provided a Zigbee smart home and a built-in temperature sensor so it could be used to create routines with smart thermostats for example.
However, Amazon recently announced its update to the new Echo [3rd Generation] will include the same premium hardware that is in the Plus. So, I'm scratching my head wondering if the Plus is worth the extra expense.
In the following video review, Digital Trends talks about some strengths and weaknesses of the Echo Plus:
Let's take a closer look at the sound quality of both of these devices.
---
Echo Studio vs Echo Plus: Sound Quality
The Echo Studio comes with three 2" (51 mm) midrange speakers, one 1" (25 mm) tweeter, one 5.25" (133 mm) woofer. In addition, Amazon added Dolby Atmos processing on board as well as an amplifier with a bass aperture to maximize bass output at 33OW.
Perhaps the best feature of the Echo Studio is that it automatically adapts to room size and acoustics to optimize for sound quality.  No need to fumble with an equalizer, the Studio uses its built-in microphones to listen to the acoustics of a room and then optimize its 3-D sound experience.
This just blew me away.
By contrast, the Echo Plus has a 0.8″ tweeter and 3″ woofer. It leverages standard Dolby audio and does not auto-optimize for room acoustics and size.
Both speakers support a wide variety of audio formats and streaming media services that include Amazon Music, Apple Music, Spotify, Tidal, Deezer, Pandora, SiriusXM, iHeartRadio, and TuneIn.
If you want to know which speaker is louder, it's the Echo Studio.  You don't need to look any further than the speaker's onboard hardware and amplifier to understand that the Studio is significantly louder than the Plus.
---
Echo Studio vs Echo Plus: Design Considerations
Both speakers sport Amazon's latest generation design, with solid-state plastic and mesh outer wrapper. While the Plus lets you choose between three colors—Charcoal, Heather Gray, and Sandstone—the Echo Studio only comes in gray.
The Echo Studio is also much larger (8.1" height x 6.9" diameter) and nearly 10x heavier than the Plus, weighing in at 7.7l bs. The Plus is 5.8" x 3.9" x 3.9" and 27.5 ounces.
Echo Studio also has a bit of a signature. That is, there is a thin rectangular hole that runs across the bottom ¼ of the speaker. This is different than any other Echo device. It looks and feels richer than the Plus in my opinion.
OK, I'm going to admit the background music in this video from UTILITARIAN TV is a little creepy but if you want to get an idea as to the design of the two speakers this is pretty good.
---
What Can the Echo Studio vs Echo Plus Control?
Both speakers include a built-in Zigbee smart home hub. The main benefit of this is that you don't need to buy an additional hub to control smart devices that rely on Zigbee. For example, since Philips Hue lights are Zigbee compatible, you don't need to buy a separate Hue bridge.
There are also a ton of smart devices out there that don't require a bridge or hub at all. These include:
Smart lights
Plugs and outlets
Smart thermostats
Door locks
Smart appliances
Alarms and sensors
Security Cameras and related equipment
Many others
In comparing Echo Studio vs Echo Plus in the realm of smart device control, the functionality is essentially the same.
---
Are There Any Alexa Differences to Be Aware Of?
The speakers are also identical where Alexa is concerned.
You get all of the benefits of Alexa on both devices. Well, except for those that are only available on screened devices, like the Echo Show of course.
Related 📰: Echo Show 2 vs Facebook Portal Plus vs Nest Hub Max
---
What are the Major Differences Between Echo Studio vs Echo Plus?
Here is a list of major differences between the Amazon Echo Studio and Echo Plus:
The biggest difference is the number and type of speakers as noted elsewhere in this post: The Echo Plus has two speakers and the Echo Studio has 5
Echo Studio analyzes the acoustics of a room and adjusts audio to optimize the sound experience. No other Amazon speaker does this today.
The Echo Studio has a built-in amplifier, the Echo Plus does not.
Echo Studio is dramatically bigger and heavier than the Plus.
The Echo Studio has a hole in the bottom quarter of the unit; the Echo Plus does not.
Echo Studio has a 3.5 mm or mini-optical Toslink line in, and Echo Plus has 3.5 mm line in/out.
The Echo Studio leverage Dolby Atmos processing, where the Echo Plus uses standard Dolby audio.
Echo Plus has a temperature sensor; the Echo Studio does not.
---
Echo Studio vs Echo Plus: 6 Similarities
Here is a summary of some common features of both the Echo Studio vs Echo Plus:
They both sport Amazon's updated next-generation design.
They both include a built-in Zigbee smart home hub.
The contents of the box are pretty much the same: Echo speaker, power cable, Quick Start Guide.
They both support a variety of streaming media services and audio formats that include FLAC, MP3, AAC, Opus, Vorbis, Dolby Digital, Dolby Digital Plus, Dolby Atmos, Sony 360 Reality Audio, and MPEG-H support for CD Quality (16-bit) and Hi-Res (24-bit).
Wi-Fi and Bluetooth support are the same.
They both give you all the benefits of an Alexa speaker.
---
How Long Is the Echo Studio vs Echo Plus Warranty?
Amazon offers a 1-year Limited Warranty for both devices with options to extend. Check the Amazon product pages at the links below for details.
---
Echo Studio is Available for Pre-Order Now
The Echo Studio is available now. You can check 🔊the current price on Amazon here.
The Echo Plus 2nd Generation is also available. You can see the 🔊latest customer reviews and price on Amazon here.
---
Is It Worth Getting the Echo Plus?
So what do you think about my review comparing the Echo Studio vs Echo Plus?
Now that Amazon has released an updated Echo device, do you think the Plus is still worth a look? Do you think Amazon will ultimately shelf the plus smart speaker?
My take is that with the price of the new Echo [3rd Generation] now more affordable than ever, I would be more inclined to buy that over the Plus if the price was my main consideration. If I really wanted the best possible sound quality and ok with paying a little extra, I would go for the Echo Studio.
Please leave me a comment below and let me know your thoughts. I will publish and reply to as many comments as I can.
One thing is for sure, with no end to the increasing demand for smart speakers in view [source Forbes], the resulting innovation will be a win for consumers for some time to come.  The devices just keep getting better and better, and fast!
Anyhow, I sincerely hope you found this article helpful. Please let me know if you have thoughts on how I can make it even better.
---
Related Posts
If you liked this post comparing Echo Studio vs Echo Plus, you might also like some of these articles:
5 Ways You Can Dramatically Improve Alexa Sound Quality
Echo Sub Vs Sonos Sub Vs Bose Sub: All About that Bass!
A+ Alexa! 19 Awesome Amazon Echo Device Gifts for 2019
Amazon Nebula vs Sonos Beam: Does Alexa Raise the Bar?
Fire TV Cube 2nd Gen vs 1st Gen Comparison: What's the Difference?
---
If you got some value from this article comparing the Echo Studio vs Echo Plus, would you mind giving us a quick share on social media?
It just takes a minute, and you can use any of the colorful social media buttons along the top and near the bottom of this page.
Thanks! This really helps to spread the word about our blog and gives us a little boost in Google rankings.
---
About the Author
Tim Brennan, Technical Writer & Blogger
Tim Brennan [a.k.a. "Tec Timmy"] is a senior technical writer with over 20 years of experience writing for companies and organizations in and around Greater Boston, including GE and MIT. In addition to actively writing for this smart home blog, Tim is also a regular contributor over at UniversalRemoteReviews.com. Tim holds a BA in Journalism from Northeastern University. Brennan is a father to two sons, an active blogger, a Star Wars nut, and loves a good taco🌮. There is a strong chance he is developing a crush on Amazon Alexa. You can learn more about Tim here.