Affiliate Disclosure
As an Amazon affiliate, I earn from qualifying purchases.
In this article, I'll give a non-art connoisseur's thoughts and opinions on the Meural Canvas vs Samsung Frame digital art/photo frames. I'll compare them side by side and include some excellent video reviews along with the pros and cons of each frame.
Did you know that one of these is a 4K UHD TV?  Can you guess which one?
Let's jump right in.
Art. Ask For More.
You might recall this tagline for an Americans for the Arts ad campaign that first aired in the 80s and was narrated by Donald Trump-er, I mean Alec Baldwin. It was designed to encourage parents to ask for more art for their kids in and out of school. When I started researching this post, this tagline kept popping into my head.
Why?
Because with this new breed of smart digital art frames, that's exactly what you get.
More.
And so much of it.
Whether you choose a Meural Canvas or Samsung Frame, you get a revolving display of your favorite works of art in a frame that you customize according to your proclivity.
Smart.
In this post, I compare Meural Canvas vs Samsung Frame to help you find the perfect digital art frame to suit your tastes, needs, and budget.
They are, of course, very different price points.  Each offers some unique and rather amazing benefits. They remind me of the picture frames that don the walls of Hogwarts [yes, from Harry Potter fame], so you might even say they are magical.
📚 Related: Meural Canvas vs Canvia
---
Quick Comparison: Meural Canvas vs Samsung Frame
The Best Smart Art Frame
Smart TV and Digital Frame Combo
Displays
Art, Photos, Animated GIFS
TV, Art Mode for Photos and Paintings
Frame options
Black, White, Beige or Walnut
Controls
Hand gestures. iOS/Android, Alexa
Samsung SmartThings App recommended, iOS, Android, Bixby
Adjustments
Brightness, temperature, contrast, exposure, and saturation
Brightness, temperature, contrast, exposure, and saturation
Motion Sensor
Yes optional and also hand gestures for navigation
Yes, in Art Mode powers art on when near
The Best Smart Art Frame
Displays
Art, Photos, Animated GIFS
Controls
Hand gestures. iOS/Android, Alexa
Adjustments
Brightness, temperature, contrast, exposure, and saturation
Motion Sensor
Yes optional and also hand gestures for navigation
Smart TV and Digital Frame Combo
Displays
TV, Art Mode for Photos and Paintings
Frame options
Black, White, Beige or Walnut
Controls
Samsung SmartThings App recommended, iOS, Android, Bixby
Adjustments
Brightness, temperature, contrast, exposure, and saturation
Motion Sensor
Yes, in Art Mode powers art on when near
Last update on 11/24/2023 / Affiliate links / Images from Amazon Product Advertising API
*Subscription fee applies to access the full art library for both products.
---
What is a Smart Digital Frame?
Remember that lame digital USB frame you received or bought for someone as a holiday gift 10 years ago?  Well, we've come a long way, baby.  These two products are certainly not that.  I think I still have my old digital frame sitting in a drawer someplace here.
The frustrating thing with this was there was no easy way to keep it updated, save having to make a USB connection to the computer and then download the images.  I put a handful of images of my kids on there, let it rotate for about a month, and then stuffed it in a drawer. Painful.
The new breed of frames works using your smart devices and Wi-fi; you can also instantaneously stream products to them from your mobile device or purchase and download prints from the Cloud.
Best of all?  Digital art technology has gotten much better. Meural customers rave about popular paintings saying that they can even make out brush strokes.  Samsung Frame lets you mount the TV flush to the wall. One skinny, sleek cord is nearly invisible, so it does look like a work of art.
📚 Related: Aura vs Nixplay vs Skylight
---
Meural Canvas
If you are looking for a smart digital art frame for your wall and already have a smart TV that you like, look no further than Meural Canvas. The most obvious difference between Canvas and Samsung Frame is that the Frame is also a 4K UHD TV. In a way, we're comparing apples and oranges when it comes down to that.  However, where Meural truly shines is in its delivery of art, photos, video, animated images, and more as a true digital art frame. You can choose from a library of 40,000 works of art or upload and add your images seamlessly, magically, using your smartphone or tablet.
Swiping through photos on your phone swipes them across the Meural display.  I have reviewed a ton of smart home technology over the past year and a half, and I will say this is one of the coolest products out there.
After reading several reviews and looking at over a dozen Meural options on Amazon, I could see how a would-be art lover might be confused.  A while ago, there were very few Meural frame sizes types. This is no longer the case. There are many colors, sizes, and frame choices available on Amazon now.  I'll put together a pricing table showing some of my favorites.
Here is the unboxing I did of my Meural Canvas over at my TecTimmy YouTube channel:
Erin Lawrence, one of my favorite tech reviewers, gives a super-comprehensive and thorough video review of the Meural Canvas on her channel.
Pros
Can show a wide variety of art and photographs from classic artists to your own photo library
Extensive database library of over 40,000 works of art
Swivel bracket lets you rotate Meural on the wall to portrait or landscape mode
You can wave your hand and use other gestures in front of the canvas to navigate art options (near motion detection)
Easily control Meural and browse a wide range of art using the app
Can cycle through works by the artist (e.g., Norman Rockwell, Pablo Picasso, Andy Warhol) or even specific museums (e.g., MOMA, Lourve)
Adaptive brightness auto adjusts canvas brightness to match the light in the room
Art looks real, unlike other frames that either give off too much or too little light
Super easy to send a playlist of your photos to the canvas, even when not at home
Can navigate photos and art using Alexa [just say "Alexa, next on Meural to move to the next image]
This requires that you enable the Alexa skill for Meural [Erin explains how to do this in her video review]
Cons
A subscription fee applies for full access to art database
Non-subscription art database is limited, but you can upload unlimited photos of your own
Some customers complained that Meural set up process could be more intuitive and others had some issues connecting to Wi-Fi
---
---
Samsung: The Frame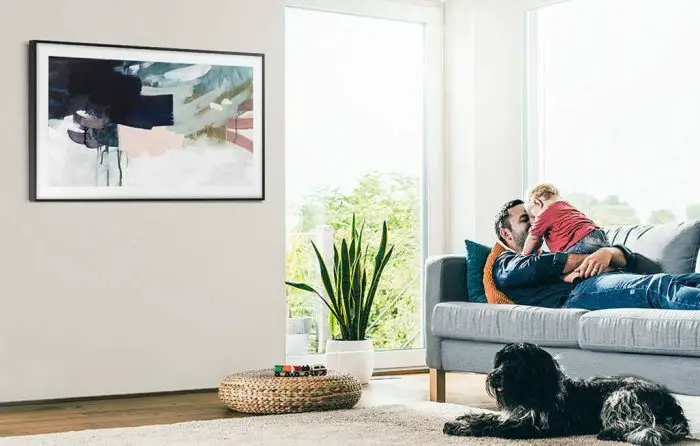 The Samsung Frame is a digital frame that doubles as a 4K UHD TV. Or is it a TV that doubles as a frame? Regardless, customers who own this TV rave about the picture being the best they have ever owned. While the Frame's library of 1,000 works of art looks dwarfish in comparison to the Meural Canvas, the Frame does include a hefty starter pack of 100 pieces of art from 10 different genres.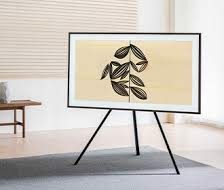 While this may seem a bit gimmicky, that's the point – it's a great TV that doubles as a picture frame. Looking over many reviews, it seems that some types of art, especially low light, play better than others. However, there are a ton of factors that come into play (light in the room, for one), and some customers love and rave about the art features.
You can also get office work done on your TV. Remote Access lets you mirror your computer's display on the TV screen wirelessly. You can even tap into your office PC to access files or work on documents using Microsoft Office 365—all from the comfort of your couch.
Customers who purchase a monthly subscription for a small fee (I think it's like $5) get full access to much more art and seem to enjoy it more than customers who use only the starter pack.
The 65-inch UHD TV model is currently "Amazon's choice." I can see why.
Check out Samsung's ad spot for the Frame below. Cool.
I went to my local Best Buy and asked for a demo for this post. The picture is simply stunning. I'm considering upgrading my 55" Samsung UHTV to the 65" Frame as I own the Meural Canvas.  I think they would love being able to rotate pics of their 10 grandchildren inside of that beautiful frame. Very Harry Potter, indeed.
Michael Mansell provides a thoughtful unbiased review of the pros and cons of the Samsung Frame:
A note about the pricing that Michael mentions – pricing has come down quite a bit since his review.  You can check the latest pricing on Amazon by clicking on the button above.
Pros
QLED 4K Ultra High definition delivers a stunning picture with over a billion shades of color
The TV hangs snug to the wall to make it look like a work of art
Extensive art store
Comes in four frame options to match your décor and taste: Black, white, beige or walnut
Lots of matte and collage options to display multiple photos in the frame
One "invisible" slim cable combines A/V gear into a single connection
Quantum 4K Processor upscales content for sharp detail and refined color
Samsung Bixby for voice control [similar to Alexa]
Night mode automatically turns off TV and frame when lights go out
Cons
One Connect Box remains exposed and is required to support the thin wire to the TV and other components
Customers complain that Smart View app for photos has issues; suggested workaround is to use Smart Things app instead
---
---
Conclusion
Samsung makes great Smart TVs, and the Frame is no exception. Many customers are more than satisfied with the art capabilities to the TV as well.
As Erin Lawrence so articulately demonstrates in her review of the Meural, this is an amazing piece of smart home décor that, if you can afford it, could add a great deal of pleasure to your life, especially for art and photo lovers.
They both require a subscription to access their full art libraries Meural has a more extensive library and can browse and rotate by a specific artist and favorite museums. I am a huge fan of The Getty Museum in LA, so I thought that was cool.
All in all, if you like the idea of displaying art on your TV that also looks like a frame, the Frame may be a good option for you. This makes more sense if you are in the market for an outstanding UHD 4K Smart TV.
If you are looking for the best digital art frame that money can buy today, consider Meural. You can see the latest pricing on Amazon for the Meural here and The Frame here.
---
Meural Canvas vs Samsung Frame: Ask for More?
So what do you think about the Meural Canvas vs Samsung Frame?
Do you like the larger 4K TV that the Frame gives along with your smart art capabilities? Or do you prefer the more refined Meural Canvas with the larger art library?
I am a big fan of the Getty Museum in LA. Hmm. Maybe I am a bit of an art connoisseur after all.
Please comment below and let me know your thoughts about these two products. It would be great to get some reader opinions on these two.
---
Related Posts
If you enjoyed this post comparing Meural Canvas vs Samsung Frame, you might also like my other posts about smart home devices.  Here are a few of the most recent.
---
Meural Canvas vs Samsung Frame: Please Like and Share
By the way, if you got some value from this post reviewing the Meural Canvas vs. Samsung Frame, would you do me a huge favor and give it a quick share via social media? It just takes a few seconds to use the colorful social media buttons along the top and bottom of this page.
It helps us spread the word about this blog and gives a little boost in Google too.
---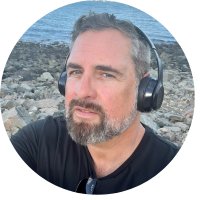 Tim Brennan, a tech blogger and host of the @TecTimmy YouTube channel, writes about smart homes at oneSmartcrib, home theaters at UniversalRemoteReviews, and AI in writing at Writeinteractive. He holds a Journalism degree from Northeastern University and has covered technology for three decades. He lives on the ocean in Nahant, Massachusetts.