Affiliate Disclosure
As an Amazon affiliate, I earn from qualifying purchases.
Can Alexa control LED strip lights? Well, I have recently been working to upgrade my home theater game and am planning on installing some LED light strips as bias lighting behind my TV to add to the other smart light in my apartment. This got me thinking about whether I will be able to control LED light strips using my Amazon Alexa devices. I did a bunch of research and here is what I found.
Yes, many brands of LED light strips—including those made by Philips Hue, Goavee, and Maxonar—can be controlled using Alexa. You can use Alexa voice commands to turn the lights on and off as well as adjust color and brightness; some will even synchronize the lighting to your favorite music.
Be sure to read the fine print when buying your light strip to make sure they are compatible with your smart home ecosystem.
Which LED Light Strips Work with Alexa?
The best-LED strip lights that work with Alexa are made by the following brands:
Nearly all smart light strips feature dimmable lights, and they will let you change colors and set colors for different occasions, adjust color temperature, and apply other lighting effects.
While there are some outdoor options, most brands featured here are designed primarily for indoor use. They feature easy installation as "tape lights" (usually via adhesive tape) and connect your wifi controller or smart controller over your home wi-fi network .
Some also feature Bluetooth connectivity and others come with a mini remote controller or use another compatible controller such as via your smartphone or tablet.
---
What is an LED Light Strip?
F
lexFireLEDs, an expert in LED lights, has a great definition of LED lights over on their
website
.
"An LED strip light is a flexible circuit board that is populated with LEDs that you can stick almost anywhere you want to add powerful lighting in a variety of colors and brightnesses."
I don't think "brightnesses" is an actual word, but I like it!
They also provide some neat ideas for where you can use them. The most popular use of LED lighting is probably bias lighting (e.g., different colors for behind a flatscreen TV), but some other popular creative home uses include:
Under kitchen counters and islands
Bathroom accents
Cabinets and shelving
Handrails and walkways
Garden and landscaping accents
Around artwork and displays
Basically, LEDs can go anywhere you want to add a little splash of color and light.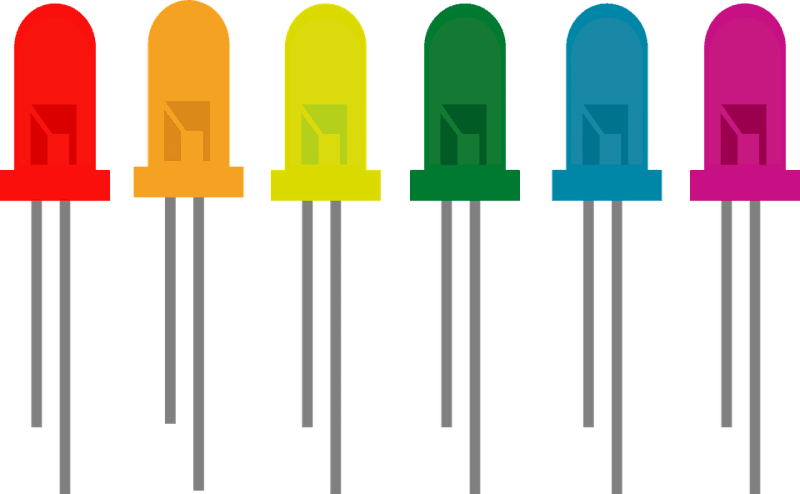 They are a popular trend in smart lighting. A recent report compiled by market research firm MarketWatch, predicts that the growth trend will continue through at least 2024 with the overall market to reach 1060.0 million. Now that's a lot of LEDs!
Also, in this PDF report prepared by Navigant Energy Research and available on Energy.gov, the company presents the findings for major general illumination lighting applications where light-emitting diode (LED) products are even competing with traditional light sources.
Long story short, if you are in the market for LED light strips, you are in good company.
---
Benefits of LED Strip Lights
Strip lights offer many aesthetic as well as practical benefits.
First, you can cut them so you are able to size them to your exact space and specifications.
Second, they are flexible so you can bend them up to 90 degrees. This means that go great around walls, under counters, etc.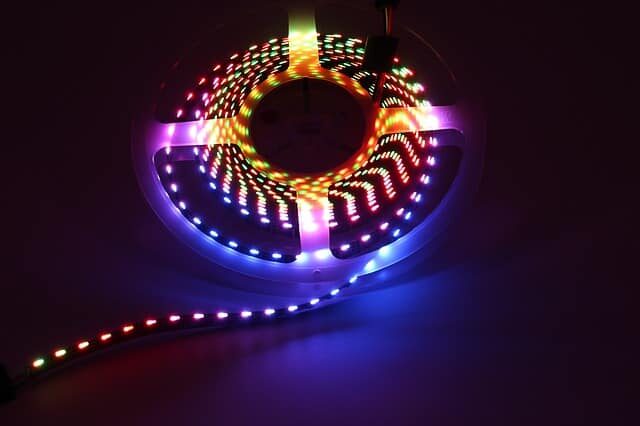 Third, you can dim them and adjust the color to get just the right of light and ambiance you want. Some of the strips have a peel and stick capability making installation easy.
Fourth, they are non-toxic and low temperature, so safe around kids and pets, and have a very low risk of causing a fire.
Fifth, they are super energy efficient and cost just pennies a month to run if they are on often.
They are also environmentally friendly as they require very little power in order to run.
If this is not enough, RemodelingImage.com has a mondo list of 20 Benefits and Advantages of Strip LED Lights.
---
How To Control LED Strip Lights with Alexa
The full procedure to connect your LED strip lights with Alexa will depend on the brand of LED lights you purchase.
However, the general process is done by first installing the strip lighting where you want it. This is usually done by cutting the lights to the desired size and then attaching them to the desired surface using an adhesive backing.
You would then need to add the lights strip as a new device using the Alexa app.
Open the Alexa app.
Tap the Devices icon.
At the top of the Devices screen, click the + symbol to add a new device.
Tap Add Device.
Tap Light.
Tap the brand for your LED light, and then follow the onscreen instructions to complete the Alexa integration.
When finished, your LED strip light will be available in the list of Devices, where you can adjust various settings. This is usually done via an Alexa skill created by specifically for the smart strip lights.
Note: Some brands will only support a 2.4GHz network, so if you are on 5G, you may need to switch to get the lights to work.
Tech Chap has a nice video demo of how he uses Hue lighting, including LED light strips, with Alexa:
---
What LED Strip Lights Work with Alexa?
Here's a table that showcases my top picks based on my own experience, and extensive research on Amazon and using leading industry resources.
I tried to include a nice mix of sizes as well as price points for various needs and budgets. All of these work with Alexa for some degree of voice control.
Image
Title
AI Support
Prime
Shop Amazon

Top

Top

Top

Top

Top

Top

Philips Hue Bluetooth Smart Lightstrip Plus 2m/6ft Base Kit with Plug, (Voice Compatible with Amazon Alexa, Apple Homekit and Google Home)
Alexa, Google, Homekit

Prime

Eligible

CHECK PRICE
Govee Smart LED Strip Lights, 50ft WiFi LED Lights with App Control, LED Lights for Bedroom, Living Room, Home, Party, 64 Scenes and Music Sync, Work with Alexa and Google Assistant, 2 Rolls of 25ft
Alexa, Google

Prime

Eligible

CHECK PRICE

Top

Top

Top

Top

Top

Hedynshine 33 Ft LED Strip Lights,Non-Waterproof 300pcs RGB Rope Lights, Sync to Music, 24 Key Remote Control and Compatible with Alexa/Google Home,WiFi LED Lights Strip
Alexa, Google

Prime

Eligible

CHECK PRICE

Top

Top

Top

Top

Top

Philips Hue White & Color Ambiance Outdoor LightStrip 5m/16ft (Requires Hue Hub, Works with Amazon Alexa Apple HomeKit and Google Assistant)
Alexa, Google, Homekit

Prime

Eligible

CHECK PRICE
The table is automatically updated nightly via direct integration with Amazon's API. To see the up to the minute price, click through to Amazon (link opens in a new window).
---
Which Alexa LED Strips Should I Buy?
My recommendation is going to be a bit biased here as I am a big fan of Hue light bulbs. I was an early adopter of the Hue bridge and starter kit, and I have several Hue bulbs in my little apartment.
The main benefit of Hue over other brands is the quality. This includes things like reliability, responsiveness as well as more subtle dimming and color changes than other brands I've tested. I have a mix of both white color and bulbs that color change. When I first started buying Hue a few years back they were expensive, but now you can get Hue RGB strip lights for a very reasonable price.
For indoor LEDs, I like the Philips Hue White and Color Ambiance LightStrip Plus [links to Amazon]. The only drawback is that it requires the Hue Hub [sold separately]. But these work great with Alexa as well as Apple's HomeKit & Google Assistant. If you already have a Philips Hue hub, this is your best option to control LED light strips with Alexa.
If you want a budget option that doesn't require a Hub, I recommend the Goavee LED Strip [also links to Amazon].
Available in 32.8 and 16.4 FT sizes, this feature-rich strip works with Alexa and Google, has bright colorful LEDs, and has a built-in microphone that will listen to your music and respond accordingly. Neat.
So now that you know the answer to the question can Alexa control LED strip lights, let's take a look at some popular commands.
---
Popular Alexa LED Strip Commands
So at the most basic level, people ask whether Alexa can control LED strip lights by turning them on and off. Absolutely! This is one of the coolest things about LED light strips with Alexa, I think.
Depending on the brand of smart LED light strips you buy, you also get lots of additional commands to make controlling lighting easier. These are some of the best Alexa features IMHO.
For example, Phillips Hue commands include things like,
Alexa:
"Turn on my light strip."
"Turn off my light strip."
"Make my kitchen brighter."
"Dim the lights."
"Brighten the LED lights to 75%."
"Make my lights warmer."
"Make my lights cooler."
"Turn my kitchen lights orange."
"Set the lights in the bedroom to Relax."
"Turn on Read in the study."
You can customize the name of your LED lights in the Alexa and Hue apps. Just make sure the light strips have the features you want when you make your purchase and you should be good ?.
TechBlock has a solid demo out on YouTube of how you can use Alexa to control LED lights. I'll embed it below.
Note: If you use Alexa for your wake word, mute your Echos before watching this!
By the way, you can also set custom routines like bedtime mode or even put the lights into a timer mode so they turn off and automatically, apply for favorite color selections for certain events and more.
---
Can Alexa Control LED Strip Lights – Your Turn
So, have I fully addressed the question: can Alexa control LED strip lights? If so, cool. If not, what did I miss?
Either way, can you please leave me a comment below so I know whether this helped? Enjoy the new ambiance that LED lights strips with Alexa afford!
You can fast forward to around the 3-minute mark for the music demo.
---
You Might Also Like
If you like this article answering the question can Alexa control LED strip lights, you might also like the following related posts. Thanks for your support of my blog!
---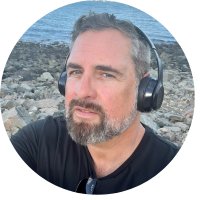 Tim Brennan, a tech blogger and host of the @TecTimmy YouTube channel, writes about smart homes at oneSmartcrib, home theaters at UniversalRemoteReviews, and AI in writing at Writeinteractive. He holds a Journalism degree from Northeastern University and has covered technology for three decades. He lives on the ocean in Nahant, Massachusetts.