Affiliate Disclosure
As an Amazon affiliate, I earn from qualifying purchases.
In this blog post, I'll give you step-by-step instructions for how to enable Alexa Whisper Mode using two simple methods.
Alexa Likes to Whisper Too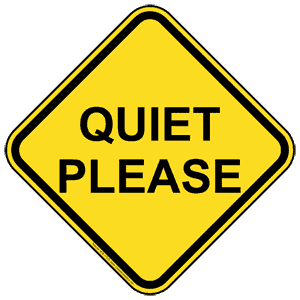 Alexa. We all love her. Well, at least the good ones who aren't obsessed with those impostor assistants like Google Assistant, Siri, and that Microsoft one (Cortana).
However, my dear Alexa can be a little…how shall we put this…LOUD… from time to time.
Have you ever wished Alexa could respond in a whisper when you need some peace and quiet?
Thankfully Amazon's voice assistant has a Whisper Mode feature that lets you do just that! This new feature is perfect when you don't want to disturb sleeping family members or want to keep the volume down when watching TV.
In this article, I'll look at two quick and easy ways to enable Alexa whisper mode in order to help you maintain a little more Zen in your life.
How to enable Alexa Whisper Mode? If you want the short answer, click on the bar below.
---
What is Alexa Whisper Mode?
Alexa Whisper Mode is a brilliant feature that allows Alexa to respond in a low voice when you whisper a voice command. Instead of using your normal voice or adjusting the normal volume of your echo speaker, you whisper.
It's great for late-night interactions, especially when someone in the house is sleeping. Moreover, this feature doesn't just work on Amazon Echo Dot; it's available on various smart displays and even on Amazon Fire TV.
Whisper Mode is particularly useful for people with an echo speaker in a room with a sleeping child or for anyone who is noise sensitive.
It's also a great feature for keeping the ambiance calm during your quiet indoor nights.
---
How To Enable Alexa Whisper Mode (Two Methods)
Method #1: Using an Alexa Voice Command
The easiest and quickest way to enable Whisper Mode is by using a voice command.
Simply say, "Alexa, enable whisper mode."
Alexa will respond, "OK, whispered responses are now on." You can disable it similarly by saying, "Alexa, disable whisper mode."
You can now whisper to Alexa, and she will whisper back to you in kind.
Method #2: Using the Alexa App
If you cannot use the voice command method for any reason, you can enable Whisper Mode through the Alexa App:
Open the Amazon Alexa app on your mobile device.
Tap on the More icon located at the bottom right of the screen.
Select Settings from the menu.
Scroll down and tap on Voice Responses under Alexa Preferences.
Toggle the switch next to Whisper Mode to enable the feature.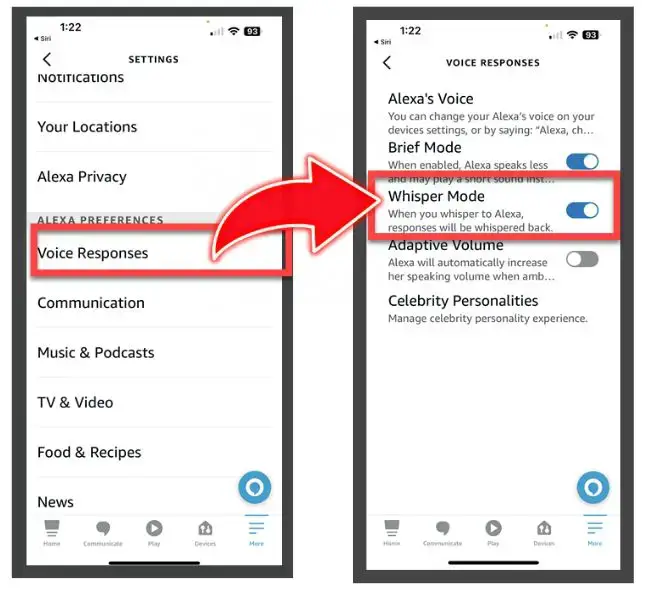 Now, Alexa's quiet indoor voice is enabled for all devices on your account. Whisper away!
Craig's Tech Talk does a nice job of reviewing the feature on YouTube. Helpful video, as usual, man. Dig the blue wall paint.
---
Why Would You Want to Enable Alexa Whisper Mode?
Several situations would make good reasons to enable Alexa whisper mode.
Here are some that I can think of:
The baby (or kids or grandma or other family members or Mike Tyson's cat) and you don't want your Alexa weather report to wake them up.
You have a headache.
You need a little quiet time.
You are burglarizing a house but want to get the latest score of the Sox game.
Your wife is watching TV in the next room and you have a mad urge to play Jeopardy.
You like the idea of Alexa whispering sweet nothings in your ear. (Who me? No. No. OK, moving on…)
Your curiosity about this feature has gotten the better of you and you HAVE to try it.
You want to pretend your Elf and say, "I like to Whisper too."
Pro Tip: Try this using the Simon Says skill – and Alexa will say it back! [In whisper tone say: Alexa, Simon Says: I like to whisper too.]
Here is Ellen experimenting with Whisper Mode [hilarious!].
---
FAQs about Alexa Whisper Mode
Question: Which Alexa Devices Support Whisper Mode?
Whisper mode is compatible with most Alexa-enabled devices. Popular devices that support this feature include Echo Show 5, 8, 15, and 10; Echo Show 2nd Generation and 1st Gen; Echo Dot 5th Gen and 4th Generation; Echo Dot 3rd Gen and 2nd Gen; Amazon Echo; Echo Studio and Plus; Amazon Fire TV Cube and Firestick; and the discontinued Echo Spot. This wide range of compatibility makes it easy for most Alexa users to take advantage of Whisper Mode.
Question: How does Amazon Alexa Whisper Mode work?
Answer: Whisper Mode works seamlessly with most Amazon Echo devices by utilizing neural networks to recognize whispered voice commands and respond accordingly. This advanced technology ensures that your interactions with Alexa are natural and efficient, improving your overall experience with the Echo devices. Whether using an Echo Show, Echo Dot, or any other compatible device, Whisper Mode will enable you to interact with Alexa quietly and without disturbing others around you.
Question: How can I know if Whisper Mode is enabled on my device?
Answer: When Whisper Mode is enabled, Alexa will respond in a whisper if you whisper your commands. To check if it's enabled, whisper a command to Alexa, and if she whispers back, then Whisper Mode is on. You can also check through the Alexa app by going to Settings > Voice Responses and seeing if the toggle next to Whisper Mode is enabled.
Question: Does Whisper Mode affect the sound quality of Alexa's responses?
Answer: No, Whisper Mode does not affect the sound quality of Alexa's responses. It only lowers the volume and adjusts the tone so that the responses are whispered. Alexa's voice remains clear and easily understandable, just softer. This ensures that you can still communicate effectively with Alexa without disturbing others around you or breaking the tranquility of your environment.
Question: Can Whisper Mode be scheduled to turn on and off automatically?
Answer: Currently, Whisper Mode cannot be scheduled to turn on and off automatically. You have to manually enable or disable it using either the voice command or through the Alexa app. However, since Amazon is constantly updating and improving Alexa's features, scheduling functionality may be added in the future.
---
How To Enable Alexa Whisper Mode [SOLVED]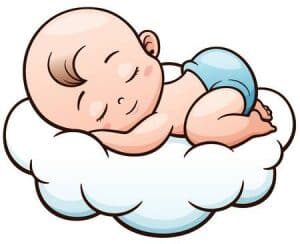 Alexa's Whisper Mode is an innovative feature that adds convenience and versatility to your daily routine. It's perfect for those who want to communicate with Alexa without the risk of waking up the entire house. Whether it's your first time using an Amazon device or you are an experienced user, Whisper Mode is easy to set up and offers a more personalized experience.
With the introduction of this feature, Amazon continues to innovate and adapt to the needs of its customers. So, the next time you find yourself in a situation where you need to keep the volume down or you want to have a whispered conversation with Alexa, Whisper Mode has got you covered.
I like to whisper too!
---
Related Posts
If you enjoyed this post on how to enable Alexa whisper mode, you might also like some of our other posts about Amazon Echo devices and Alexa. Here are a few of the most recent:
---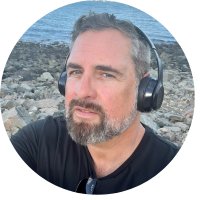 Tim Brennan, a tech blogger and host of the @TecTimmy YouTube channel, writes about smart homes at oneSmartcrib, home theaters at UniversalRemoteReviews, and AI in writing at Writeinteractive. He holds a Journalism degree from Northeastern University and has covered technology for three decades. He lives on the ocean in Nahant, Massachusetts.