As an Amazon affiliate, I earn from qualifying purchases. Learn more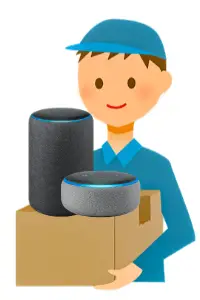 In this post, I'll show you how to move with Alexa and outline the steps you need to take. It's not as easy as I was expecting—so my goal is to make your own Alexa journey less painful than mine.  I'll also give a link over to my post on how to fix up your Alexa multi-room music so you can get that back online too.
In order to move Alexa to your new abode, there are five key things you need to do:
NOTE:
All of the tips will work if you have multiple Echo devices. If you only have one, you can skip step 4.
Moving Day
L
ast week, I moved two towns over—from Saugus Massachusetts to Nahant Beach, Massachusetts.
It's the first time I've moved in 12 years. I've always wanted to live someplace near the ocean.
This is the view from my new crib.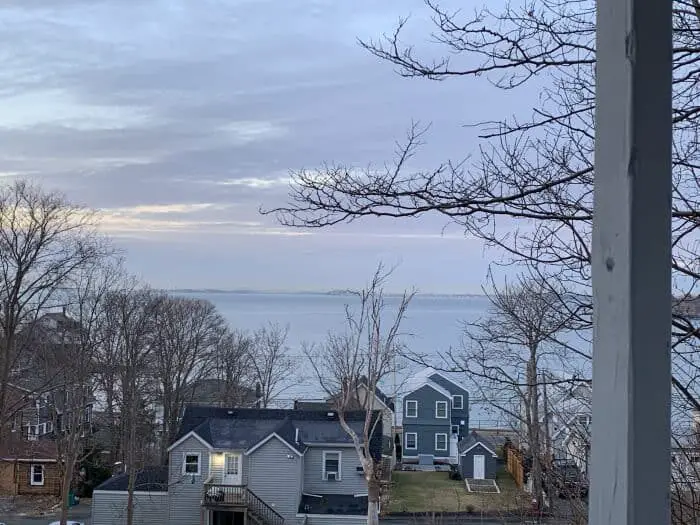 Granted, I didn't move very far. But man, moving is a lot of work with a lot of "moving" parts!
One especially frustrating thing I encountered was that migrating my Alexa devices over to my new abode was more of a "pain in the bleep" that I expected.
What was most surprising is that in addition to changing your address in Alexa's setup, you also need to change your address for each device.
Let's get into the five steps.
---
How to Move With Alexa to Your New House or Apartment
Step 1 – Get All Your Alexa Devices on Your New Wi-Fi Network
Once you get your network set up at your new location, the first step is to get Alexa added to your new Wi-Fi setup.
Chances are the name of your Wi-Fi network that will change (unless you are able to choose the exact same network name as your old location).
Pro Tip:  If you ARE able to keep the same exact network name, there is a *chance* that your Alexa devices will just continue to work as they did at your old place.  This was not the case for me sadly, as I made the mistake of changing my Wi-Fi network name when I moved.  If you can keep the same network name and you like it well enough, try it and give it a shot.
When you are ready to add the devices to the network, do this:
Unplug all of the devices.
Unplug your wi-fi router and wait for a full 30 seconds.
Plug your router back in.
Now, go into each device and add it to your new network one at a time.
Open the Amazon Alexa app.
In the bottom right corner, tap Devices.
Tap the Echo & Alexa icon. A list of your devices appears.

Select the first Echo device on the list.
Next to Wi-Fi Network, choose Change or Select.

Follow the onscreen instructions and let Alexa guide you through adding the device to your new network.
Pro Tip:
When I followed these steps, I ran into some problems with a couple of my devices.  The best thing to do if this happens is to "Deactivate" the device and then reactivate it via the Amazon website. At the very bottom of the Device screen, choose De-register. Then go to https://alexa.amazon.com and re-register it there, and set it up on your network using the portal.
Step 2 – Change Your Address in General Settings
This next step on how to move with Alexa is where things got, ahem, interesting for me. There is a place in Alexa's general settings where you can change your address. I assumed and it took me a while to figure out that this isn't enough. But you should make the change just the same.
Do the following:
Open the Amazon Alexa app.
Tap the hamburger icon in the top left.
Tap Settings. The Settings screen appears.

Tap Your Locations.

Tap Add Location (or click on your old address to Edit it). You will see a Geolocation screen that looks like this.

In the Search for name… box that appears at the top of the screen, enter your new address.
Click Save. Alexa may ask you to verify your location.

will add your new address to Your Locations.
Now, you would think this would be enough and Alexa will recognize the location of your new crib, right? Wrong.
If you changed cities, she is still going to give you the weather, directions, and in my case tide information for your old location. Bummer.
So, what is a "mover" (and a shaker) to do?
Step 3 – Change Your Address on *Every* Device
This came as a bit of shock to me as it is super unintuitive, but:
You also need to update your address for every device. It is what it is. So here we go. Do the following:
Open the Amazon Alexa app.
In the bottom right corner, tap Devices.
Tap the Echo & Alexa icon. Your list of devices is displayed.

Select your first Echo device on the list.
Scroll down to where it says Device Location.
Enter your new address into the fields at the bottom of the screen.

Click Save. Alexa may ask you to verify your address. If so, pick the best choice that matches your new location, and click Select.
If you changed your time zone, you'll need to update that setting as well.

If you want some additional hand-holding, Max Dalton has a nice video that will take you through this step by step. (It's a bit dated but the process is essentially the same.)
Step 4 – Optimize Your Echo Mic Configuration
OK, so this next one is a question I get a lot. That is, whether you can adjust the microphone sensitivity to your Alexa devices.
If you are like me, the layout of your new crib may not be like the layout of your old one. In my case, I downsized.  I used to have my Echo Show in my kitchen, an Echo in my living room, and an Echo Dot in each of my bedrooms and bathrooms.
This worked fine in my old place. In my new place, they trip over each other.
So how do you adjust the sensitivity of the Echo microphones so that they don't' constantly trip over each other?
The short answer: you can't – at least not today.
However, there are a few things you can do to make Alexa hear you better. I have written about them in a separate post here: How To Increase Alexa Microphone Sensitivity on Your Echo.
Check it out.
The upshot is you may need to rearrange your devices in a manner that is different than what you had before.  In my new crib, I put my Echo Show in the living room, my Echo in the kitchen, and a couple of Echo Dots in each bathroom and this works great.
For additional tips, check out the post above. But don't forget to come back and complete step 5.
Step 5 – Reconfigure Your Smart Home and Speaker Music Groups
If you had smart home groups set up at your old place of residence, you will likely need to reconfigure them for your new abode.
For example, at my old crib, I had smart lights set up for my kitchen, living room, two bedrooms, bathrooms, etc. My new place has a different layout (e.g., only one bedroom and the rooms are closer together) and I have positioned my lamps differently. Therefore, I'll need to remove the groups and devices I'm no longer using and apply my new configuration.
You can access the Groups in the Devices area of the Alexa app.
You will also need to reconfigure your Alexa multi-room music setup. I strongly recommend that you delete your existing group and rebuild your "Everywhere" group from scratch.  You can find instructions for doing that here: How To Troubleshoot Alexa Multi-Room Music on Amazon Echo.  See the last section at the bottom, where it says "If All Else Fails, Do This."
Craig from Craig's Tech Talk has a nice video that shows how you can put your Echos into multiple groups.
---
How to Move with Alexa – What's Your Take?
So, what's your take on all this?  Were you as frustrated as I am that Alexa makes a less-than-desirable moving buddy?
Did this help? Did anything here not work for you?
I hope you will please leave me a comment below and let me know either way.
Enjoy your Alexa devices in your new home!
---
You Might Also Like
If you like this article on how to move with Alexa, you might also like the following related posts. Thanks for your support of my blog! Cheers.
About the Author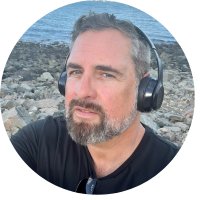 Tim Brennan is a technology blogger and host of the @TecTimmy YouTube channel. He shares insights about smart home tech at oneSmartcrib, home theater systems at UniversalRemoteReviews, and the future of AI in writing at Writeinteractive. A graduate of the Northeastern University School of Journalism, he has written about technology for 30 years. He lives on the ocean in scenic Nahant, Massachusetts.