As an Amazon affiliate, I earn from qualifying purchases. Learn more
Currently, there is no setting in the Alexa app that lets you can increase Alexa microphone sensitivity of your Echo devices. However, in this post, I explain a few things you can try to help Alexa hear and understand you better.
Why Can't Alexa Hear Me?
I
've got a bunch of Echo devices. Eight is the last count, I believe. Some I bought purely for testing reasons, but they are all hooked up in my little apartment.
They sound great with my multi-room music configuration.
But sometimes, they trip over each other.
Also, it seems that Alexa isn't hearing me as good as she did before.
Maybe I'm just being a little sensitive. But hey…
---
I'm a Sensitive Guy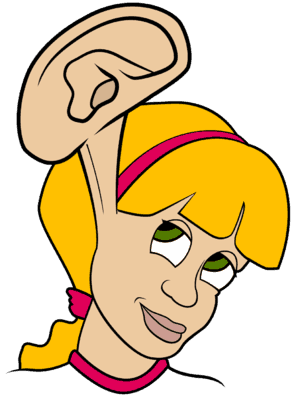 So I started wondering—is there a way to increase the microphone sensitivity of my Echo devices to make Alexa listen better.
If you are here, chances are you are wondering this too.
Well, I've got some good news and some bad news.
Oh, so you want the bad news first? Me too. Always give me the bad news first then make it better.
The bad news is there is no sensitivity adjustment in the Alexa app just yet.
Bummer.
The good news is there a few things you can do to help Alexa hear you 'mo better.
The first way is a bit obvious but the second two ways not so much.
I'll explain all three ways in this post.
📚 Related: How to Fix Alexa Multi-Room Music
---
3 Ways to Make Alexa Listen Better
While it really is a bummer that you can't adjust Alexa's sensitivity, I do know from monitoring the forums that this is a widely requested feature.
I'll bet Amazon is working on it.
So, in the meantime, what can you do?
Speak louder!
What?? I said, SPEAK LOUDER!
Just kidding, stopping short of yelling at Alexa [like I need to do with my elderly mom], what follows are a few simple things you can try to make Alexa hear you better.
---
Way 1: Make Sure You Ain't Blocking Alexa's Mics
Don't say ain't. Your sister will fall in a bucket of paint. Then your father will die. And your mother will cry. So don't say ain't.
I digress, sorry……
The first way is to simply ensure that your Alexa devices are free and clear from any obstruction that might be blocking the microphone.
For example, if you have an Echo Dot on a shelf, make sure there is plenty of clearance above the device as the microphones sit up on top. For the Echo Show, the mics are on the front and top, so pull her out a little bit on your kitchen counter and that should make a difference too.
Amazon recommends eight inches of clearance around your Echo devices.  I realize this is not practical in many situations, but there it is.
📚 Related: Best Amazon Echo Show, Dot & Spot Accessories
---
Way 2: Optimize Your Echo Configuration
Ok, this is going to seem a bit nerdy. BUT I know enough about my Echo devices to know that some are more sensitive than others. For example, the 1st and 2nd Gen Echo Dots are actually more sensitive than the 3rd gen. Sensitivity on the 2nd Gen Echo is excellent and better than 3rd gen. On the Echo Show, 2ND gen is better than 1st gen.
Heck, here's a table of the most popular ones along with sensitivity based on my testing.
Increase Alexa Microphone Sensitivity: Device Voice Sensitivity Table
Echo Device
Sensitivity [Based on my unscientific testing]
Echo Device
Sensitivity [Based on my unscientific testing]
Last update on 09/24/2022 / Affiliate links / Images from Amazon Product Advertising API
I did some testing to confirm the above. The idea is to optimize your Echo configuration by placing the devices you use most in your nearest proximity. I had a 2nd Gen Echo Dot in my kitchen that would trump my Echo Show in the living room. So I swapped it with the Echo Dot 3rd Gen that was in my bedroom, and now my Echo Show takes the lead, which is what I wanted.
📚 Related: A+ Alexa! 19 Awesome Amazon Echo Device Gifts
---
Way 3: Help Alexa Understand Your Unique, Beautiful Voice
While you can't adjust the Alexa voice sensitivity directly [yet], you can teach Alexa how to understand "you" better and recognize your voice using the Alexa app.
Here's how you do it:
Important: Mute your other Echo devices first and make sure you are within a few feet of the Echo device that you want to recognize your voice.
Step 1 From your smartphone or tablet, open the Alexa app. 
Step 2 Click on the little "hamburger" button in the top-left corner of the Alexa app.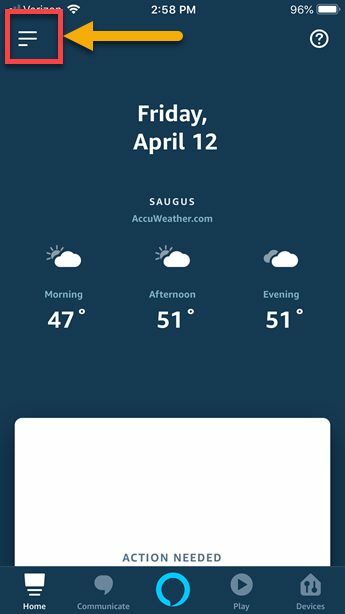 It doesn't really look like a hamburger ?, but that's what it's called. Dang it, now I'm hungry.
Step 3 Tap the Settings tab alllll the way at the bottom left.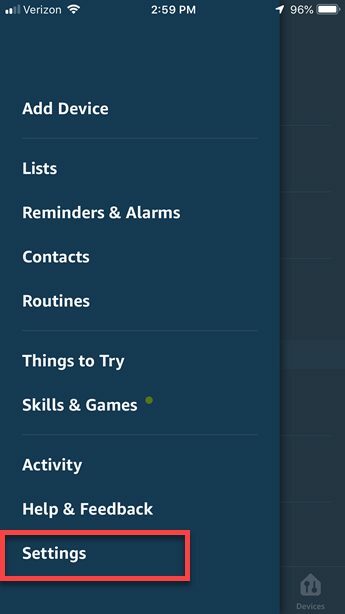 Step 4 Tap Alexa Account.
Step 5 Tap Recognized Voices.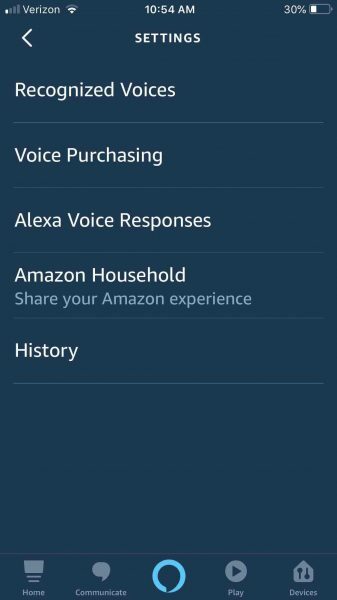 Step 6 Tap Your Voice.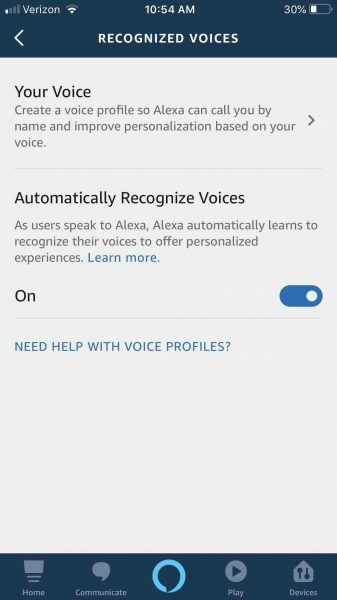 Step 7 Tap Begin.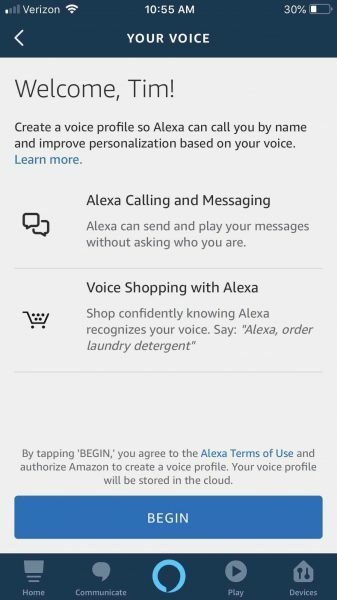 This fires up a "tutorial" that will step you through the process of talking with Alexa so she can hear you better. She will ask you a series of phrases to read aloud.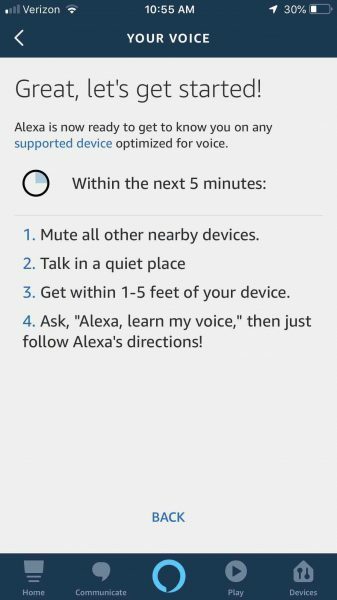 There is some back and forth between the device and the Alexa app. Just follow along with Alexa and she will know your name in no time.
Then say,
"Alexa, who am I "
If your name is Fred, she will now know it's you, Fred.
Creepy? Nah!! Cool. Ya.
This will help your Alexa better understand your own unique voice. You will need to create a voice profile if one is not already set up for you.
The following video from the Wall Street Journal that steps you through the process.
What's crazy about this is MY Alexa device actually recognized Joanne's voice too!
📚 Related: What Are the Best Echo Show Cameras?
---
How To Increase Alexa Microphone Sensitivity – What Do You Think?
So what do you think about these ways of getting Alexa to hear and understand you better?
Do you agree that sensitivity adjustment would be a great feature for Amazon to add to the Alexa app?
Which Alexa devices do you own?  Do you have more than one?
Are you a sensitive guy or gal like me?
Please leave me a comment below and let us know. I would love to hear from you.
Enjoy your Alexa multi-room music commands and music!!
---
Related Posts
If you enjoyed reading this post about how to adjust Alexa voice sensitivity to make her listen better  you might also like some of our other articles:
You can also share this post on Pinterest using the pin below. I hope you will!