Affiliate Disclosure
As an Amazon affiliate, I earn from qualifying purchases.
In this post, I am happy to present you with 11 'wicked' cool smart home yard ideas.
These include smart outdoor lighting, some ideas to smarten up your lawn and landscape, and a few ideas that are just plain fun! Oh, and if you are an Amazon Alexa user, read until the end for a link to my article about some great Alexa skills for outside.
If you simply want to know the best smart home yard ideas for the outdoors, they are:
Smart Home Yard Ideas for Everyone
I
f you grew up in the Boston area like me, then you may be familiar with using the word "
wicked
" as a substitute for "very." You probably also know that the absence of the letter "r" from many words is a staple of the Boston accent.
In this latest article in my technology series, I'll give you 11 "wicked" smart home yard ideas to make time outside a little easier and more fun this spring and summer.
Spring has already sprung. So, let's get outside!!
---
#1 – Smart Sprinkler Controller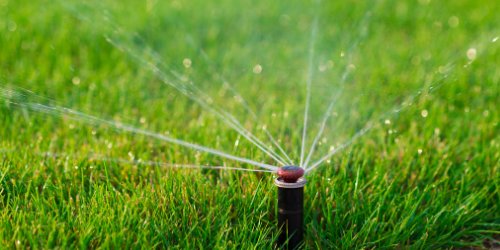 First on my list of smart home yard ideas is a smart sprinkler controller for your lawn. Installing a sprinkler system is probably one of the best investments you can make to keep your lawn watered consistently and looking great. Smart sprinkler systems take this to the next level. Using an app on your smartphone, you can set timers and custom watering schedules via your Wi-Fi connection. This can be super handy while on vacation or during watering restrictions.
Newer models from companies with cool names like Rachio and Rain-Bird can automatically detect weather such as rain and excessive heat and adjust watering accordingly. Some are even compatible with Amazon Alexa and Google Assistant for voice control so you can say things like "Alexa, water my lawn."
📚 Related: 11 Best Smart Sprinkler Controllers for Lush Lawns
---
#2 – Robot Mower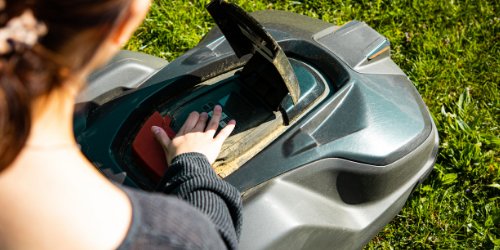 While a robotic lawn mower will require a bit more upfront investment (good ones start around $1,000), your back will thank you. The latest robot mowers do a great job with whole-yard coverage, allowing you to "set it and forget it" where cutting the grass is concerned.
You install an electric fence in the ground around the perimeter of the area you want to mow. You can then set a mowing schedule or control the mower from the palm of your hand using an app on your smartphone or tablet. Don't forget to give your mower a neat name like Buddy or Rover. Husqvarna Auto Mower and Worx Landroid are two leading brands in this space.
? Related: 5 Best Robot Lawn Mowers for 1/2 to 1 Acre
---
#3 – Garden Critter Cam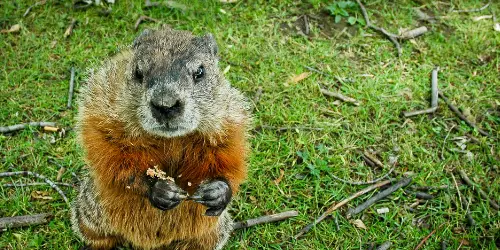 We like to keep things wild where I live here in beautiful Nahant MA. That said, the island has no shortage of animals that can wreak havoc on your yard and garden. Groundhogs, coyotes, rabbits, raccoons, squirrels, skunks are just some of the four-legged critters that can do damage to your yard. If you're curious as to who is gnawing on your tomatoes or rose bushes in the middle of the night, catch them in the act with a trail camera!
Typically used by hunters, trail cameras can be equally effective at taking selfies of your garden pests when motion is detected. Popular brands include ApeMan and GardePro. Some come with infrared night vision and sell for as little as $50. Next, you can plan your counter-strike accordingly. (Just be sure to do it in a humane way please.) #keepnahantwild
---
#4 – Bird Buddy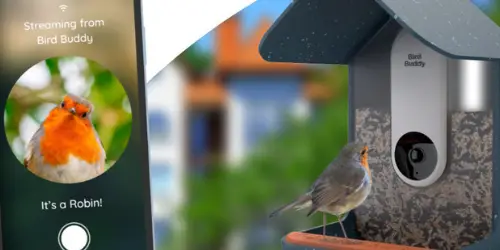 One thing I noticed after moving to Nahant last year is that there are some really interesting birds all over the place here. Not surprisingly, many Nahanters are avid "birders." You can now bring the birds to you and educate yourself about them with Bird Buddy. Bird Buddy is a unique smart bird feeder that snaps a pic of your feathered friends when they pay a visit to your high-tech birdhouse.
Check out this neat video about Bird Buddy:
You then receive a notification along with the pic or live feed via the Bird Buddy app on your smartphone or tablet. Using facial (or is it "beak"?) recognition technology, the app identifies each species of bird and then organizes your visitors into a beautiful photo collection. Bird Buddy is currently available for pre-order over at mybirdbuddy.com. I think this is one of my favorite smart home yard ideas.
Pre-order Bird Buddy at Kickstarter >>
---
#5 – Garden Owl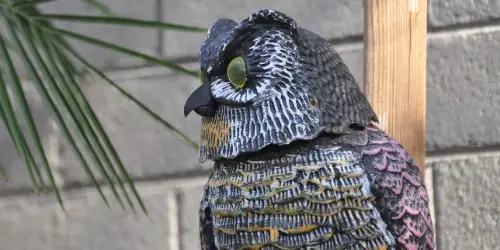 Speaking of birds, I live in a gated community called Bass Point on the bay, and there are a ton of geese over here. We all know what geese can do to muck up a beautiful landscape. Enter Garden Owl. I am so looking forward to trying this "wise" idea out this spring.
Basically, Garden Owl is a realistic-looking plastic owl that moves and makes noise when it detects motion. Owls are natural enemies of geese as well as other critters like rabbits and rodents, all of which can be huge lawn and garden pests.
I read a bunch of reviews on Garden Owl, and it sounds like this thing does a great job as a geese deterrent. I'm going to pick up one of these over at Amazon this week. This is probably the least expensive and most effective of my smart home yard ideas.
Update: I finally got Garden Owl out of the box and this looks encouraging! Here is an unboxing video that I published on my YouTube channel earlier today:
---
#6 – Hue Outdoor Accent Lights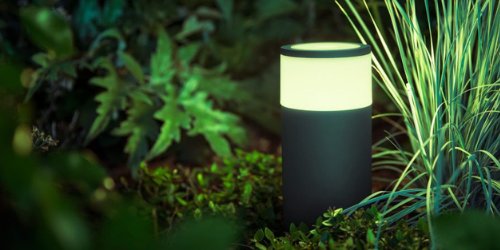 One of the coolest things that you can do to bedazzle your landscape and pathways is to install some smart outdoor lights. A new breed of outdoor lights from the likes of Philips Hue is dramatically better and more colorful than those weak solar stake lights of the past.
Two of my favorite outdoor smart lights are Hue Calla and Hue Lily. One is a colorful spot and the other is a very chic-looking pathway light. Both will sport over 16 million colors and all shades of white.
Image
Title
Price

Top

Top

Top

Top

Philips Hue Lily White & Color Outdoor Spot Light Base kit (Hue Hub required), 3 Spot Lights with Power Supply + Mount, Works with Alexa, HomeKit & Google Assistant
See It At Amazon

Top

Top

Top

Top

Philips Hue Calla White & Color Ambiance Outdoor Smart Pathway light extension (Hue Hub & Base Kit), 1 Hue White & Color Pathway light + mounting kit, Works with Alexa, HomeKit & Google Assistant
See It At Amazon
Product prices and availability are accurate as of the date/time indicated and are subject to change. Any price and availability information displayed on [relevant Amazon Site(s), as applicable] at the time of purchase will apply to the purchase of this product.
Prices pulled from the Amazon Product Advertising API on:
You can set dimming and brightness as well as schedules using the Hue app. If you want to learn more about these lights, check out the "Calla vs Lily" post on my blog. I'll include a link to it below. You can't beat Hue in terms of quality and durability.
📚 Related: Hue Calla Vs Lily: Best Smart Outdoor Light?
---
#7 – Smart Paver Lights for Retaining Walls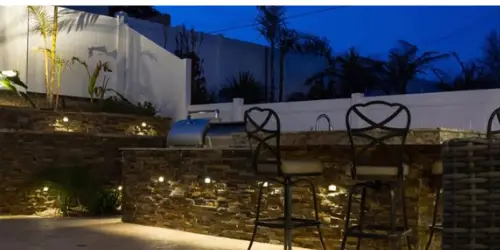 While smart outdoor accent lights can be just the thing to give your lawn and landscaping a bit of extra pizazz this spring and summer, did you know you can also get smart paver lights that are specifically designed to retrofit your retaining walls? Well, you can. I recently wrote a blog post featuring several solar, wired, and wireless lights that were designed to do just that.
These lights do make your outside walls look pretty slick. A buddy of mine recently installed them in a beautiful stone bar that he has in his epic yard. A few of the most popular brands include Lamplust (Solar), FVTLED (Wi-fi), and Lighting Factory (wired). All of these are available over at Amazon. However, they typically sell out early in the season so if you want some scoop them up now!
📚 Related: 3 Best Smart Paver Lights for Retaining Walls
---
#8 – Wi-Fi Landscape Lighting Controllers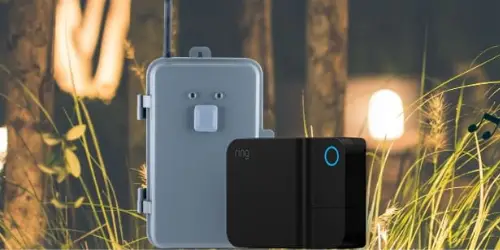 So now that you've got a nice mix of outside lighting for your lawn, landscape, patio, and maybe even your retaining walls, how do you get them all to play nice together? The answer is with a wi-fi landscape lighting controller.
A landscape lighting controller (also known as a low voltage lighting transformer) gives you centralized control over your outdoor lights. It will let you wirelessly control (e.g., using your smartphone) on/off functions, changing colors, setting timers, creating custom scenes, and more.
Some of these include energy monitoring that tells you how much power you are using and the newer models have battery backup in case you lose power.
This is probably the most practical item on my list of smart home yard ideas.
📚 Related: 7 Best Wifi Landscape Lighting Controllers
---
#9 – Smart Porch and Patio Lights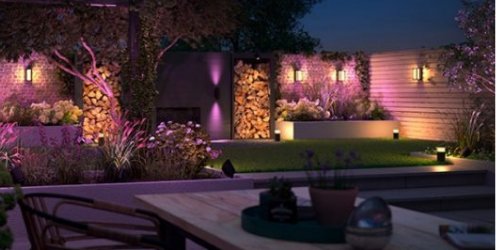 If you are a homeowner, you have likely been there. You install some fancy new bulbs in your porch or patio fixtures, only to discover that the lights either aren't quite bright enough or way too bright! In my older apartment, I had a bulb outside my door that was so bright my former landlady (who also happens to be my sister) said it could likely be seen from space!
A great way to get more control over the level of brightness – and to also add different shades of white or even color – is by using smart bulbs on your porch or patio.
You can also buy actual smart lighting fixtures that were designed especially for this purpose. Philips Hue makes some great lanterns for outside including the Inara and Econic models. You can also get a variety of floodlights that help bolster your security. Some of these even have security cameras built into them. One of the most popular floodlights is the Ring Floodlight Camera. Hue also makes a slick-looking wall-mounted security light called Discover.
📚 Related: 7 Best Smart Outdoor Lights in 2021
---
#10 – Alexa Enabled Bluetooth Speaker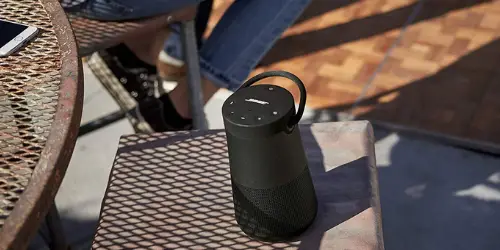 Anyone who knows me knows that a big Amazon Alexa guy I am. This includes my neighbors in my apartment complex where I blare my music here. LOL. Last summer, I would run an extension so I could bring my Echo device out onto my patio! Looking back, I think man that was so 2020! There are now a variety of really cool and great-sounding speakers specifically designed for the outdoors with Alexa built-in.
In addition to giving you much better quality sound, most of the models are also water-resistant and some are even waterproof to the point where they can be fully submerged underwater. This can come in handy if you want to have a speaker poolside or take it to the beach! Bose SoundLink Revolve, Sonos Move, and JBL Charge are all great options in this space.
I think this probably tops my list of smart home yard ideas as the item that will give you the most enjoyment.
I recently wrote a review of the five best outdoor speakers with Alexa that includes a giant dock amplifier for an Echo Dot that is perfect for tailgating or backyard parties. I will include a link to my comparison below. Just don't tell your neighbors it was me who recommended these!
? Related: The 5 Best Alexa Outdoor Speakers
---
#11 – Robot Window Cleaner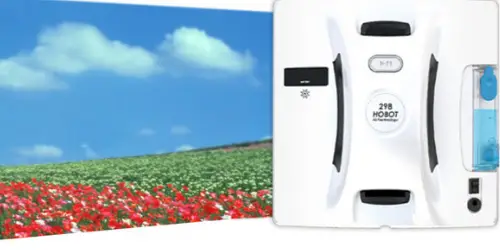 Rounding out my list of smart home yard ideas is a product you can use indoors as well as out: a robot window cleaner.
I recently purchased a robot window washer in the hope that I could use it to clean the salt off my patio door windows here. I went with this inexpensive Gecko model, and it just fell short of doing the job I want it to. However, this is the case of the salt build-up on my windows being just too much for the little guy. It did a great job on the windows on the other side of my crib that do not face the ocean, so I know that it works well under normal operating conditions.
However, I did return it and am going to ordering the above model from Hobot that sprays water and is a bit more industrial strength. I plan to purchase the new washer as soon as my refund on the Gecko clears over at Amazon. The washers are super high-powered "vacuums" that cling to your windows via suction.
They move around the window in pre-programmed patterns and replaceable/washable cleaning pads scrub the dirt away. Since the giant sliders to my deck frequently get covered with sea salt, this will be a huge back saver for me. I am looking forward to trying out the new model and I will write a full review after a few test runs.
Check out this video from Gadget Flow.
---
Bonus: Alexa Summer Skills
Last year, I wrote a post about some cool things that you can do with Amazon Alexa to make your summer a bit more fun. These include getting detailed weather updates (including tide and U/V ray index) as well as tips for grilling out, playing games, making your favorite warm-weather cocktails, and more.
I even include an epic Alexa summer music playlist with some of my favorite summer jams I know you will love too. I hope you enjoy these skills all spring and summer long and will share them with your friends!
📚 Related: Alexa Summer Skills: Chill Skills for Yard, Beach & More
---
Smart Home Yard Ideas – Over to You
So, what do you think of my list of 11 smart home yard ideas? Pretty neat right?
Implement a few of these and you're sure to be the envy of the neighborhood!
Are you thinking about investing in a back-saving robotic window washer or mower? How about some cool smart outdoor lights?  And what do you think about Bird Buddy?  This is the next gadget I am buying as I want to learn more about the birds in my area.
Please leave me a comment below and let me know.
Until next time, have fun out in the yard! Happy Spring!
For more neat smart home yard ideas, don't miss the related links above.
📚 Related Reading: 3 Best Robot Mowers for Rough Terrain
---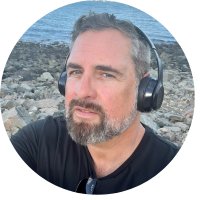 Tim Brennan, a tech blogger and host of the @TecTimmy YouTube channel, writes about smart homes at oneSmartcrib, home theaters at UniversalRemoteReviews, and AI in writing at Writeinteractive. He holds a Journalism degree from Northeastern University and has covered technology for three decades. He lives on the ocean in Nahant, Massachusetts.