Affiliate Disclosure
As an Amazon affiliate, I earn from qualifying purchases.
In this detailed guide, I am happy to introduce you the best robot lawn mowers for 1/2 to 1-acre yards that you can get this year.
Without further ado, the best robot lawn mowers for 1/2 to 1-acre yards are:
---
Robots in My Yard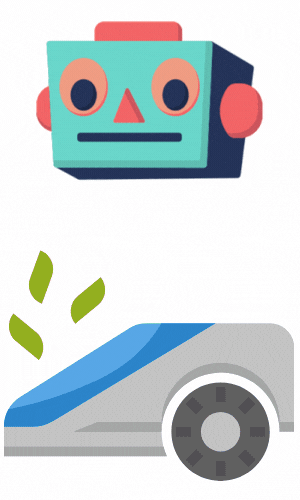 Help, help! There is a robot in my yard!!!
What is it doing, you ask?
Oh well, hold on a tick. It's mowing the lawn!
Looks like I won't be needing your help after all.
But maybe you need mine?
The best robot lawn mowers for 1/2 to 1 acre are really cool, sure. But there are now so many from so many different manufacturers, deciding on one can be downright hard.
Did you know that the demand for robot lawn mowers has been growing like crazy? It's true. A recent robot lawnmower study by Markets and Markets predicts 13% annual compound growth through the year 2025. Now is a great time to get in early and be the envy of your neighbors and friends.
In this detailed buyer's guide, I am happy to introduce you to the five best robot lawn mowers for 1/2 to 1 acre. I'll start with a comparison table comparing the features of five top mowers. Then, I'll step you through the features, benefits, as well as pros and cons of each.
So let's "cut" to the chase and find you the purr-fect mower.
---
Comparison Table
While looking for a robot lawn mower for your 1/2 to 1-acre lawn, you must keep several factors in mind. These include the mowing width and height of the mower, its connectivity options, theft and weather control options, price, warranty, running and charging times, and more.
Last update on 11/25/2023 / Affiliate links / Images from Amazon Product Advertising API
Let's now move on to a more detailed review of each of these best robot mowers for 1/2 to 1 acre.
📚 Related: Husqvarna vs Robomow vs Worx vs Gardena Robot Mowers
---
#1 – For 3/4 Acre: Husqvarna Automower
First on my list of the five best robot lawn mowers for 1/2 to 1-acre lawns, is the beauty from the market leader in robot mowers, Husqvarna.
The Husqvarna Automower 430X Robotic Lawn Mower is my top pick from a feature's perspective. It is packed with all the features you could want in a mower. These include protection against the weather, an intuitive interface on the device itself, cutting-edge technology, app controls, alarms, sensors and outstanding slope coverage.
Covering 3/4 or 0.8 acres, this is one of the best choices on this list for bigger lawns. It also has LED lights and multiple connectivity choices.
Pros
It can cover a large area in your lawn as it is built for ¾ of an acre. This makes it a good choice for you if you have a well-sized lawn.
With only 57 decibels of sound, this robot lawnmower is incredibly quiet as compared to the other models. It'll save you from your neighbours screaming or their dog barking at you.
Its GPS system, anti-theft alarm, and PIN code options make it a safe and secure choice.
It has the longest run-time among the other mowers on this list. You can run it for nearly 145 minutes without needing to charge it in between. If it needs charging, it will automatically make its way to the charging station which will fully charge the mower in 50 minutes. How cool is that?
It can cut a slope with a 45% inclination. Once again, this is higher than the other models on this list. This can be beneficial for you if have slopes in your yard.
Cons
It is slightly bulky, weighing more than the other models mentioned here.
Despite a good cutting width, its maximum cutting height is 2.4″. Others tend to allow for a greater height capacity.
You might need to buy some extra equipment like staples to use the installation kit or add-ons such as the Terrain Kit to better mow slopey lawns.
---
Video
Gerren Mayne has a nice review of this model out on YouTube
---
#2 – For 1/2 Acre: Worx Landroid
The WORX WR153 Landroid Robotic Lawn Mower has the ability to cover a lawn of 1/2 acre. While the previous mower has a few more bells and whistles, the WR153 can be a better option for you if you need more control options.
In addition to the smartphone app, this robot mower features onboard controls, dials, anti-collision measures, and other customizable settings.
Pros
It is a compact mower that can easily maneuver its way through small spaces without getting stuck.
It not only has a smartphone app but also comes with buttons and dials on its structure that can allow you to access the RadioLink, Find My Landroid, ACS, and Off-Limits features.
Unlike a lot of other robot lawnmowers, the latest version of this mower is super silent and can even be used when you sleep without disturbing yourself or the neighbors.
This is a great safety feature of the device.
It can easily even out the rough spots on your lawn.
Cons
It's not the easiest of learning curves and can take up to 10 days of experimenting with it to get it effectively set up so that it meets your mowing requirements.
Some complain that the smartphone app can be a bit clunky.
---
Sale
Last update on 11/25/2023 / Affiliate links / Images from Amazon Product Advertising API
Video
Check out this detailed review by Silver Cymbal on YouTube to find out even more about this device.
📚 Related: 3 Best Robot Mowers for Rough Terrain
---
#3 – For 1/4 Acre: Gardena Silano
The Robomow RS630 Robotic Lawn Mower was designed to cover yards up to 3/4 acres.
It can deal with longer grass length and cover slopes with 36% inclination.
What's more, you can also separate the mowing into different zones so you get precise control over how it gets the job done.
Pros
With a ¾ acre coverage capacity, this lawnmower can easily cover your entire lawn while mowing.
It is comparatively lightweight which makes it easier to transport.
It has a long battery capacity, allowing it to function up to 100 minutes per mowing session—more than you will need to get the job done.
It can mow slopes with a 36% incline so it will work well even if your lawn has hills.
Cons
Its charging time is longer than the other models, taking up to 110 minutes to charge.
---
Gardena Silano Best Robot Lawn Mowers for 1/2 to 1 Acre
Highly intelligent robotic lawn mower: GARDENA SILENO LIFE automatically mows yards up to 8100 sq ft using PATENTED streak-free technology, with easy connectivity via Bluetooth EasyApp Control, Auto-Schedule and EasyConfig
---
What is the Best Robot Mower to Buy?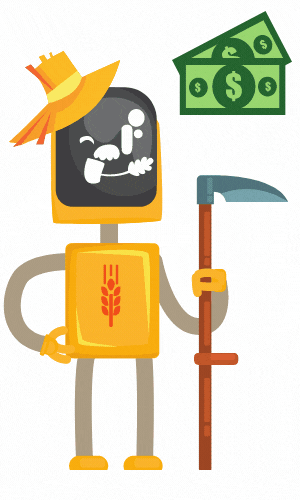 If you are looking for a robot lawnmower that is long on both features and reliability, go with the Husqvarna Automower robotic lawnmower I reviewed mentioned above. This well-rated product is the cream of the crop when it comes to robot mowers.
If you have a more limited budget and a smaller yard, then I'd suggest you get your robot mowing journey started with the WORX Landroid robot mower. This company really knows what they are doing when it comes to robot lawnmowers and customer satisfaction so you really can't go wrong with Worx.
Finally, if you have a much smaller yard in the city, check out Gardena Sileno. This little robot is the champ when it comes to small lawns.
Links to all of these products are up above.
📚 Related: 5 Best Robot Mowers for 1/4-1/2 Acre
---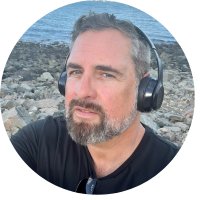 Tim Brennan, a tech blogger and host of the @TecTimmy YouTube channel, writes about smart homes at oneSmartcrib, home theaters at UniversalRemoteReviews, and AI in writing at Writeinteractive. He holds a Journalism degree from Northeastern University and has covered technology for three decades. He lives on the ocean in Nahant, Massachusetts.