As an Amazon affiliate, I earn from qualifying purchases. Learn more
In this article, I compare the Husqvarna vs Worx vs Gardena robot lawnmowers.
Before I go deep into the green, here is a breakdown of the best robot mowers for most yard sizes:
---
The Joy of Robot Mowers: Picking the Best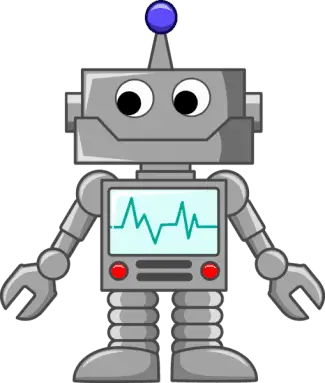 A
h, the sweet smell of a fresh-cut lawn in Spring and Summer! Even better when you're not the one working, right? A robot mower can free up your time and keep your lawn looking fantastic without the effort.
Robotics Business Review predicts huge growth in the robot mower market, but choosing the best one can be tricky with so many options and prices. Don't worry, I've got you covered! I've spent two weeks researching articles, analyzing 15 products from 10 manufacturers, and examining hundreds of Amazon reviews.
These mowers represent the best in features, ratings, and reviews. Ultimately, I recommend Husqvarna for its exceptional performance, even in larger yards. Customers love it, and I'll share some of their videos below.
---
Husqvarna vs Worx vs Gardena: Comparison Table
The following table features a side-by-side comparison of the Husqvarna vs Worx vs Gardena robotic mowers.
Larger Yards
Mid-Sized Yards
Small Yards
Larger Yards
Mid-Sized Yards
Small Yards
Last update on 05/14/2023 / Affiliate links / Images from Amazon Product Advertising API
---
Best for 1/2 Acre: Husqvarna Automower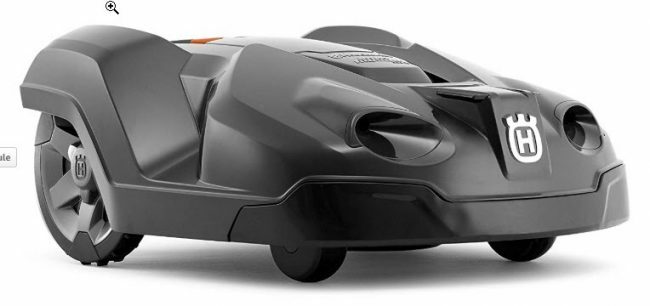 The first best robotic lawn mower on my list is the Husqvarna Automowere 450XH. This is one of the most popular robot lawn mowers available on the market today. Husqvarna is known for making high-quality outdoor equipment, and this sleek black machine is no exception. It's designed to withstand being left out in the rain without being damaged and easily works in wet grass, as long as you take time to make sure that the cutting deck is free from damp clippings.
Thanks, Gerren Mayne, for introducing us to your friend "Parker."
This mower doesn't have a rain sensor, which means that it won't automatically go back to the charging base when it starts to rain. However, the control panel is cleverly hidden underneath a hatch, which ensures that it doesn't get wet. There are 19 buttons, a color screen, and a large red Stop button for easy use.
Thanks to the floating deck design of this robot lawnmower, there isn't any concern over it completely removing grass when it hits higher spots in the yard. Additionally, the clippings are finely mulched, which means that owners don't have to worry about raking and bagging after a cut.
Finally, the app that this lawnmower offers is one of the most responsive apps on the market. It is easy to use on iOS and Android phones. Not only can you easily track the location of the mower if it were to be stolen, but this app makes it fast and easy to set a cutting pattern, check the status of the mower, the battery level, and even send it back to the station for charging.
Pros:
The included mobile app is not only easy to use but makes it easy to control the mower.
Provides incredibly even, precise cutting.
Handles steep inclines well.
Powerful headlights are great for working in the dark.
Durable wheels are designed to withstand regular use without being damaged.
Fast 60-minute charging time.
A sound level of only 58 dB ensures quiet operation.
Cons:
Doesn't feature a rain sensor.
Installation adds to the overall cost of the mower.
More expensive than other options.
---
---
Best for 1/4 Acre: Worx WR155 Landroid
Thanks to the advanced onboard sensor and the multiple cutting modes to choose from, it's easy for any homeowner to enjoy a lawn that looks great. This mower from Worx is powerful and quiet but is only rated for lawns that are up to 0.5 acres, which means that it's not a great option for all homeowners who have more land.
The charging station is rugged, it has a powerful lithium-ion battery charges quickly, and it runs for over an hour on a single charge. Even though this mower doesn't come with an app or a remote, the menu settings are all user-friendly and make it easy for the average homeowner to set up and control their mower.
Thanks to the floating deck on this mower, there isn't any concern over removing too much grass from the lawn. The safety sensors ensure that the mower shuts down when it runs into something in its path, which is great for families with children or pets.
While the Landroid can easily run during light rains, it shouldn't ever be left in standing water or allowed to run through puddles, which means that it's a better idea to stop it in storms to keep it from water damage.
Pros:
It's quiet – 58 dB in standard mode, 55 dB in quiet mode.
Menu screen is easy to read and offers information on lawn setup, time, diagnostics, and system settings.
Features five programmable cutting modes.
Solid docking station and anti-theft alarm.
Anti-theft alarm and protection.
Avoidance sensors to move around obstacles.
Cons:
Doesn't offer a mobile app or a remote control.
Honda suggests professional installation of the perimeter wire, which increases the cost of the mower.
Shorter battery life than others here.
---
Thanks to Harley Scherer for this nice video overview and demo.
---
Best For Small Yards: Gardena Sileno
In a review entitled "Husqvarna vs Robomow vs Worx vs Gardena," you might ask why isn't Gardena in the comparison table at the start of this post?
Well, it wasn't available at the time I originally wrote this post, so I updated it to add it in. This is also highly rated and customers who own it rave about it.
This robot lawn mower is known for having many different features that make it fun and easy to use. Not only can it easily handle cutting height of 0.7″ to 2″ (2 to 5 cm), but it delivers solid cutting results and a variety of smart features including those to help it avoid your small garden or even large gardens or flower beds! It also has anti-theft protection and customers say they are surprised at how quiet it cuts. Plus, it automatically recharges itself and will even continue to operate in the rain. This is a great set it and forget it option.
Love this Gardena video from the manufacturer. This family has a NICE lawn. Wow.
Pros:
Relatively easy to install with helpful documentation.
Cuts grass evenly and perfectly.
Virtually silent and works great even in different weather conditions ,including rainy weather.
More affordable that competing products in same category.
Cons:
No app or remote control and configuration.
Not wi-fi enabled.
---
---
Robot Lawn Mower Buyer's Guide
Why Consider a Robot Lawn Mower?
If you are tired of mowing your lawn on your own or don't want to pay someone else to do the work for you, then it's time to consider a robot mower. These mowers are not only reliable but tend to be really quiet since they are electric. Plus, they have gotten much more efficient than the first models that were introduced a few years ago.
People who own them, love them.
They even give them names like Harry and Buddy.
At least a few reviews we read said that neighbors come by to take a video of the mowers in action.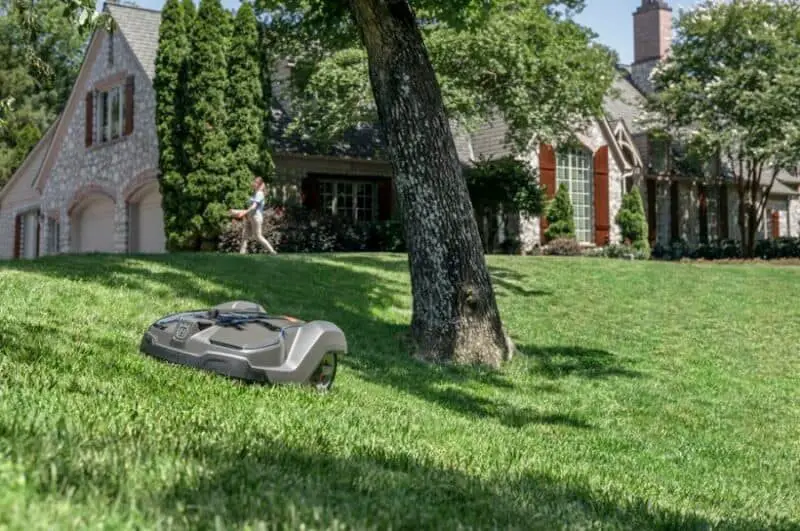 Additionally, since you can easily program your new robot mower, you never have to worry about keeping an eye on it when it's operating. Most of them return to their station when they are finished cutting the lawn. This means that they're always charged, which is cool, but they also don't require gas. Moreover, they generally don't need a lot of care, winterizing, or time-consuming maintenance.
In short, I think these little guys are pretty cool. 
Note that this article focuses on the best mowers for multiple yard sizes, if you have a smaller yard check out my post on the Best Robot Mowers for Small Lawns. If you have a larger lawn, don't miss the post I wrote on Best Robot Lawn Mowers for 1/2 to 1 Acre Yards. And if you've got a bit of a problem yard, check out this post I wrote on the Best Robot Lawn Mowers for Rough Terrain or 3 Best Robot Lawn Mowers for Hills.
Are Robot Lawn Mowers Safe?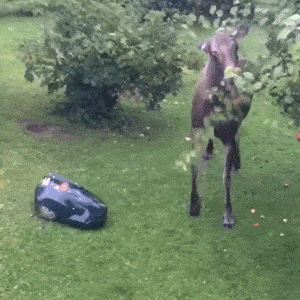 One of the first things that people want to know is whether or not these mowers are safe to use.
In its Survey of Robot Lawn Mowers published by the International Society for Optical Engineering, ReseachGate cites safety as the most important consideration in the use of a remote-controlled lawnmower.
Even regular lawn mowers can be very dangerous to operate, so it makes sense to be a little wary of a robot lawnmower. Luckily, these mowers tend to be loaded with safety features that make them super safe. And the new models are even safer than their predecessors.
Oh, and they are pretty durable too.
Will They Work Correctly?
Another question that a lot of people have and that makes a lot of sense is whether or not the mowers are going to work correctly and if they will do a good job mowing grass quickly and evenly. Robot mowers have been around for 20 years and have come a very long way in that time.
Not only do you have to consider the size of your lawn and what safety features you want your new mower to have, but you also have to consider how steep the grades are at your home, as well as if there are a lot of barriers that the mower will have to move around.
While robot mowers do great job mowing lawns, they are going to struggle a bit more if you choose one that is sized for a yard that is smaller than yours or if it is not rated to easily navigate the slopes around your home.
When comparing Husqvarna vs Robomow vs Worx vs Gardena, the Husqvarna model offers the best overall performance, but you are going to pay a little extra for those gains.
What's Involved With Setup?
I'd love to be able to tell you that these mowers are simply plug-and-play, or more like charge-and-go. They're not. There is some setup involved before you can set them loose on your yard.
Even in comparing Husqvarna vs Robomow vs Worx vs Gardena robot mowers, this is true of all four models.
First, you'll need to give your lawn a final cut so the mowers have a baseline to start from.
Second, you need to set up a perimeter to keep the mowers confined to the areas in your yard that you want to have mowed. I mean, you don't want them to mow the Jones's yard too do ya ?? I believe all of the robot mowers here come with the kit to establish the perimeter; for some products, the kit is sold separately. Be sure to confirm the kit is included or get the right kit for your yard size.
Finally, you need to set up the base station for your mower somewhere in your yard. Plan to allow 24 hours for it to charge before you send your new little buddy out into the wild.
Thanks to our friends over at WorkshopAddict for the super-helpful installation video (featuring the Worx mower, but the process is similar for all robot mowers):
---
Conclusion: Which is the Best Robot Mower?
So what is the final analysis in comparing the Husqvarna vs Worx vs Gardena robot mowers?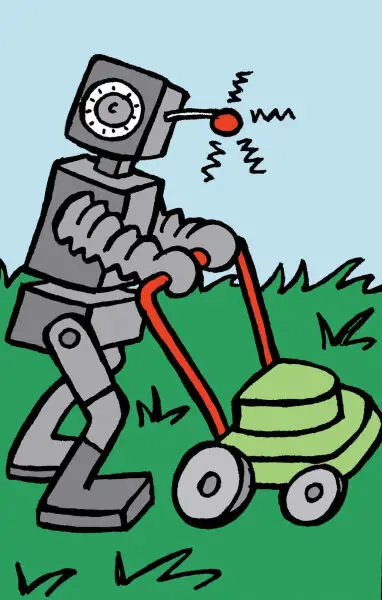 Well, at the end of the day, there are really three main factors to consider when buying a robot lawnmower.
First and foremost is the price. These are not inexpensive items, and if you truly want to replace a traditional mower, you can't skimp with a cheap robot mower.
Second, is features – safety features, noise level, smartphone capabilities, and how you keep the mower confined to your yard are all hugely important.
Third, of course, is yard size. A robot mower designed for smaller lawns is going to disappoint if you use it on an acre lot or large lawns. Be square to calculate square meters and review manufacturer specifications before you buy. For smaller yards, you will be fine with any of the models listed here.
In the final analysis of Husqvarna vs Robomow vs Worx, if you can afford it, I recommend Husqvarna. It is currently "Amazon's Choice" and ours as well. At the time of this writing, it has a ton of mostly positive reviews on Amazon. This doesn't happen very often, especially with a product often purchased by fussy homeowners who want a perfect yard.
If you can't afford the Husqvarna, the other two mowers on our list are great as well—for half and quarter-acre lots, respectively.
---
Husqvarna vs Worx vs Gardena: Your Turn
I hope you enjoyed this review of the Husqvarna vs Worx vs Gardena robot lawnmowers.
Do you agree with my picks? Who do you think wins the gnash of the robot mowers? Is there a mower you like better than didn't make my list? Please leave me a comment below and let me know.
Do you plan on purchasing one of these mowers? If you do, would you mind using one of the links in this post over to Amazon? That way I will earn a small commission and it helps out with funding our site. Thanks in advance!
And if you aren't really feeling the robot mowers, you can always try to cut your lawn using this old-school method.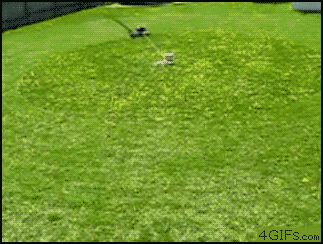 Also, if you liked this review, would you mind sharing it using the colorful social media buttons at the top and bottom of this page?
About the Author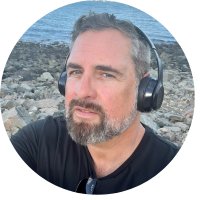 Tim Brennan is a technology blogger and host of the @TecTimmy YouTube channel. He shares insights about smart home tech at oneSmartcrib, home theater systems at UniversalRemoteReviews, and the future of AI in writing at Writeinteractive. A graduate of the Northeastern University School of Journalism, he has written about technology for 30 years. He lives on the ocean in scenic Nahant, Massachusetts.