Affiliate Disclosure
As an Amazon affiliate, I earn from qualifying purchases.
Echo Show 2nd Gen vs Google Nest Hub Max: In this article, I compare the Amazon Echo Show 2nd Generation vs Google's Nest Hub Max. We'll weigh the pros and cons as well as similarities and differences to help you determine which smart speaker with a screen is the better choice for you.
🖥️Not the screens you're looking for?  If you are interested in learning more about the
Echo Show 2nd Gen vs the New Amazon Echo Show 5
👉 
check out this post
instead.
---
What Is a Smart Display Anyways?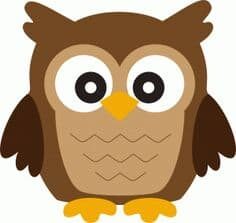 Smart displays are essentially tablets and smart speakers smashed together. In addition to using the voice to control lights, thermostats, and door locks, users can also use the screen to watch videos, pull up maps, and look at weather reports, among other things.
Make no mistake about it. This whole smart speaker / personal assistant phenomenon can be addictive. And the statistics certainly seem to back up the fact that these devices are becoming more and more pervasive [source voicebot.ai].  In the past year, I've added FIVE smart speakers in my little two-bedroom apartment.
What a hoot!
The Alexa-powered Amazon Echo Show and the Google Nest Hub with its Google Assistant are at the forefront of this area of tech and while they are both effective devices, they are definitely not equal.
Despite Google's rebranding Home Hub's as Nest Hub in May, the device is still in its first generation and is less than a year old. However, the Amazon Echo Show is already in its second generation.  Therefore, it's fair to assume the Echo Show WOULD be more robust. However, it's also more expensive.
📚 Related: Echo Show 10 vs Echo Show 15: Is Bigger, Better?
---
Echo Show vs Google Nest Hub Max: Choose Wisely
Whatever the ecosystem you choose, do your research, ask your friends, and then choose carefully.
Chances are when you invest in one brand of a smart speaker, more devices from that brand will likely follow. Sure, you can always switch later or even mix and match but it's much easier if you choose an ecosystem in advance and stick with it.
Selecting a single ecosystem to control your devices and automating more things just makes it all easier from a compatibility perspective.
---
Side-by-Side Comparison
Quickly, we'll look at some of the specs of Amazon Echo Show vs Google Home Hub and see how they stack up against each other.
Material
New Solid State Plastic and Fabric
Dimensions
7.02 x 4.65 x 2.65 inches
Material
New Solid State Plastic and Fabric
Dimensions
7.02 x 4.65 x 2.65 inches
Last update on 12/03/2023 / Affiliate links / Images from Amazon Product Advertising API
---
Amazon Echo Show At a Glance
 SEE IT ON AMAZON
Screen
Sound
Skills
Price Point
Amazon made some dramatic improvements to the Echo Show when they updated the devices last September. If the rave reviews on Amazon are any indication, we aren't the only ones who love this device.  In fact, it's so popular that Amazon can't make them fast enough.  It sold out three weeks before Christmas and it has sold out a few times since. You can read our comparison of the 2nd Generation Show vs the 1st Generation Show here.
Key Features of the Echo Show
A vibrant 10-inch HD screen
Built-in Zigbee smart home hub
Ability to control a wide range of smart home devices
Two speakers and a passive bass radiator with premium Dolby sound
Amazon Alexa optimized for screen display 
Step by step instructions for recipes
YouTube integration
Video calling and video drop in quality
Ability to connect up to cameras to monitor your front door, a nursery or any room in the house
Amazon Echo Show Video Review
Our friends pver at all things tech do a great job with reviewing the 2nd Generation Echo Show.
---
Google Nest Hub Max at a Glance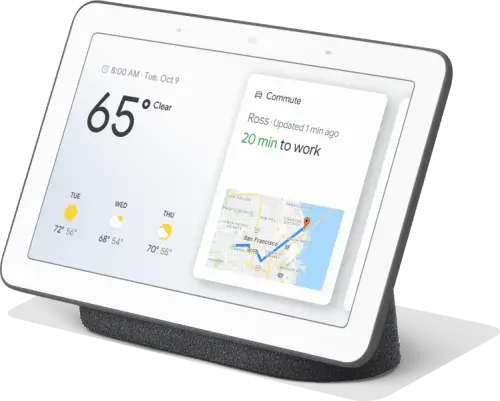 SEE IT AT BEST BUY
Screen
Sound
Skills
Price Point
Google Home Hub was Google's answer to the previous version of the Echo Show. Hence, it hasn't really caught up to the improvements that Amazon made to their second-generation Show. However, it does give Google ecosystem fans a smart speaker with a screen.  It also offers most of the features of the Amazon Echo Show.
Key Features of Home Hub
A bright 7 inch LCD that auto adjusts brightness based on time of day
Full range speaker
Ability to control smart home devices
Digital photo frame, recipes and more
Integration with Google Maps, Google Calendars, Gmail and more
Available in a variety of colors
Google Nest Hub Max Video Review
CNET provides a nice video review of the Home Hub.  Yes, we agree it is surprisely smaller in person.
---
Which is the Better Overall Speaker?
When it comes to the Echo Show vs Google Home Hub, there isn't much competition outside of these two smart displays that offer the full functionality of a digital assistant with a screen. So which one should you buy? 
Despite its higher price tag, the 2nd-Gen Echo Show's vibrant, larger screen, premium sound, and video camera capabilities, make it a better quality device than the Google Home Hub.
👉Related: Amazon Echo Show 5 vs 2nd Gen
If you want the best smart speaker with a screen, spend the extra money. We love the Echo Show 2nd Generation and think you will too.
---
Google Assistant vs. Alexa
Many people might have their own preferences when it comes to Google Assistant or Alexa; both have their advantages.
The "Alexa" product line is certainly more popular but if you have an Android phone, you may already be used to the Google Assistant and the way it works. The Google Assistant is also more customizable with male or female options. You can also choose from different English accents.
Google is also more detailed with its navigation system and offers verbal suggestions for best routes as well as estimates on how long it will take to make the trip. With the Google Home Hub, YouTube is going to be more fluid and functional, given that Google has control of the platform.
Compared to Apple's Siri and Google Assistance, Amazon's Alexa is often considered the better assistant but user experiences tend to vary and the quality of responses is often dependent on background noise and voice, among other things.
---
Design and Display Differences
Some might say that the Google Home Hub is better looking but the appearance is subjective.
What's for sure is that with a 10.1 display, the Amazon device is considerably larger than the Google Home Hub. Depending on your preferences, that's a huge plus. The Hub display, at seven inches, is about the same size as the first generation of the Amazon Echo Show; if Google comes out with a second generation, we may see a size increase.
Regardless, the bigger size is better for videos and other entertainment reasons but it could be disadvantageous if you have extremely limited space.
---
Screen and Resolution Differences
The Google Hub also has an elevated screen whereas the Amazon Echo Show's screen sort of rests on whatever it's placed upon. If you are looking at the devices head-on, the Google speaker is visible but the Amazon speaker isn't even though it's bigger. While Google Hub is smaller, there are more color options so if you have a pastel-colored home, for example, the Google Hub might be a better match.
As far as resolution with the Amazon Echo Show vs Google Home Hub, the Amazon device surpasses the Google Hub with a 1280 x 800 display compared to Google's 1024 x 600. If you consider this along with the size, the Amazon Echo Show is far better for movies and other visual entertainment. So, to sum things up:
Amazon's device is three inches larger than Google's.
Google's device offers a few more color options.
Google's device has an elevated screen that exposes the speaker.
From the right angle, Amazon's device hides the speaker.
Amazon's device has a stronger resolution.
Amazon's larger screen means that it has a larger speaker.
---
Voice and Sound Differences
The sound quality of Amazon Echo Show vs Google Home Hub is just plain better.
Both devices function as smart speakers so you can control a lot of things with your voice. But how do these devices pick up voice commands?
Given the size of each of the companies, essential features such as voice command should be solid; for the most part, they seem to be. However, the Amazon device has eight total microphones and Google's device only has two. Not to mention, the Amazon speaker is larger so one could expect the sound output to be better as well.
Echo Show vs Google Home Hub Video Comparison
You can also check out this helpful video review from UrAvgConsumer that compares these two smart speakers with screens side by side:
Despite the lack of speakers, the Google Home Hub's audio recognition appears to be just fine. In a small room, there shouldn't be many problems but in larger, louder rooms, the Amazon device is going to perform better and sound better. Many people report the Google Home Hub to have a limited range and a lack of bass.
Overall, the voice and sound quality for both devices stack up this way:
Both can recognize different voices.
Both can hear over the sound of music.
Google Hub isn't as effective in large, loud rooms.
Amazon's device has far more microphones and a larger speaker.
Google seems to handle more voices and commands.
---
Smart Home Device Differences
Both devices have a range of features and they are both compatible with a range of devices including front door cameras and other home systems. They will both show you the weather and tell you about nearby restaurants but one huge difference is that the Amazon Echo Show has a camera and Google Hub does not.
This means that the Amazon device can take photos and you can also make video calls using the front-facing camera. The Google device has no camera so these things aren't possible.
You can check out another great review of the Google Home Hub by tech watchdog The Verge right here:
---
Streaming Music Services Differences
The Google Hub works well with Google Play Music and YouTube Music but it's notoriously unfriendly with Apple Music and other Apple systems (e.g., HomeKit). The Amazon Echo Show plays nicely with all major streaming music services, including Apple Music and Pandora. BUT you can only watch YouTube videos in the web browser, which isn't ideal for most people.
---
Echo Show 2nd Gen vs Next Hub Max: Major Differences Summary
So Amazon Echo Show vs Google Home Hub: let's sum things up:
Amazon's device has a camera but Google's device does not.
Both devices execute tasks such as weather, maps, and restaurant searching.
Google will be more compatible with Google services such as YouTube or Chromecast whereas Amazon's device works better with Apple, Fire Stick TV, and other smart products.[/icon_list_item]
Amazon has some better prices. Amazon Music Unlimited, for example, is cheaper than YouTube Music.
For either device, you'd be able to hook up a Bluetooth speaker for enhanced audio and you could even attach it to a multi-room audio system. Google has Chromecast, which gives it an edge, but Amazon also has the Echo Input that allows you to convert any speaker to a smart speaker using its onboard microphones.
  
---
Price Comparison
In a price competition between the Echo Show vs Google Home Hub, the Google device comes out on top, meaning its cheaper.
As you probably saw up in the chart at the beginning, the Google Home Hub is considerably less expensive than the Amazon Echo Show.

You can see the latest pricing at Best Buy for the Google Home Hub using the link below.
Google – Home Hub with Google Assistant – Charcoal
As of this writing, you can purchase the Google device for nearly $80 less than the Amazon device; however, when you consider how much bigger the Amazon device is, the price gap isn't very surprising.
You can see the latest pricing for the Echo Show by clicking the badge below (pricing auto-updates by Amazon).
With the Amazon Echo Show, it's also possible to bundle your purchase with Echo Dots or another Amazon product like a video camera or smart plug and potentially save some extra money that way.
---
Which Device Should You Buy?
There are a lot of similarities between these products and both companies do what they can to attract both Android and iOS customers. While the Google device may not work as well with Apple products, the iOS app for the Google Home Hub is still excellently functional. Both are compatible with a variety of apps and third-party items and the Google device integrates particularly well with Android devices that are already using the Google Assistant.
Overall, however, the Google device lacks in a few key areas, which is why we have to recommend the Amazon Echo Show as the device to buy.
This isn't all that surprising when you consider that the Amazon Echo Show is the second generation and the Google Home Hub is only the first generation. The price for the Amazon device is also on the higher end so one would only expect it to be more sophisticated and better performing; in most cases, it can back that up.
The 2nd-Gen Echo Show's vibrant, larger screen and premium sound make it a better quality device than the Google Home Hub.

Tec Timmy, oneSmartcrib.com
The Amazon device is a larger screen with a better resolution, making it ideal for video and entertainment, and with the front-facing camera, it has a huge advantage over the Google Home Hub. While it may be compatible with fewer apps, Amazon's services tend to be cheaper and if you already have an Amazon Prime account, you can integrate that with your device for shopping and services.
Amazon's device has a bigger and better speaker for greater playback and it also has native home control features that make it easy to use with other smart systems. Overall, it's the superior choice for people looking to add smart devices to their homes.
---
Amazon Echo Show 2nd Gen vs Google Next Hub Max: Which Would YOU Choose?
We hope you enjoyed our review of the Amazon Echo Show vs Google Hub Home smart speakers.
Do you agree with our assessment that the Echo Show is just an all-around better speaker?  Perhaps there is a product you like better than didn't make our list?
Do you plan on buying a universal remote to control your home entertainment?  How about a remote for your smart home devices?
Would you leave us a comment and let us know?
Also, if you liked our review, would you mind sharing it using any of the social media buttons on this page?
---
You Might Also Like
If you enjoyed reading this, you might also like some of our other articles.  We'll list a few of them here.
---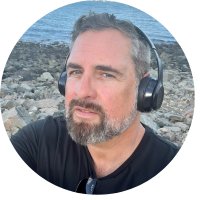 Tim Brennan, a tech blogger and host of the @TecTimmy YouTube channel, writes about smart homes at oneSmartcrib, home theaters at UniversalRemoteReviews, and AI in writing at Writeinteractive. He holds a Journalism degree from Northeastern University and has covered technology for three decades. He lives on the ocean in Nahant, Massachusetts.