Affiliate Disclosure
As an Amazon affiliate, I earn from qualifying purchases.
iRobot Roomba vs Eufy vs Ecovacs vs Neato — Are you ready for the ultimate battle between the world's most famous robot vacuums? You've come to the right arena.
So which is the best robot vacuum for most people?
While all of the models offer their distinct benefits and price point, I like the iRobot Roomba 692 for its Alexa and Google compatibility, self-charging, and excellent suction on both tile and hardwood. The Roomba 692 also has patented dirt detectors that make the vacuum work harder on concentrated areas of dirt, such as in heavy traffic zones of your home.
In the rest of this article, I'll explore the pros and cons and my top picks.
Plus, I'll look at some budget models and give you another middle-of-the-road and high-end pick too. I will start with a comparison table so you can see all my picks side by side. Now, back to the fight!
Comparison Chart: Roomba vs Eufy vs Ecovacs vs Neato
Last update on 09/06/2023 / Affiliate links / Images from Amazon Product Advertising API
The Main Event
I
n this corner, we have the heavyweight iRobot Roomba! In this corner, we have Eufy the Dust Destroyer…
<Cue the announcer's voice.>
Let's get ready to RUMMMM-BLLLE!!!
---
The Stage Is Set
Dog hair, cat hair, dust, shards of glass, popcorn, cookie crumbs, Skittles—even that large bowl of Cheerios that found its way to your floor—are no match for the best of the best robotic vacuums available today.
The technology has gotten better.
And, the way prices have fallen over the past year, these neat little machines have become affordable enough that most consumers can justify the expense.
Best of all?
No more pushing around that bulky upright, broom, or mop!  Most people spend a whopping FIVE hours a month tooling around with cleaning their flooring. Imagine what "Alice" from The Brady Bunch would have done with all of her free time if she had one of these babies.
Perhaps this is why the International Federation of Robotics predicts in this market research report that 31 million robots (most robotic vacuums) will be sold by the end of this year.
Your Back Will Thank You
With several new entries hitting the market in 2022, the added competition is helping to drive down prices. However, the sheer volume of choices can be overwhelming. And of course, you don't want to overpay for features you don't need or underpay for an under-performing vacuum that won't handle your mess.
Needless to say, this is where we come in.  Our experts have done the work for you to help you choose the ideal robotic vacuum cleaners for your smart home that will meet your needs as well as your budget.
So without further delay…
Below are our top picks for the five best robot vacuum cleaners this year. It came down to two models of the iRobot Roomba vs Eufy vs Ecovacs vs Neato.
---
Top Budget Pick: eufy Robovac 11s (Slim)
Dust Buster Score
Why I Like It
The Robovac from eufy cleans your floors without cleaning out your wallet. It offers excellent suction and high-performance triple filtration for pet hair and other debris. It is designed for both hard floors and thin carpets. Best of all, it is priced at a point that most consumers can afford…even cheaper than many upright cleaners.
Check out this excellent video review from PC Mag:
While it's not perfect—it sometimes struggles in corners and learns by trial and error—this is a great entry-level robot vacuum for your smart home.
What's in the Box
What You Get: eufy RoboVac 11, remote control (requires 2 AAA batteries, not included), charging base, AC power adapter, cleaning tool, High-Performance filter, 4 side brushes.
Sizing it Up
12.8 x 12.8 x 2.9 inches, 5.73 pounds
Pros
Affordable and even costs less than many upright vacuum cleaners
Cleans both carpet and hardwood floors
Sleek futuristic design
100 minutes of battery life
Low profile design slips into areas where other cleaners can't reach
Does well climbing over obstacles
Edge, Spot, and Max distinct cleaning modes – – concentrate cleaning power on stubborn dirt and difficult-to-vacuum areas
Triple-Filter System RoboVac uses two filters and one high-performance filter to achieve a clean home.
Welcome Guide and full documentation
12-month warranty
Cons
Can't clean corners
Some users have complained it cleans in a "random pattern"
A longer charging time that other models reviewed
May require manual intervention
No Amazon Alexa or Google Assistant compatibility
Some users have complained that it is difficult to get replacement parts
---
eufy Anker, BoostIQ RoboVac 11S (Slim), Super-Thin 1300Pa Strong Suction, Quiet, Self-Charging Robotic Vacuum Cleaner, Cleans Hard Floors to Medium-Pile Carpets, Black
Best robot vacuums this year by toms guide.

All-New RoboVac: Re-engineered to be the slimmest* RoboVac (2. 85) but with quiet operation and increased suction power at 1300Pa. Walking Speed-10.5 in/s

BoostIQ Technology: Automatically increases suction power within 1. 5 seconds when extra vacuuming strength is needed to get the best clean.

A Quiet Clean: Vacuums for up to 100 minutes** on hardwood floors with consistent, powerful suction at a volume no louder than an operating microwave.

Premium Features: Anti-scratch tempered glass-top cover for protection, infrared-sensor for evading obstacles, and drop-sensing tech to avoid falls. Automatically recharges so it's always ready to clean.
---
Runner Up Budget Pick: Ecovacs Deebot 500
Dust Buster Score
Why I Like It
The Deebot N79S from Ecovacs Robotics provides the best budget option that we tested that works with Alexa and Google Home. Customers have said that setup is simple and they love the app and integration with Alexa.  However, there are a few negative reviews on Amazon that state the robot has some trouble depending on the floor plan of your home.  Others have said it was great for a single pet household but not so much for homes with serious pet hair and multiple pets.  Still, with a one-year warranty and budget pricing, we think it worthwhile it to take this for a test drive if you want a low-cost vacuum that integrates with Amazon Alexa or Google Home.
Thanks to Lisa from MobileTechReview for sharing her awesome video review of the N79S ?.
What's in the Box
What You Get:  Includes (1) remote control, (1) main brush, (2) side brushes, (1) docking station & fantastic customer support.
Sizing it Up
13 x 13 x 3.1 inches, 7.17 pounds
Pros
Smart Phone App, Plus Alexa and or Google Home for voice commands to direct cleaning.
Cleans both carpets and hardwood flooring.
Ability to customize, schedule & monitor cleaning sessions, accessory status, & receive error alerts using the app.
Five Specialized Cleaning Modes: Smart motion guided auto-clean mode, plus single room & spot mode for targeted cleaning, edge mode for hard-to-clean edges, & max mode for 2x the normal cleaning power.
Three-Stage Cleaning System: Cleaning system that combines a deep reach helix main brush, dual wide side reach brushes, and high-efficiency suction.
Ecovacs Basic Features: Includes anti-drop & anti-collision sensors, 100-minute life lithium battery, auto-return charging, durable protective bumpers, air filtration, anti-scratch finish, a large easy-to-empty dustbin, large wheels for climbing thresholds, etc.
1-Year Warranty.
Cons
Single room setting does not work well in open concept homes.
Some users complain it has a hard time finding its way back to the dock.
You may get some random dust bunnies depending on the floor surface.
For optimal performance, the N79S is best used on hardwood and tiles floors, or on light-colored thin, low-pile carpets. Performance is poor when used on dark colored or thick carpets. If your home contains a large number of rugs or thick carpets, we do not recommend the N79S.
The company does not guarantee after-sales service to customers outside of the United States.
---
Ecovacs DEEBOT 500 Robot Vacuum Cleaner with Max Power Suction, Up to 110 min Runtime, Hard Floors & Carpets, Pet Hair, App Controls, Self-Charging, Quiet, Large, Black, 8 Each
READY FOR ANY MESS: Equipped with 2 side brushes and a main brush, DEEBOT will sweep, lift, and vacuum to clean an entire floor (Auto mode), a small area (Spot mode), or the edge of your floor (Edge mode)
Prices pulled from the Amazon Product Advertising API on:
Product prices and availability are accurate as of the date/time indicated and are subject to change. Any price and availability information displayed on [relevant Amazon Site(s), as applicable] at the time of purchase will apply to the purchase of this product.
---
Best for Most: iRobot Roomba 675
Dust Buster Score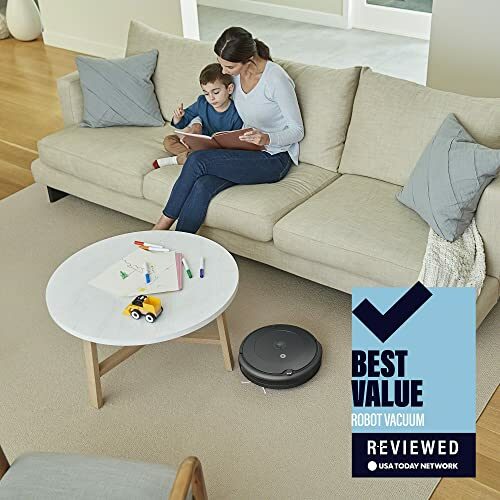 Why I Like It
In the battle between iRobot Roomba vs Eufy vs Ecovacs vs Neato, this is our top pick.
Why?  iRobot rocks a robot vacuum, and iRobot Roomba 692 offers the best balance between performance, features, and price.
Simply put, this mid-range offering from the Cadillac of robot vacuums is one tough customer when it comes to dirt and grime.  iRobot's patented, three-stage cleaning system with dual, multi-surface brushes gobbles up everything from small particles to large debris.
iRobot rocks a robot vacuum, and iRobot Roomba offers the best balance between performance, features, and price.Tec Timmy
Check out this cheeky video review from QVCtv (690 and 692 are nearly identical in features):
All Wi‐Fi connected Roomba vacuuming robots are compatible with Amazon Alexa and Google Assistant. You can ask Alexa or Google Assistant to start, stop, and dock your robot. We think this is super cool. Amazon.com agrees as of this writing the 692 earns "Amazon's Choice" as well.
Oh, and when you're ready to buy, forget about QVC, Costco, Walmart and rest!  You but this little puppy at Amazon and have it shipped in under two days with Prime.
What's in the Box
What you get: Roomba 692 Robot Vacuum, Home Base Charging Station, 1 Dual-Mode Virtual Wall Barrier (2 AA Batteries Included), 1 Extra Filter, 1 Flat Cleaning Tool, Manufacturer's Warranty, Owner's Guide & Documentation Package
Sizing It Up
13 x 13 x 3.6 in, 7.8 lbs.
Pros
Compatible with Amazon Alexa and the Google Assistant.
Cleans both carpets and light and dark hardwood floors.
Schedule cleanings and clean your crib from anywhere with the iRobot Home App.
Tough on pet hair.
Powerful performance, thorough coverage, Wi-Fi connected.
60 min runtime is enough to clean a large floor.
A patented three-stage cleaning system.
Dual multi-surface brushes pick up everything from small particles to large debris.
Dirt detect sensors tell Roomba to work harder on concentrated areas of dirt, such as high-traffic zones of your home.
Intelligent sensors guide the robot under and around furniture to help thoroughly clean your floors.
Self-adjusting cleaning head automatically adapts its height to effectively clean carpets and hard floors.
Cons
Some users have complained that you can't have any clothing on the floor or the Roomba will get hung up on it.
At least one user complained about an issue with it not working on darker colored carpets. We suggest contacting the manufacturer with your specific questions related to colored carpets before you buy.
---
Prices pulled from the Amazon Product Advertising API on:
Product prices and availability are accurate as of the date/time indicated and are subject to change. Any price and availability information displayed on [relevant Amazon Site(s), as applicable] at the time of purchase will apply to the purchase of this product.
---
Best High End: iRobot Roomba 981
Dust Buster Score
Why I Like It
With iRobots automatic recharge and resume feature, adaptive power boost (10x more power where needed), compatibility with Google Assistant and Amazon Alexa, Advanced Dirt Detect technology, multi-room coverage, and the enhanced iRobot HOME app, this is one bad-ass vacuum. Customers rave about how it handles tough messes and pet hair. Mic drop. 'Nuff said. P.S. Be sure to read the caution above about dark colored surfaces.
Check out this great video review from Warren Nash. [The video is a bit dated but still completely relevant.]
What's in the Box
What you get: Roomba 981 Robot Vacuum, Home Base Charging Station, 2 Dual-Mode Virtual Wall Barriers (4 AA Batteries Included), 1 Extra Filter, 1 Extra Side Brush, Manufacturer's Warranty, Owner's Guide and Documentation Package
Sizing it Up
13.9 x 13.9 x 3.6 inches, 8.7 pounds
Pros
Compatible with Amazon Alexa and Google Home.
Adapts to cleans all floor types including hardwood and carpeting.
Cleans an entire level of your home with iAdapt® 2.0 Navigation with Visual Localization.
Recharge and resume – Runs for up to 120 minutes, then automatically recharges and resumes cleaning to complete the entire job.
Power Boost mode automatically boosts air power up to 10x for deeper cleaning on carpets to get the lowdown on dust and dirt.
Enhanced iRobot HOME App lets you clean, schedule, & customize cleaning preferences from your smartphone, plus you can get reports and adjust advanced cleaning settings.
AeroForce® Cleaning System loosens, lifts & suctions dirt with up to 10x more air power.
Use iRobot's Clean Map™ reports to view where your robot has cleaned, and to turn on notifications for cleaning status updates.
Simple to followup, five-page quick start guide.
Cons
Some customers have complained about issues with the robot working on dark surfaces. We suggest you contact iRobot with questions about dark surfaces before you make a purchase.
The hefty price tag puts this vacuum out of the reach for most consumers.
After the one-year warranty expires, iRobot will not service the machine and instead offers a discount on a "replacement."
---
iRobot Roomba 981 Wi-Fi Connected Vacuuming Robot (Renewed)
Power Lifting Suction delivers 10X the air power for improved pick up performance; Automatically increases cleaning performance on carpets with Power Boost (Compared to Roomba 600 Series and AeroVac System)

Patented iAdapt 2.0 Navigation with vSLAM technology allows the robot to map its surroundings to clean an entire level of your home, around objects, and under furniture

Ideal for homes with pets; Premium 3 stage Cleaning System cleans the dirt and pet hair you see and the allergens and dust you dont

Dual Multi Surface Rubber Brushes adjust and flex to stay in constant contact with carpets and hard floors

High Efficiency Filter traps 99 percent of cat and dog allergens
---
High-End Runner-Up: Neato Botvac D8
Dust Buster Score
Why I Like It
With a 120-minute run time, broad compatibility with personal digital assistants (Amazon Alexa, Google Home, IFTTT, Apple, and more), this robot vac packs a ton of features.  And with its outstanding cleaning of corners and crevices, this clever little guy works tirelessly to keep your floors free from hair, dirt, and grime.
Furthermore, it is the only vacuum I have reviewed that allows you to set virtual no-go lines using your smartphone.  These will not only help the robot avoid getting stuck, but it will also keep it away from your doggie dish or your kiddo's pile of Legos. These features are what make it one of the best budget robot vacuum cleaners for pet hair on carpet or hardwood.
Thanks to our friends at Vacuum Wars for this helpful video review:
What's in the Box
What you get: Robotic Vacuum, Application Guide, User Guide, Charging Station, 1 Lithium-ion batteries
Sizing it Up
12.5 x 13.2 x 3.9 inches, 8 pounds
Pros
Cleans both carpets and hardwood floors.
Works with Alexa for voice control (Alexa device sold separately). Also compatible with IFTTT, Google Home, Neato Chatbot for Facebook.
Gets into corners and crevices: 50% wider edge-to-edge cleaning brush, helps this robot vacuum get deeper into corners and closer to walls than the competition.
Owners have reported the robot works outstanding on pet hair.
You can use the Neato app to clean your floors from wherever you are. Receive notifications on the go.
Patented D-shape design and "CornerClever" technology clean close to walls and into corners.
Long lasting Lithium-Ion battery.
Cleans precisely using LaserSmart mapping and navigation with real-time object detection. Scans and maps the room, plans and methodically cleans – instead of just bumping around.
Eco & Turbo mode – you choose. Eco gives a longer, quieter energy-saving clean. Turbo provides a super-powered cleaning, with maximum hair pickup. Gives you the deepest clean you can get.
Virtual No-Go Lines tell your robot where not to go. Charger voltage: 14.4 volts.
Keeps getting better with continual software updates.
Cons
Some users have reported that the robot has a hard time getting back to its base.
Other users have reported that it gets stuck in corners and sometimes for no reason at all.
Mapping capability is limited to a single configuration, so the robot needs to learn for multi-level dwellings.
---
---
iRobot Roomba vs Eufy vs Ecovacs vs Neato – Your Turn
I hope you enjoyed my review of iRobot Roomba vs Eufy vs Ecovacs vs Neato.
Which of these stellar robot vacuums do you like the best? They are all good choices really.
Please leave a comment below and let me know. I would love to hear from you.
Also, if you found this useful, can you share it using the colorful social media buttons at the top of this page? Or pin this to Pinterest:

---
You Might Also Like
---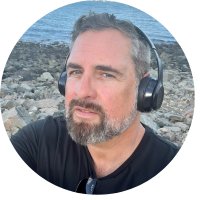 Tim Brennan, a tech blogger and host of the @TecTimmy YouTube channel, writes about smart homes at oneSmartcrib, home theaters at UniversalRemoteReviews, and AI in writing at Writeinteractive. He holds a Journalism degree from Northeastern University and has covered technology for three decades. He lives on the ocean in Nahant, Massachusetts.