Affiliate Disclosure
As an Amazon affiliate, I earn from qualifying purchases.
In this article, I promise to do my very best to answer the following question fully and concisely: Can Amazon Alexa speak Brazilian Portuguese?  I first address the question in English, so if you prefer to read it in Portuguese, click here to skip to the Portuguese version.
If you just want the short answer here it is: Yes, Amazon Alexa can speak Brazilian Portuguese. You can adjust your preferred language setting in the Alexa app. Go to Settings > Devices > Choose Your Device> Language > and then select Brazilian Portuguese.
The longer answer is that the language is not supported on all Echo devices as of yet.
📚 Related: What Languages Does Alexa Speak 
A Few Limitations
I
t does appear that only newer generation devices are supported.
The option is not available for my 2nd Generation Echo Show in the U.S., for example.
Also, only the Brazilian Portuguese "dialect" is supported at this time. As a parent of two half-Portuguese sons, I realize there are some subtle differences that may take some getting used to depending on the Brazilian dialect you speak.
My sons' mom is from the Azores, and the dialect is different from the mainland of Portugal. I know there are some general differences between European And Brazilian Portuguese as well.
So can Can Amazon Alexa Speak Brazilian Portuguese?  Sim, but there are some limitations at this time.
It will be interesting to see if Amazon broadens support for additional Echo devices going forward.  It will if wants to catch up to Google who supports more languages than Alexa today [source Venturebeat].
I'll show you how to check if you have a supported device below, and then get you set up.
---
How to Set Up Alexa's To Speak Brazilian Portuguese [ Step by Step]
If you want a little more hand-holding on how to help Amazon Alexa speak Brazilian Portuguese, here are the step-by-step setup instructions with screenshots:
Open the Alexa app.
Tap Settings.

Tap Device Settings.

Tap the device for which you would like to change the language.

Tap Language.

Tap Brazilian Portuguese IF it is on the list. If not update your Alexa app.
?Note: If the option is not after you update your Alexa app, this means that the language is most likely not supported on your device. Sigh. You can try another device if you have more than one.

?Note: Whether Brazilian Portuguese is available is going to depend on your location in the world and on the Echo device you own. Not all languages are fully supported on all Echo devices. Also, some capabilities, skills, music, and content may be limited.
All Things Tech has a nice YouTube video that walks you through the above steps. Ill embed it below.
---
Can I Use Alexa Command to Change Her Default Language?
Yes, but it may not be available on all devices or for all languages depending on the device you own and you location.
But don't let that stop you!
You can try any of the following voice commands.
"Alexa, Speak Brazilian Portuguese."
To enable multi-language mode in which you speak in English and Alexa speaks in Brazilian Portuguese back to you, try:.
"Alexa Speak English and Portuguese."
Or vice versa, try this for going the other way:
"Alexa, Speak Brazilian Portugese and English."
Note: For Echo Show and other supported screen devices, the on-device text will appear in your target language.
You can also try:
"Alexa, Stop speaking Brazilian Portuguese."
"Alexa, Switch back to English."
📚 Related: Can Amazon Alexa Speak French?
Amazon claims that these commands work with some languages. I was not able to get them to work on my devices in the northeastern United States. If they worked for you, will you leave me a comment below and let me know.
---
Is Amazon Echo Available for Sale in Brazil?
In addition to asking " can Amazon Alexa speak Brazilian, " others have wondered if you can buy Amazon Echo devices in Brazil.
Yes, you can now purchase select Alexa Amazon Echo devices right from Amazon Brazil.
As of this writing, I was able to find the latest generations of the Echo Show, Echo Dot, and Echo devices.
Here is a screenshot of the Amazon Brazil web pages. As an Amazon affiliate, I am not allowed to show prices but you can see the latest here.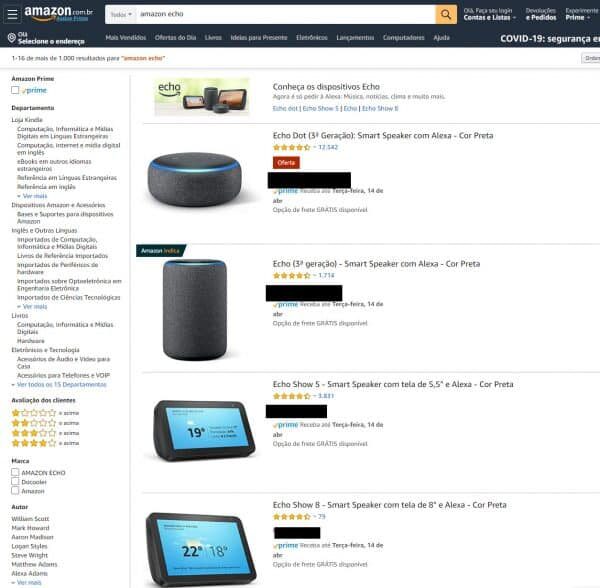 Brazilian customers also now have access to Amazon Prime and Prime Music as of late last year.
So now that we know there are some skills and that the answer to the question Can Amazon Alexa Speak Brazilian Portuguese is yes, let's look at some popular skills.
---
What Are Some Popular Brazilian Skills for Amazon Echo Devices?
Tons of skills have already been released for Brazilian customers and developers are working on creating more every day.
Some of the most popular Brazilian Portuguese skills for Alexa include:
Show do Milho
Porta dos Fundos
UOL Esporte
iFood
Leite Ninho
Cinemark
Uber
Many more
To find additional skills visit the Amazon Brazil website and type Alexa Skills or Skills da Alexa in the Search bar at the top of the page.
Amazon will suggest some of the most popular ones for you.
---
Can Amazon Alexa Speak Brazilian: "Saúde!"
So what do you think about my longwinded answer to the question can Amazon Alexa apeak Brazilian? Do you like that Alexa is being made available to Brazilian Portuguese speakers?
Do you speak Brazilian or Portuguese?
Do you find that even with differences in dialect that Alexa is easy enough to speak to and understand?
What are some of your favorite Alexa Skills?
Please leave a comment below and your preferred language and let me know.
! Felicidades !
---
You Might Also Like
If you enjoyed this article entitled Can Amazon Alexa speak Brazilian, you might also like some of these posts:
Brazilian Portuguese Version
Alexa pode falar Português do Brasil?
Neste artigo, prometo fazer o possível para responder à seguinte pergunta de maneira completa e concisa: o Amazon Alexa pode falar português do Brasil? Abordo a questão pela primeira vez em inglês; portanto, se você preferir ler em português, clique aqui para pular para a versão em português.
Se você quer apenas uma resposta muito curta, sim, o Amazon Alexa pode falar Português do Brasil. Você acabou de ajustar sua configuração de idioma preferida no aplicativo Alexa. Vá para Configurações> Dispositivos> Escolha seu dispositivo> Idioma> Portuges.
A resposta um pouco mais longa é que o português ainda não é suportado em todos os dispositivos Echo. A opção está disponível para o meu 2nd Generation Echo Show nos EUA, por exemplo.
Parece que apenas dispositivos de nova geração são suportados.
Além disso, atualmente apenas o "dialeto" do português do Brasil é suportado. Como mãe de duas crianças meio portuguesas, percebo que existem algumas diferenças sutis que podem levar algum tempo para se acostumar, dependendo da localização.
A mãe dos meus filhos é dos Açores, e o dialeto é diferente do de Portugal.
Eu sei que existem algumas diferenças gerais entre o português europeu e o português brasileiro também.
---
Como configurar o Alexa para falar o português do Brasil [passo a passo]
Se você deseja um pouco mais de mão que as etapas acima, aqui estão as instruções de configuração passo a passo com capturas de tela:
Abra o aplicativo Alexa.
Toque em Configurações.
Toque em Configurações do dispositivo.
Toque no dispositivo para o qual você deseja alterar o idioma.
Toque em Idioma.
Toque em português do Brasil.
Nota: Se o português brasileiro está disponível, depende da sua localização no mundo e do dispositivo de eco que você possui. Nem todos os idiomas são totalmente suportados em todos os dispositivos Echo. Além disso, alguns recursos, habilidades, músicas e conteúdo podem ser limitados.
O Average Tech Guy tem um belo vídeo no YouTube que mostra como mudar a voz. Mas o processo é o mesmo para mudar o idioma.
---
Posso usar o comando Alexa para alterar o idioma padrão?
Sim, mas pode não estar disponível em todos os dispositivos ou em todos os idiomas, dependendo do dispositivo que você possui e da sua localização.
Mas não deixe isso parar você!
Você pode tentar qualquer um dos seguintes comandos de voz.
Para ativar o modo multilíngue no qual você fala em inglês e o Alexa fala em português do Brasil, tente :.
"Alexa fala inglês e espanhol".
Ou vice-versa, tente isso por outro caminho:
"Alexa, fala espanhol e inglês".
Nota: Para o Echo Show e outros dispositivos de tela compatíveis, o texto no dispositivo aparecerá no idioma de destino.
Você também pode tentar:
"Alexa, pare de falar espanhol".
Alexa, volte para o inglês.
---
O Amazon Echo está disponível para venda no Brasil?
Sim, agora você pode comprar dispositivos Alexa Amazon Echo selecionados diretamente da Amazon Brasil.
Até o momento em que escrevi, pude encontrar as últimas gerações dos dispositivos Echo Show, Echo Dot e Echo.
Aqui está uma captura de tela das páginas da Amazon Brasil. Os preços aqui são a partir de 09 de abril de 2020 e estão sujeitos a alterações de curso.
Os clientes brasileiros também agora têm acesso ao Amazon Prime e Prime Music no final do ano passado.
---
Quais são algumas das habilidades brasileiras populares para dispositivos Amazon Echo?
Toneladas de habilidades já foram liberadas para clientes brasileiros e desenvolvedores estão trabalhando para criar mais a cada dia.
Algumas das habilidades mais populares em português do Brasil para o Alexa incluem:
Porta dos Fundos
IFood
Leite Ninho
Cinemark
Uber
Muito mais
Para encontrar habilidades adicionais, visite o site Amazon Brasil e digite Alexa Skills ou Skills da Alexa na barra de pesquisa na parte superior da página.
A Amazon irá sugerir alguns dos mais populares para você.
---
Alexa pode falar brasileiro: "Saúde!"
Então, o que você acha dos dispositivos Amazon Alexa e Alexa serem disponibilizados para os falantes de português do Brasil?
Voce fala brasileiro ou portugues
Você acha que, mesmo com diferenças no dialeto, o Alexa é fácil o suficiente para falar e entender?
Quais são algumas das suas habilidades Alexa favoritas?
Deixe um comentário abaixo em qualquer idioma de sua preferência e me informe.
! Felicidades!
---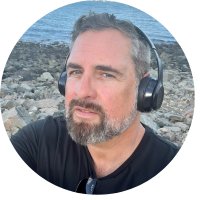 Tim Brennan, a tech blogger and host of the @TecTimmy YouTube channel, writes about smart homes at oneSmartcrib, home theaters at UniversalRemoteReviews, and AI in writing at Writeinteractive. He holds a Journalism degree from Northeastern University and has covered technology for three decades. He lives on the ocean in Nahant, Massachusetts.