Affiliate Disclosure
As an Amazon affiliate, I earn from qualifying purchases.
In the article, I'll provide a thorough SNOO smart crib review that includes a comparison of the SNOO vs Halo vs BabyBjorn and alternative products.
At the end of this article, I'll also include a link to a new article that I just published comparing the SNOO with 4Moms' Mamaroo and Graco smart sleepers if you would like to explore even more options.
Not convinced SNOO is worth it? Check out some parent testimonials over at Happiest Baby by clicking on the banner below:
---
Key Differences at a Glance
SNOO vs Halo
Exclusive to SNOO is cry detection technology, an app to monitor sleep patterns, and a patented safety harness to prevent rolling. A key feature unique to Halo is the ability to swivel 360 degrees so the crib can be positioned to straddle parents' bed); it also includes a night light and storage compartments not included with SNOO.
SNOO vs BabyBjorn
The main difference between SNOO and BabyBjorn is that SNOO has smart features like vibration, auto rocking, soothing sounds, and an app to monitor sleep patterns whereas BabyBjorn relies on the baby's own movements to rock the cradle. SNOO also includes a panted swaddle to prevents babies from rolling as well as cry detection.
HALO vs BabyBjorn
Like the SNOO, we're not really comparing apples to apples when looking at Halo vs BabyBjorn because Halo has smart technical features like vibration, soothing sounds, and lullabies whereas the BabyBjorn does not. BabyBjorn relies on manual rocking from the parents and then moves when the baby moves, so it really is more of a traditional crib.
👶Related:  7 Best Smart Vibrating Cribs for Fussy Babies
SNOO vs Halo vs BabyBjorn: Side-By-Side Comparison
Here's a quick comparison of all three choices.  I'll also present some mini-reviews along with the pros and cons of each product below.
Halo Bassinest Swivel Sleeper
Safety
Best (Swaddle Keeps Baby on Back)
Swinging Motion
No (But Swivels and Can be Positioned to Straddle Parents Bed)
Assisted (Manual, Then Moves with Baby)
Preemie and Weaning Modes
Safety
Best (Swaddle Keeps Baby on Back)
Preemie and Weaning Modes
Halo Bassinest Swivel Sleeper
Swinging Motion
No (But Swivels and Can be Positioned to Straddle Parents Bed)
Preemie and Weaning Modes
Swinging Motion
Assisted (Manual, Then Moves with Baby)
Preemie and Weaning Modes
Last update on 11/24/2023 / Affiliate links / Images from Amazon Product Advertising API
---
Not-So-Happiest Babies
🎵 Rock-a-bye, baby
On the treetop
When the wind blows
The cradle will rock
If the bough breaks
The cradle will fall
But daddy will catch you
The cradle and all. 🎵
If I had a nickel for every night I sang that familiar lullaby to rock my oldest son, Christopher to sleep, I would be a rich man.
He was one fussy customer.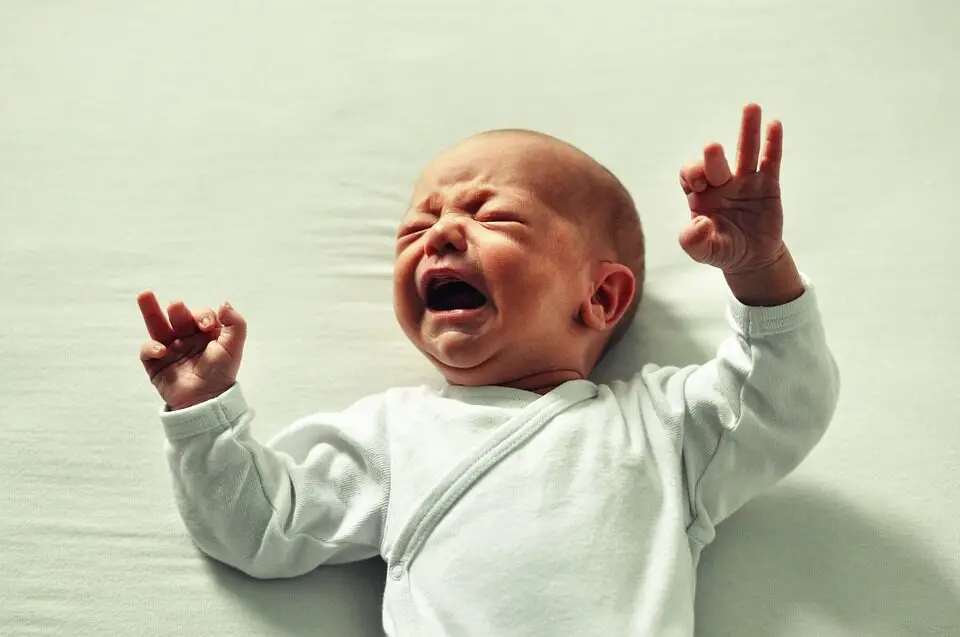 Not colicky per se, the kid just wouldn't sleep.
Ultimately, my ex-wife and I  gave up and he wound up sleeping in bed with us. This went on until he was at least five or six years old.
My younger son wasn't much of a sleeper either.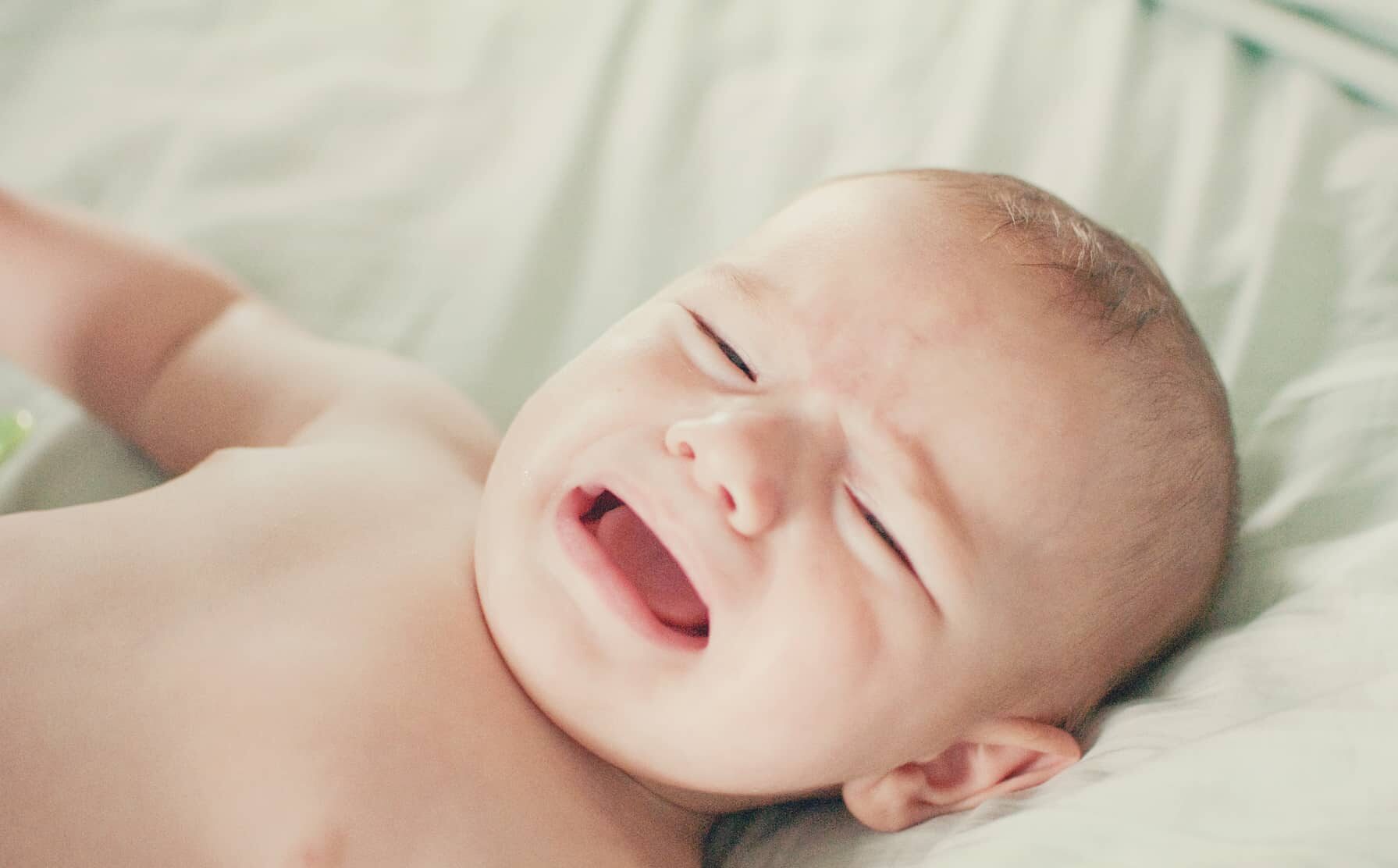 So, we pretty much had at least one kid—sometimes two—in bed with us for the better part of 10 years!
No wonder I'm divorced. LOL.
My boys are older now [20 and 17], and I can tease them about it. BUT back then I would have paid ANYTHING if someone told me a product would help my babies get to sleep on their own.
---
When Baby Sleeps
Oh, how I wish there was an SNOO back then.
To take a quote from SNOO's latest advertisement, "When baby sleeps, everyone sleeps."
Amen.
Perhaps this is why visual search engine Pinterest recently noted smart sleepers and related products will be top trends to watch. Pinterest searches for smart bassinets were up a whopping 851% last year.
Wow, talk about trending.
In this post, we'll take a close look at the leading smart sleeper, the SNOO Vibrating Bassinet by Happiest Baby, in our SNOO Smart Crib review.
And I'll compare it to some lower-cost alternative cribs and related products as well.
"It's the new SNOO review, coming right at you!"
Thanks to Vanessa Hand of CNET for the helpful hands-on video review of the SNOO. Cute kid!
---
The Fuss About the SNOO Smart Sleeper / Bassinet
So, what is all the "fuss" about the SNOO Smart Sleeper?
Well, it's actually quite special because it was designed to emulate what life is like inside a mother's womb.
The SNOO was developed and patented by renowned sleep-expert Dr. Harvey Karp. Karp's top-rated book and accompanying DVD "Happiest Baby on the Block" promotes the "Five S's" of calming your baby.
The Five S's are:
Swaddle
Side or Stomach Position
Shush
Swing
Suck
You can read more about the 5 S's in SNOO's blog here.
When he created the SNOO, Dr. Karp's goal was to "give babies a perfect Fourth Trimester of safe and happy sleep."
The SNOO addresses four of the five S's by using a patented gentle vibrating rhythm to help soothe babies to sleep naturally. And the white noise machine built into the crib was designed to emulate the noises in the womb as well.
Better still, the SNOO intelligently chooses the best degree of motion for your baby.
Really?
Yup, when a baby starts to fuss, the vibrations are gently enhanced until the baby calms. Then, they readjust accordingly when the baby is sleeping brilliantly. Parents claim that the SNOO has helped them and their children go from 2-3 hours at a stretch up until 8 to 10 hours.
You can see a nice demonstration of the SNOO's features in this enlightening clip from CNBC:
Wow. What a difference.
Some might even say this is "one smart crib." Yuk, yuk.
It might even make me want another baby. Wait…what?!
Let's continue our SNOO smart crib review.
---
SNOO Smart Crib Review: The 6th "S"= Safety First
The SNOO is one of the safest smart cribs available today. Bar none.
Your baby is secured inside of a protective swaddle called the SNOO Sack.
The swaddle sack has "wings" and safety clips attached to the side of the sleeper.
This helps to eliminate the risk of rolling and side/stomach sleeping, as recommended by the American Academy of Pediatrics to help prevent SIDS and other sleep-related infant deaths.
In fact, SNOO claims it is the only sleep solution to keep the baby safely on her or his back.
Here's one mother's honest opinion [thanks for sharing Britt!]:
CC
>>Get the latest price on SNOO right here<<
---
The SNOO Smart Sleeper: Pros and Cons
Pros
In this section of our SNOO Smart Crib review, we'll summarize some of the key pros that make the SNOO truly a smart sleeper:
Breathable Mesh Design:
The light, soft, and breathable fabric mesh crib walls help to ensure optimum environmental comfort. This is much unlike the hard plastic "bars" that sided the cribs we had for my kids back in the day.
Built-in White Noise Machine:
The SNOO delivers various types of white noise. One example sounds very close to what you experience the first time you hear your baby's heartbeat in the Ultrasound room. Neat.
Sound Sensors:
The sound sensors are what will alert you when your baby starts to fuss.
Vibrating and Swinging Motions:
In addition to vibrating, the crib also provides a soothing gentle swinging motion, simulating that rocking chair you're currently sitting on for half the night. I know I did!
SNOO Mobile App:
The SNOO app tracks the baby's sleep, and it alerts you when your baby starts to fuss. It also allows you to adjust motion sensitivity from the comfort of your own bed or anywhere else. You can even monitor your baby's sleep when you're not at home (e.g., the babysitter is in charge).
Preemie Mode:
SNOO's preemie mode and weaning option provide gentler rocking for tiny babies. It can block fast speeds completely until your baby reaches an established maturity date. The setting can be toggled on and off in the app.
Weaning Mode:
The weaning mode is designed to gently scale back rocking and vibrations when you are ready to transition the baby to a crib. White noise is still provided, and you can eliminate vibrations completely when you are ready. SNOO recommends beginning the weaning process around 6 months, but this will, of course, depend on when your child is ready.
30-Day Money-Back Guarantee:
SNOO provides a 30-day money-back guarantee. If you plan to take the crib out of the country, be sure to check the details of the warranty. Some customers have complained that it becomes void if you leave the U.S.
Safety Features:
A final note on safety – many parents claim to feel deeply comforted knowing that the SNOO is rated as one of the safest cribs around. The stellar reviews on Amazon and elsewhere seem to back this up. The protective swaddle can limit the baby at first but parents get on board right away after realizing that the baby is comfortable and safe inside the swaddle. SNOO even has WIFI shielding and blue light emission protection to protect your child from any perceived dangers related to "wifi radiation."
Cons
While it's hard to find anything bad to say about the functionality of this crib, there are a few things you may want to consider.
The Price – This is the most obvious one. Shelling out over a $1k for a crib is simply not an option for many parents, no matter how sleep-deprived.  However, the company recently began offering the SNOO for rent at a very affordable price. You can learn more over at SNOO by clicking on the ad below.


The Baby Straight Jacket Effect – Some parents complain that the swaddle resembles a little straight jacket and takes some getting used to initially. Nearly all SNOO owners, however, report that once the initial concern passes, they feel that their baby is safer for it.
SNOO Guilt – Some parents report feeling guilty about relying too heavily on the SNOO as a sleep nurse. To them I say rubbish!  LOL. If you want to bond with your baby at bedtime, by all means, do so. Then, put that child down in the SNOO, and enjoy a peaceful night's sleep. ??
>>Click here to buy or rent the SNOO at SNOO.com.
---
What's in the Box
The SNOO comes with:
1 SNOO crib base
Four legs
1 mattress
1 fitted sheet
One small, one medium, and one large swaddle (SNOO Sack)
Power cable and cable guide
Documentation
---
Setting Up the Snoo
Set up is super simple. You just:
Flip the base upside down.
Snap each leg into the base.
Screw in the knows to secure the legs.
You can see the full SNOO User Guide here [PDF file will open in new tab].
---
Parent Reviews
There are tons of satisfied parent reviews and testimonials on Amazon and elsewhere.
Here's one:
And here is a mother of triplets!
You can also see some of them in this presentation by Doctor Karp here:
While of course, this is an ad, these parents do seem entirely genuine.
In this related SNOO Smart Crib review, a new father logs his full experience with the SNOO's ability to calm his fussy daughter in detail over 30 days.
---
Where To Buy SNOO
While SNOO used to be available over at Amazon, I am not seeing it there at the time of this writing.
With free shipping and a 30-day trial, I recommend buying it directly from the manufacturer's website anyway.
👶Click here to buy or rent SNOO at SNOO.com.
---
Competing Cribs and Bassinets
Truth be told, we couldn't find an actual smart sleeper crib product that competes with the likes of SNOO. No other product intelligently detects when your baby is fussing and adjusts motion and responds accordingly. However, there are some additional cradles that vibrate and let you control the rocking motion.
Halo Bassinest
These include the HALO Bassinest Swivel Sleeper.  The HALO Bassinest includes a "Soothing Center" with 3 soothing sounds, 3 lullabies, and vibration with a 30-minute cutoff. Its ergonomic design also lets you cradle the cradle across your bed, so baby can sleep in their own bed beside mom and dad.
Babybargains.com does a nice job explaining the benefits of the HALO and talks about some of the different models available.
>>Check out Halo Bassinest over at Amazon<<
BABYBJORN Cradle
Next in comparing the SNOO vs Halo va Babyjorn bassinets is a more manual option with a similar design. This is the BABYBJORN Cradle.
The BABYBJORN requires you to rock the baby manually. It is light and turns the newborn's movements into a gentle rocking motion.  This is the lightest of the three cribs here, making moving it from room to room easier.
>>Check the price of BabyBjorn Cradle at Amazon<<
---
The Bottom Line??
Here's the bottom line.
The SNOO is the ultimate premium choice for sleep-deprived parents who can afford one. It's movements and sound emulate life inside the womb, plus it has a protective swaddle to prevent rolling and advanced via sleep tracking technology via your smartphone.
The HALO Bassinest is a solid budget alternative with its "Soothing Center" that includes three soothing sounds and three lullabies as well as vibration. 
The Babybjorn cradle doesn't vibrate or make sounds. Instead, it requires you manually rock the cradle, but it does turn your newborn's own movements into gentle rocking.
---
Other Options
There are also several products that will add vibrating and calming capabilities to an existing crib or bassinet.
I'll list a few of them below.
Smart Soothers and Vibration Devices
Halo SnoozyPod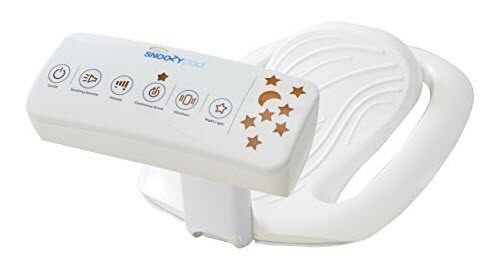 The Halo Snoozypod attaches to the crib's mattress causing it to vibrate. One benefit is that it can stay with your child when they move on to larger cribs/ child beds.  The Snoozypod has two levels of gentle vibration that fades after a 30-minute timer expires. [This helps make sure your child won't startle after the vibration stops. ] Makes a great shower gift.
>>Check the latest price of the SnoozyPod at Amazon<<
Munchkin Lulla-Vibe Vibrating Mattress Pad
The Munchkin Lulla-Vibe soft ping-pong-paddle-like device tucks underneath or beside your baby's mattress causing it to vibrate. This is currently Amazon's choice for a vibration device you can stick under your baby's existing mattress.
>>See it at Amazon here <<.
Baby Shusher Sleep Miracle Soother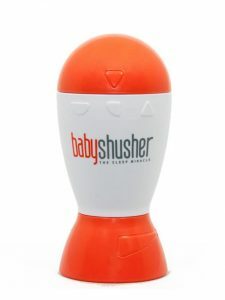 Baby Shusher can be placed inside a crib or anywhere really to calm a fussy baby. Kinda creepy how it actually says "Shhhhhhhhh!" But hey, whatever works! And many parents swear by this thing! There are some interesting video demos on Amazon's project page.  Shoot, now I'm getting sleepy!
---
Want to See More Options?
If you want to see how the SNOO measures up against two additional smart sleepers, 4Moms' Mamaroo and the Graco, don't miss this SNOO vs mamaRoo comparison I wrote.
I also wrote a post that features some additional soothers and other cool tech products for babies and toddler's here: 11 Baby & Toddler Tech Gifts for Dads.
---
SNOO vs Halo vs BabyJorn: What Do You Think?
I hope you found my SNOO vs Halo vs BabyJorn and alternatives review helpful.
Do you plan on purchasing the SNOO to help with your sleep deprivation? Or is the expense just too great where you might pursue other options?
Either way, you've got to agree that this is one innovative baby product that can help parents and babies alike.
We would love to hear your thoughts.
Please leave a comment below, and share this with other parents if you found it useful.
By the way, did you get my 80s [70s?] reference to the New Zoo Review kids TV show at the start of this post?  Many young parents probably won't know it.
BUT, before there was Barney & Friends and the Teletubbies, there was the New Zoo Review.
Yup, I found the owl and hippo equally disturbing! But the frog was pretty cool.
---
You Might Also Like
If you enjoyed this review comparing SNOO vs Halo vs BabyBjorn, would you mind giving us a share on social media?  You might also like these reviews and posts:
---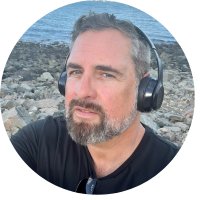 Tim Brennan, a tech blogger and host of the @TecTimmy YouTube channel, writes about smart homes at oneSmartcrib, home theaters at UniversalRemoteReviews, and AI in writing at Writeinteractive. He holds a Journalism degree from Northeastern University and has covered technology for three decades. He lives on the ocean in Nahant, Massachusetts.