As an Amazon affiliate, I earn from qualifying purchases. Learn more
Synopsis: In the post, I do a deep dive comparison of the SNOO vs Graco Sense2snooze smart sleepers to help you get a better night's sleep.
One of my favorite smart home products is the SNOO Smart Sleeper because it has helped thousands of sleep-deprived parents. However, its hefty price puts it out of reach for many consumers, so I wondered how it measures up against a budget smart sleeper like Graco Sense2Snooze.
The main differences between SNOO vs Graco Sense2sooze are as follows:
SNOO costs more and includes a patented swaddle to prevent rolling, plus it has an app to track sleep patterns and "cry detection technology" that auto-increases motion when babies fuss. Graco Sense2snooze has two front wheels on the cradle and 10 soothing sounds, more than double SNOO.
---
SNOO vs Graco Sense2snooze: Journey to the Best Smart Crib
T
wo of my most popular articles in this blog feature the SNOO Smart Sleeper vs other smart crib options. The two articles feature comparisons of the
SNOO vs Halo Bassinet and the BabyBjorn Cradle
 and
SNOO vs Graco Sense2snooze vs the
mamaRoo Bassinet
.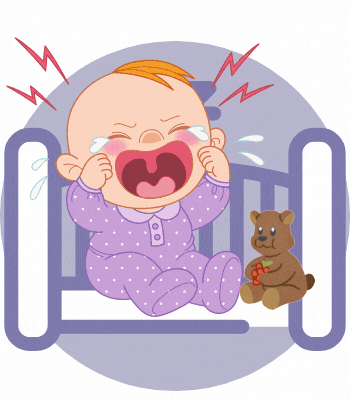 The foot traffic these articles generate makes a lot of sense to me, as this is probably one of the best uses of smart technology I have come across in my two years working on this blog.
However, since the Graco Sense2snooze is really one of the closer options in terms of features, a couple of you have written and asked me to do a detailed side-by-side comparison of SNOO vs Graco Sense2snooze.
I'm answering your call my dear sleep-deprived moms and dads, so here it is!
My thanks to Alexia Boyle Fontana for contributing to this article.
---
Everyone Sleeps Smarter
Now, if you aren't already sold on the idea of a smart crib whether it be Snoo vs Graco Sense2snooze or any other brand, let me go over a couple of the reasons why parents all over are going crazy over them.
Parents Sleep Better
According to a recent study conducted by OwletCare, 70% of parents with babies under the age of 18 months report their quality of sleep has progressively worsened since caring for their newborn. Putting the hard part of getting a better night's rest in the hand of your crib will help reduce that sleep deprivation, and you'll enjoy the benefits that come with being more well-rested.
No more waking up over and over in the middle of the night to soothe your baby back to sleep with these cribs! My kids are older now, but as a parent to two terrible young sleepers, I wish these existed back in the day!
Babies Sleep Better
The features in smart cribs are designed to keep your baby soothed through the night, and they work! Smart cribs like the SNOO are designed with automatic motions and sounds that not only soothe them back to sleep if they wake up, but some cribs even emulate life inside the womb. That's pretty crazy. The result? Babies get longer, uninterrupted sleep.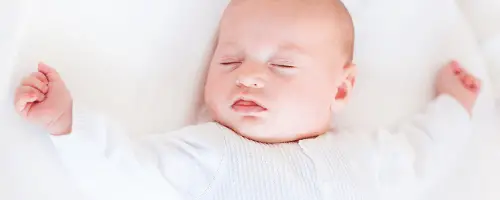 Babies Sleep Safer Too
Both of these cribs are very sturdy and they have airy mesh sides that promote both breathability and visibility. Graco has dimmable lighting that makes it easy to attend to babies even in the dark of night.  And the SNOO features a patented baby harness that keeps the baby from risky rolling (more of this below).  ln short, both of these cribs have safety features but in comparing SNOO vs Graco Sense2snooze the SNOO and its swaddle win here in my view, especially for those parents who are worried about rolling.
📚Related:  7 Best Smart Vibrating Cribs
---
SNOO Smart Sleeper Mini Review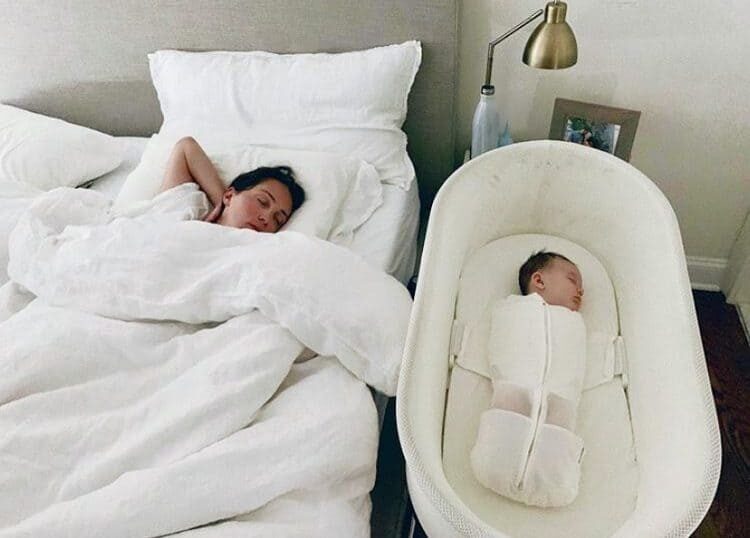 In the showdown of Snoo vs Graco Sense2snooze, SNOO gets my vote as the best smart crib option available. Developed by Dr Harvey Karp, a sleep-expert who has written multiple books on proper and better sleep for babies, including "The Happiest Baby on the Block". The reason the SNOO works so well is that the sound and movements that soothe your baby were specifically picked to emulate life inside the womb. Now we call it a "smart" sleeper, but you might wonder what exactly is so smart about it?
The vibrations and motions change to fit your baby best, and the crib has built-in cry detection – gently enhancing when the baby is fussing to soothe them, and readjusting afterward.
Here is a link to a video out on YouTube with some great parent testimonials for the SNOO:
I'm still a big fan of the SNOO personally, and although it is expensive, I wish I had the opportunity to get one of these for my fussy kids when they were little. Just imagine, all the sleep I could have got!
I'm not the only parent who likes the SNOO though, the smart crib has a ton of great reviews and ratings. Tons of sleep-deprived parents have claimed that the SNOO has helped them and their children sleep longer and more consistently.
Several celebrities rave about the SNOO. Among them including Kate Hudson, Justin Timberlake, Mila Kunis, and Dax Shepard. If you're here trying to find the best smart crib for your child, then know, you aren't alone. Plenty of other parents are searching for the same thing. Here are some thoughts on the SNOO vs Graco Sense2snooze from some actual parents on a GBCN forum!
They have also received a ton of awards.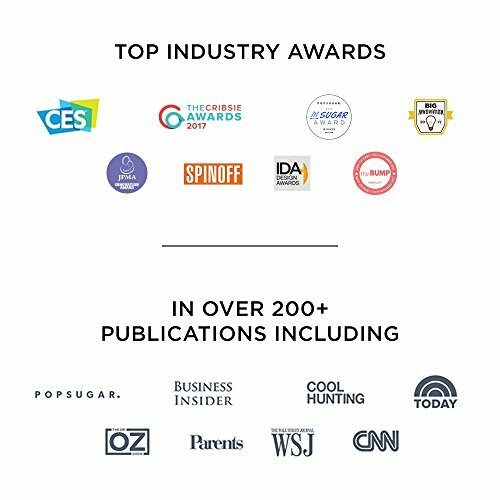 Dr Harvey Karp himself has also made a video explaining some of the benefits of their SNOO Smart Sleeper. I'll embed it below if you want to hear from the man himself.
Pros
Patented safety harness prevents risky rolling
Built-in white noise machine
Soothing motions
Cry detection and automatic sound/motion adjustments
Mobile app and alerts
Preemie and weaning mode
Money-back guarantee and rental options
Cons
Expensive price tag
No built-in nightlight
Not a magic bullet, every baby is different – no product can work for every kid
---
Where To Get It
👶🏻 Click here to order SNOO from Happiest Baby with a 30-day trial, plus free shipping!
👶🏻 You can also explore the new rental option over at SNOO.
👶🏻 If you prefer to order from Amazon, click the See 'It' button in the box below:
---
Graco Sense2Snooze Mini Review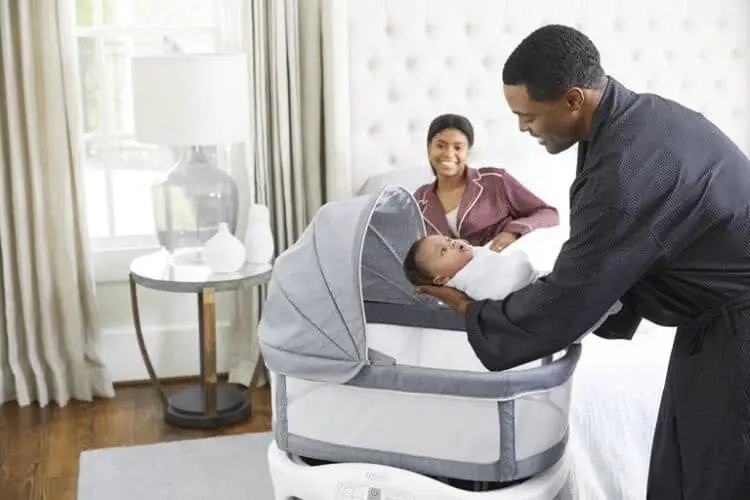 When comparing SNOO vs Graco Sense2snooze, you will notice Graco lacks some features of the premium SNOO Crib, but the Graco Sense2snooze bassinet is still one of the best smart cribs available, coming very close to the main functions of the SNOO, for a much more affordable price.
Now Graco has been around forever, but the Sense2Snooze is, as they put it, their "only baby-operated bassinet" referencing the same cry detection functionality of the SNOO. This smart crib also helps soothe a fussy baby back to sleep by enhancing the sounds and motions—for literally a fraction of the price. You can hear more directly from the company from their product video here!
The Graco Sense2snooze still has multiple different options for speeds and motions, and it boasts even more sound options than the SNOO, with 10 options for white noise, and another 10 options for lullabies. Impressive.
While still fairly new to the market,. the Graco Sense2Snooze has great reviews from hundreds of parents as well. It is currently also Amazon's Choice, so if you're wary about the price tag on the SNOO, or you aren't looking for all of the extra features, the Graco is a great alternative.
📚 Related: mamaRoo vs SNOO Smart Sleeper
Pros
Cry detection and automatic sound/motion adjustments
Built-in white noise machine with many options
Handy storage pouch
Integrated nightlight
Traditional crib look with reversible canopy
Wheels on front legs
Cheaper price
Cons
A couple of parents have complained that the buttons on the side of the crib are loud enough to wake sensitive babies
Only the front legs have wheels, which make it a bit awkward to move
---
Where To Get It
👶🏻You can pick up the Graco Sense2Snooze here at Amazon.
---
SNOO Vs Graco Sense2Snooze: Comparison Table
Swaddle Harness Keeps Baby on Back
Swaddle Harness Keeps Baby on Back
Swaddle Harness Keeps Baby on Back
Last update on 05/14/2023 / Affiliate links / Images from Amazon Product Advertising API
Safety
Typical – Breathable mesh
Last update on 05/14/2023 / Affiliate links / Images from Amazon Product Advertising API
---
SNOO vs Graco Sense2snooze: Similarities
When comparing the SNOO vs Graco Sense2snooze Both of these smart sleepers have the following things in common:
Breathable mesh designs
Signature cry detection, to soothe your baby back to sleep if they get fussy
Vibrating and rocking motion options to help your baby fall to sleep
Soothing sounds and lullabies
A washable and water-resistant mattress, important in the event of an accident!
Proven to help many babies and parents sleep better and longer
---
SNOO vs Graco Sense2snooze: Differences
Here, I'll outline some of the main differences between SNOO vs Graco Sense2snooze products so you can determine which is the best smart crib option for you.
Difference #1: Motion and Sound Options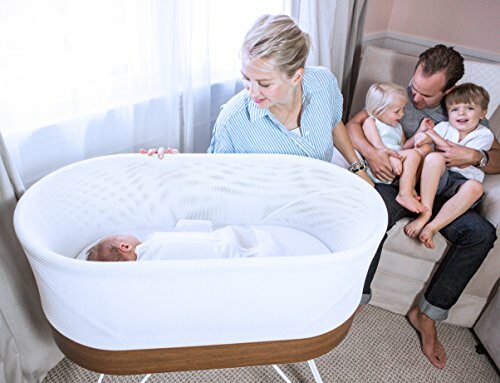 The easiest difference to see between the two is the options included in how exactly the cribs can soothe your baby. Unfortunately, there is no clear better of the two here, as the SNOO has superior options for the motion of the bassinet, allowing you to better customize the rocking or vibrating. However, the Graco blows the SNOO out of the water with its white noise and lullaby options! The SNOO only has three white noise options, whereas the Graco has 10 options, including musical and nature. Alongside that, the Graco also has built-in 10 options for lullabies to help get your baby to sleep as well!
Difference #2: Preemie and Weaning Mode
The SNOO includes a preemie mode that allows gentler rocking and can block out the faster speeds entirely for a gentler experience for smaller and younger babies. It also includes a Weaning Mode to help transition your baby to a crib. These are fantastic options that are just simply not available in any other option for a smart crib.
Difference #3: Mobile App
The SNOO's mobile app really helps put it so ahead of the rest of its competition. I always appreciate making things more automatic, and the mobile app allows tired parents to be able to more conveniently and easily adjust the settings and options for their baby. The app can alert you when your baby is fussing, especially if the baby doesn't just need to be soothed, but actually needs something. The mobile app also has a bunch of additional features, such as a timer and an option to log your baby's sleep, so you can make sure your baby is getting the perfect amount of sleep!
Difference #4: Physical Features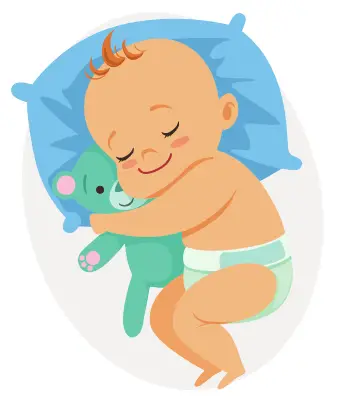 The SNOO is the master here of adjustments and technical features, but the actual bassinet itself is as simplistic as they come – which is fantastic for parents who appreciate the simplicity. However, the Graco is stylish, sporting a look closer to a traditional crib. It even has different color options!
Although this makes the smart crib a bit bulkier, it contains a really convenient storage space underneath the crib, allowing you to keep baby wipes, diapers, or anything else you need in easy reach of your bassinet. The crib also has a built-in dimmable nightlight so you aren't fumbling for any buttons in the dark.  Don't want to wake your baby up while you're trying to keep them asleep.
The Graco also comes with a reversible canopy and two wheels on the front legs for ease of use and to help you find the perfect spot for your baby to sleep soundly.
Difference #5: Safety
Nothing is more prioritized as a parent than the safety of our child, right? The SNOO is one of the safest options on the market with its patented baby harness that swaddles the child and keeps them on their back and safe. Not to say that the Graco isn't safe, Graco is a long-running and dependable company that has been making cribs for 60 years, but it has the typical safety of a regular bassinet.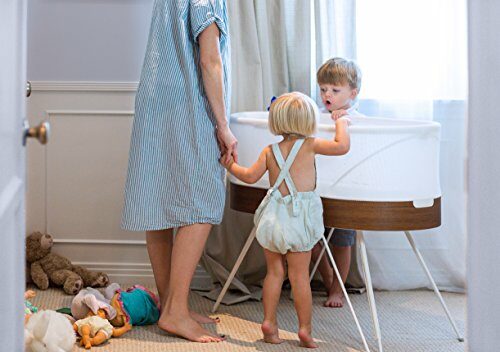 Difference #6: Price
The biggest difference that separates these two products is their price. The SNOO is an incredible premium product, but the price tag can be a big deterrent to parents who can't just afford to spend that much money on a crib or are worried in that kind of large investment.
The Graco Sense2snooze is certainly more affordable. If you don't care about the premium features of the SNOO, the Graco is worth a look and could be a great alternative. The Graco also offers a two- or three-year protection plan. This may be ideal for parents who are planning a family and will use it beyond the six-month period for their first child.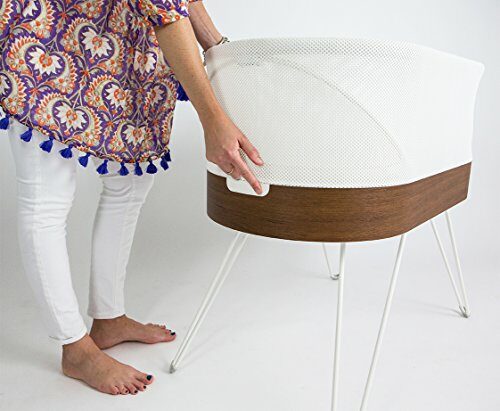 However, if you do really like the SNOO, but you're worried about the huge price tag, it might actually be less of a deal-breaker than you expect. Happiest Baby, the company behind the SNOO Smart Sleeper has a 30-day-money-back-guarantee on the SNOO, allowing you to try to make sure you like it, as well as options to actually rent the crib for a much more affordable price.
---
Handy Smart Sleeper Accessories
Looking for more out of your smart sleeper?
Happiest Baby has some additional accessories you can get alongside your SNOO Smart Crib! You can get these Shorty Legs for your SNOO bassinet if you want your baby closer to your eye level when you're laying down yourself! Or, you can get SNOO's Leg Lifters to put your bassinet on an incline – so your baby can have their head nice and elevated in case they ever get sick or spit up too much.
While it doesn't attach to your crib, you can get a Sleepea Swaddle to keep them nice, cozy, and safe anyway. Plus, it has cute little stars or raindrops on it!
The Lollipop Baby Monitor makes a great addition to any crib! With night vision, cry detection, and a built-in speaker this smart wi-fi monitor is a great tool if your baby is sleeping in another room.
If you have the Echo Show, you can also check out this blog post I wrote on how to use Echo Show as a baby monitor.
---
The Verdict
Overall, the SNOO and the Graco are quite possibly the best smart cribs available on the market today. The SNOO is a more expensive but more premium option, and the Graco is lacking in some areas but comes very close in terms of functionality.
However, the SNOO's mobile app, great customer service, and incredible safety really put in on the top. If you are currently walking around like a zombie-like I was back in the day, you can't really put a price on getting consistent sleep. I truly think it's worth the money if you can afford it.
---
Snoo vs Graco Sense2Snooze Your Thoughts?
And there you have it! My SNOO vs Graco Sense2snooze side-by-side comparison. What do you think?
Do you agree with my thoughts on the two sleepers? Do you have your own opinions or experiences with these smart sleepers? Do you think the SNOO is worth the money? Are there any other smart sleepers on the market you'd recommend or like to hear more about?
I'd love to hear any and all of your thoughts down in the comments below.
If you thought this review was useful, and you want to share it with your friends, it'd be great if you could use the handy social media links right down below! And If you've decided to get any of the smart sleepers or accessories seen here, it'd help out a lot if you used my affiliate links to get them!
Thanks, and I hope you will all be sleeping better real soon!
---
You Might Also Like
If you liked this post, you might be interested in some of my other, similar posts, including reviews comparing the SNOO Smart Crib against some other crib options as well!
About the Author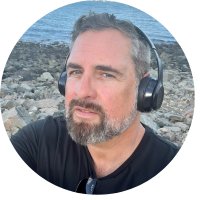 Tim Brennan is a technology blogger and host of the @TecTimmy YouTube channel. He shares insights about smart home tech at oneSmartcrib, home theater systems at UniversalRemoteReviews, and the future of AI in writing at Writeinteractive. A graduate of the Northeastern University School of Journalism, he has written about technology for 30 years. He lives on the ocean in scenic Nahant, Massachusetts.