Affiliate Disclosure
As an Amazon affiliate, I earn from qualifying purchases.
Looking for the coolest home office tech gadgets for your smart home? You're in the right place.
So pull up that dated desk chair of yours, and get ready to nerd out with me on the best tech gadgets you can get to upgrade your home office this year.
Here are my 19 home office tech gadget picks:
---
Only the Best Smart Home Office Tech Gadgets
M
y mission: to help you build the ultimate home office!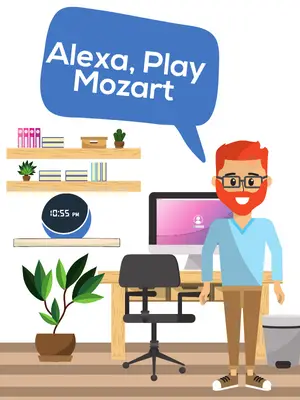 I spent the better part of the past two weeks vetting literally hundreds of home office technology devices, gadgets, and gizmos to bring you 19 of the coolest.
As reported in Entrepreneur magazine, the Kung Group recently surveyed over 500 founders from venture-backed companies about working remotely during the health crisis. A whopping 70% of companies surveyed reported that after their offices reopen they will let some (or all) of their employees continue to work remotely.
Cool! I like working from home. No traffic; it saves me money on gas, tolls, and wear and tear on the car; it helps the environment, and I get to work in my PJs until noon.
For better or worse, I truly believe there will be lots of us who will opt to "WFH" more frequently and well into the foreseeable future.
Technology can help. Really it can.
I hope you find something here that you truly enjoy.
---
No. 1 – Smart Art Frame: Meural Canvas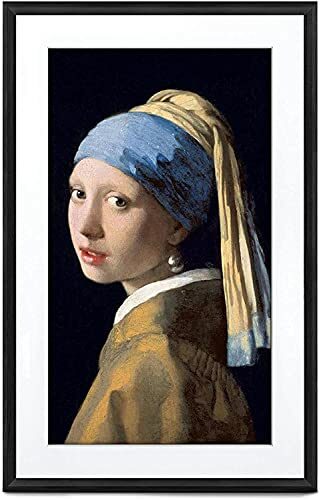 Why not spice up those drab home office walls of yours with one of the coolest smart home products out there: the Meural Canvas II.
Meural Canvas II combines modern design, state-of-the-art technology, and a passion for art globally letting you explore and show off more of what you love in lifelike detail. I am far from an art connoisseur but I love love love how the Canvas lets your rotate art from your favorite artists and genres.  You can also choose to showcase your own photos. And perhaps the coolest of all, you can rotate your favorite artist and photos by simply swiping your hand in front of the frame. So neat!!
Here is a short video that I did over at my YouTube channel demo-ing htis:
If you are interested in learning more, check out these blog posts I wrote comparing the Meural Canvas vs Samsung Frame (similar but more expensive as it doubles as a smart TV) and also Meural vs Canvia. I also wrote a post comparing the Aura Carver vs Nixplay vs Skylight Digital Frames.
---
No. 2 – Desk: Flexispot Sit/Stand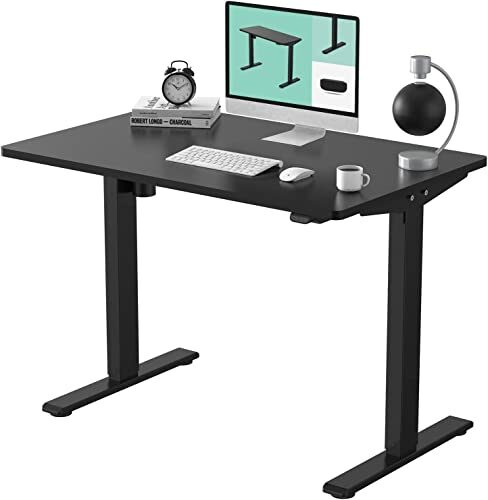 Near the tippity top of any respectable list of smart home office tech gadgets is a smarter desk [after coffee, of course]. The Flexispot Electric Adjustable Sit/Stand Desk is just that. By pushing a button, you can set a desk height that is perfect for the way you work.
Ergonomic by design, the Flexispot helps you ensure comfort as well as good posture. The only problem is you may not be able to stop for yourself from playing with it!
I have a similar slightly fancier version but this is one of the highest-rated desks out there and an amazing value.
I like the 48″ Adjustable Desk Frame in gray and black but other colors and sizes are also available on Amazon. The Flexispot offers 3 customizable height preset options. The desktop is made of medium-density fiberboard with a scratch-resistant high-pressure laminate. I wish I knew about this before buying my pricy motorized desk from Jordan's Furniture. Flexispot is 70% cheaper and I think it looks nicer.
Plus these desks are really fun to play with. Upp….and down. Uppp….and down. OK, I'll stop.
AdamIvy does a nice job in this video review of the 35″ model of the riser (which works with an existing desk).
---
No. 3 – Chair: Modway Edge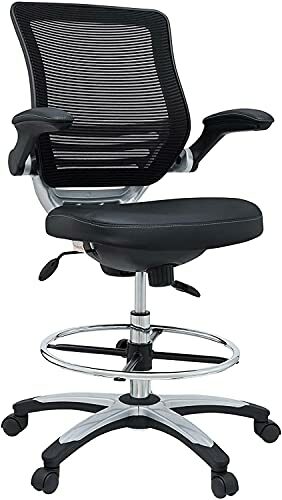 Now that you have an awesome high-tech adjustable desk, you'll need a chair to go with it. The Modway Edge Drafting Chair provides the perfect complement to any drafting desk. It's super comfortable, versatile, has stellar reviews, and lets you adjust the height to match the altitude of your favorite adjustable desk setup.
The chair's features include a breathable mesh back, vinyl-covered foam waterfall seat, and lumbar support to keep your back and thighs posture-perfect. You can even flip up the arms to get them out of your way. Go ahead and save your back, sit comfortably, and look good in the process. I double-dog dare you.
By the way, if you're accident prone like me, check out this article on safety considerations for remote workers that a friend of mine wrote after you finish here. There are some nice tips for your home setup.
---
No. 4 – Smart Mug: Ember Ceramic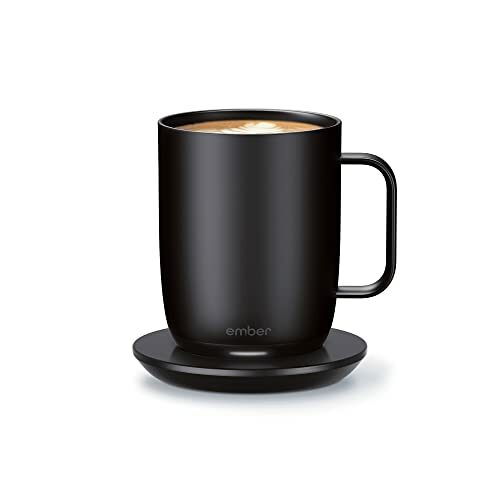 Now that's your coffee is brewed and your desk is ready, grab yourself a cup of fresh Joe and head on over to your new smart desk. But wait. Wouldn't it be great if you could take your time sipping that delicious cup of coffee and have it remain nice and hot and until the last drop? Don't worry, we got-chu!
The Ember Temperature Control Ceramic Mug lets you remotely adjust your coffee to your ideal temperature using your smart device. What?? Seriously. The mug was designed to keep your coffee at your desired temperature for an hour when poured in hot at a set temperature of 130-degrees Fahrenheit. Now that's hot! If you know "someone" who nukes their coffee all morning to keep it hot, do them a favor.  Get the Ember for yourself—um I mean that special someone— instead.
And for those of who you like to keep your coffee hot on the go, there's the Ember Temperature Control Travel Mug. I mean, you need to leave the home office sometimes, right? Right???
OK, moving on…
---
No. 5 – Tablet/Laptop: Surface Pro 8
OK, you've gifted your loved one an awesome desk [and some delicious hot coffee]. The next item on my list of smart home office tech gadgets will help you replace that dirty old germy laptop you've been using. [Oh wait, that's me; damn Oreos!] The Microsoft Surface Pro 8 may be just what the computer doctor ordered. The Surface Pro combines all benefits of a laptop and tablet and it does so elegantly.
At just 3.53 lbs., it's light as well as versatile. And it's also surprisingly fast and powerful with the new 8th Generation Intel Core processor. You've seen that commercial of that kid who designs robots on this thing, right? Since it isn't eligible for Amazon Prime and demand is super high, we suggest ordering this early if you want it to arrive in time for the holidays.
---
No. 6 – Keyboard Cleaner: Weilai Magic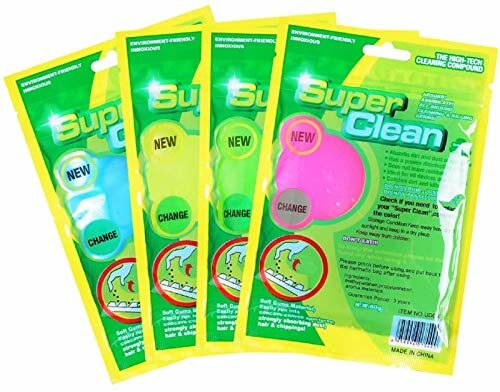 For No. 6 on my list of smart home office tech gadgets, let's tackle those crumbs. If you bought that new Surface Pro or another new laptop, you're going to want to keep it clean. If you didn't, then we'll need a serious cleaning solution to help you get those Oreo's lodged in between the keys on your keyboard.
It's Weilai Magic Clean Gel high-tech cleaning compound to the rescue! This innovative "super-soft sticky dust cleaning gel gum" helps you remove dirt and crumbs that are in hard to get places. Once you get your keyboard clean you can use it to clean the nooks and crannies in your car too.
---
No. 7 – Cord Organizer: Rabbit Ears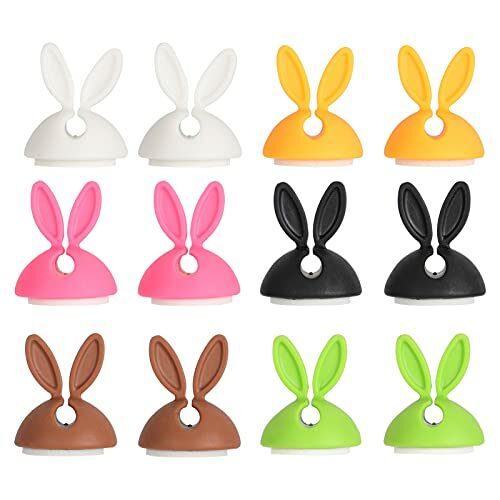 Cool desk/ chair/ tablet? Check, check, check. Clean keyboard? Check. We'll turn to the top of your desk next. Yup, it's time to tackle Messy Marvin's spaghetti wires hanging all over the place. The solution? Give the gift of the rabbit: that is, the  Rabbit Ears Cable Clips multi-purpose, adhesive smart desk wire clips and desktop wire organizer.
These cute little guys hold wires up to 7.5-inch diameter and you can stick them wherever you want to help clean up that messy desk. The Rabbit Ears are super affordable come in a variety of colors. While not necessarily a tech gadget, we couldn't help but include them on our list. They are just too cute—and cheap!
---
No. 8 – Video Conferencing: Meeting Owl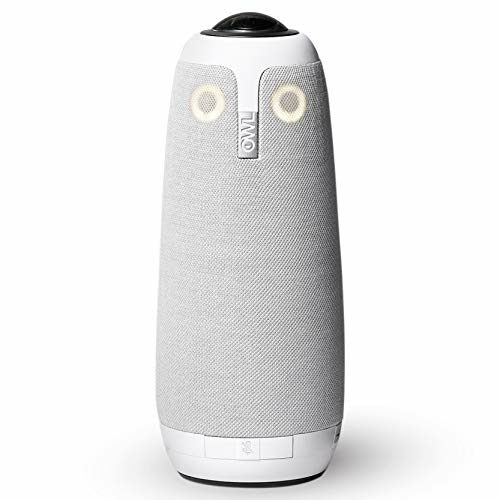 Although it looks like a hoot, the Meeting Owl Smart Video Conferencing Camera delivers serious video conferencing capabilities. Do you ever host meetings out of your home office with multiple in-home and remote attendees? If so, this is a "wise" decision for your smart home office. Its 360-video conferencing capability recognizes which meeting participant is speaking. It doesn't matter if they are in the same room or at a remote location.
The Meeting owl then spins its head and trains its camera to focus on that person auto-magically. This helps all parties with a seamless meeting experience. No more crowding around that little video camera on your desk!
Meeting Owl's  360-voice capability ensures that everyone is heard clearly. Set up is also quick and easy. You just plug in the power and USB, load up your favorite video conferencing platform, and start your meeting. There is nothing to download or install. We suggest you check out the video demos on Amazon. Hoot, hoot. [You knew it was coming.]
---
No. 9 – Cool Smart Clock: Lametric Time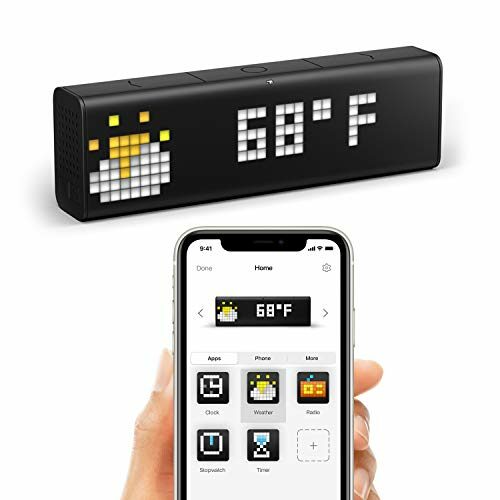 Rounding out #9 on my list of smart home office tech gadgets is a super smart and fun clock. I think this clock is just plain awesome. Someone you love will too. Give the gift of the Lametric Time Smart Clock,(paid link) and it is sure to be that recipient's favorite gift this year. So much more than a clock, the Lametric Time is really an LED dashboard for your life. I bought this for each of my kids last Christmas and they just love it.
You can use it to display weather, stock quotes, Facebook Likes, website visitors, news from various sources, email and message notifications, calendar appointments, and DOZENS of other metrics and measures. Oh, and it does a decent job of telling the time too. This is definitely a top pick on our list of smart home office gift ideas.
You set up and customize what you want the LCD to display using your smartphone. This is perfect for adults, teens, geeks, or gadget fans of all ages. Even a 50-year-old man. Hint…hint.
---
No. 10 – Robot Vacuum: eufy Robovac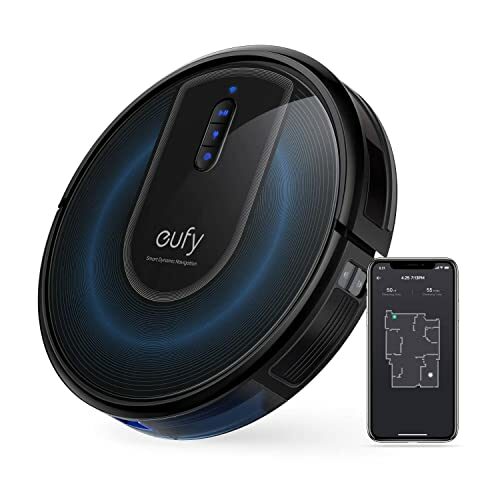 Since we already got your keyboard clean and your desk organized, we might as well do something about your office floors, too. The good news: some of the best robot vacuums out there are now more affordable than ever. I own the eufy Robovac 15C.
A robot vacuum will help you win the battle against Oreos, pet hair, dust, dirt, and those little paper dots that get expelled from your three-hole punch. You can control the vacuum using your Smartphone, Alexa, or even a smartwatch. Plus, these eufy models clean both carpet and hardwood, and it even does a good job in hard-to-reach places.
While I love my 15C (his name is "Buddy"), I recently updated to the x8 hybrid and plan to put it through the paces soon. Depending on your budget, either of these models will make a great cleaning companion for any home office. Click on the button to check out all the latest eufy models at Amazon.
Here's an unboxing video that I did for "Buddy" a while ago on my YouTube channel:
And here's a short video demo of how it works with Amazon Alexa:
---
No. 11 – Budget SmartWatch: Bowost
And speaking of smartwatches… Well, I realize this is not necessarily a product directly related to your home office, I really love this watch by Bowost.
It integrates with your iOS or Android smartphone and includes fitness tracking, smartphone notifications, heart rate monitoring, and GPS capabilities to name a few. It also has rapid charging and even does sleep monitoring.
My favorite feature is that it will send alerts related to my calendar, SMS, incoming calls, and SNS (Facebook, WhatsApp, LinkedIn, Instagram, Twitter, and more). I find having steps, calories, and distance staring me in the face on my wrist to be a real motivator to keep moving.
It even has special features related to specific sports: walking, running, bicycling, hiking, mountaineering, dynamic cycling, and yoga.
---
No. 12 – Air Purifier: Airmega 400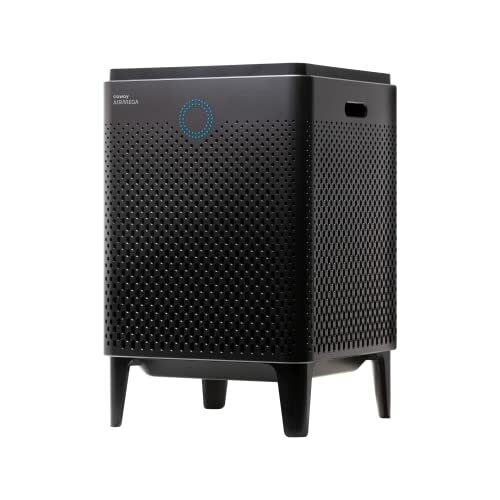 For a smart home office air purifier, the has been "Amazon's Choice," for quite some time and it's mine too. The Airmega's intelligent room sensor technology measures air quality in real-time and it automatically adjusts to clean air faster when air quality degrades.
It has an auto-shutoff feature that switches the unit off when the air is clean to help you save on your electric bill. It provides room coverage for up to 1,256 sq. ft and works with Alexa. Best of all, the Airmega's comes with a smartphone app that you can use to manage and monitor air quality. The 400 is currently the best-rated Airmega system on Amazon. Plus, we think it looks cool too. There is a nice video on the Amazon product page that showcases the benefits of the unit.
If you want to monitor the air quality in your home instead, check out my post on this cool air quality monitor that works with Amazon Alexa.
---
No. 13 – Aromatherapy Machine: Innogear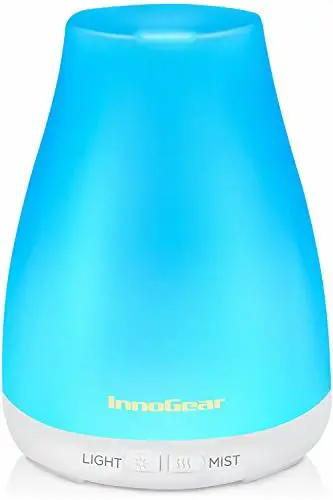 Now that the air is pure, let's add a bit of humidification and aromatherapy to our list of smart home office tech gadgets. With this three-in-one gem, the Innogear Aromatherapy Machine / Humidifier / Mood Lamp, you are bound to breathe easier. The Innogear's patented diffuser technology fills your [gift recipient's] office with a lovely fragrance that can lift their mood and relieve stress.
What's more, it's the perfect-size humidifier to help prevent dry, stuffy air and flu/cold germs as well as dry, chapped skin in the winter. And if that wasn't enough, the Innogear's colorful mood lights help brighten your day in green, dark blue, red, yellow, pink, light blue, and white. This is a great gift idea for family or friends who are into aromatherapy or can benefit from aromatherapy healing.
---
No. 14 – 3-D Printer: Makerbot Replicator+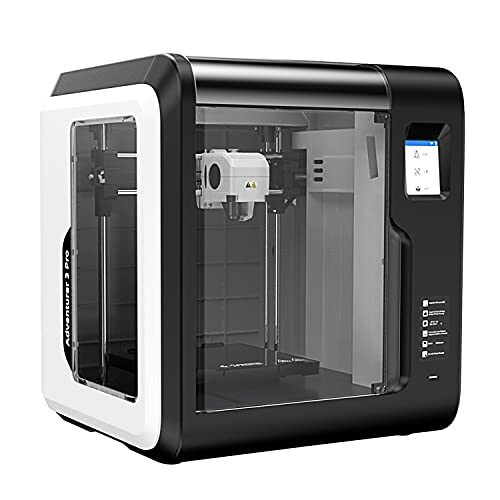 Three-dimensional printing technology has come a long way in recent months. It used to be that 3-D printers were so hugely expensive that they were priced out of reach of most consumers. This is no longer the case. While the cost is still not trivial, they are more affordable than ever and make an amazing gift for would-be engineers, fashion designers, parts makers, crafters, or anyone who is a maker of things.
Shout out to Nexi-Tech for this great video review. Love the Darth Vader print!
In addition to the printer, you'll need modeling software and additives to create the designs  Then you're set to design and print a prototype of just about any object you can think of.  For serious makers, one of the highest-rated professional-grade 3-D printers on Amazon is the MakerBot Replicator+.
A more affordable and also highly-rated option for those just starting out is FlashForge Finder 3D Printer.
This colorful and functional printer has WI-FI, a Flash drive, and USB connectivity, making it easy to connect your imagination to it.
---
No. 15 – Smart Light Kit: Philips Hue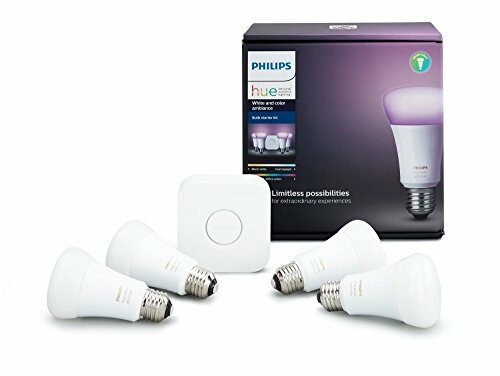 We love smart lights. An early adopter, I have a Phillips Hue hub and lighting setup which I purchased several months back. Nearly every bulb in my apartment is a smart bulb now. But I spent over a $1,000 to make this happen. In recent months, the pricing for bulbs and kits has come way down.
A few well-placed color bulbs are great at lifting your mood. And pairing smart lights with an Amazon Echo or other smart speaker is the ultimate in fingers-free convenience. If you are just getting started with smart lights, I recommend the Philips Hue White and Color Ambiance A19 Starter Kit.
While more expensive than other lighting kits out there, Philips's easy setup and reliability make this a great way to get you started with smart lights. Multiple app options and device compatibility make it the best overall choice. It works with Alexa and requires a separate bridge unless you have the Echo Plus, which comes with the bridge built-in.
---
No. 16 – Standalone Smart Bulb: Lifx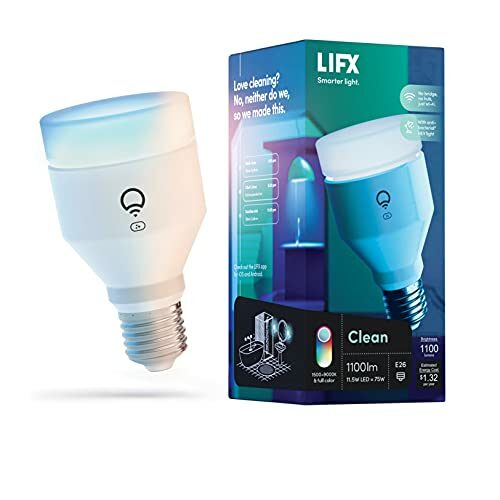 If you are looking for a single-color bulb or two for your home office that works with a voice assistant and your smartphone, Lifx Gen 3 is an affordable choice and doesn't require a hub. They are compatible with  Amazon Alexa, Apple HomeKit, Google Assistant, and IFTTT. You can adjust these using your smartphone without a hub. If you want Alexa integration with them, you'll need an Echo device and a hub that is purchased separately.
---
No. 17 – Voice Assistant: Echo Show 10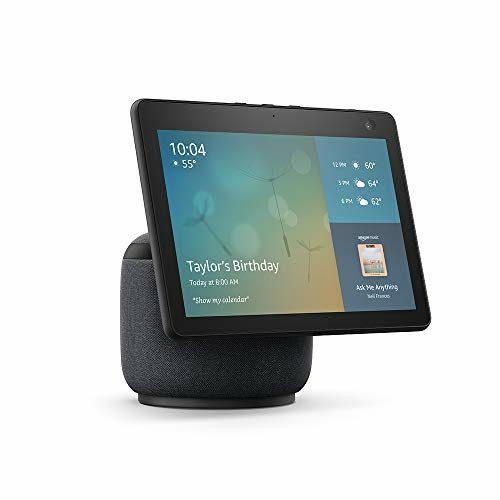 The Echo Show makes a great gift for any busy work-from-home parent. Whether you choose the Echo Show 10 or Amazon's new mountable Echo Show 15, there are numerous benefits to having one in your smart home office. These include calendaring, news feeds, music, video calling, web search over voice, and much more.
But paring it with one or more affordable Echo Show compatible security cameras is where the real magic happens. How? You won't need to leave your home office to see what's going on in other parts of the house [or outside]. For example, you could use it as a baby monitor, a way to keep tabs on a playroom, or even to look out into the yard to see what your dog or cat [or goat if that's how you roll] is up to. This can give you peace of mind and help you stay focused on that game of computer Solitaire.
Wyze Cam v3 lets you see live video streams with two-way audio and notifications in full-color 1080p HD and now even has full-color night vision. As of this writing, Amazon offers a bundle with Amazon Echo Show and Wyze Cam at a discount. By the way, here's how to use Echo Show as a baby monitor if you are interested in that.
---
No. 18 – Coffee Maker: Hamilton Beach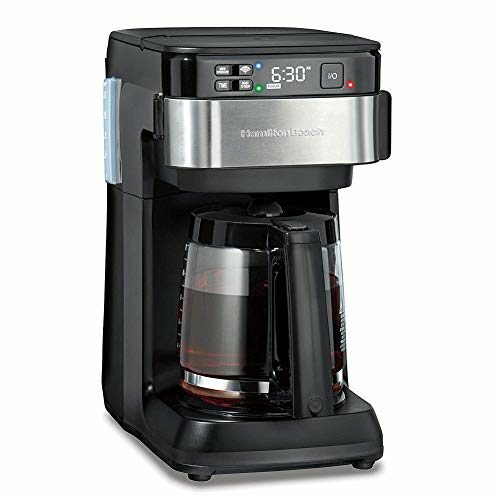 I want to kick off my list of smart home office tech gadgets—from bed! The Hamilton Beach Smart Coffee Maker (affiliate link), is one of those ingenious smart home office tech gadgets that allows you to brew the perfect cup of coffee from your mattress or wherever you may be.
It has a built-in wake-up mode that enables you to wake up to a freshly brewed cup.
You can also personalize your coffee strength, number of cups, and grind settings using your iOS or Android smartphone via the app. Optionally, you can control them manually using the LCD screen on the device. What's more, you can also brew your coffee using your favorite Amazon Alexa and Google Assistant device.
Are you still using that Keurig? Really? They're SO 2017. Toss it out; this is high tech coffee at its best.
Then you can just say: "Alexa, turn on my coffee maker" or "Alexa, set brew strength to bold." It's as simple as that.
---
No. 19 – Best Digital WhiteBoard: Vibe
Rounding out my list of the essential smart home office tech gadgets is this bad-larry that also sits atop my list of wants for when I can afford one. I so want to "vibe" with one of these. The Vibe All-in-one Real-time Interactive Whiteboard, lets you collaborate and ideate on your own or with a group of your closest colleagues — and won't they be impressed that your whiteboard is way cooler than theirs. LOL.
Vibe supports all of the most popular video conferencing and screen share apps, including Zoom, Google Meet, Microsoft Teams, and Webex. So name your poison and collaborate with your crew. There are a ton of applications for this smart board and you can save your data, ideas, notes, drawings, etc. to the cloud and access them from anywhere on your computer or smart device.
Sadly, this is not within my budget right now. I hope it is within yours and you will leave me a comment below and let me know what you think after you get one.
---
Essential Smart Home Office Tech Gadgets – Your Turn
I hope you enjoyed my list of essential smart home office tech gadgets. If you did, would you mind sharing it using one of our social media links at the top and bottom of this page?
I really do think these products are among the best products you buy for a smart home office today.
Do you agree? Disagree? Do you plan to purchase any products on my this list? Is there a product you feel I missed?
Please let me know by leaving a quick comment below.
---
You Might Also Like
If you liked this post about smart home office tech gadgets, you might also like some of my others post about smart home tech for other rooms in your home.  Enjoy!
Until we meet again, happy shopping! Don't work too hard. 😉
---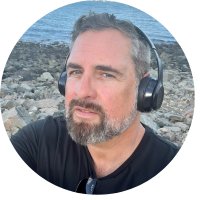 Tim Brennan, a tech blogger and host of the @TecTimmy YouTube channel, writes about smart homes at oneSmartcrib, home theaters at UniversalRemoteReviews, and AI in writing at Writeinteractive. He holds a Journalism degree from Northeastern University and has covered technology for three decades. He lives on the ocean in Nahant, Massachusetts.